Ford boldly states that the new, 4th-generation Focus compact hatchback is the best car that it has ever developed. That's all good and well, but the big question is: will the Blue Oval's new C-segment champion be good enough to tempt you out of a Golf? We drove it in France to find out.
Arrives in SA: 1st quarter of 2019.
Likely line-up: 1.0T and 1.5T EcoBoost turbopetrol engines, 6-speed manual and 8-speed automatic, Titanium and ST-Line 5-door hatches.
Key rivals: Volkswagen Golf, Opel Astra, Peugeot 308, Renault Megane and Toyota Auris.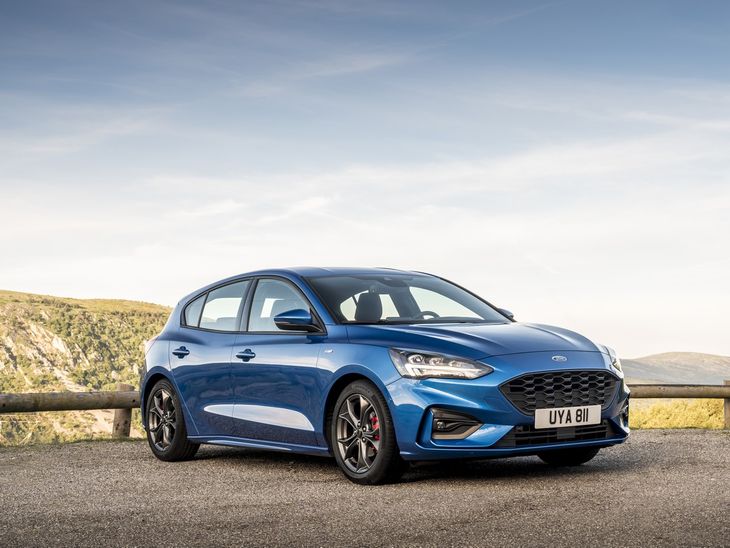 It may not be obvious, but the exterior appearance of the 4th-generation Focus is the product of a clean-sheet design.
It's all-new, from the ground up
These days, it's rare to hear about a clean-sheet design – car companies tend to gradually introduce, refine and carry over cues – but the new Focus is just that… all-new. It rides on the company's new C2 platform that will also underpin, among others, the next Kuga family car. And Ford's designers and engineers are proud to say that they've been ruthless in addressing some of the less impressive aspects of the previous car, notably cabin design/quality, rear space, refinement (particularly transmission) and technology, the latter of which has lagged the best in this category.
The introduction of the Focus coincides with a 600-million Euro investment in Ford's Saarlouis facility in Germany; for the Blue Oval, it's a crucial car to get right. Even though crossovers/compact SUVs eat into this segment, mid-size family cars still account for 1 in every 5 vehicles sold in Europe.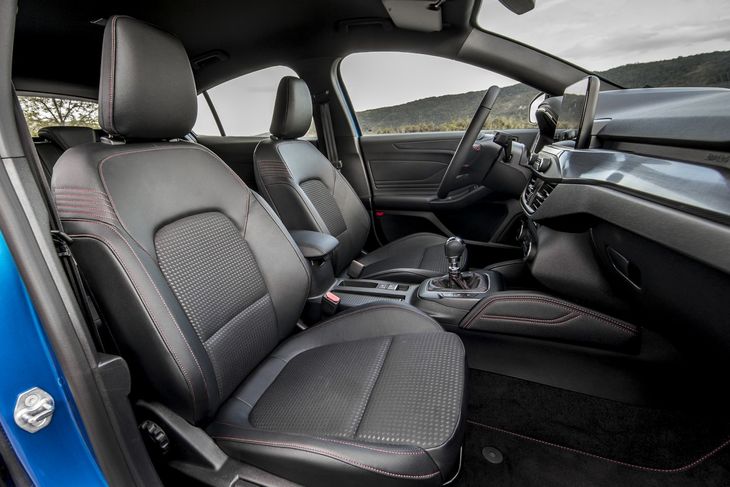 Much improved (or at least consistent quality of) interior materials lend the new Focus a much more upmarket ambience.
Heading upmarket
You can blame the Volkswagen Golf for the lofty quality standards that exist in this category, but Ford is very aware that it needed to up its game in this area. You can make up your own mind about the exterior design; in my view, it's modern, neat and unlikely to offend, and I quite like that each of the different trim lines has its own visual character. I love the classy looks of the Vignale, but we won't get that specification. South Africans are likely, however, to adore the sportiness of the ST-Line. For the first time, there will be an Active crossover-themed variant (but unconfirmed for SA).
Inside, the design follows the theme set by the new Fiesta, so there are far fewer buttons on (and a much more coherent look to) the fascia, which is dominated by the infotainment screen perched atop the centre hangdown section. There has been a very noticeable improvement in tactile quality; the upper section of fascia is particularly impressive. In the previous iteration of the Focus, you'd frequently find materials of varying surface finish and quality. It happens far less in the new car, but lower down in the cabin you'll still find plastics that are not quite up to the Golf's standard.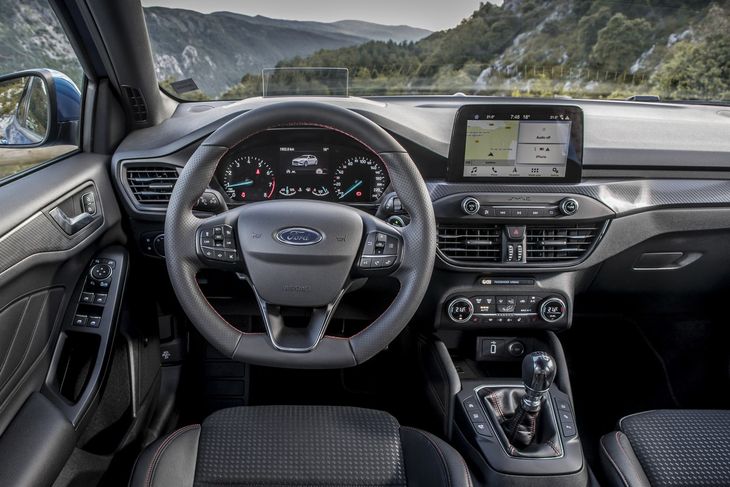 Compared with its predecessor, the Focus has a much-decluttered fascia, the touchscreen is perhaps placed a little too high, though.
I did, however, appreciate the rubber floors in all the assorted stowage areas – even the doors pockets are lined with carpet/felt. What's more, some Focus derivatives feature a leather-surfaced pad against the centre console that you can rest your knee against.
Excellent comfort and refinement
The new Focus has a wheelbase that's more than 50 mm longer than before, and all of that has gone into creating more legroom for rear passengers. Ford says the newcomer now offers class-leading kneeroom, and having done the sit-behind-self test (I'm 1.82-m tall), I have no reason to doubt the claim. Shoulder room has also increased by 60 mm and the luggage area is among the largest in this segment, too.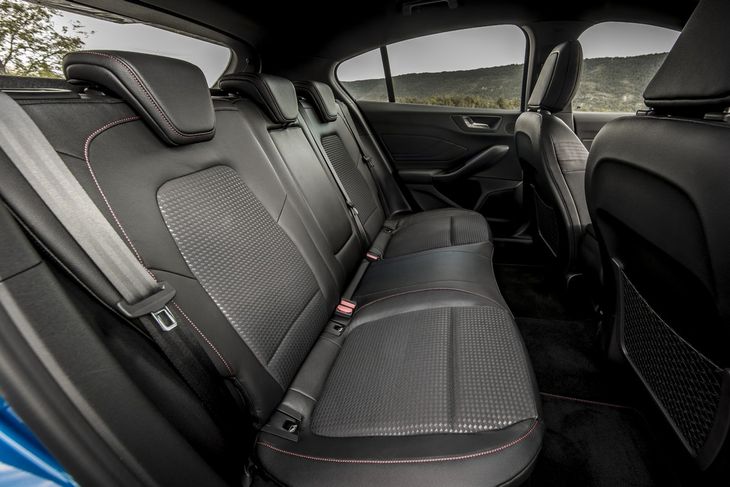 Rear passengers should be appreciably more comfortable in the rear of Focus, where kneeroom has notably improved.
There are some very nice touches that show Ford listened to its customers. For example, the side mirrors are shaped in such a way so that the irritating buffeting noise that usually happens when one rear window is slightly open is reduced. This should please dog owners in particular.
Also, when you open any of the doors you may notice a little rubber shield popping out and wrapping around the outer edge of the door – this is to limit damage when, for example, kids absentmindedly throw them open in a car park. Close the door and they magically disappear. Clever!
At the front, the seats are shapely and supportive and there's plenty of reach/rake adjustment on offer from the steering column. It's a car that you can easily get comfortable in, a fact we discovered by covering significant distances on both driving days. On the varying road surfaces of France, the lack of road noise and the overall refinement of the drivetrain were very impressive aspects of the driving experience.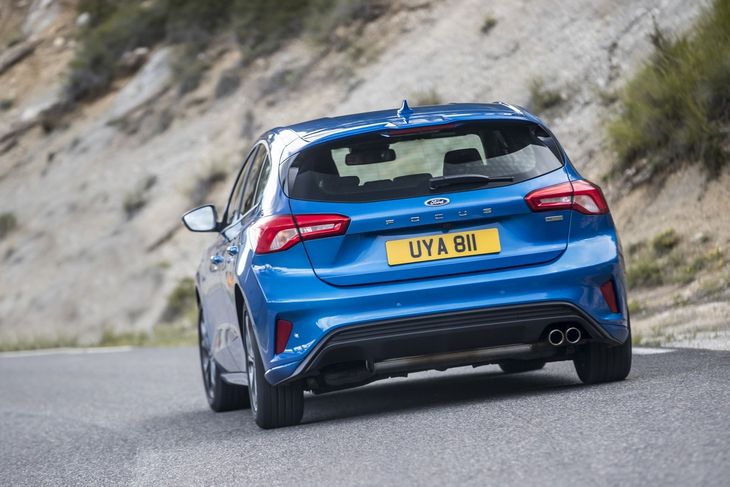 The Focus is traditionally regarded as the sweetest-handling of the compact hatchback; a notion that is likely to persist with this car.
Still the king of dynamism?
When the first Focus was launched about 20 years ago, it was a revelation in terms of its dynamic abilities, particularly because it followed a car as dreary as the Escort, which luckily was not offered in the South African market for long. According to Ford, its reputation as the most rewarding car to drive in its segment has been crucial to its sales success (Ford has shifted 16 million Focus cars worldwide). So, it wanted to up the ante again.
As per usual with every new car introduction, there is talk of a stiffer platform (20% in the case of the new Focus), but what's more interesting is that the Blue Oval also claims a 50 per cent improvement in the stiffness of the individual suspension attachment points.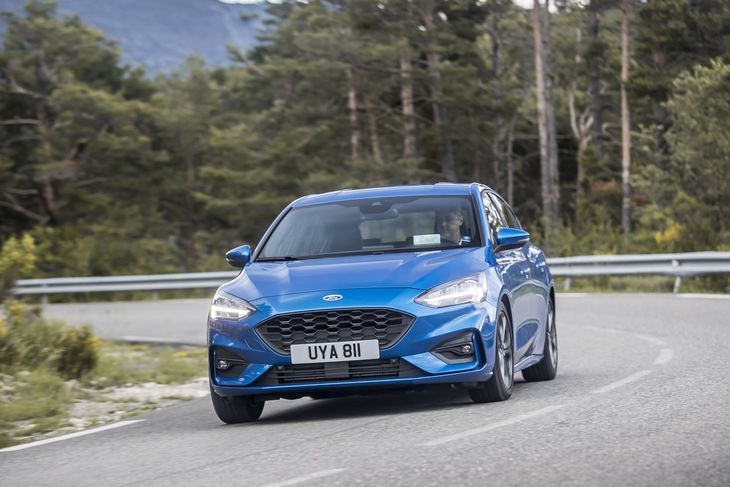 The Focus does not employ an identical suspension setup throughout the range, but all the derivatives have a dynamic bent.
That's a very solid base to work from, and you're likely to enjoy driving whichever Focus you end up buying. The "bottom-end" cars (1.0-litre EcoBoost and 1.5-litre EcoBlue turbodiesel derivatives) feature a lightweight twist-beam configuration, but even so, it features the same patented force vectoring spring tech that you'll find in the new Fiesta ST.
Most Focus variants, however, get the new isolated subframe for the so-called short long-arm (SLA) independent rear suspension, now even better at providing comfort AND responsiveness, Ford says.
For the first time, buyers can now also consider speccing CCD (Continuously Controlled Damping), which monitors suspension, body, steering and braking inputs and adjusts the damping accordingly. When equipped, CCD is also linked to the standard Drive Mode selector. Cars without CCD also offer Drive Modes, but only Normal Sport and Eco, but cars with CCD also get Comfort and Eco-Comfort Drive modes.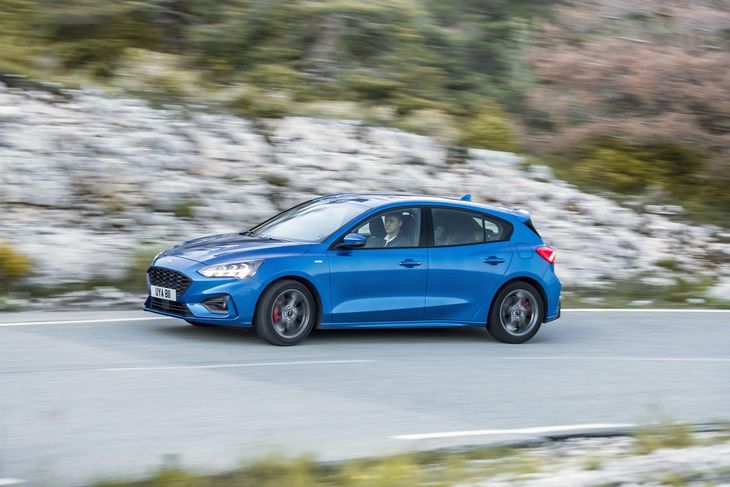 Continuously Controlled Damping monitors suspension, body, steering and braking inputs and adjusts the damping accordingly.
So, there's been a lot of detail work on the dynamic ability of the Focus and it has paid off. As I mentioned before, we covered extended distances on the drive in France and much of it was on the twists and turns in the mountains around Nice. The Focus is an impeccably composed handler, beautifully subtle over bumps and precise in the corners. It really bodes well for even hotter versions (such as the ST and RS).
Enough power and improved efficiency
At this stage, it is not clear which variants of the 1.0T and 1.5T 3-cylinder EcoBoost engines will come to South Africa. Outputs range from 63 to 92 kW for the 1.0T and from 110 to 134 kW for the 1.5T. For the record, the VW Golf 1.0 TSI engine puts out 81 kW in South Africa and the Golf 1.4 TSI does 92 kW. Ford will undoubtedly want to beat those figures, but ultimately emissions and South Africa's fuel quality might have the last say.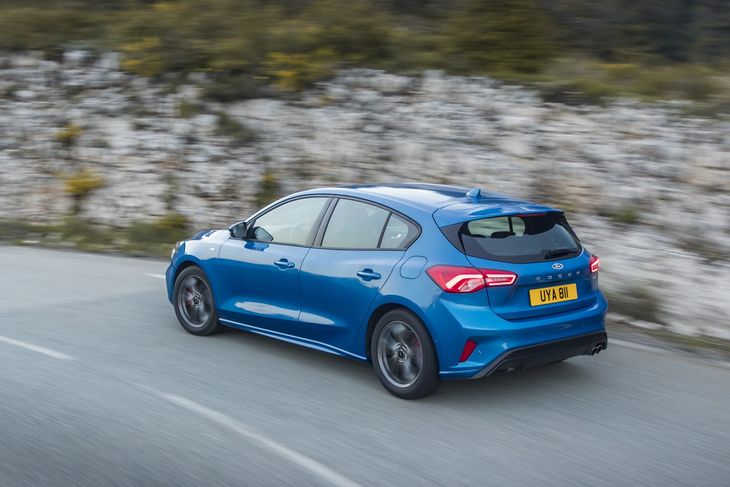 Cylinder deactivation technology, which we believe is a 1st for the compact hatchback market, should make this the most efficient Focus yet.
Efficiency, of course, has been a high priority. These 3-cylinder engines feature cylinder deactivation when the full power is not needed, an action that takes only 14 milliseconds (said to be 20 times faster than the blink of an eye). We certainly couldn't pick up when the deactivation (or reactivation) occurred – refinement, as I said earlier, is excellent.
A very slick 6-speed manual gearbox (one of the best Ford manuals I've ever tried) is offered on most cars, and there's also an 8-speed automatic (complete with paddle shifters on our test unit). It's hard to imagine that a small 3-cylinder engine can pull a fairly sizeable car such as the Focus with such verve, but that's exactly what they do, even the little 1.0-litre motor. There may be moments when you fall out of its powerband, but it's such a delight to use the manual gearbox you're unlikely to mind shifting often. And both have a rorty, typically 3-cylinder beat, too.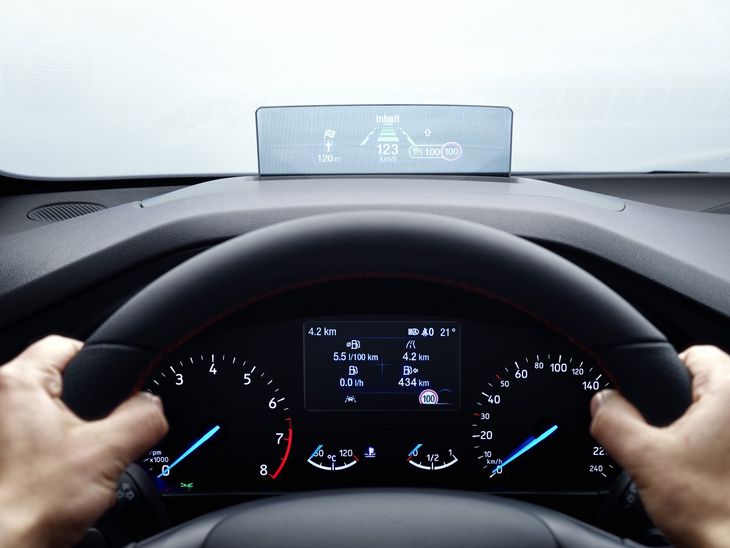 When specified, the head-up display relays sign-recognition information, directions from the navigation system and more...
Loads of new technology
One of the things highlighted during Ford's research was the need for even greater connectivity and excellent in-car entertainment. Depending on the specification chosen or options fitted, of course, the Focus now offers some of the most cutting-edge technology in its class, particularly if you happen to live in Europe, where the FordPass Connect package (embedded modem technology that turns the car into a WiFi hotspot) is available.
But for South Africans, there is also much to look forward to. There's a heads-up display, for example, which can display navigation information, in addition to the usual speed and traffic sign recognition. This is a good thing, because the sizeable touchscreen on the fascia is not quite positioned in the line of the sight. Also offered are wireless charging pads, the still-impressive Sync3 entertainment/information system with 8-inch display and a 675W B&O Play sound system.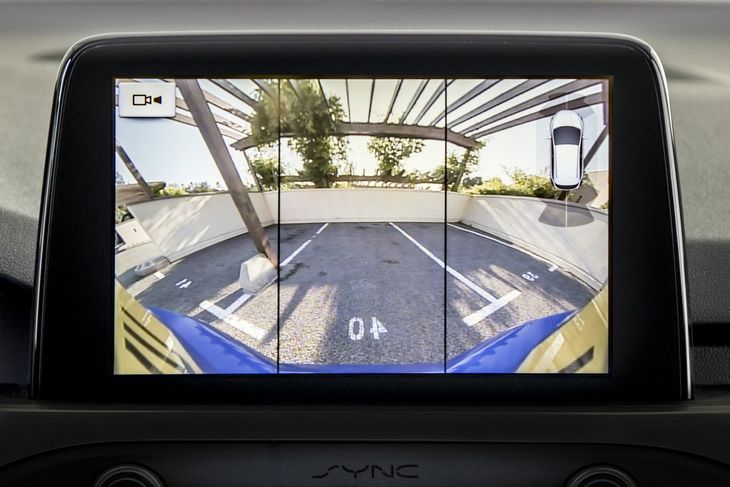 The wide angle of the reverse-view camera provides a detailed look at what's behind the Focus when you're reversing.
There is also a raft of safety features, including Cross Traffic alert, speed-sign recognition, lane keep assist, fully automated parking, pre-collision braking and a wide-angle reverse-view camera, among other items. It remains to be seen what's offered as standard and what will be optional, but at least the Focus can now match its rivals on the "cool tech" front. It's just a pity that there isn't a Ford alternative to Volkswagen's cool Virtual Cockpit (all-digital instrument cluster), because the Focus' instrumentation looks comparatively bland.
Summary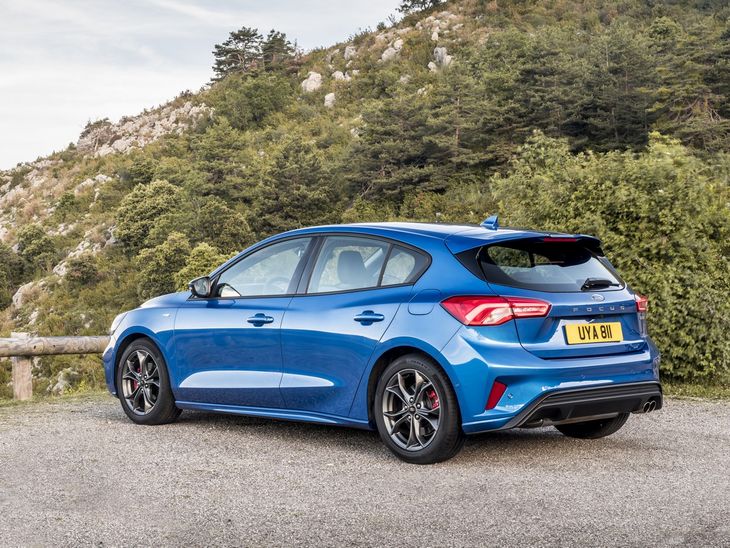 Ford resisted the urge to introduce the ST-Line in the Fiesta range, but it's so impactful on the Focus, we hope the Blue Oval brings it here.
Without knowing what the local specification and pricing of the 4th-generation Focus will be upon its release in South Africa, it is impossible to give a definitive verdict on the new Focus. Suffice to say Ford has certainly done its homework: the new Focus once again moves the goalposts for ride/handling in this segment, but it's far from a one-trick pony. Refinement and comfort levels are exceptional and there's far nicer sense of subtle style and quiet confidence about this new Focus, compared with its somewhat-brash predecessor. This will broaden its appeal significantly, I think.
Ford says this Focus will arrive in South Africa during the first quarter of 2019. We'll report again as soon as more localised specification (and pricing) detail becomes available.
Further Reading:
Peugeot 308 (2018) Specs and Pricing

Rendering: VW Golf 8 & GTI coming in 2019

Opel Astra 1.0T Essentia (2016) Review


Volkswagen Golf 1.0 Trendline (2017) First Drive

Toyota Corolla 1.8 Exclusive (2017) Quick Review
Kia Cerato 1.6 EX (2017) Review

Is the VW Golf segment dying?

VW Golf 7 specs and prices (2017) in South Africa
Interested in buying a new/used Focus?