Ahead of the 2019 Geneva Motor Show next week, Toyota has released some teaser images of its Corolla GR Sport.
Now before everyone expresses disappointment that this sporty-looking hybrid is not a hot hatch at all, we have to remember the pillars of Toyota's performance brand. GR Parts is purely cosmetic, GR Sport focuses on suspension, GR boasts more power and finally, GR MN is your fully-fledged Toyota performer.
Essentially, then, you're looking at a sportier Corolla which features GR 18-inch alloy wheels, a more aggressive front grille, some nice skirts, and a sportier rear diffuser. There are also some subtle Gazoo Racing badges. Under the skin, there are some mechanical changes to the suspension in the form of firmer dampers, which should make for a more direct feel when cornering. The engine is unchanged and as you can see from the photos, is a hybrid. The package is then rounded off with contrasting 2-tone paint.
While fans of hardcore performance Toyota products are left underwhelmed by the Corolla GR Sport, you can consider this the warm-up act to the maximum-attack Corolla GRMN hot hatch, which should be revealed in 2020. If the Toyota Yaris GRMN was anything to go by, we should be in for a treat.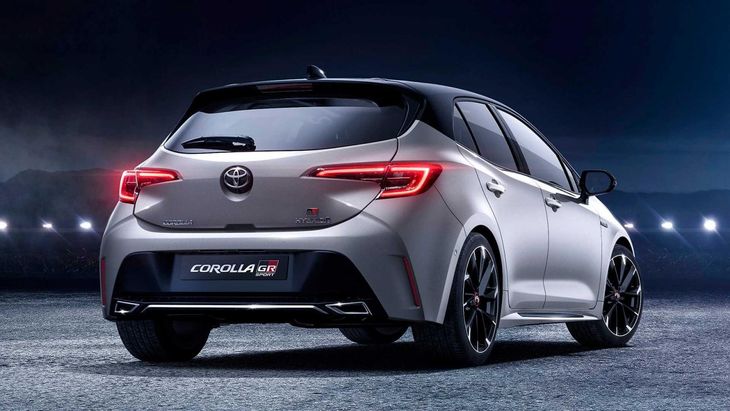 The Corolla GR Sport is the warm-up act to the Corolla GRMN
Further Reading
Toyota Corolla Hatch GRMN: Will It Look Like This?
Drag Race: Volkswagen Polo GTI vs Toyota Yaris GRMN
Toyota Corolla Hatch (2019) Specs & Price
Toyota Corolla Hatchback (2019) International Launch Review