With the 4th-generation Mazda3, the Hiroshima-based firm draws clearer distinctions between the sporty hatchback and stylish sedan versions of its compact car. It's also keen to challenge volume-selling and premium marques alike with its sophisticated, engaging and upmarket newcomer, which will arrive in South Africa in the 2nd half of 2019. Our Australian correspondent, Matt Campbell drove the newcomer in Los Angeles...
The 2019 Mazda 3 pairing look as though they could be completely different models – the visual difference is that large. And it's important that Mazda gets it right with the new-gen compact car – since the Mazda 3 was launched back in 2003 more than 6 million examples have been sold across the globe. That's only about a 5th of all Toyota Corollas sold to date (since 1968), but the smaller brand has a solid foundation nonetheless.
Arresting styling
The Mazda3 grabbed an inordinate share of the limelight when it made its debut (in production form) at the Los Angeles Show late last year and, now I've seen the newcomer in the metal, it's easy to understand why. The sedan, in particular, is sinuous, replete with sleek lines and shapely chrome trim that outline the side windows. It sits beautifully on the road and looks good at a standstill. It's sleek and suave – gorgeous, even.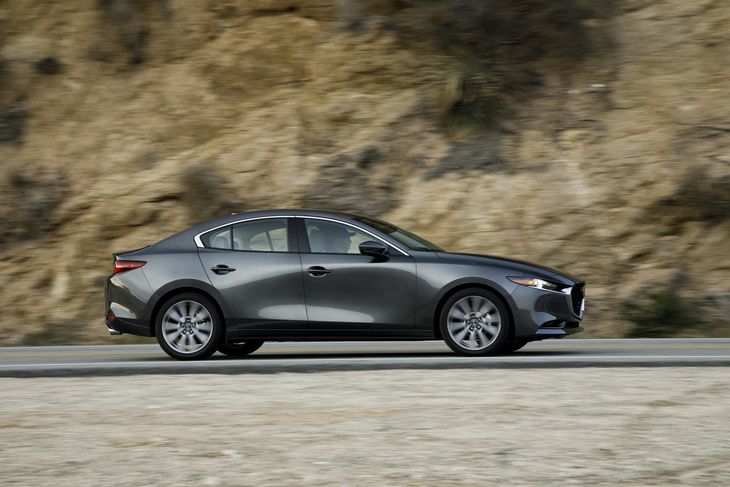 The sedan is the sleeker and less controversial looking variant in the range.
It's all about the proportions. This new version is 82-mm longer (4 662 mm) than its predecessor, which pushes it towards the business class sedan segment in terms of length. Mazda admits that its new compact offering has effectively become a "big small car", but the firm is quick to add: "that's what (our) customers want". It's also 2-mm wider (1 797 mm) and sits 5 mm lower to the ground (1 445 mm).
The hatch, on the other hand, is more eager looking; its bulbous backside makes the 5-door look a bit more snouty than the sedan. That chunky C-pillar (rear 3-quarter) treatment, in particular, is a love-or-hate proposition... you'll likely have to see it in the metal to make up your mind.
But before you make a call either way, make sure you sit in the driver's seat and try to glance over your shoulder… the rearward vision is poor, even if it's "to Mazda standards". In markets like Australia, though, there will be technological assistance – blind spot monitoring will be standard there and elsewhere, along with an extensive range of active safety equipment. Full specifications for the SA market will be confirmed closer to launch.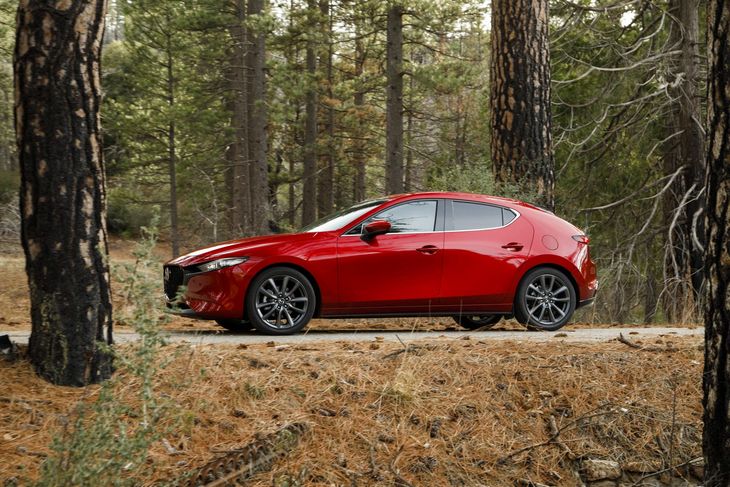 The styling of the hatch is likely to stir up a love/hate reaction.
The hatch is 10 mm shorter than the current Mazda3 (4 460 mm), while it remains the same width (1 795 mm) and is 15-mm lower (1 435 mm).
Both body styles ride upon a stretched wheelbase that is 25 mm longer than before (2 775m m), which has been done to allow the company to offer some Mazda3 derivatives with all-wheel drive. No, it's not to improve interior space, Mazda execs told us. Weird, right?
So, what about the interior?
Many would expect the longer wheelbase to result in more cabin space, but that's not really the case. Aft accommodation is certainly more occupant-friendly in the sedan, although that's mainly due to its less pronounced roofline, which doesn't rake up as aggressively as on the hatch. The back seat isn't a benchmark setter, with reasonable leg, shoulder and headroom for a 1.82m adult seated behind someone of the same size.
But the back seat isn't where the new Mazda 3 impresses – the front seats offer by far and away the best experience. The dashboard has been redesigned (with a more intuitive and driver-oriented layout); it's made up of new stitched materials and has a considerably more upmarket feel.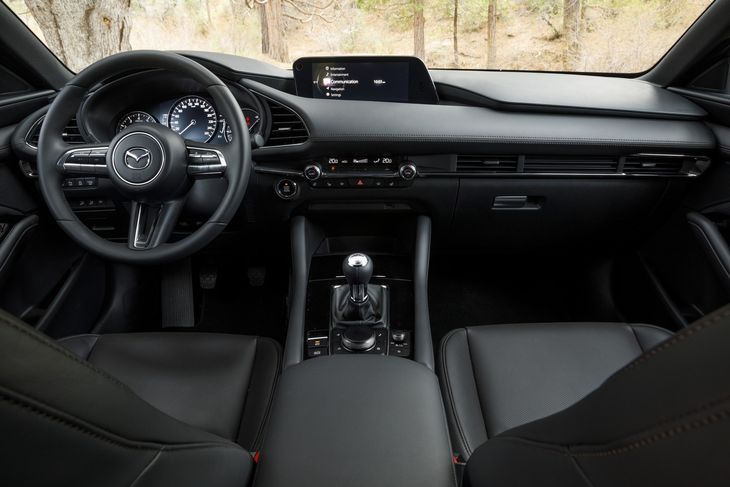 The interior has more upmarket materials and a practical layout with a bigger centre console.
The cup holders have been repositioned, and the centre console is now larger than before – it's all a bit more functional than the model it replaces, and that's a welcome change.
Regrettably, the load bay of the hatch is actually smaller than it used to be (295 litres), while the sedan again stands out, with its bigger, um, bustle incorporating 444 litres of cargo capacity, which is almost 10 per cent better than before.
Pump up the volume!
Mazda has completely rethought the sound system in the new 3. The company has developed new speakers and fit them in new positions to offer a superior audio experience (even in the base version of the car, the firm claims).
With 8 speakers – and, importantly, none of them down low in the doors – the new sound system pushes the brand's in-car experience upmarket. A cynic might suggest the company's engineers have just come up with a way to repudiate the road noise its compact cars have suffered from for what seems to be aeons… but it's a genuinely excellent audio setup.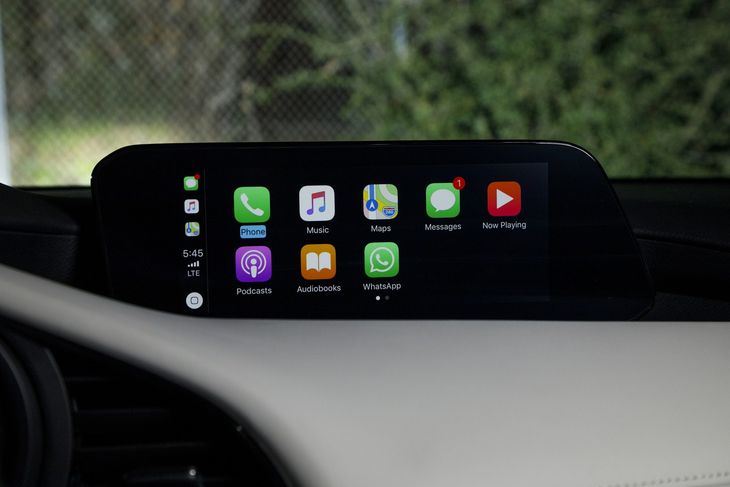 You no longer need to retrofit Android and Apple Carplay. The infotainment screen is not a touchscreen, unusually.
And if you don't think that's good enough, higher-grade models will be offered with a 12-speaker Bose system including a subwoofer and satellite tweeters. Plus there's a new 8.8-inch media screen atop the dashboard, which sits further back to improve line-of-sight vision for the driver.
It is not only bigger and easier to read than before, but offers improved connectivity by way of standard Apple CarPlay and Android Auto compatibility. The bad news? Those mirroring systems work best when there's a touchscreen, but the new display isn't receptive to touch inputs...
I asked the engineers why Mazda chose to buck the touchscreen trend and they said that it was a safety concern, because the driver might affect the steering by leaning forward to touch the screen. Wait until you try using Apple CarPlay or Android Auto with a rotary dial… those same engineers reckoned it'd take owners about a fortnight to get used to it, and all I can say is that Mazda must have very patient customers…
What's it like to drive?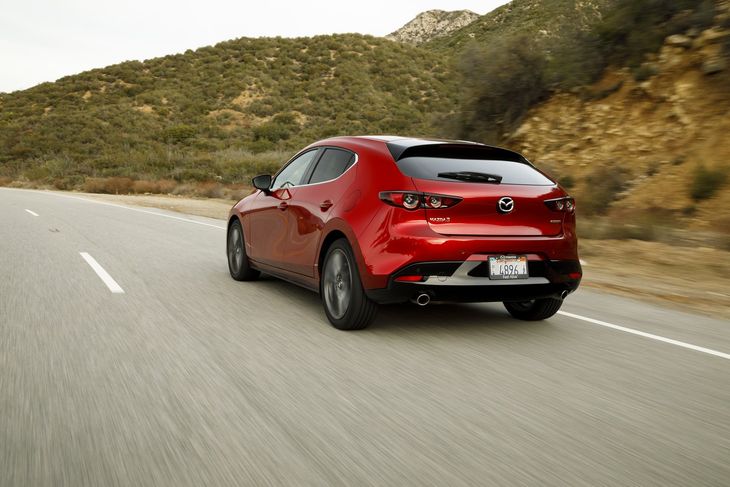 Improvements to the NVH levels have been made without detracting from its spirited driving experience.
There is no denying the new version of the 3 is better than it ever has been – and that's based on a short stint in some cars that weren't representative of what will be sold in South Africa (or Australia, where I'm based). Engine details for this market are to be confirmed, but – as with the current version – a 2.0-litre engine is most likely to be offered, with the choice of 6-speed manual or automatic transmissions.
I got to drive the new mild-hybrid version of the Skyactiv 2.0-litre engine, which was mated with a manual transmission in the demo unit. This one will be popular in Europe, as it teams the current 2.0-litre powerplant with a newly integrated starter generator and 24-volt lithium-ion battery pack. This works in tandem with regenerative brakes, and the stored energy can run the car's electrics and also add a little extra power, Mazda claims.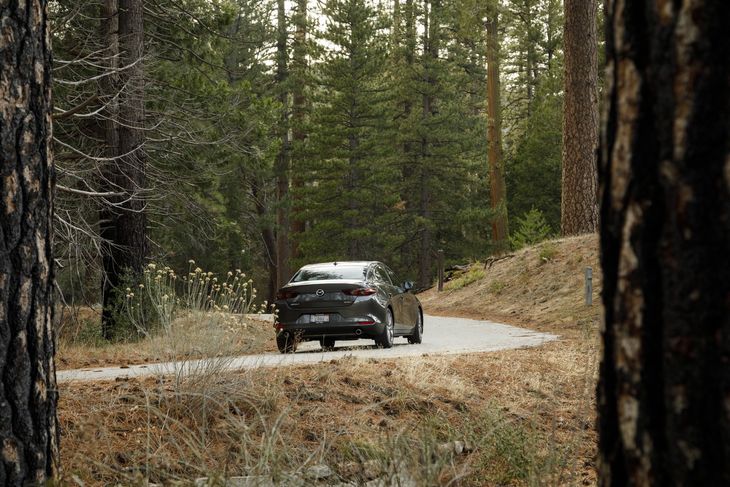 Engines for our local market have not been decided yet, but we expect a 2.0-litre with 6-speed manual and auto to be on the list.
It was only a short drive in this car, but I can attest to the effectiveness of the engine stop-start system, which cut the engine out gracefully and restarted smoothly. There are no official figures on how much power it can add, nor how much fuel it will save, nor any indication as to how widely it will be rolled out. Then there's the Skyactiv-X engine, an all-new motor that uses a diesel-like compression ignition system in favour of spark plugs (though they are also fitted and may be used in certain instances). Sadly, this car wasn't available to test, but it will arrive towards the end of 2019.
Refinement gains
Meanwhile, the suspension has been fettled to be softer and more compliant, but without demeaning the Mazda3's agile handling characteristics in the process – and that's even after the brand moved from an independent rear suspension setup to a simpler (and cheaper) torsion beam layout.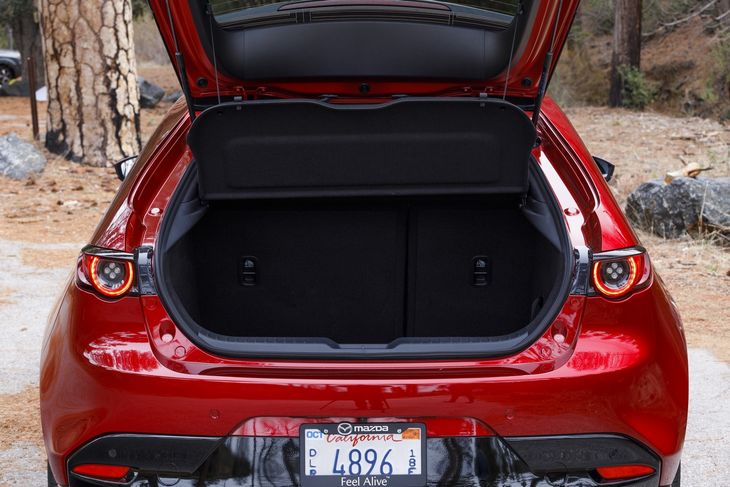 The load bay on the hatch is actually slightly smaller than the model it replaces with only 295 litres of load space.
The steering offers better (more linear) responses, while still hitting the target for engagement for the driver. Through a series of flowing high-speed corners on the outskirts of Los Angeles, the Mazda3 gripped the road nicely, allowing me to link up a line of bendy bits with barely any fuss.
Oh, and good as the stereo may be (and it is!), there have undoubtedly been big gains made in terms of NVH suppression (quieting the cabin). Now, you can actually hold a conversation without raising your voice, be it on smooth roads at low speeds or coarser surfaces at pace.
Summary
The Mazda3 duo lives in the shadow of its CX-3 and CX-5 siblings in the South African market, which speaks volumes of the crossover craze and its detrimental effect on C-segment (compact car class) sales. But for those who need more practicality and sophistication than the Mazda2 and other light hatchbacks, the new Mazda3 hits the mark on many fronts. It's more upmarket and nicer to drive than its predecessor, which is exactly what we expected from Mazda. And whereas the hatchback marks a noteworthy evolution of the current 5-door model, the reimagined sedan has the added kerb appeal and required sophistication to make the Toyota Corolla, let alone the Honda Civic and Hyundai Elantra feel somewhat uneasy. In fact, some people may consider the 4-door Mazda3 a bit of bargain compared with small sedans from the premium marques (Audi and Mercedes).
Related content:
Ford Focus (2018) International Launch Review
Volkswagen Golf 8 (2019) What It Could Look Like
Interested in buying a used Mazda3?