The Toyota Corolla has been an integral part of many global markets for several decades, but never before has the Japanese compact sedan been this striking, smart and, dare we say it... aesthetically appealing. Will that be enough to ensure that the venerable Corolla 4-door, which is due to be launched in South Africa in the 2nd quarter of 2020, remains relevant in a vehicle market obsessed with crossovers and SUVs? Our Australian correspondent Matt Campbell has driven the newcomer and herewith his findings...
In South Africa, the Corolla sedan has been a huge part of the Japanese brand's success story. This model has been built locally since the mid-'70s (in excess of a million units have been produced in Mzansi) and, although the Hilux and its Fortuner sibling deserve much of the credit for Toyota's current strong position in the new vehicle market, the Corolla once established its maker as a powerhouse in the passenger-car segment. This car is a South African institution.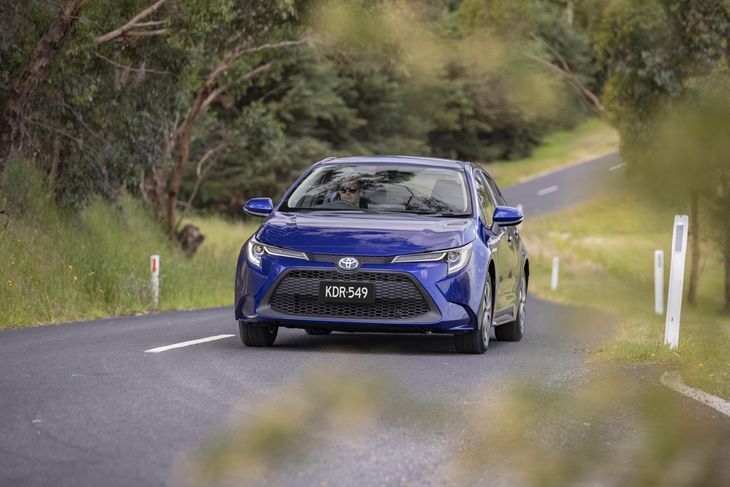 The Corolla's front-end design is characterised by shapely all-LED lamp clusters with integral daytime running lights.
Upon its launch, this new-generation model will also be built in the company's Prospecton plant in Durban. But first, early in 2020, you can expect the current Corolla sedan – which was launched in 2014 – to be unveiled as the new Corolla Quest (with a drastically reduced lineup, of course), while this new-gen model will be pitched above it as a modern upmarket and modern – and therefore, more expensive – offering. It may well appeal to some private buyers, but as is the case in many markets around the world, the all-new 12th-generation Corolla sedan will also appeal to fleet buyers (in its simpler configurations).
What's cookin', good lookin'?
More aggressively styled (and conventionally attractive... even curvaceous) and appreciably more characterful than the model that precedes it, the new-generation Corolla sedan carries on the design theme of the Corolla Hatch that debuted in 2019. Yet, the newcomer's still instantly identifiable as a Corolla and that will please the brand-loyal-but-tradition-bound folks in the sedan's heartland. It's built upon Toyota's New Generation Architecture (TNGA), the same platform that underpins the likes of the C-HR compact family car, Prius hybrid and RAV4 family car and that means it has a lower centre of gravity and looks comparatively sleeker and streamlined as a result.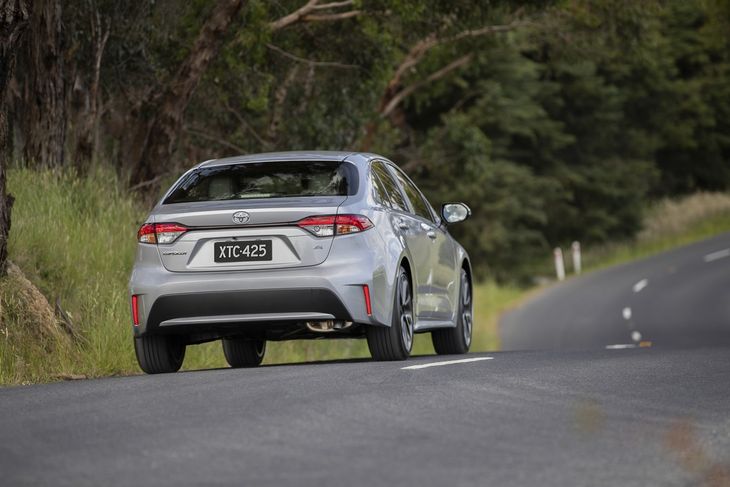 The new Corolla has a longer rear overhang than its predecessor, but slimline tail-light clusters make its rear-end appear... well, pert.
The dimensions of the new-generation Corolla sedan are incrementally larger than those of the previous model; it measures 4 630 mm in length (10mm longer) and 1780 mm in width (5 mm broader), but sits 25 mm lower to the ground (height: 1 435 mm). Toyota makes a bit of a big deal about the fact that the front overhang is shorter and the rear overhang longer – the design change, according to Toyota Australia, "delivers an entirely new dynamic appearance".
You can make your own mind up about that claim, but the versions sold in Australia all come with nicely designed LED headlights with integrated LED daytime running lights, and there are LED tail-lights, too.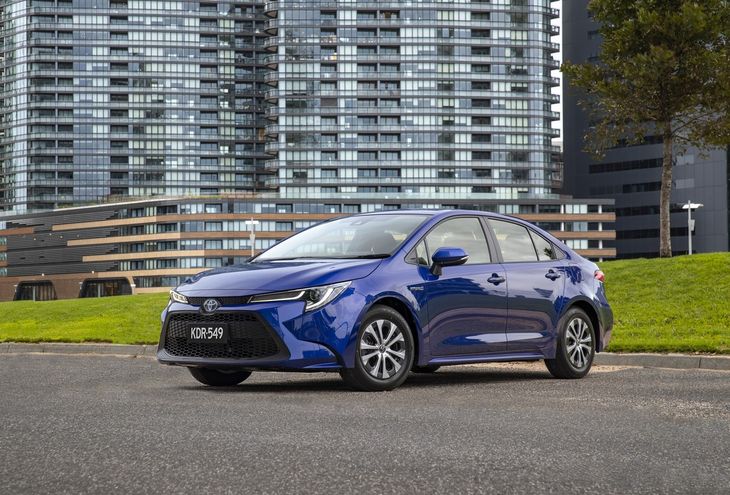 The newcomer looks relatively low-slung; proportion-wise, it's a more balanced/elegant car than the current Corolla sedan.
Aussie-market versions roll on wheels ranging from 15-inches to 18-inches in size; as is the case with virtually every contemporary passenger vehicle design, the larger wheels make the sedan look more purposefully-stanced, the smaller ones less so. But, at the very least, the models sold in Australia all have alloy wheels rather than steel wheels with covers, all of which compliment the design nicely.
Fresh, technology-laden interior
You're unlikely to feel intimidated when it comes to the interior design of the new Corolla sedan – it is more stylish than before, sure, but it's not at the level of, say, the new-generation Mazda3 when it comes to stylishness.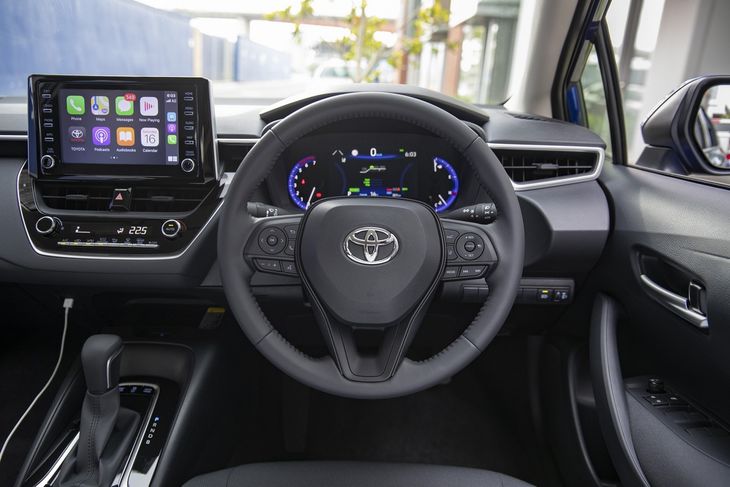 Will we see an all-digital dash on SA-spec models? Note how the enlarged touchscreen has enabled the fitment of a simpler fascia.
It does have the typically Toyota approach to cabin practicality, though. There are cup holders between the front seats, good storage options including a covered centre console, and big door pockets with bottle holders.
The design is neat – in all models sold in Australia, there's a nicely-sized (8-inch) touchscreen infotainment system, which certainly has more flair than the last model's digital interface, while the instrument cluster features a 4.2-inch digital instrument screen (with kph reading). The materials are nicer than before, too – the plastics are of better quality, the knobs, buttons and levers all feel more substantial than in the previous model, plus the front seats are more comfortable.
At 1.82 metres in height, I find that most small sedans fit my frame fine, but I wouldn't call many of them genuinely spacious. That's not the case with this car: when you sit behind the driver's seat (when it is set up to accommodate your preferred driving position), there's enough room in the back seat to make you think twice about whether you really need to shop for a bigger sedan (or family car), after all.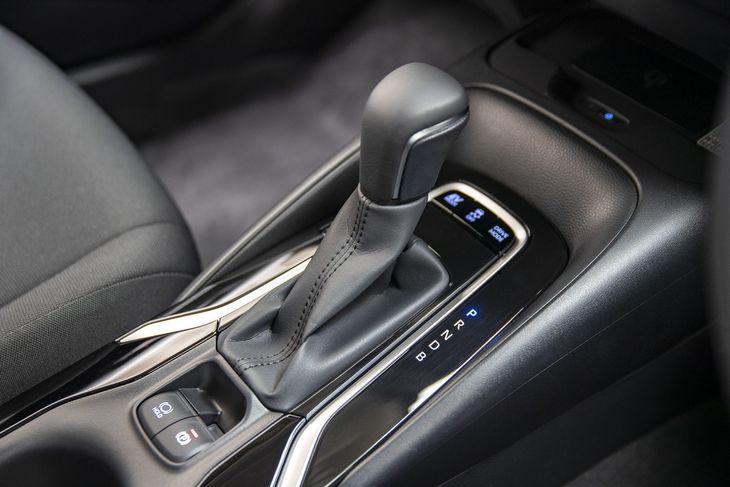 As in the Corolla Hatch and RAV4, the 10-step continuously variable automatic transmission features a mechanical first gear.
When I was seated aft, I had several inches of space to spare in front of my knees, plenty of headroom and foot-room, and there's even enough space to slot three adults across the bench. If you have children, there are outboard ISOfix child-seat anchor points and three top-tether points, too. There are regrettably no rear seat air-vents, but there are map pockets, door pockets with bottle holders, and a flip-down armrest with cup holders.
But let's talk about the boot – because if you buy a compact sedan, you should get a capacious luggage area. And in the Corolla sedan, the capacity is claimed at 470 litres – more than double the size of the Corolla hatch (217 litres with spare wheel fitted). The Australian-spec sedan comes with a space-saver spare wheel, but in South Africa, a full-sized spare is traditionally fitted and I don't believe Toyota SA will change that for the new model.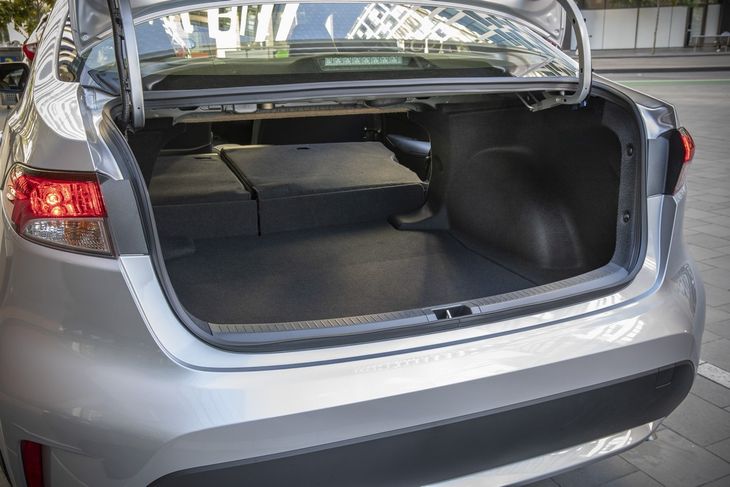 The new Corolla's boot capacity is good. Note that South African-market cars are likely to feature full-sized spare wheels, not space-savers.
The seat backrests can be folded down in a 60:40 split, but there are no remote release levers in the boot – you have to release the sections from the top of the rear seatback.
Satnav, audio and infotainment
To reiterate, the Corolla sedan in Australia comes with a nice, clear 8-inch tablet-style media screen on top of the fascia, and this time there's smartphone mirroring technology – so, users of Apple CarPlay and Android Auto are catered for. This tech just means you don't have to touch your phone when you're on the move – and that's a nice feature, both in terms of convenience and safety.
There's a bit of an issue, though: the USB port is almost hidden (it's located to the left, under the fascia). Some other manufacturers offer illuminated surrounds for their USB ports, but not this car. Once you're plugged in you'll probably end up leaving your cable in all the time, but it's worth noting you might want to invest in an extra cable! Aussie models get a second USB port in the centre console bin, and some variants sold here also get a wireless charging pad.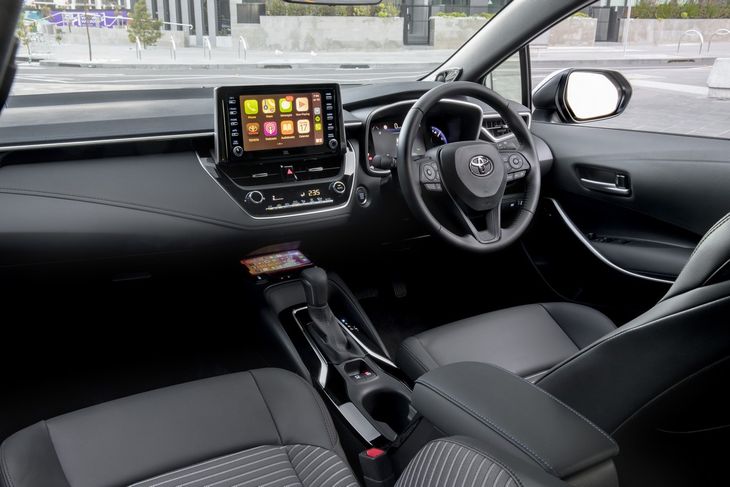 A wireless charging pad is certainly a nice-to-have feature, perhaps it will be offered on our top-spec Corolla sedan derivative.
Toyota's media system menus are decent, but not quite as intuitive as some other media units out there. Thankfully there are volume and tuning knobs, and an array of hard buttons to assist with the touchscreen controls. The climate control settings aren't run through the screen, which is great... The fascia design is clear and simple enough and making a quick adjustment to the fan setting or temperature doesn't require a rummage through the touchscreen menu.
In Aussie models, there's a 6-speaker sound system in the lower grades, while the top-spec variant has a stronger 9-speaker JBL stereo. That model also gets a head-up display and a larger (7-inch) digital driver info screen.
The on-road experience
The powertrains offered in Australia may not represent what will be offered in South Africa. There are two options here: the now-familiar 2.0-litre 4-cylinder petrol engine used in the Corolla Hatch with peak outputs of 125 kW and 200 Nm (the 5-door version in South Africa has a 1.2-litre turbopetrol, but the RAV4 has a 127 kW/203 Nm 2.0-litre motor), as well as a 1.8-litre 4-cylinder petrol-electric hybrid model with a peak power output of 90 kW.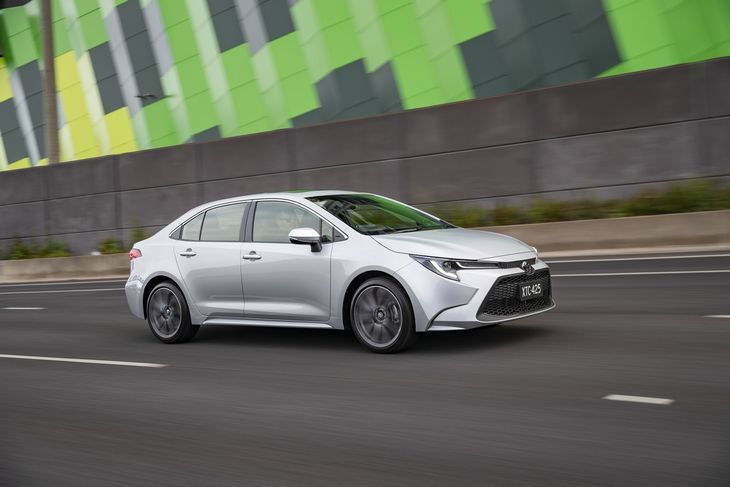 The Corolla rides reasonably comfortably (depending on tyre size/type) and its handling ability is surprisingly deft.
The hybrid is offered only with a continuously variable transmission (CVT), and that type of transmission is also fitted to the non-hybrid version – but it's a clever 10-speed CVT with a launch gear, which is a mechanical first gear to help you get away from a standstill more smoothly (South Africans have already experienced that 'box in the RAV4 and Corolla Hatch). There's a 6-speed manual in the entry-level version.
Of course, this is likely to mean little to South African customers, as it is more likely that the brand's ZA arm will offer a small turbodiesel and a selection of smaller petrol options. Hopefully one of those engines is the charming little 1.2-litre 4-cylinder turbopetrol motor from the CH-R and Corolla Hatch, which has 85 kW, 185 Nm and is a little sweetie – in manual or CVT auto guise.
I drove a 2.0-litre CVT derivative and it's a perfectly suitable powertrain for a car like the Corolla sedan. It revs freely and accelerates smoothly (yes, from a standstill and through the rev-range), and it's nicely refined, too. It remains unclear if the new-generation model will continue on with the current version's 1.3-litre petrol (73 kW/128 Nm), 1.4-litre diesel (66 kW/205 Nm), 1.6-litre petrol (90 kW/154 Nm) and 1.8-litre petrol (103 kWw/173 Nm) engine options. But, engines aside, the driving experience in the 12th-generation sedan is certainly more appealing and involving than that of the outgoing Corolla.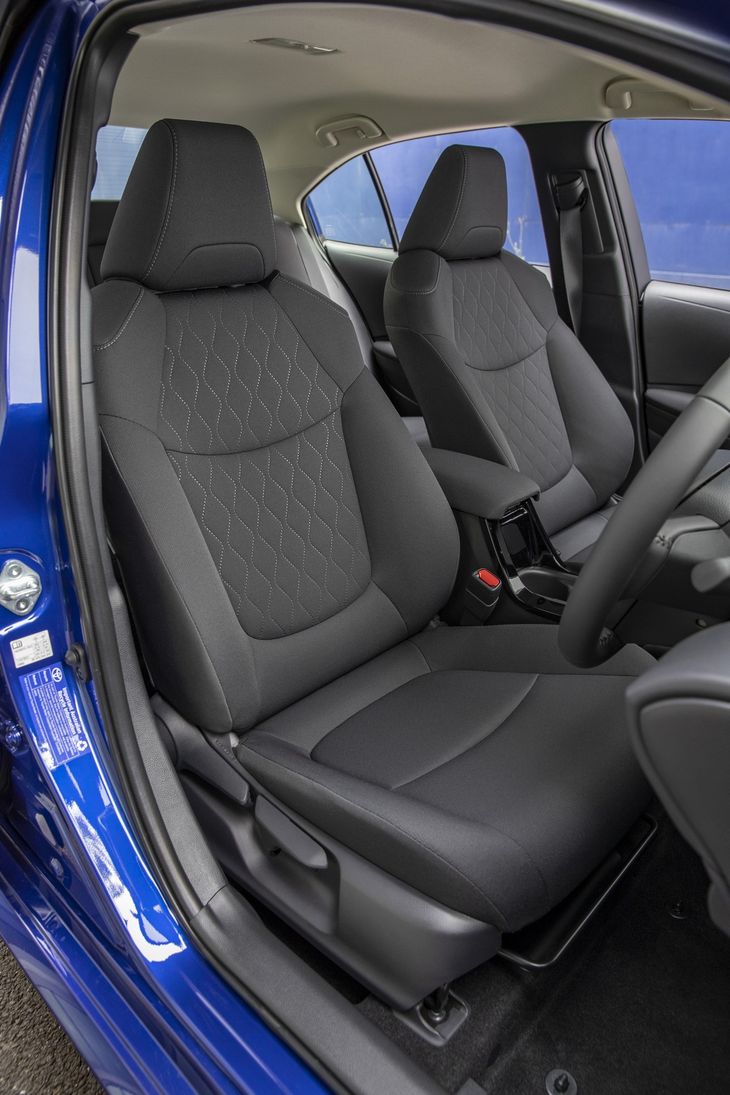 Our correspondent appreciated the increased comfort offered by the new-generation Corolla's front seats.
It steers accurately and with a nice natural feel to the tiller: it's light at lower speeds, enjoyable in corners away from the city, and predictable on the open road, too. As with the Corolla Hatch and C-HR, the Corolla sedan has a multi-link rear suspension, but it doesn't feel quite as sophisticated at its siblings when it comes to ride comfort – though it could hardly be considered unsophisticated. Sharp-edged bumps can be felt through the body, but the smaller lumps and bumps in the road are dealt with very well.
Safety and reliability
It is still to be determined as to what levels of safety technology and equipment Corolla sedan models sold in South Africa will come with, but in Australia, all variants are loaded with good gear, including a pre-collision safety system with pedestrian and cyclist detection and autonomous emergency braking, as well as active cruise control, lane-keeping and lane departure warning technology, and road-sign recognition technology.
Indeed, those tech inclusions are some of Corolla's big selling points in many markets. It is expected, though, that South African-delivered Corolla models will have 7 airbags (dual front, front side, driver's knee, curtain), a reverse-view camera, the aforementioned ISOfix child-seat anchors, ABS with EBD and brake assist, as well as vehicle stability control (VSC).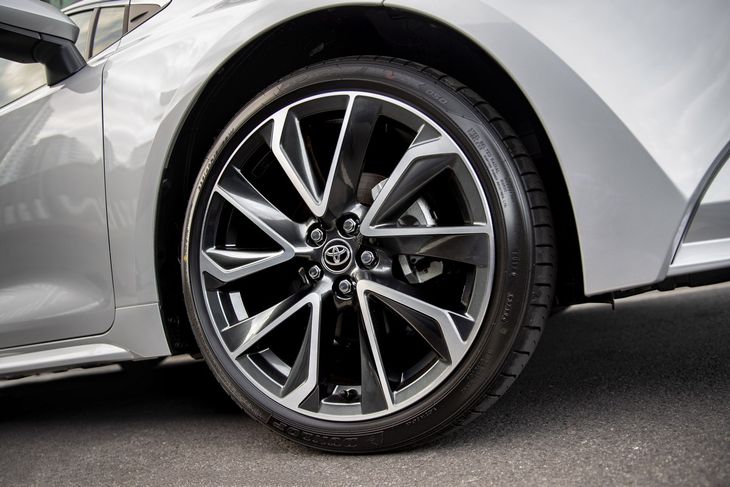 The 18-inch wheels certainly are eye-catching, but in South Africa, the largest alloys available have been 16-inch items.
A large part of the reason people have flocked to Corolla over the years is its reputation for trouble-free motoring and strong resale value. The new-generation Corolla should follow suit, and is likely to feature a service plan with intervals every 12 months or 15 000 km (whichever occurs first) but continue to run on the current service plan of six scheduled maintenance visits/90 000 km.
A 3-year/100 000 km warranty plan should be offered on the new model, but, as is the case with most Toyota products, customers who wish to extend their cover should be able to for as long as 6 to 8 years/unlimited km.
Summary
The new-generation Toyota Corolla sedan remains a practically-packaged, well-made and sufficiently-refined sedan. However, it is appreciably more technology-oriented than its predecessor and (believe it or not, when you see it in the metal...) quite attractively styled. While there is no doubt it will once again appeal to fleet customers, private buyers could also be rewarded if they're willing to think outside that "I must buy a popular high-riding, tailgated vehicle" box.
In fact, the new 2020 Corolla sedan is a more convincing and complete offering than the previous model by some margin, and while this 12th-generation small sedan may not prove to be the panacea to the crossover/SUV craze, it certainly offers plenty for family-car customers to consider. Suffice to say that if the sedan-shaped vehicle is to die out one day, the Corolla 4-door will surely be one of the very last models to be consigned to the big scrapheap in the sky.
Own a Toyota? Tell us about your experience here
Related content:
Toyota Corolla Hatch 1.2T XS (2019) Review
Toyota Corolla Hatch (2019) Video Review