The new, 7th-generation Mazda3 has made landfall in South Africa and we attended the Japanese compact hatchback and sedan range's launch in Johannesburg to find out if this stylish newcomer has been worth the wait…
Just look at it! The handsomely styled new Mazda3 is here at last and it's come to steal sales from rivals such as the Volkswagen Golf, Renault Megane, Opel Astra and even the Audi A3, to name but a few. The 3 is an important product for Mazda – it accounts for roughly 30% of the Hiroshima-based firm's annual sales volume and this new model will, therefore, look to continue (and expand on) this success.
While its refined Kodo design language may draw various opinions, we think this new Mazda3 is one of the more striking and classy-looking products on offer (in both hatchback and sedan guises). Up until now, Mazda has done a pretty good job of keeping local engine and specification details under wraps, but with the Mazda3 now officially available in South Africa, let's take a closer look at what it has to offer.
Own a Mazda? Tell us about your experience here.
What engines are on offer?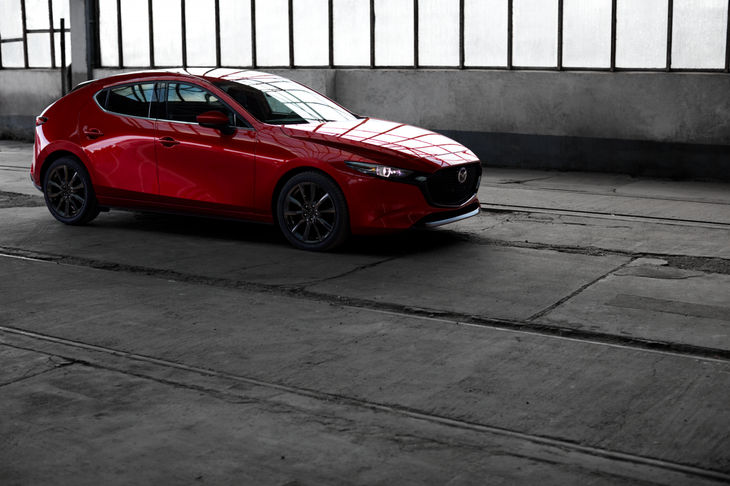 Mazda is sticking with naturally-aspirated engines in SA, which may disappoint some potential buyers.
Firstly, there are 4 trim grades to consider: the entry-level Active, mid-level Dynamic, up-spec Individual, plus the top-of-the-range Astina.
While some may have been wondering whether Mazda would introduce its new 132 kW/224 Nm 2.0-litre SkyActiv-X engine with spark-controlled compression ignition, the Hiroshima-based marque has opted for a pair of naturally-aspirated SkyActive-G petrol engines: a 88 kW/153 Nm 1.5 litre, which replaces the previous 77 kW/144 Nm 1.6-litre unit, and a range-topping 2.0 litre with peak outputs of 121 kW and 213 Nm.
The 1.5-litre engine is offered in Active guise (exclusively with a 6-speed manual gearbox), while 1.5 Dynamic and 1.5 Individual derivatives are available with either the stick shift or a 6-speed automatic transmission.
How do the engines perform?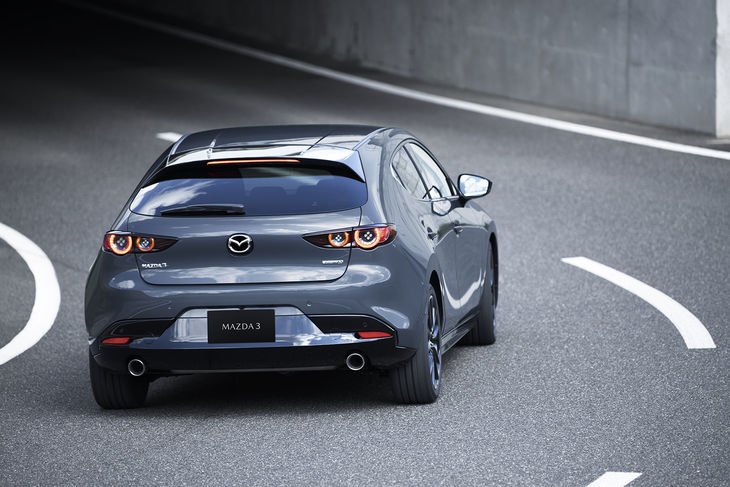 Engine performance could be stronger but the new Mazda3 ushers in higher levels of overall refinement.
We sampled both 1.5- and 2.0-litre derivatives during the launch event (both of them in automatic guise) and, to be blunt, outright performance is not an area in which the new Mazda3 shines particularly brightly. Good refinement aside, these naturally-aspirated engines lack the surge of overtaking urgency that turbocharged powerplants provide from low revs. Acceleration isn't punchy, but linear and progressive, as the Mazda3 works up momentum.
At altitude, both engines felt sluggish under a firm foot, but as you can imagine, the 1.5-litre engine felt more compromised, whereas the 2.0 litre at least offered modica of power and torque to work with in the thinner air. For what it's worth, the performance will improve somewhat at sea level.
The automatic transmission does a fair job of changing gears while getting on with its job relatively unobtrusively. Sport mode, should you really really feel the need to use it, will force the transmission to hang on to gears for a bit longer so you can wring every ounce of grunt from the engine.
With all that said, the Mazda3's performance must be judged against how you intend on driving it every day. Yes, it's not as quick as it looks, but if that is of little concern (the newcomer works best when driven with a gentler, measured approach) it will serve you just fine on the daily commute.
The news gets better...
But where the new Mazda3 shines really brightly is in terms of its on-road refinement and ride and handling. Mazda has made big leaps especially in terms of the former. Road and engine noise is well damped and the engine itself runs mostly in near-silence, unless you are caning it, of course.
Meanwhile, the steering is nicely weighted and responsive to inputs – in fact, the Mazda3 feels eminently surefooted and precise through corners. The general ride quality is admittedly on the firmer side, but still comfortable and not overly crashy or intrusive when driving over uneven surfaces.
Yes, indeed, the Mazda3 could do with some more shove, but the general driving experience is right up there with the best in the segment.
What about the interior?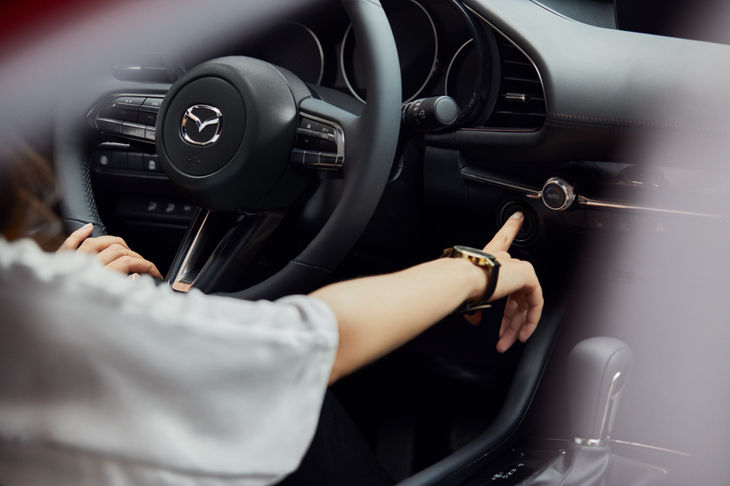 Perceived interior build quality is very good and the cabin looks and feels more premium.
The refinement continues on the inside of the new Mazda3... We liked the classy, minimalist design approach of the outgoing Mazda3 and the Hiroshima-based firm has further upped its game with the next-generation compact hatchback and sedan. You'll notice the cupholders have now moved ahead of the gear lever and, to enhance the cockpit's driver-centric approach, the screens and controls are angled towards the driver.
The look and feel of the cabin is premium and build quality remains of a high standard. The 8.8-inch infotainment display is faster to boot-up than before and apart from looking sleeker, it features integrated navigation as well as Android Auto and Apple CarPlay compatibility. The enlarged central digital instrument cluster (with configurable displays) is another interior highlight, as is the standard provision of a head-up display.

For the music lovers, Mazda and sound partner, BOSE, have developed a high-end audio system, which includes 12 speakers and a subwoofer!
We were quite surprised to learn that the load bay in the hatchback has actually become smaller, shrinking from 308-litres to 295-litres, but the rear seats do split-fold if you need to open up more space. As for the sedan, its boot is claimed to hold 408 litres of luggage.
In terms of safety features, 7 airbags are standard as is ABS with EBD, brake assist, dynamic stability control and hill launch assist. The Astina derivative adds features such as adaptive LED headlights, Blind Spot Monitoring, Rear Cross-Traffic Alert.
The new Mazda3 also carries a 5-star EuroNCAP safety rating.
Final thoughts

The new Mazda3 is a quality product that's well worth a closer look if outright performance is not a priority.
The Mazda3 is a looker! However, we found its engine performance incongruent with the sporty persona it exudes. It's a conservative offering in terms of its cut-and-thrust performance, but potential buyers can find comfort in knowing that these naturally-aspirated engines are probably more likely to deliver fuel consumption figures in the ballpark of their manufacturer's estimates than their turbocharged rivals, at least in our experience.
Despite not being particularly exhilarating to drive, the new Mazda3's higher level of overall refinement is a major highlight. Its ride/handling balance is commendable and the newcomer's interior is markedly improved over that of the outgoing model. It just feels like a more premium product.
Is the new Mazda3 better than its predecessor? Yes, by a large margin. Mazda's intention for this new model was to elevate it into a more upmarket realm. Of course, its higher pricing reflects this, but for the most part, it can justify it. It's certainly a quality product and it should be well received by the market at large, but it's perhaps too under-gunned to get a rise from a buyer in need of a more potent dose of grunt.
Although the Mazda3's 3-year/unlimited km warranty and service plan are middling, it represents a sensible buy, especially over the longer term.
We will have the new Mazda3 on test soon so look out for a thorough evaluation coming your way in the near future.
Mazda3 - Price in SA
Hatchback
Mazda3 1.5L Active Manual - R359 900
Mazda3 1.5L Dynamic Manual - R374 200
Mazda3 1.5L Dynamic Automatic - R387 000
Mazda3 1.5L Individual Manual - R421 900
Mazda3 1.5L Individual Automatic - R434 700
Mazda3 2.0L Astina Automatic - R474 000
Sedan
Mazda3 1.5L Active Manual - R357 000
Mazda3 1.5L Dynamic Manual - R371 300
Mazda3 1.5L Dynamic Automatic - R384 100
Mazda3 1.5L Individual Manual - R418 800
Mazda3 1.5L Individual Automatic - R431 600
Mazda3 2.0L Astina Automatic - R470 800
The Mazda3 is sold with a 3-year/unlimited km warranty, 3-year/unlimited km service plan, 5-year corrosion warranty and 3 years' roadside assistance.

Buy a new or used Mazda3 on Cars.co.za