Last week, Tesla announced that all the cars it produces, including the upcoming Model 3, will feature full self-driving hardware. Tesla also released a video that demonstrates the capability of the system and Tesla is now planning a long distance trip across the US that will put it's technology to the ultimate test.
Tesla CEO,Elon Musk, has reportedly announced that an all-electric autonomous Tesla vehicle will embark on a long distance journey from Los Angelas to New York in full autonomous mode before the end of 2017. The vehicle will cover almost 4 500 km through 11 states, without any input from a driver. More so, Musk is confident that the vehicle will also be able to find its owner, even if the owner is on the other side of the country. This feature is made possible by using a 'summon mode' on your smartphone and the car will drive itself to come find you. It's certainly groundbreaking technology, but the proof is in the pudding and we will have to wait and see how Tesla's ambitions play out in the real world.

Tesla has recently made headlines for all the right, and wrong reasons, but the major announcement to come from the Palo Alto-based electric car manufacturer is that all the vehicles it produces from now on, will feature full self-driving hardware that, in the words of Tesla, will offer a "safety level substantially greater than that of a human driver".
Smart Hardware Updates
The hardware required to make the magic happen includes 8 surround cameras that provide a 360 degree view around the car with a range of up to 250 metres. In addition, 12 updated ultrasonic sensors help detect objects at almost twice the distance compared to the previous system. Each Tesla vehicle will also be fitted with a forward-facing radar with enhanced processing capability that's able to see through heavy rain, fog, dust and the car in front of you.
A new onboard computer with 40 times higher computing power is at the core of Tesla's newly developed neural net for vision, sonar and radar processing software. According to Tesla, "the system provides a view of the world that a driver alone cannot access, seeing in every direction simultaneously and on wavelengths that go far beyond the human senses."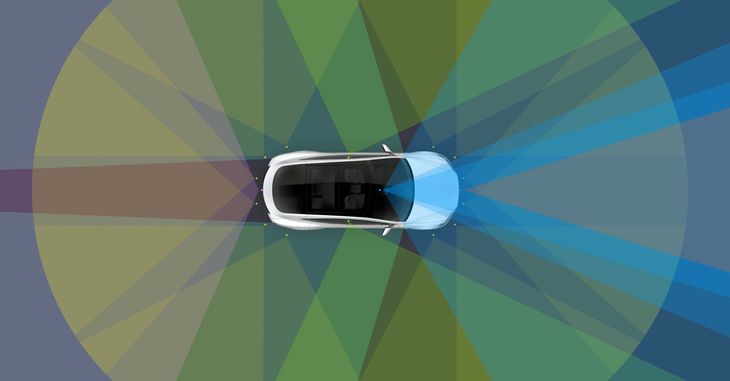 With all its onboard cameras and sensors, the new Tesla hardware "provides a view of the world the driver alone cannot access".
Before these features can be enabled, Tesla will calibrate the system using millions of kilometres of real-world driving to ensure safety and convenience. Initially, vehicles fitted with the hardware will lack some features (emergency braking, collision warning, lane keep assist and active cruise control) fitted as standard on previous Tesla cars with first-generation Autopilot hardware. As the features become validated, they will be activated over the air. New features will also be introduced as the validation process progresses.
The Tesla Model S and Model X are already being produced with this technology and are being sold on global markets. Tesla vehicles are not yet available in our market but Tesla announced earlier this year that South Africa would be added to the order book for the Model 3, which will likely become a reality in 2018.
Related content:
Tesla Model 3 Coming to SA
First Drive: Tesla Model S 90 (2016)
Opinion: Ferrari & Tesla, which will survive the future?