The compact family car segment is positively bursting with competitive offerings. For a model to succeed in this cutthroat market, its needs to be better than good; Suzuki is banking on a modern, efficient powertrain and a comprehensive features list in its flagship Vitara 1.4T GLX auto. Could it steal some sales away from its rivals?
We like: Value for money, performance & efficiency, good spec and spacious.
We don't like: Some cheap plastic trim here and there, but we're really nitpicking.
Fast Facts:
Model: Suzuki Vitara 1.4T GLX auto
Price: R426 900
Engine: 1.4-litre turbopetrol 4-cylinder
Power/Torque: 103 kW/220 Nm
Transmission: 6-speed automatic
Fuel consumption: 5.9 L/100 km (claimed)
Top speed: 200 kph
Acceleration: 9.5 seconds to 100 kph
What is it? ​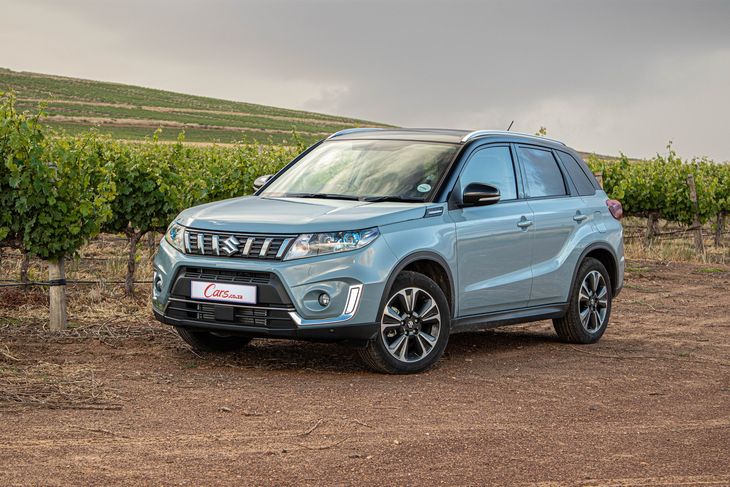 The 1.4T GLX auto sits at the upper end of is segment, but it undercuts the VW T-Cross 1.5TFSi R-Line by R15k.
This is not our first experience of a turbocharged Vitara. Back in October 2019, we reviewed a 1.4T GLX and it duly won us over with its eager performance; it was a welcome cherry on top of the build quality, refinement and practicality that endeared the Suzuki to us before. However, that particular test was of a manual derivative. While there was a lot to like about the slick 6-speed transmission, buyers tend to favour self-shifting derivatives (especially at the higher end of the segment). With expectations high, we put the Vitara 1.4T GLX auto to the test. Here's how it fared.
How it performs in terms of...
Performance and ride/handling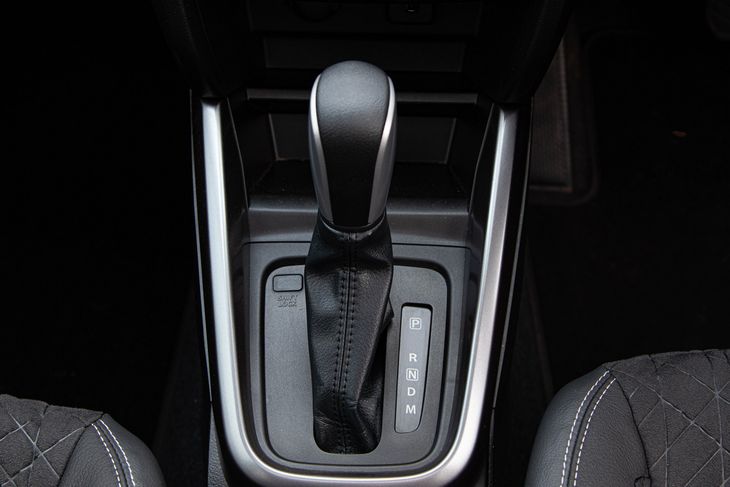 The greater flexibility afforded by the 1.4-litre turbocharged motor makes the automatic transmission's job much easier.
To refresh your memory (in case this is the first time you're reading up on the turbocharged Vitara), the compact family car is powered by a forced-induction 1.4-litre 4-cylinder petrol engine. You may notice just how close the motor's peak outputs (103 kW and 220 Nm) are to those of the Swift Sport – that's right, this flagship derivative shares its engine with a compact hot (okay, warm) hatchback! In Vitara application, there's 10 Nm less, but we adore the K14C Boosterjet motor all the same. Compared with the naturally-aspirated 1.6-litre motor, which produces 86 kW and 151 Nm, the turbocharged mill is much more spirited. In fact, we'd go as far as to say the 1.6 litre only makes sense if you're shopping on a tight budget.
The ever-responsive turbopetrol motor is a peach and smartly calibrated with the (6-speed) automatic transmission. Shift paddles are located on the steering wheel (for those who like to actuate up- and downshifts for themselves), but they lack some tactile quality, even if they function well.
Despite the 'box being of the conventional torque-converter type – not a quick-shifting dual-clutch unit, it shifts reasonably quickly. The biggest benefit of the 1.4T's additional zip and responsiveness is impressive overtaking ability; in-gear performance is excellent for this segment. Despite a slight performance bent, the fuel economy was commendable, with our trip computer displayed a commendable 7 L/100 km (claim 5.9 L/100 km).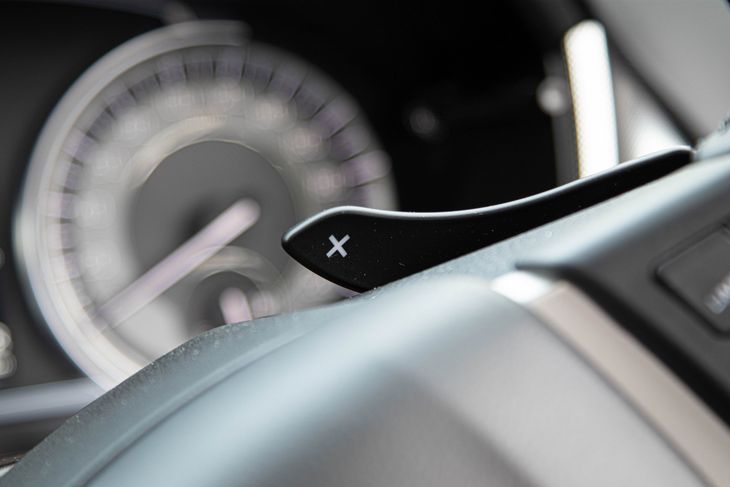 Steering-wheel-mounted shift paddles are nice to have, but the Suzuki's powertrain is so well-calibrated, you might never use 'em.
The Vitara may be marketed as a car for practically-minded buyers, but don't be surprised if you find yourself driving it with a fair degree of verve, at least more than would usually be reserved for a compact family car. Few cars in this segment are involving to drive and it's great to feel the spirit of the Swift Sport coursing through its bigger sibling. The ride quality is good too, with the 17-inch tyres soaking up most of the road's pockmarks.
Given its light crossover designation, the Suzuki will be expected to leave the tar now and again and while (part-time) all-wheel-drive capability is the preserve of the 1.6 GLX AllGrip derivative, the 1.4T GLX Auto acquits itself adequately on average unsealed road surfaces. Thanks to 185 mm of ground clearance, you should be able to clear most minor obstacles, plus you can override the gearbox to force it to stay in 1st gear, creating a pseudo-low-range effect, should the going get rough. The steering is nice and light too, making the Vitara feel smaller and nimbler than it is.
Exterior design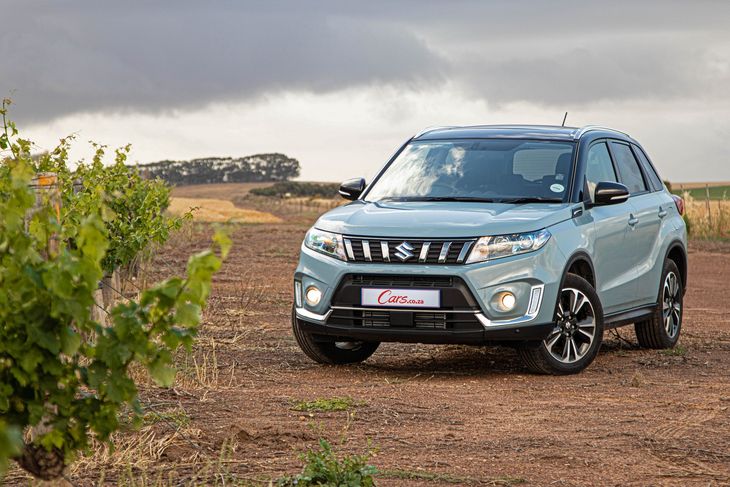 Whereas the pre-facelift Vitara looked neat, if a little anonymous, the revised version looks a bit sharper and more distinctive.
In 2019, Suzuki gave its Vitara a mild update. Apart from the introduction of 1.4-litre turbopetrol derivatives, LED headlights (in addition to LED daytime running lights) and chrome detailing in the grille contribute to a more upmarket look.
The Vitara's styling may be regarded as dull and conservative by some, but customers can opt for a range of vibrant exterior colours; we're big fans of this subtle grey-blue, called Ice Greyish Blue. There's also the option of a contrasting roof. The 17-inch alloy wheels really look the part too.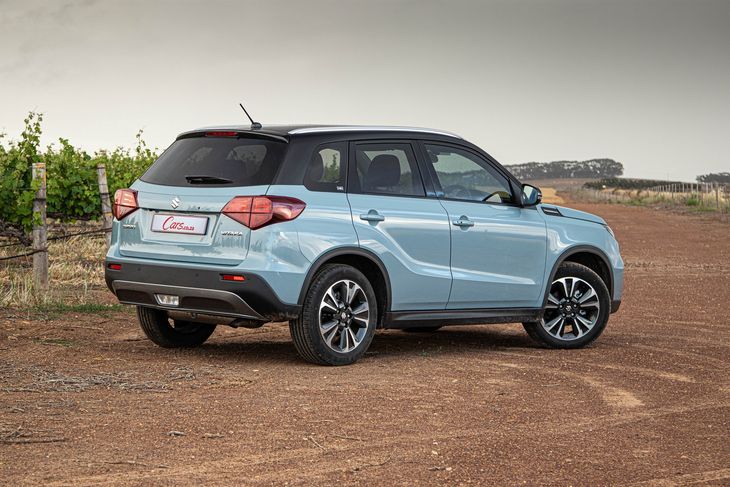 The black roof adds a sense of sophistication to the exterior execution, the roof rails neatly complement the handsome alloys.
Interior execution
As ever, the Vitara's interior is smart and ergonomically sound. Given its price positioning (at over the R400k mark), you'd expect touches of luxury... and that's exactly what you get with leather seats, as well as suede on the door panels. Strangely, these are contrasted with hard plastics that are littered around the cabin. That being said, there's are just enough soft-touch finishes... and everything feels tough and long-lasting.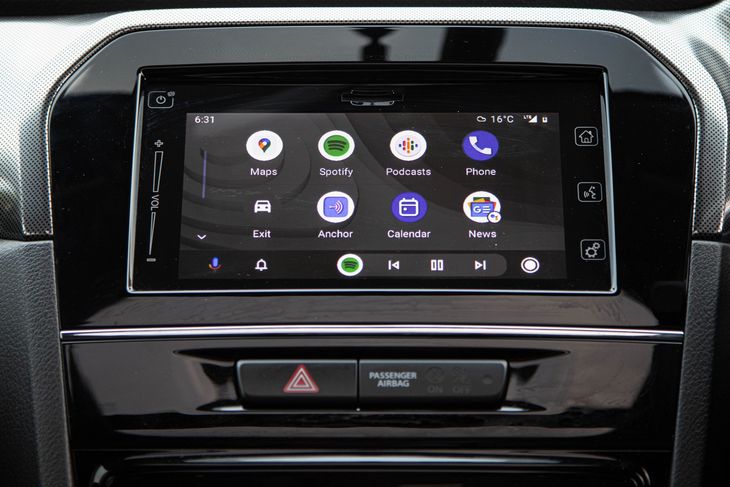 We enjoyed the infotainment system's ability to read out (and respond to) WhatsApp messages without distracting the driver.
There's a 4.2-inch colour multi-info display in the instrument cluster and the 7-inch touchscreen infotainment is Apple CarPlay and Android Auto compatible. With your smartphone connected, you can access navigation services, as well as entertainment functions such as streaming music and podcasts. For us, the system's best feature was that it could read out your WhatsApp messages (and reply on your behalf) – your hands never need to leave the 'wheel. We would've liked a volume-adjustment knob on the infotainment unit, the touchscreen control wasn't the most accurate.
Features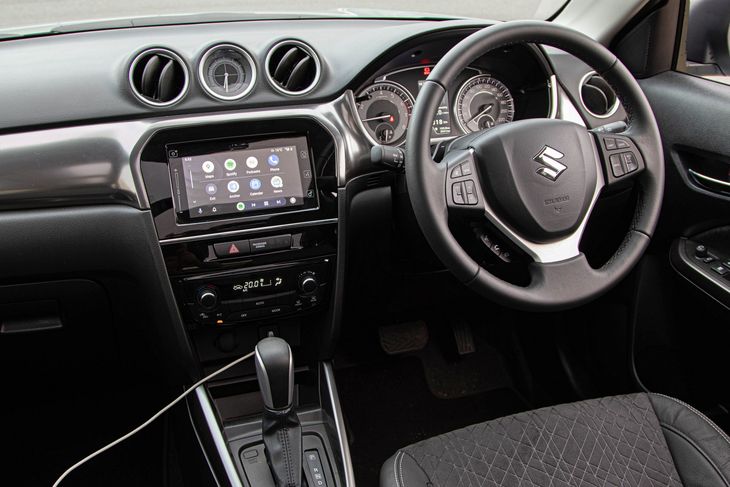 An updated instrument cluster and touchscreen infotainment system has contemporised the Vitara's dashboard.
In terms of other noteworthy standard interior features, a reverse-view camera and front/rear parking sensors are availed, along with a panoramic sunroof, climate control (automatic aircon), as well as automatic wipers. In terms of safety features, the 1.4T GLX auto is comprehensively specified, with 7 airbags, ABS with brake assist and EBD, ESP (electronic stability control) and rear ISOfix child seat anchorage points.
The Vitara's practicality is one of its trump cards. Not only does its cabin offer sufficient space to seat 4 adults in comfort, but its load bay is notably capacious; only the bays of the Volkswagen T-Cross and Kia Seltos offer more capacity. In fact, the generous luggage space makes the Mazda CX-3 and Toyota C-HR's luggage areas look ludicrously small. Need to transport a set of golf clubs or a mountain bike? Simply fold the rear seats down to gain access over 1 100 litres of utility space. Gripes? We would have liked to see a pair of separate ventilation outlets for the rear passengers.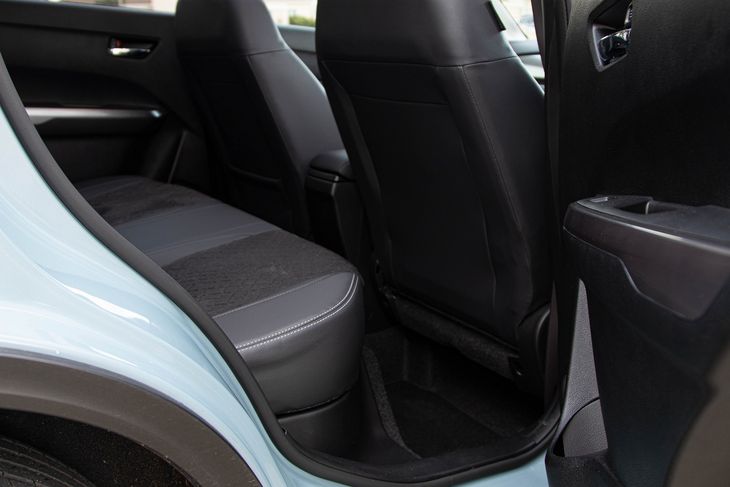 Whereas rear legroom is often no more than fair in compact family cars, even adults sit comfortably on the Vitara's aft bench.
Price and after-sales service
The Suzuki Vitara range starts at R310 900, with this flagship 1.4T GLX auto derivative costing R426 900. The vehicle is sold with a 5-year/200 000 km warranty and a 4-year/60 000 km service plan.
Suzuki's aftersales offering is commendable with a substantial dealership footprint. Also, Suzuki has won the Brand of the Year title of the Cars.co.za Consumer Awards – powered by WesBank twice so far.
Browse for a new or used Suzuki Vitara on Cars.co.za
Verdict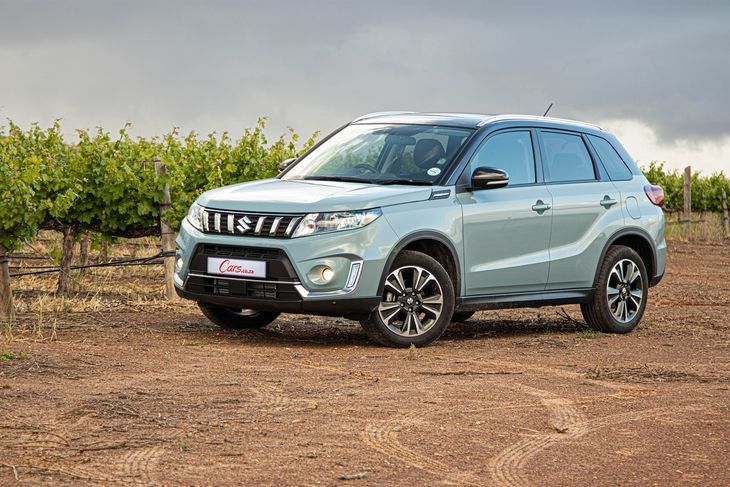 The segment in which the Vitara resides is densely populated, but sadly lacks vehicles that offer much in the way of personality and enthusiasm. Granted, it is a segment focused on practicality and value for money, but we're pleased Suzuki is determined to tick those boxes too. The 1.4T GLX auto reminds customers driving can still be enjoyable, both on tar and off it. Talk about an extra emphasis on the Sport in Sport Utility Vehicle! The new powertrain and interior space are the best selling points of this vehicle. Putting aside our enthusiasm for driver's cars, the Suzuki Vitara is one of the Cars.co.za content team's favourite models and, by virtue of bagging a pair of #CarsAwards category wins, clearly one of our readers' too.
However, there's a lot to choose from if you're prepared to fork out R400 000-plus for a do-it-all family vehicle. The Volkswagen T-Cross has gained many fans, while the Kia Seltos is a relative newcomer and a substantially reworked Hyundai Creta will soon be available. While some have suggested that the 1.4T GLX auto's price is now too steep, bear in mind that comparable top-of-the-rage Seltos, Honda HR-V, Toyota CH-R and T-Cross derivatives cost more than the flagship Vitara; what's more, the Suzuki's standard spec is comprehensive, its aforementioned rivals' less so.
Related content:
Suzuki Vitara (2019) Spec & Price
2015 Suzuki Vitara Video Review
Suzuki Vitara 1.4T GLX (2019) Review
Volkswagen T-Cross 1.0TSI Highline R-Line (2019) Review
Renault Duster 1.5dCi Dynamique 4WD (2019) Review