In a segment of the market where all-wheel-drive capability is mostly reserved for top-of-the-range models, the mid-spec Forester 2.5 XS represents a strong value proposition. Although the model is in the twilight of its product cycle and lacks a few nice-to-have features, its hewn-from-solid character and general practicality are hard to ignore.
We like: admirable build quality, on-road comfort, easy-to-load spacious boot
We don't like: sluggish powertrain, middling spec, ageing infotainment system
Alternatives:
Another AWD contender: Although the Toyota RAV4 2.5 AWD VX is also a long-serving product, it too offers all-wheel-drive ability in a part of the market where front-wheel drive derivatives dominate. Admittedly R40 000 more expensive than the Forester, it additionally offers, inter alia, leather trim, seat heating, a blind spot detection system and a power tailgate.
A newcomer laced with safety spec: Not only is the Mazda CX-5 2.5 Individual (R495 600) an attractively styled, well-made product, it comes generously equipped with features. For approximately R20 000 more than the 2.5 XS, what it lacks in terms of all-wheel-drive ability is countered by a standard sunroof, Bose 10-speaker audio system, lane departure and keeping system, city braking function, blind spot monitor, driver alert detection, head-up display and navigation.
The Korean twins: As is customary, the Kia Sportage 2.0 EX Plus and Hyundai Tucson 2.0 Elite offer excellent value at R469 995 and R469 900 apiece. Both two-wheel-drive contenders offer leather seats (electrically adjustable at the front), keyless start and folding side mirrors, but the Kia has automatically activated lights and wipers, auto-dipping mirror and navigation, while the Hyundai features a panoramic sunroof and blind spot detection. A 5-year unlimited warranty is standard on the former; 7-year mechanical cover on the latter.
Compare the Forester with its Toyota RAV4 and Mazda CX-5 rival
Compare the Forester with its Kia Sportage and Hyundai Tucson rivals

With plump 17-inch tyres and 220 mm of ground clearance, the Forester's more of an off-roader than most of its rivals.
The middle child
Whereas we conducted an extended test and compiled a video review of the Forester 2.0 XT last year, the flagship now costs in excess of R600 000 (January 2018). Therefore, we thought it appropriate to take a closer look at one of the best-selling derivatives in the range – the 2.5 XS, which costs approximately R120k less. As is the case since the facelift in 2016, the 2.5 XS features a revised bumper and headlight treatment, steering-responsive headlamps, an upgraded touchscreen audio system, improved cabin insulation (to lower NVH levels) and upgraded cabin surfaces for a more premium feel.
The Good:
It exudes solidity & quality
Whether it can be attributed to the reassuring thrum of its boxer motor, the loping gait of its absorbent suspension setup or just the moreish thunk with which the Forester's doors and tailgate close (or a combination of those attributes), the 2.5 XS is the embodiment of quality manufacturing. The cabin is well insulated from the wind at higher speeds and as for general fit and finish, the trim panels join together precisely and the finishes look smart, if more workmanlike than glamorous. The driver's seat is 8-way electrically adjustable, which makes it easy to find a comfortable position behind the wheel, while dual-zone climate control and keyless entry (and start) functions add modicums of luxury. Although the Forester's not the newest vehicle in the market it doesn't compare badly with its rivals in terms of space: rear passenger leg- and headroom are quite fair. And, as for the luggage bay…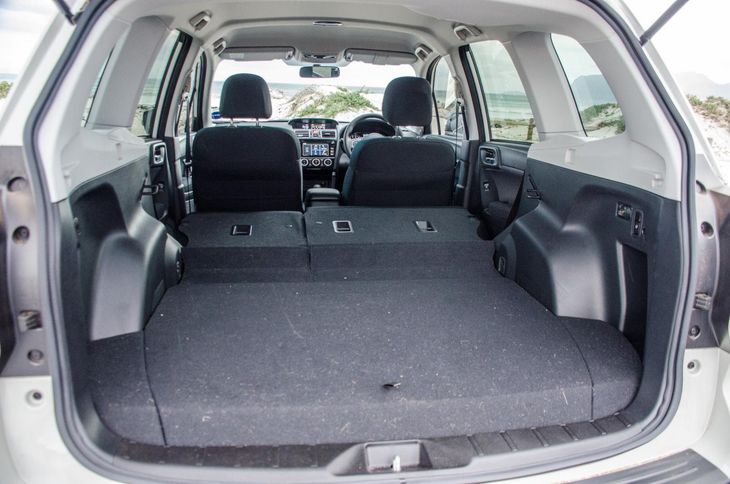 The rear seatbacks fold forward at the pull of a pair of levers to reveal a flat loading surface and acres of utility space.
Practicality's excellent
The Forester must be one of the best go-to options for prospective lifestyle-oriented family car/compact SUV buyers. With the rear seats up, the 2.5 XS's loading capacity is 488 litres and, when they're lowered, utility space expands to 1 557 litres, but there's more to it than that… The Subaru's aft 60/40 split seatback can be dropped via levers in the luggage bay or by pushing buttons on the rear seats, the last feature of which is very nifty.
Apart from practical adornments in the forms of cargo hooks and tie-down anchors, the shape of the Subaru's load bay is almost perfectly rectangular, which means that once something gets through the aperture, it should fit no matter how far forward you have to move it. Surfboards fit length-wise, for example, and, if you must, a pair of 29-inch mountain bikes can be fitted without the need to take either of their front wheels off.

The small LCD information panel on top of the dashboard feels a bit passe in the touchscreen infotainment era...
Genuine off-roading ability
Although there are other (mostly more expensive) family cars with all-wheel-drivetrains, the measure of off-road ability availed by those products is relative to road-biased tyres (often with low profiles), relatively low riding heights (best suited to general intra-urban motoring) and protrusions of vehicle overhangs… Suffice to say that the majority of such AWD models will cope with slippery road conditions (dirt and wet surfaces) without a problem.
However, when there is uncertainty about how challenging an off-road excursion might become, the Forester engenders a belief that no matter how rugged the terrain is, it will come out the other side unscathed. Obviously, without low-range, it has off-road limitations too, but courtesy of permanent all-wheel drive, 220 mm of ground clearance and the selectable X-Mode driving mode, the Forester can tackle an average 4x4 trail with ease.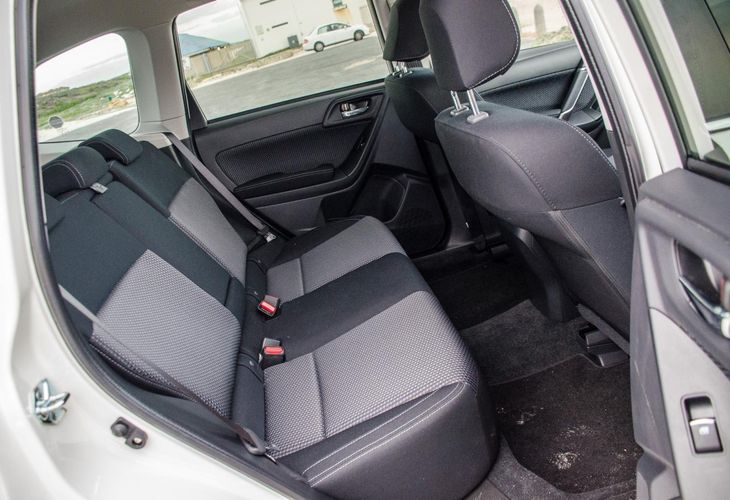 One area in which the Forester still feels fresh is at the rear, where legroom and headroom contribute to great passenger comfort.
The Not-so-good
Ageing engine/transmission combination
The 2.5 XS's 2.5-litre horizontally-opposed (flat or boxer) 4-cylinder petrol engine is well proven and, in this application, comes equipped with SI-drive technology, which allows the user to switch between Economy and Sport driving modes. Should they engage manual override (Sportshift) mode, the behaviour of the continuously variable transmission can be manipulated by inputs to the steering wheel-mounted shift paddles for a sportier feel.
However, as sonorous as the engine is, its outputs of 126 kW of 235 N.m (the latter of which occurs at a relatively high 4 100 rpm) are now middling. To put it another way, the 2.5 XS feels a mite sluggish in cut and thrust traffic compared to some of the smaller capacity turbocharged engines, which deliver their maximum shove at low revs. This languid torque delivery compels the CVT to frantically vary its ratios to keep the motor at its peak operating engine speed when a brisk turn of pace is required… and driving enjoyment ebbs as a result.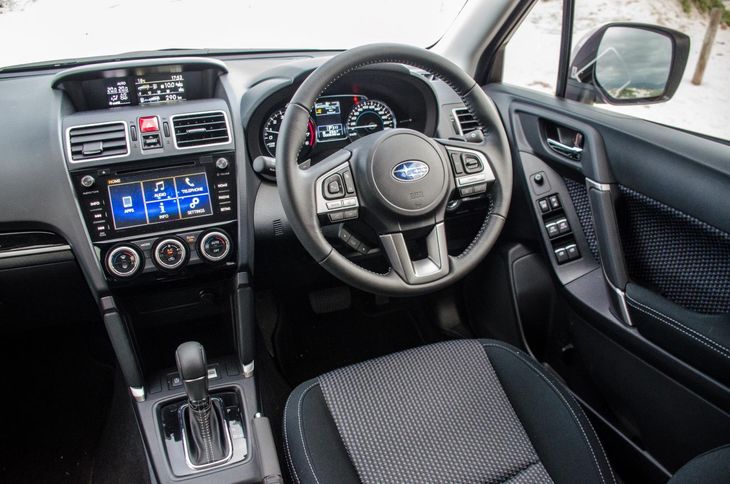 Shift paddles seem superfluous on an SUV that's more comfort- than performance oriented. Note the SI toggles on the multifunction steering wheel.
As ever, an erratic driving style will be punished by mediocre fuel consumption. Subaru claims an average of 8.1 L/100 km for this derivative and we saw an indicated figure of just over 10 L/100 km during the review period. Admittedly, the 2.5 XS spent more time ambling about inner Cape Town than its 2.0 XT sibling did during its extended test (9.6 L/100 km), but the former didn't work as hard (in terms of being loaded up with passengers and cargo).
Less-than-class-leading specification
If buyers are looking for a more-than-capable 4x4 family car first and foremost (and would, presumably, care little for panoramic sunroofs, self-dipping rearview mirrors, folding side mirrors, leather trim and other nice-to-have "fripperies"), the 2.5 XS offers much in the way of features that "no-nonsense outdoor adventurists" may require. By general family car standards, however, a look at the alternatives list atop this review reveals that rear parking sensors, blind-spot detection, auto lights and wipers are missing from the Subaru's fitted-as-standard list. In fact, the Mazda CX-5 2.5 Individual's vast array of driver assistance systems makes the Forester's LED headlamps (with cornering function) seem a bit piecemeal.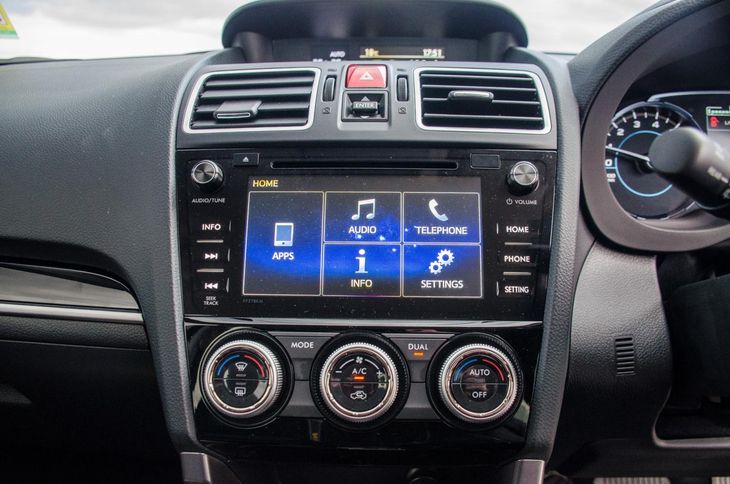 Although the touchscreen looks smart enough, its functionality is somewhat limited... that's often the case with older models.
The infotainment system betrays the model's age as well, unfortunately… it has a chunky, colourful touchscreen interface, supports Bluetooth connectivity/audio streaming and is augmented by auxiliary and USB ports, but other than that it's a pretty bare-bones system with no navigation function. Fortunately for brand loyalists, the Apple Carplay and Android Auto compatible infotainment system in the latest XV and new Impreza models, let alone the camera-assisted Subaru Eyesight driving assist system, bode well for future Foresters.
Pricing and warranty
The Subaru Forester 2.5 XS is priced from R497 000 and is sold with a 3-year/75 000 km maintenance plan and 5-year/150 000 km warranty. Service intervals are 15 000 km apart.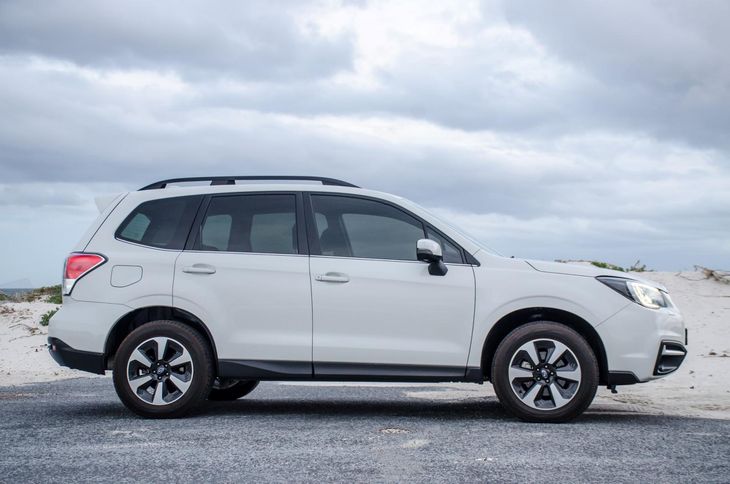 The middle-of-the range 2.5 XS might not be the last word in luxury, but it incorporates the finest Forester attributes.
Verdict
As much as we were impressed with the 2.0 XT version of the Forester, the 2.5 XS represents a not insignificant saving of around R120 000 over the flagship model. As this review has made abundantly clear, in early 2018 Subaru lags behind most high-end family car contenders in terms of onboard technology and creature comforts (perhaps it always has...), but the Japanese marque holds the edge insofar as off-road systems and outright 4x4 ability is concerned – even if a low-range transfer case is now but a distant memory. If the performance deficit and the relatively sparser equipment list compared to the 2.0 XT can be forgiven (we strongly suggest it could), the 2.5 XS (sluggish powertrain and all) is a strong prospect.
Why? Well, it's not surprising that this derivative is the most popular Forester in terms of sheer sales numbers... It feels solid from the moment you get in and ensconce yourself behind the steering wheel and the sensation just builds from there. When driven in a measured driving style, the Forester will dispatch long-haul journeys (while loaded to the hilt with passengers and their paraphernalia) without breaking a sweat and traverse even the roughest of dirt roads all day long. Then, if mild off-road ability would be required, the Subaru holds the ace over any rival priced near it.
There are drawbacks to the Forester's packaging, most of which are related to the advanced age of the product. If the modern conveniences of newer crossover-flavoured family cars are important to you, there are better-specified options in the front-wheel-drive brigade, no doubt about that. However, according to the Cars.co.za Consumer Satisfaction Survey (in conjunction with Lightstone Auto) Subaru owners are very happy with the after-sales service provided by the brand, not least the driving pleasure offered by its cars. Now that the manufacturer warranty of 5-years/150 000 km has been extended to all Subaru products, it seems unlikely the Forester will ever need to be any greater than the sum of its parts.
Watch our video review of the 2.0XT derivative:

Related content:
Extended Test: Subaru Forester 2.0 XT [With Video]
Comparative Review: Mazda CX-5 2.2DE AWD Akera vs Hyundai Tucson 2.0CRDi Elite [with Video]
Toyota RAV4 Updated in South Africa
Ford Kuga 2.0TDCi AWD Titanium (2017) Review
Hyundai Tucson Sport (2017) Quick Review
3 Reasons Why Volkswagen Tiguan is #CarsAwards Finalist
Interested in buying a Subaru Forester?