Given a few thousand km to live with Subaru's high-riding Forester, it quickly becomes a car that's very hard to live without. It may not appear so from the sales charts, but this may just be the hidden gem the active lifestyle family is after.
Subaru Forester 2.0 XT – Quick Specs
Price: R597 000 (March 2017)
​Engine: 2.0-litre, 4-cylinder turbopetrol
Transmission: CVT
Power: 177 kW
Torque: 350 Nm
Fuel Consumption: 8.5 L/100 km (claimed)
We like: Practical, solid build-quality, reliable feel
We don't like: Thirsty when in a hurry, infotainment system lacks features
Put to good use
As a "lifestyle" sort of a person (I am a dedicated mountain biker), the Subaru Forester was entrusted to me for a few months of hard work. And by entrusted, what I actually mean is: I yoinked it! Yep, I straight up nabbed the Forester from under my colleagues' noses; making sure absolutely no-one else in the team got a chance to take it off my hands. It's one of the perks of being the guy in the office (the road test editor) who decides who gets what.
There was a reason for the yoink (a word that originates from the popular animated sitcom The Simpsons and is now in general use): during the 2 months that the Subaru was in the custody of Cars.co.za, I had certain tasks to perform for which the Forester would come in very handy. First, it was used as a vehicle to search for a wedding venue in the Winelands and farms of the Overberg region. Second, it was used to ferry around a few Joburgers who were holidaying in the Cape and finally, I needed something rugged enough to transport my mountain bike on a daily basis.
"An entirely justifiable yoink", wouldn't you say?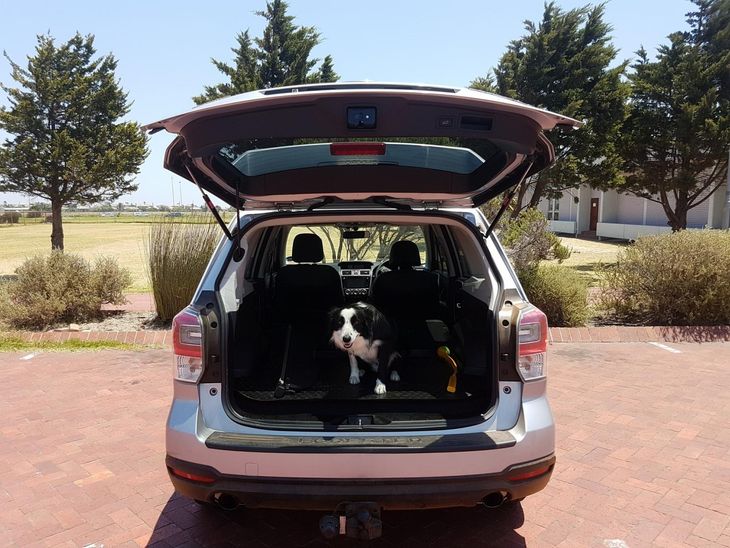 They say Subaru owners are dog owners. Luna the Border Collie helped us tick off the checklist of things to test
Getting dirty
The first task involved multiple trips through the Huguenot Tunnel and into the heart of the Cape Winelands. Most farms offer up a gentle dirt road that any hatchback or even sportscar could deal with. There was the odd occasion, however, that the Subaru's X-Drive special off-roading button was put to the test.
On a steep downhill on a farm in Worcester, for example, I engaged the hill descent control that allowed the Forester to creep down the slope with ease. The Subaru's 220 mm ground clearance also gives it more clearance underneath than most similar SUVs. For comparison, the Land Rover Discovery Sport only has 212 mm and the Nissan X-Trail 209 mm. The extra bit of clearance comes in handy if you plan on tackling the odd bit of rough stuff.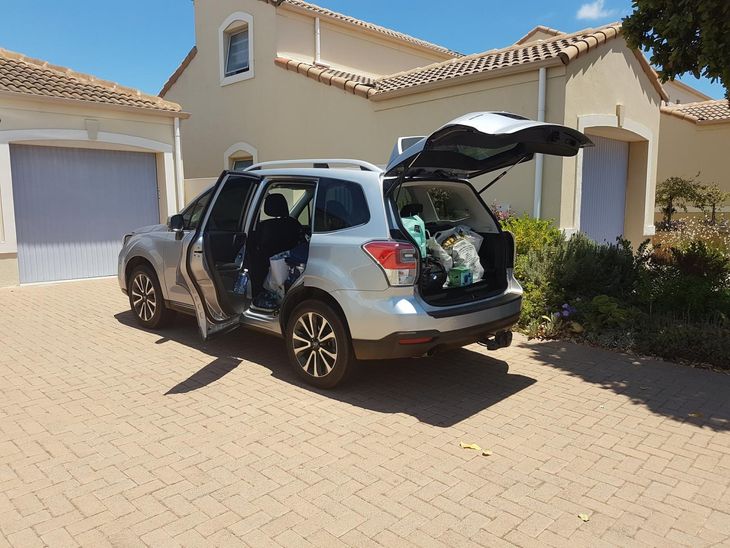 Fully loaded the boot can handle 488-litres of things. Fold the rear seats down and that opens up 1 557-litres
Considering all the miles we were chalking up on our search for a wedding venue, it gave us a lot of time to explore the Forester's interior. The XT model features everything Subaru SA has to offer so it is kitted with niceties such as leather seats, dual-zone climate control and a panoramic sunroof. I can't say I'm much of a sunroof user, but it brings a lot of light into the cabin without making it overly hot over the summer months. We hardly noticed it was there.
The infotainment system allows for Bluetooth connectivity and there's a USB port, but other than that it's a pretty bare-bones system. There are two apps available, Pandora for global radio station tuning – if you have mobile data to burn – and screen mirroring, which we couldn't get to work.
Task 2
The second task, of ferrying some Vaalies around the Cape, gave a good indication of the effectiveness of the rear occupant space as well as the ride comfort. The Forester is a longer car than those mentioned above, but has a shorter wheelbase (60 - 100 mm less) which can lead to decreased rear legroom. There were no complaints from the passengers, as rear space looked ample. The only thing it really lacked was a dedicated aft aircon vent.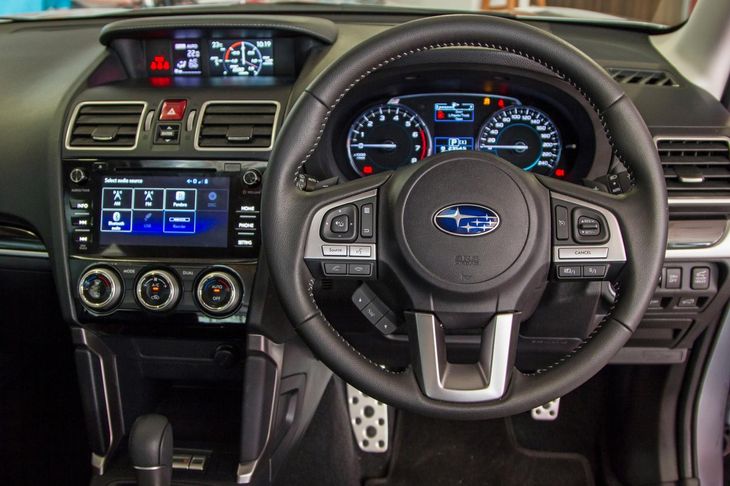 Interior of the Forester is easy to understand and feels well-built.
As for the on-road experience, the ride quality is solid and unflustered. It coped well on long journeys and often put its passengers to sleep on the drives back home. The ride can come across as slightly firm in town, especially over speed bumps and potholes, but not enough to be unsettling. The cabin is well insulated from the wind at higher speeds and all the trim panels join together precisely. The general fit-and-finish is more on the rugged, as opposed to luxurious, side of things, but it feels like it is all made to last for a long time rather than just the first year... as many cars seem to be these days.
The final task
I swap cars a lot during the year and a towbar is a luxury I don't always have. The Forester has one – as standard. That means I could hook my bike rack on and transport it around quite easily. Sometimes though, it's a chore to keep hooking it on and off, this is why I'm constantly tossing bikes in the back of cars.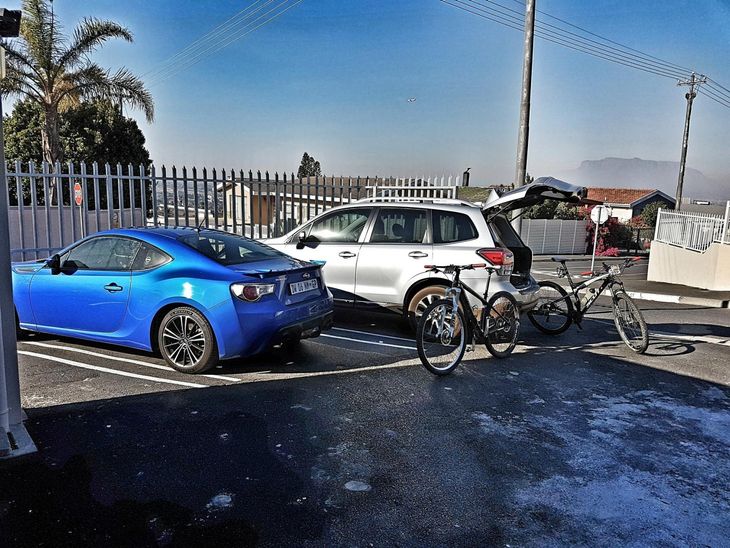 Two bikes in the Forester and a meeting with its sportier (but less powerful) sibling: the BRZ
The Forester's seats can be dropped via levers in the luggage bay or by pushing buttons on the rear seats, the last feature of which is very practical. It also has a rubber mat in the boot that keeps the mud and dust from creeping into the leather and carpets. Courtesy of the Subaru's wide rear aperture and a boxy shaped luggage bay, my large 29-inch wheeled MTB fitted in without the need to take the front wheel off – a rarer occurrence than you might think.
How did the petrol engine hold up?
I was a little concerned that the 177 kW/350 Nm turbopetrol engine would drink unleaded petrol as rapidly as it can sprint from zero to 100 kph. Yet, throughout the test period (during which some 2 000 km was clocked up), the Forester returned an average figure of 9.6 L/100 km. Given the model's performance capability, we feel that the return was not exorbitantly high... with some longer runs, it could even come down more.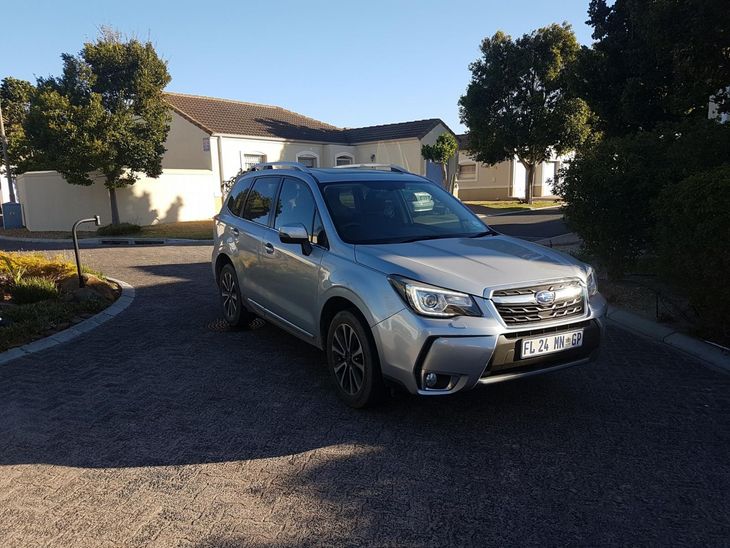 Still a box-shaped Subaru but it will seamlessly fit into your everyday life
The quick trips to the shops and crawling in stop-start city traffic result in less efficient returns; the Forester will hover around 12-14 L/100 km on those sorts of jaunts. The CVT gearbox doesn't feel as annoying when the Forester is driven in a respectful manner and it effectively keeps the revs low/in the optimal torque band. However, if you use the throttle pedal in a staccato manner, the 'box can get confused (shuffle between high and low RPM schizophrenically).
Conclusion
The Forester is a driving tool that feels like it was made to last, if not forever, a very long time. It may not have all the gizmos or fancy add-ons, but it just keeps on chugging along like it did on day 1. It's practical for hauling passengers and undertaking adventures alike and is a capable off-roader too, with excellent ground clearance.
The Forester made my life extremely easy during the time it stayed in my custody. The fuel consumption was a slight issue, but there's no diesel on offer in the range, so petrol is your default choice. At R597 000 it's quite dear, but its price has stayed stable while its rivals' have increased. It comes fully loaded too, so there are no extra costs for optional features, which, when compared to a BMW X1 and flagship Volkswagen Tiguan, make it a reasonable offering.
Related content:
Subaru Forester 2.0 XT (2017) Video Review
Comparative Review: Hyundai Tucson vs Kia Sportage vs Renault Kadjar vs Volkswagen Tiguan
Land Rover Discovery Sport SD4 SE (2015) Review
Searching for a used Forester?