Hyundai recently introduced a sportier version of its top-selling Tucson family car in South Africa. It's called the Tucson Sport and we tested it to find out if there is any merit in considering this beefed up compact family SUV.
We Like: Exterior enhancements, ride quality, performance, space
We Don't Like: Annoying exhaust drone, stock-standard interior
Alternatives
For more power: Consider the Volkswagen Tiguan 2.0 TSI 4Motion Highline R-Line. With 162 kW and 350 Nm of torque developed from its 2.0-litre turbopetrol engine, the Tiguan in R-Line trim has both kerb appeal and all-wheel drive performance in the bag. Overall, the Tiguan is difficult to fault and its interior design and build quality is superior to that of the Tucson and it comes well-specced with features. The Tiguan 4Motion Highline R-Line is significantly more expensive though, priced from R569 600.
For similar style: Consider the Mazda CX-5 2.5 Individual. The all-new CX-5 was introduced earlier this year and based on our first impressions, it's an impressive product well worth considering. This particular derivative is powered by a naturally aspirated 2.5-litre engine with 143 kW and 257 Nm of torque. Standard specification is good and the CX-5 2.5 Individual is similarly priced to the Tucson at R491 900.
Compare the Hyundai Tucson Sport with the Volkswagen Tiguan 2.0 TSI 4Motion Highline R-Line and the Mazda CX-5 2.5 Individual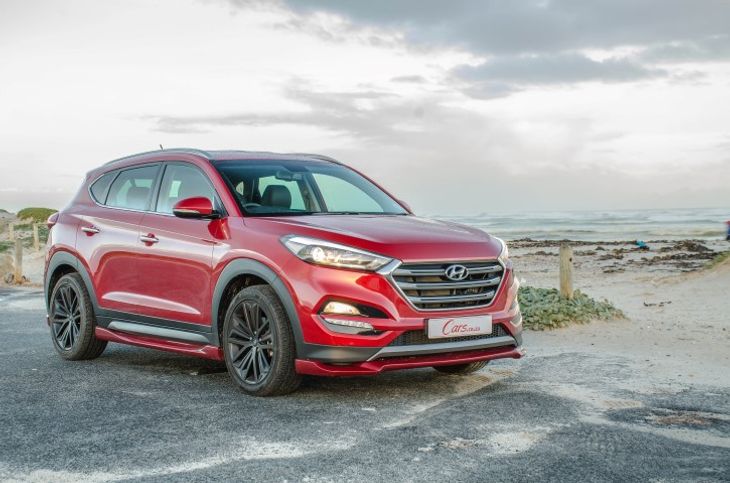 The Tucson Sport boasts sporty appeal thanks to a new front bumper, side skirts, rear diffuser and a quad exhaust system.
Facts & Figures
Price: R499 900 (June 2017)
Engine: 1.6-litre turbocharged petrol
Power: 150 kW
Torque: 295 Nm
Transmission: 6-speed manual
Fuel consumption (claimed): 8.3 L/100 km
Fuel tank capacity: 62-litres
Load space capacity: 580-litres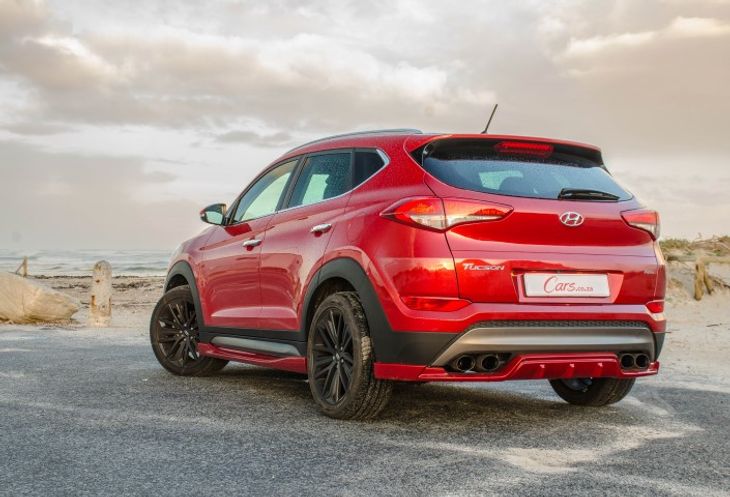 The quad exhaust system adds visual appeal while also offering a sporty soundtrack under acceleration.
The Hyundai Tucson is a popular choice in the compact SUV segment and according to the firm, the Tucson currently (June 2017) garners the lion share of sales in this segment totalling 16.4%. That's an impressive achievement for the Korean brand, but not difficult to understand when you consider that the Tuscon is a good-looking, practical and relatively well-priced family car. Hyundai is, however, having fun with its successful recipe by introducing the recently-introduced Tucson Sport, which brings a generous helping of sporty appeal to the range.
Should you consider buying the Tucson Sport? This quick review will help you decide…
The good
Sporty appearance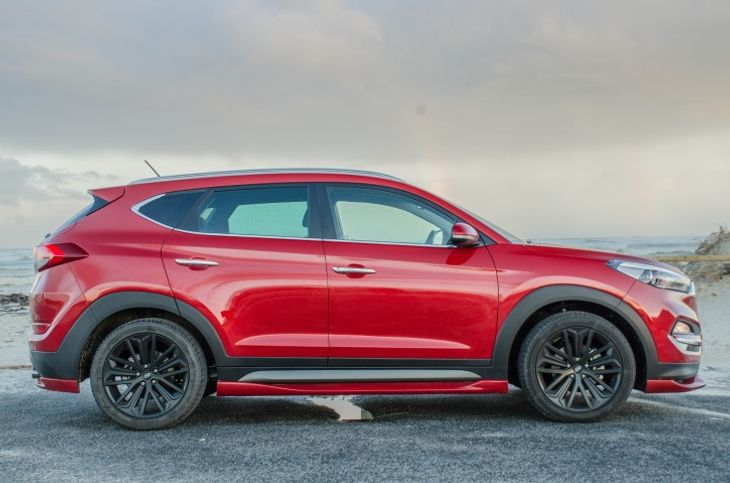 Beefy styling and an uprated 1.6-litre turbopetrol engine will attract buyers looking for added kerb appeal from their compact SUV.
In an effort to beef up the Tucson's exterior presentation, Hyundai has imported a body kit from Korea, which includes a beefy front bumper, side skirts and a rear diffuser. From the rear, you will notice that a quad-tipped sports exhaust system has been fitted, which delivers a hearty aural thrum. But that's not all: because those large 19-inch black alloy rims shod with low-profile rubber are unique to this derivative and round off what appears to be an overtly muscular look.

In terms of styling then, the Tucson Sport does a fine job of attracting admiring glances on the road and although its looks won't appeal to conservative buyers, it will attract a clientele who is looking for a more expressive, sportier-looking compact SUV.
Performance and ride quality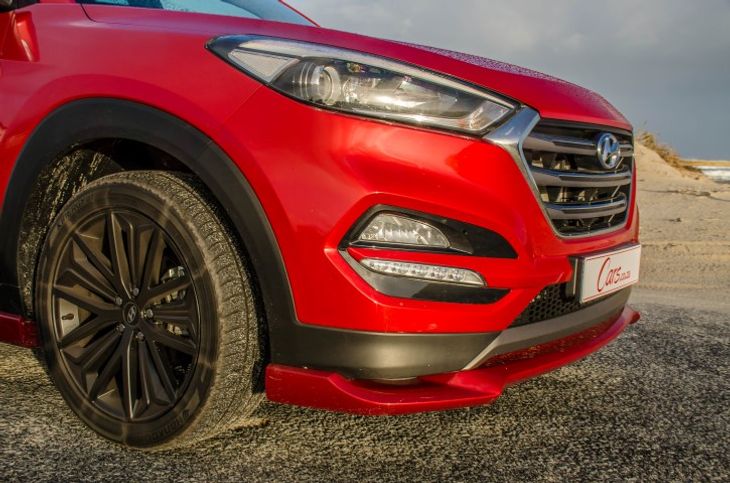 The Tucson Sport offers good performance coupled with a pleasingly comfortable ride quality.
This Tucson Sport is fitted with a 1.6-litre turbopetrol engine, the same found in the 1.6 Turbo Executive derivative on which it is based. In this application, however, power and torque has been bumped up by 20 kW and 30 Nm to deliver peak outputs of 150 kW and 295 Nm of torque.
That's enough to deliver a fairly powerful punch and the Tucson Sport gains pace relatively quickly when driven hard. It's not brutally fast, but will eagerly pick up the pace if you need it to. Power is sent to the front wheels via a standard 6-speed manual transmission and during hard acceleration off the line, the driver is bound to encounter mild torque steer. The 6-speed manual transmission is quite smooth in operation and the motor's tractability is good in the higher gears, which means less down-shifting is required to execute overtaking manoeuvres.
A major selling point for the Tucson is its comfortable, smooth ride quality, which is particularly welcome on longer out-of-town journeys. Despite its 19-inch wheels (shod with low profile tyres), bumps and ruts are absorbed with little difficulty and little jarring is felt in the cabin over harsher surfaces. The steering feel is quite vague, but you can adjust the steering with the push of a button on the centre console, which gives you the option of "Normal" and "Sport"; the latter firms the steering up a bit, which is useful for spirited driving scenarios.
In terms of fuel consumption, Hyundai claims an average fuel consumption figure of 8.3 L/100 km for the Tucson Sport. During its time with us, the trip computer returned 9.8 L/100 km.

Practicality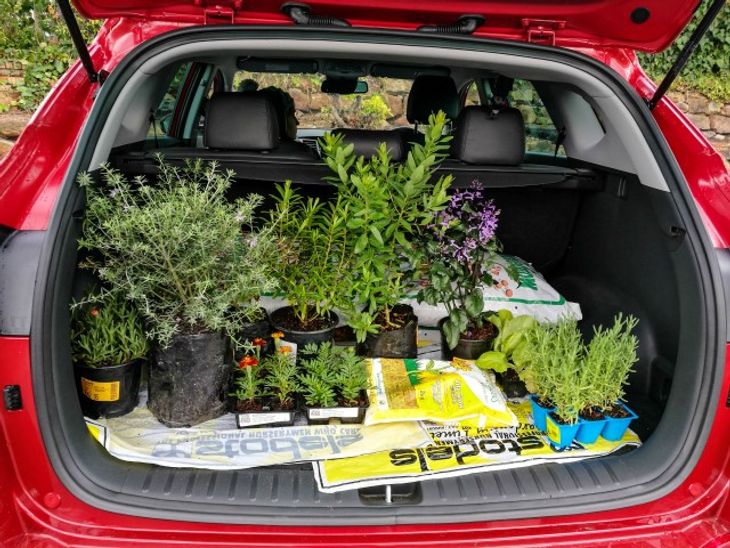 The Tucson offers a decent amount of loading space and rear passengers travel in relative comfort too.
In terms of practicality, the Tucson fares reasonably well. It has a sizable luggage bay that is claimed to offer 488 litres of loading space. The rear seats can fold down in a 60:40 split configuration, which increases loading space to 1 478 litres. You do, however, have to pull a lever on either side of the rear seats to fold them down. A release button on top of the seats would be far more practical. We transported various goods with ease, including plants, bags of soil, a surfboard and surfing gear. There are 12V sockets in the 'bay and below the fascia.
Space for rear passengers is adequate with sufficient leg-, head- and shoulder room. Both the front seats are electrically adjustable; the driver's seat features lumbar support for added comfort and the steering wheel can be adjusted for rake and reach. Front and rear cup holders, as well as sufficient storage space, are dotted around the cabin for your convenience.
Standard features
The Tucson Sport is based on the Executive derivative and therefore carries the same features and interior styling but sadly no sporty features are to be found in the cabin. The Tucson Sport is, however, well equipped with features including a multifunction steering wheel, electric windows, electric folding heated mirrors, climate control air conditioning and cruise control.
In terms of infotainment, an 8-inch touchscreen infotainment is fitted, offering navigation, Bluetooth functionality and CD player. The system is basic and easy to use, and a USB and auxiliary port is standard too.
On the safety front, the Tucson Sport is equipped with 6 airbags, ABS with EBD, hill descent control, and Electronic Stability Control. Park distance control with a rearview camera is standard with the camera view displayed in the rearview mirror. ISOFIX child seat mounts are also fitted.
The bad
Dull interior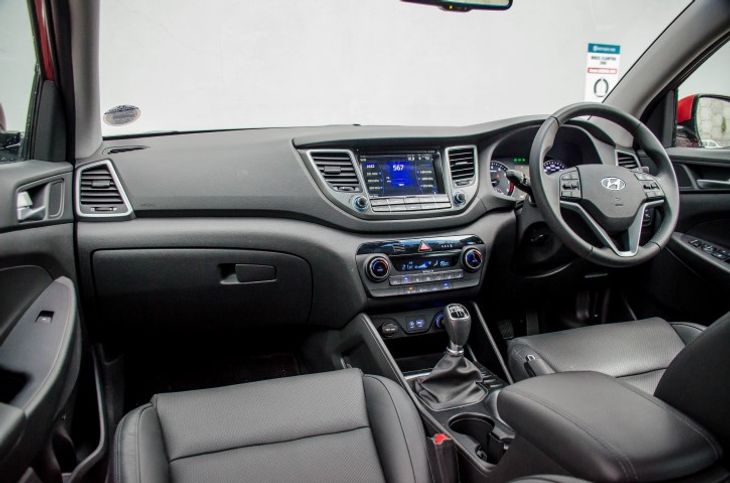 The interior comes well equipped with features and its sturdy build quality is to be appreciated.
It's a tad disappointing that Hyundai hasn't given the interior any special treatment to match the attractive exterior styling of the Tucson Sport. If you are going to go through the trouble of dressing the Tucson up in sporty attire, then why would you ignore the interior? Yes, it may be a small gripe, but if you are going to do "sporty", then at least have subtle design touches, such as sportier seat upholstery with contrast stitching or "Sport" badging to lift the interior ambience and differentiate it from other derivatives in the range.
The cabin, however, is well put together and hard, grey plastic is the dominant material and although it might not be the prettiest to look at, it is practical in the sense of keeping the cabin clean after the kids have had their way with it. The interior design is on the dull side of the spectrum and clearly stands in contradiction to its sporty exterior.
Annoying exhaust drone
That quad exhaust system goes a long way in terms of enhancing the visual appeal of the Tucson Sport and at times it can sound quite pleasant, but not all the time. The continuous, monotonous drone of the exhaust, even under mild acceleration, can become an annoyance, especially on longer journeys. Sure, you can get used to it, but you will have to turn the radio volume up a bit louder to hear your favourite song more clearly and you will have to raise your voice a few notches higher to have a conversation with your passengers.

More than this, the resonance from the exhaust system causes a perceptible reverberation through the seat every time you accelerate. We feel that the exhaust drone and vibration detract from the overall driving comfort. A sporty-sounding exhaust is a great feature, but it needs to be less intrusive and regulated somewhat.
Price and warranty
The Hyundai Tucson Executive Sport is priced from R499 900 and is sold with a 7-year/200 000 km warranty, 5-year/90 000 km warranty and 5-year/150 000 km roadside assistance. Service intervals are set at 15 000 km.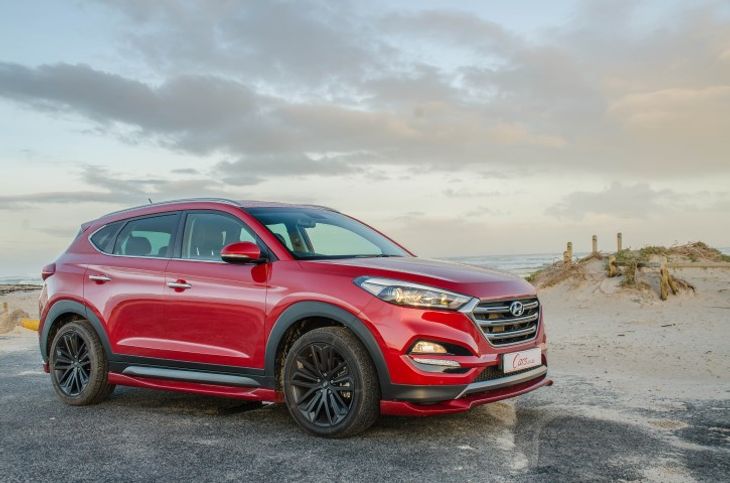 The Tucson Sport won't appeal to everyone, but it's fun enough to drive and offers a reasonable level of specification.
Verdict
The Hyundai Tucson Sport offers eye-catching styling that's complemented by a good level of standard features. It delivers solid performance and its (relatively) forgiving ride quality makes it comfortable to drive on a daily basis. Moreover, the Tucson is practical with sufficient space for passengers and luggage. Its dirt road capability is, however, compromised due to its low-profile 19-inch wheels, which may limit its use somewhat and its humming exhaust might ultimately become an annoyance for some.
The interior lacks a degree of flair to match the sporty exterior styling, but despite its flaws, the Tucson Sport offers oodles of kerb appeal and comprehensive standard features, even if it is rather pricey for a family car/compact SUV equipped with a manual transmission. If you care less about impressing those around you, then you can save R50 000 and just settle for the standard Tucson 1.6 Executive... However, should you wish to drive a Tucson with standout styling and a bit more brio, the Sport affords you the "modified look" without the need to forego the 7-year mechanical warranty and 5-year service plan.
Related Content
Hyundai Tucson (2017) Specs & Price
Hyundai Tucson Sport (2017) Launch Review
Hyundai Tucson 1.7 CRDi Executive (2017) Review
Hyundai Tucson 1.6 Turbo Executive Manual (2016) Review
Hyundai Tucson 1.6 Turbo 4WD Elite (2016) Review
2016 Hyundai Tucson – In-Depth Review, pricing and specs [Video]
Comparative Review: Hyundai Tucson vs Kia Sportage vs Renault Kadjar vs Volkswagen Tiguan
Want to buy a Hyundai Tucson?