Once one of the most popular vehicles in its segment in South Africa, Ford's Kuga is these days remembered for less desirable traits. With this facelifted version, Ford will hope that South Africans are willing to forgive the fire-related incidents (and subsequent recalls) of some of the previous-generation derivatives. Does the Kuga deserve another chance?
We like: Excellent value for money, engine performance/economy balance, standard features, ride/handling
We don't like: Outdated facia design/ergonomics, not as spacious as some rivals
Alternatives
Something Germanic and "near-premium": Volkswagen's Tiguan, in 2.0TDI Comfortline trim, can be had for about R35 000 more. For the money you get fewer fancy features, and the VW doesn't have niceties such as leather upholstery or heated seats. In Comfortline-spec it also lacks the visual wow factor of the costlier (add about R20k) R-line version. While it offers less power on paper, performance is similar, and the VW has a dramatically more modern and "polished" cabin. Ironically, the more expensive Tiguan can't match the capabilities of the Kuga's standard infotainment system, either.
Trusty Toyota: The Toyota RAV4 2.2D-4D AWD VX is also a fair bit pricier and doesn't sell all too strongly, but that's got little to do with its capabilities. The RAV4 is a solid, refined and spacious all-rounder that remains a must-drive if all-wheel drive is a definite requirement. At just over R550k it is, however, pricey and you get less power/torque.
Do you really need all-wheel drive?: These vehicles very rarely go off-road so unless you're certain that you need the extra security on poor surfaces that come from having all-wheel drive, we suggest you look at more affordable non-AWD variants, too. Mazda's CX-5 2.2DE Active, priced at R462 800, is particularly attractive even though it does lack several features offered by the Ford. The fact that most brands offer their flagship diesel automatic SUVs with front-wheel drive for more than this flagship Kuga AWD just highlights how well-priced this Ford is.
Compare the Ford Kuga with the Toyota RAV4 and Volkswagen Tiguan by clicking here
What's new?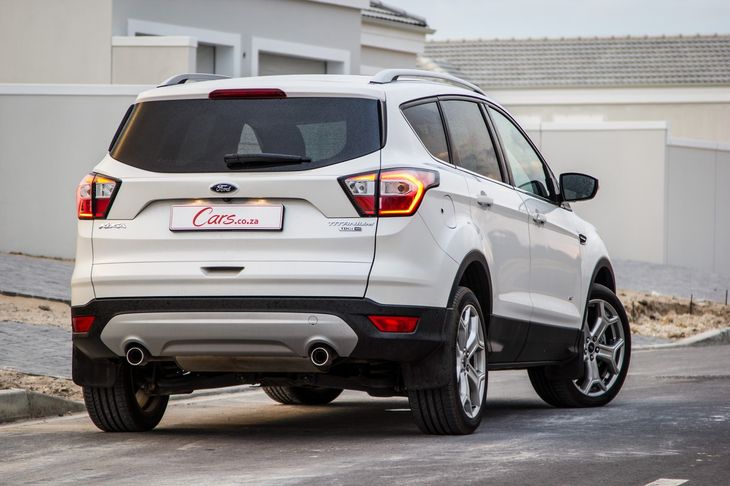 Compared with its almost entirely new front-end, changes to the facelifted Kuga's rear are far less noticeable.
Notwithstanding the recent engine fire-related troubles (and subsequent PR disaster) that nearly sank its reputation, Ford's Kuga has proven a popular choice in its segment in South Africa. The pre-facelift model was launched locally in 2012 and was still a competitive product when disaster struck but was undoubtedly ageing in several respects. This newly facelifted version, therefore, has to put Ford back in the mix in a very competitive segment (that features a number of modern rivals) and do so against a backdrop of considerable public distrust.
To do this, Ford has unleashed a comprehensive line-up of Kuga derivatives that offer lots of choice with the flagship being tested here. With updated looks on the outside, more modern features on the inside and a value-oriented pricing strategy, can the facelifted Kuga make amends?
How does it fare in terms of...
Design & Packaging
With a basic design that dates back more than half a decade, the Kuga has aged remarkably well and this facelift is therefore quite suitable. At the front, it gets the new Ford SUV grille shape, similar to what you'll see on the EcoSport and Everest. Changes at the rear are far more subtle and mostly restricted to the detailing of the tail lamps. It remains a neat design and this Titanium-spec flagship (with the optional Styling Package) further benefits from the addition of striking 19-inch alloy wheels and a powered panoramic sunroof. All that said, compared with newer entrants such as the Hyundai Tucson, VW Tiguan and Peugeot 3008, the Kuga does not look as modern.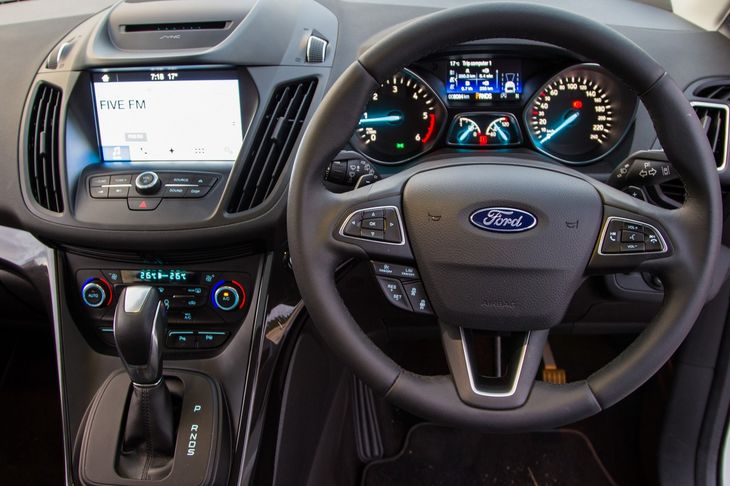 The facia is packed with features and major touch points (such as the steering wheel) are of a high quality.
The Kuga has arguably aged more noticeably on the inside, despite Ford's best efforts. Compared with modern facias, which favour a clean, minimalistic layout and great attention to detail to even minor control surfaces, the Kuga's facia design looks a bit haphazard. With familiarity, one can absolutely get used to the control layout and there's not much wrong in terms of functionality, but the game has moved on and the integration of a class-leading modern infotainment system (SYNC3) into what is a dated cabin, can't hide this.
Nevertheless, with generous adjustment from the steering wheel as well as the electrically adjustable driver's seat, comfort levels behind the wheel are high. Even the front passenger seat offers (manual) height and lumbar adjustment. Ford has also neatened up the transmission tunnel by fitting an electronic park brake, which in turn has allowed them to add some extra storage space between the front seats. The storage box between the front seats offers 2 USB outlets. In terms of overall spaciousness, the Kuga still offers competitive levels of rear legroom and a reasonably sized boot, too, though it is trumped in the latter by most modern rivals. Fold down those rear seats and an impressively flat and large load area is available (1 603 L) which compares well with its competitors.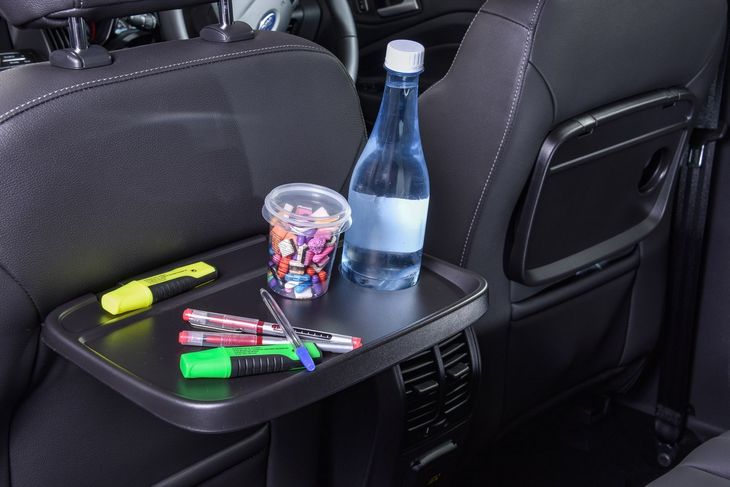 Airline-style flip-up trays with integrated drinks holders are provided for rear passengers.
There are some very nice comfort-boosting touches to be found. For example, sturdy flip-up trays are affixed to the front seatbacks and they are a great help on those longer trips with the little ones in the back. Those seated in the rear also get access to ventilation outlets and a 230V/150W 2-point power outlet. The rear seats have reclining backrests and comfort levels were praised by passengers on longer trips. Accessing the boot is particularly easy, even when you have your hands are full – with the key in your pocket you simply wave your foot underneath the rear bumper and it will open automatically.
Performance & Efficiency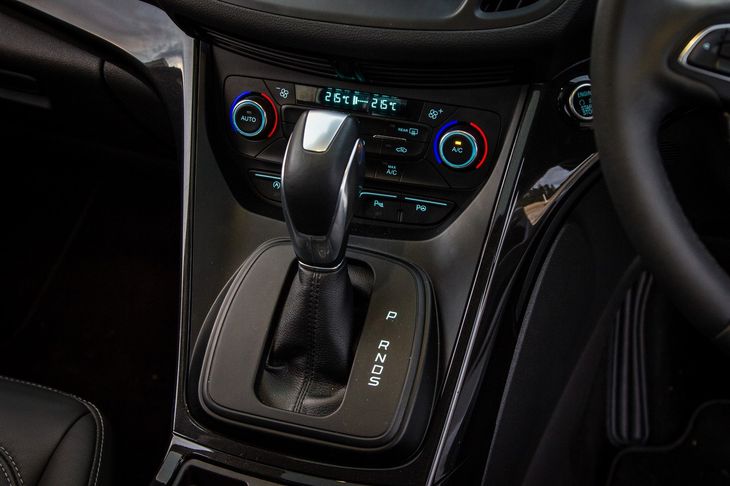 The 6-speed dual-clutch transmission fitted to this model delivers smooth shifts. Gearshift paddles are offered as standard.
This flagship version of the Kuga is powered by Ford's 2.0-litre turbodiesel engine that delivers a strong 132 kW and 400 Nm of torque. Not only does the engine make more power than its price rivals, that torque figure is also available across a wider rev range (2 000 - 3 250 rpm). Consequently, the Kuga is a responsive and keen performer. The engine is nicely matched with a 6-speed dual-clutch transmission that generally delivers smooth and well-timed shifts. If needed, the driver can always knock it down into Sport mode to up the responsiveness even further, or use the manual shift paddles behind the steering wheel (a much better solution compared with the fiddly gearshift-lever button used previously).
This is not the most modern engine or transmission on the market, but clearly considerable refinement has taken place because the drivetrain is one of the highlights of this particular Kuga package, delivering strong and smooth performance, along with impressive fuel efficiency. Ford claims a 5.4L/100 km combined cycle fuel consumption figure which, in typical Ford fashion, is very optimistic, but even in the real world we achieved 6.8L/100 km, which is impressive indeed.
Ride & Handling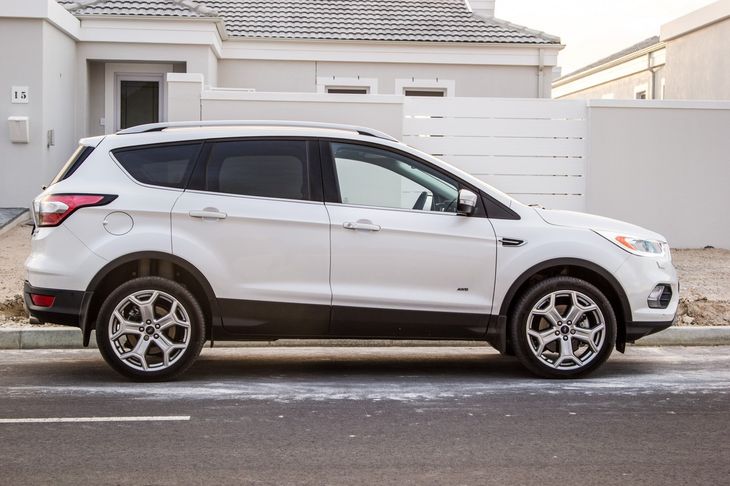 Even on the larger optional wheels, the Kuga delivers a supple ride quality and excellent road manners.
One of the Kuga's greatest talents has always been its ability to deliver a soft and comfy ride for those longer trips and daily commutes to the office/school run, as well as a pleasant, even "engaging" steer when the route serves up some challenging corners. Nothing has changed on that front with this facelifted version. In fact, we suspect Ford may have added some extra NVH (noise, vibration, harshness) measures to further reduce cabin noise levels (which are very low).
"Our" Kuga test unit was fitted with the optional 19-inch wheels (as part of the Styling Pack), but even married to the extremely low-profile tyres did not manage to upset the Kuga's general ride composure. We ventured onto some particularly poor gravel during our test period and the Kuga's composure, stability and ride comfort all received the thumbs-up. In fact, when it comes suspension tuning, the Kuga may still be the class leader!
Standard Features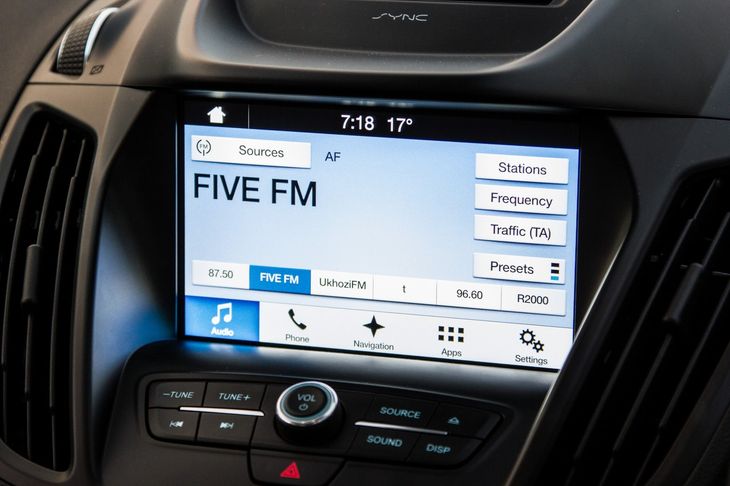 The SYNC3 infotainment system is comprehensive and easy to use, but navigation costs extra.
At the price, and given the fact that this model features all-wheel drive and an automatic transmission, the Kuga is packed with a surprising range of comfort-boosting standard features, some of which you'll have to pay a lot more to have in rival vehicles. This Titanium derivative, for example, comes standard with that useful hands-free powered tailgate, dual-zone climate control, cruise control, 10-way electrically adjustable driver's seat, leather upholstery, heated front seats, keyless access/start, auto lights/wipers, rear park-distance control (with rear camera view), and Ford's popular SYNC3 infotainment system that uses a high-resolution 8-inch touchscreen. SYNC3 features Apple CarPlay and Android Auto integration, and of course, supports Bluetooth and USB. If you want your SYNC3 to include embedded navigation, however, that'll cost an extra R5 044.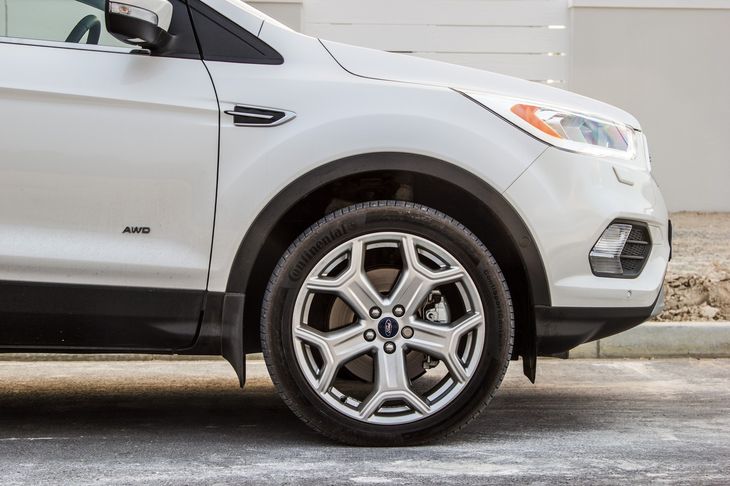 This Kuga featured the optional Styling Pack that includes 19-inch wheels, mud flaps and a panoramic sunroof.
You can also smarten up the relatively conservative appearance by adding the Styling Pack (R19 550) which includes 19-inch alloy wheels, a panoramic sunroof and... mud flaps.
In terms of safety features, it gets 7 airbags, rear ISOFIX child-seat mountings, hill-launch assist and an electronic stability programme (ESP). Should you want the Driver Assistance Pack, which includes Active City Stop with Low-Speed Collision Mitigation, Adaptive Cruise Control, Active Park Assist, Lane Keeping Aid and Blind Spot Information System, that'll add R15 450.
All of this means that you can add a great many advanced features to your Kuga and still come in cheaper than its rivalling automatic, turbodiesel all-wheel drive offerings at their base specification.
Pricing and Warranty
The flagship Ford Kuga currently sells for R506 900 and the price includes a 4-years/120 000 km warranty and 5-years/90 000 km service plan. Servicing should occur at 15 000 km (or 12 months) intervals.
Verdict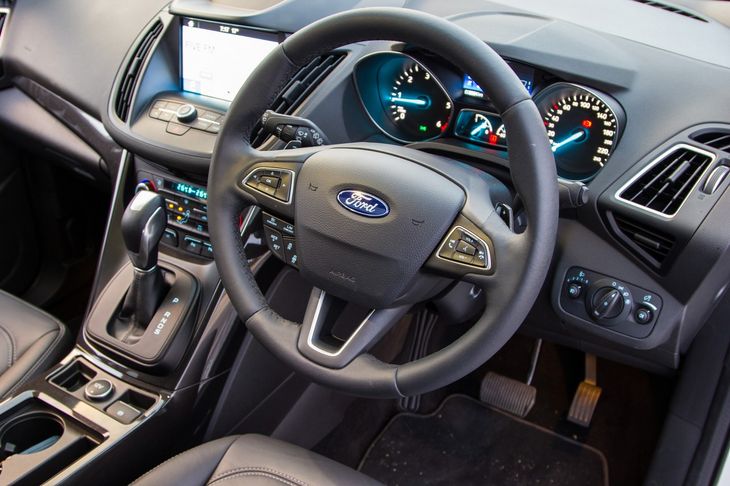 Arguably the Kuga's weakest aspect is its facia design, which looks cluttered and overly busy by modern standards.
There's a lot to like about this newly facelifted Ford Kuga, most of all, the downright staggering value-for-money on offer. Sure, you may not need all-wheel drive, but as it stands, this flagship Kuga undercuts even front-wheel drive diesel automatic offerings from rival brands. It does so without sacrificing specification or compromising in important areas such as engine power or warranty/service plan. Yes, if you dig into the cabin you will find a vehicle that is clearly an older design (compared with its rivals), but overall that's a small price to pay, we think, for a vehicle that still rides, performs and accommodates with the best of them.
If Ford's aggressive Kuga pricing/specification strategy was developed with the purpose of justifying this vehicle's appearance on new-car buyers' shopping lists once more, then consider that job well done... based on its abilities and overall offering, the Kuga can't be ignored.
You may also be interested in;
Ford Kuga launches in SA (2017) specs & price
Ford Kuga Recall: Phase II starts
Comparative Review: VW Tiguan vs Kia Sportage vs Hyundai Tucson vs Renault Kadjar
VW Tiguan 2.0 TDI Highline 4Motion DSG (2017) Review
Toyota RAV4 (2016) Video Review
Looking for a new / used Ford Kuga to buy?