Volkswagen is putting the all-new T7 van through its paces. Here's what we know so far about the next-gen VW bus.
Picture credit: S. Baldauf/SB-Medien. We have paid for these photos and at the photographer's request, have watermarked them.
Granted, seeing a bus tackling the infamous Nurburgring track may seem a bit odd, but its a great test of not just engine and performance, but brakes, suspension, ride quality and much more.
What you see here is Volkswagen testing the all-new T7 van. Our spy photographers say the side rear windows covered up, meaning this isn't the family bus, but could be the panel van derivative. It's expected this panel van version of the Transporter will be revealed and launched alongside the passenger-focused Caravelle.
Now things get interesting as our spy photographers claim to have spotted a charging port on the right front fender. We tried looking for it, but the camouflage has hidden it properly. A plug-in hybrid would give the Volkswagen T7 an advantage as it would be able to travel in a pure-electric mode for a few kilometres. With many European cities banning internal combustion engine cars, having some form of emissions-free capability helps immensely. As far as engines go, the Volkswagen Group has plenty of electrified powertrains to fall back on. We suspect something like the turbocharged petrol 4-cylinder mated to an electric system would be a winner. If you're wanting petrol and diesel, we're pretty confident Volkswagen will be offering such along with the electrified options.
It's worth noting we're unlikely to see an all-electric Caravelle as Volkswagen has promised it will make a production version of the ID Buzz all-electric minivan. We expect the new Volkswagen T7 to be revealed before the end of 2020.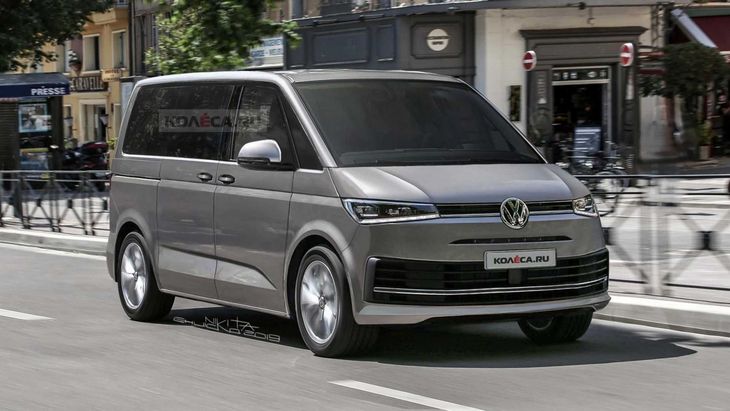 Could this be what the new Volkswagen T7 looks like? Render by Kolesa.ru.
Further Reading
Volkswagen Previews New California 6.1
VW California Ocean Better Than Airbnb
Volkswagen Caravelle 2.0BiTDI Highline 4Motion (2019) Review