The Volkswagen Caravelle remains a highly desirable family all-rounder – so much so, that many people regard it as the king of the luxury MPVs! But with a price tag of over R1 million, does its numerous talents justify its premium?
We like: Cabin comfort and flexibility, build quality, practicality, space
We don't like: Occasionally stumbling transmission, low-speed ride on poor surfaces, pricing
Fast Facts
Price: R1 027 700 (September 2019, without options)
Engine: 2.0-litre 4-cylinder bi-turbodiesel
Gearbox: 7-speed dual-clutch
Fuel economy: 8.8 L/100 km (claimed)
Power/Torque: 132 kW/400 Nm
Performance: 0-100 kph in 12.1 sec (claimed)
Own a Volkswagen? Tell us about your experience here.
SERIOUS ABOUT BUYING?
Where does it fit in?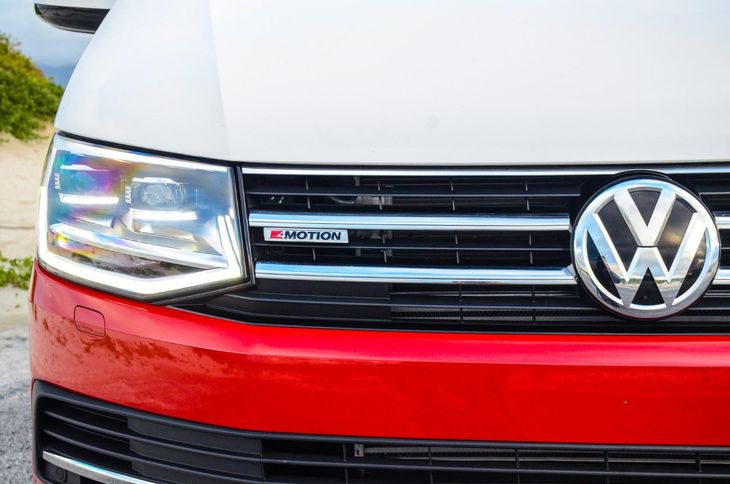 ​
For well-to-do families that travel long distances and who might encounter the odd bit of gravel, the Caravelle is highly desirable.
Volkswagen's minivans (or "Kombis", as they are colloquially known) have a long and celebrated history in this country. Many will fondly remember the ads featuring David Kramer and his red veldskoen shoes or "vellies", for example, and during the '80s and early '90s a Volkswagen 'bus (Kombi or Caravelle) was simply the ultimate family transporter (those were the days before SUVs became so ubiquitous that they hurried station wagons and MPV into near extinction). Add to that the desirability of older T1 and T2 "classics", and you have a vehicle that has considerable pedigree that is reflected in its premium price positioning. Yes, this Caravelle 2.0BiTDI Highline 4Motion featured here costs more than R1 million as standard.
But stripped of its "emotional" appeal, and given the availability of far more affordable 7-seater options, can the Caravelle justify such a steep price?
How it fares in terms of...
Design & Packaging
​
With its striking, retro dual-tone paint finish and chiselled lines, the Caravelle is an undoubtedly "premium" player in the minibus segment.
Being based on a delivery van has its advantages, but an attractive design is not usually one of them... Yet the Caravelle has an X-factor that makes it quite a desirable, premium-looking machine. Volkswagen has been clever with the details; neat features include the LED-infused headlamps, subtle chrome applications, striking 17-inch "Cascavel" alloy wheels and, of course, the optional "Heritage" dual-tone paint scheme.
That typical "Volkswagenness" that South Africans love so much pervades the 2.0BiTDI Highline 4Motion's massive cabin. The combination of solid build quality, a smart leather-wrapped steering wheel, piano black trim and satin silver finishes instantly elevates the Caravelle out of the panel van leagues and into the premium MPV segment. Nappa leather upholstery is standard on this particular derivative.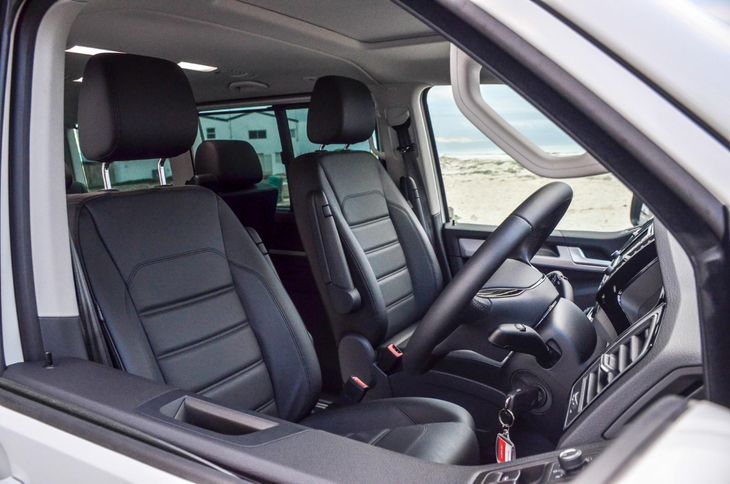 Expanses of leather trim underline the Caravelle's luxury-vehicle positioning.
As you would hope for in a people-mover that costs in excess of R1 million, the driver and front passenger are well catered for through the provision of notable luxury features... The front seats are both electrically adjustable (including height), with the driver's chair also offering a memory function. Both front seats feature a heating function and folding armrests.
The 2 side doors slide open (and shut) electrically, and access to the 2nd row, which consists of a pair of individual chairs (also with armrests) is straightforward. These seats can also recline and slide fore/aft, or even be rotated to face the rear seats. The 3rd row (a 3-seater bench) can also recline, if required. Even when all seats are occupied, ample luggage space is available – but it needs to be noted that the optional cooler/heater box in the load bay of our test unit did take up too much space. There is also a lot of storage space for smaller items underneath the rear bench.
So, in terms of spaciousness and flexibility (of the cabin), the Caravelle rates highly. The rail system allows for the seats to be moved fore/aft over significant distances, and the pop-up table was appreciated by the kids (and mom!) during a longer road trip. The middle row of seats can also be removed (though this is not as easy as it sounds), and the rear bench can slide forward to create a capacious 5-seater with liberal packing space.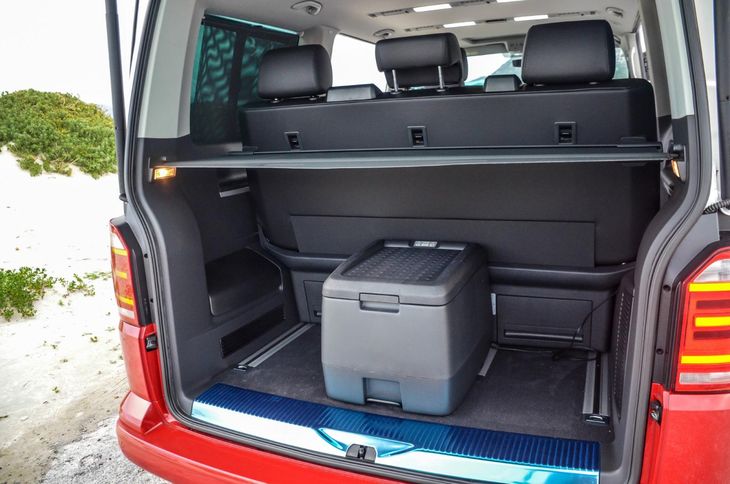 The optional heating/cooling box, as fitted in the trunk of our test unit takes up quite a lot of space and costs R5 145.
We rate the standard features list as sufficient but hardly generous, as it includes an up-to-date infotainment system (Discover Media) with integrated navigation and Bluetooth smartphone connectivity (as well as USB and auxiliary ports), cruise control, park-distance control (front and rear), powered tailgate, auto lights and wipers, plus a comprehensive safety suite that comprises 6 airbags and ESP (electronic stability control).
Compared with the Mercedes-Benz V-Class, the Caravelle compares well in terms of standard spec, but the much more affordable Kia Grand Sedona blows both the Benz and Volkswagen out of the water, even if the Korean offering doesn't quite offer comparable spaciousness. Having said that, the latter's more closely matched in terms of overall practicality than you may think...
Performance & Efficiency

Though the 2.0-litre bi-turbodiesel engine is willing, the 7-speed DSG 'box occasionally struggles to find the appropriate gear.
Perhaps the most important figure to mention in this section of the review is not the Caravelle's power output, but rather its unladen weight of 2 184 kg. That's a not insubstantial heft to propel, no matter how many torques you throw at the problem. Still, the 2.0-litre bi-turbodiesel engine under the Caravelle's bonnet is a willing unit, with 132 kW (at 4 000 rpm) and 400 Nm of torque across a fairly narrow band of 1 500 to 2 000 rpm. The engine is mated with Volkswagen's usually excellent 7-speed dual-clutch transmission, but in this application, it does occasionally struggle to select the appropriate gear swiftly enough, which can be frustrating when you're in a hurry. Take a more relaxed approach and matters improve significantly.
Volkswagen claims combined-cycle fuel consumption of 8.8 L/100 km for the 2.0BiTDI Highline 4Motion, which is not unreasonable; we saw an indicated figure of just over 10 L/100km. When considering the purchase of a Caravelle, we'd advise you to carefully think about whether you need 4Motion all-wheel drive, however. Yes, it adds a layer of security on gravel roads and other slippery surfaces, but there are downsides too...
First of all, the 4Motion system adds to the weight of the vehicle, which, of course, disadvantages fuel consumption and also has a negative effect on performance. The rear-wheel-drive Caravelle is a not-insignificant 10% more fuel-efficient.
Ride & Handling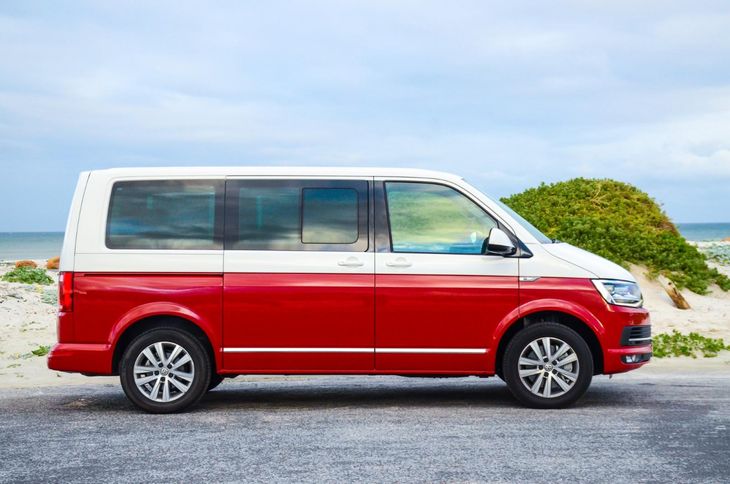 The Caravelle is a heavy, tall vehicle (check for roof clearance) and its ride refinement not to the same level as, for example, a more car-like Kia Grand Sedona.
At its core, the Caravelle remains a commercial vehicle that's been cleverly hewn into a luxurious passenger vehicle. From the outset this means there are some positives and some negatives that one simply can't get away from. In terms of ride and handling, for example, the result tends to be negative. So, over coarse and uneven surfaces, the Caravelle's suspension can feel a trifle "wooden", and given its high centre of gravity and high seating position, it's also not a vehicle with which one can be too enthusiastic in the corners. But that would be missing the point, anyways.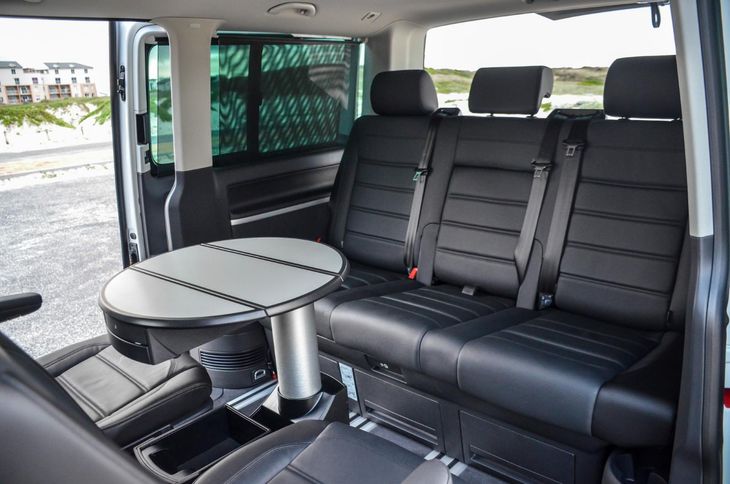 The pop-up table proved handy on long road trips and there are numerous storage spaces for smaller items.
But for what it is, the Caravelle delivers a sufficiently comfortable ride and we were actually pleasantly surprised by, for example, the NVH (noise, vibration, harshness) suppression in the cabin. The steering is light, which makes it far easier to manoeuvre the substantially large Caravelle in the tight confines of the city. Visibility out of the vehicle is also very good. All of that said, if you want a 7-seater with more car-like dynamics, you may have to look elsewhere, and particularly at Kia's Grand Sedona, which we rate very highly. And a word of caution... the Caravelle is very tall at almost 2 metres (1 950 mm), so make sure you pay attention to clearance signs when entering underground parking lots.
If you're going to be towing with your Caravelle, note that it has a 2.5-tonne (braked) tow rating and a maximum trailer nose weight rating of 100 kg. The roof load limit is also 100 kg.
Price and warranty (September 2019)
As standard, the VW Caravelle 2.0BiTDI Highline 4Motion will set you back R1 027 700. If you don't need all-wheel drive, consider the rear-wheel-drive derivative at R995 200. Our test unit came equipped with various options, including the striking two-tone "Heritage" paint scheme, which adds R33 289 and the heating/cooling box in the trunk (R5 145). A 3-year/120 000 km warranty and a 5-year/60 000 km maintenance plan are standard.
Verdict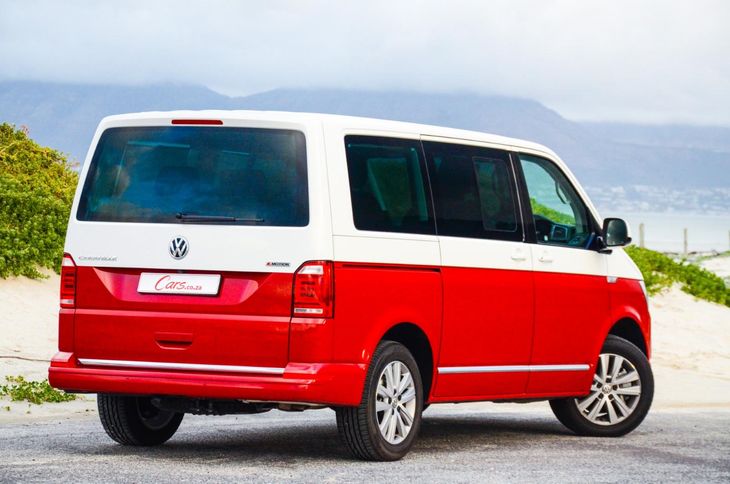 For some, only a Caravelle will do, but this variant is steeply-priced and there are more affordable, and equally luxurious alternatives out there.
It's hard not to fall for the Volkswagen Caravelle's considerable charms. For those members of the test team that used it to its full people- and luggage-carrying potential, the Caravelle is a highly desirable machine, one that blends typical Volkswagen premium appeal with long-haul family vacation practicality. The asking price, however, is hard to stomach. In terms of sheer cabin volume, the Volkswagen is near unbeatable, but in terms of offering the best balance of ultimate passenger comfort, luggage space, luxury and value for money, we have to say that Kia's Grand Sedona looks like a comparative steal. Go test drive both to figure out which proposition suits your needs (and desires) best.
Looking to buy a new/used Volkswagen Caravelle?
Find one on Cars.co.za by clicking here