Volkswagen Commercial Vehicles has released 2 teaser sketches of the latest iteration of the California.
Volkswagen says its new California T6.1 will have its world premiere at the end of August 2019 at the Caravan-Salon in Germany. In the meantime, what we know so far is Volkswagen claiming an enhanced interior, new generation of infotainment, and additional assistance systems to increase safety and comfort.
With over 18 000 units sold in 2018, the California became the number 1 campervan. For the updated version, we can also expect enhanced living and sleeping quarters as well as a redesigned dashboard incorporating the option of the VW Active Info Display, which is an all-digital setup.
In terms of mechanics, the updated California T6.1 will feature electromechanical power steering which was first seen on the Multivan 6.1. Safety systems such as Lane Assist, Side Protection, Trailer Assist and Side Wind Compensation will be available for the California T6.1. Under the redesigned front end will be the highly-efficient 2.0-litre turbodiesel motor with outputs of "up to 146 kW".
We'll have more details when the vehicle is revealed at the end of August 2019.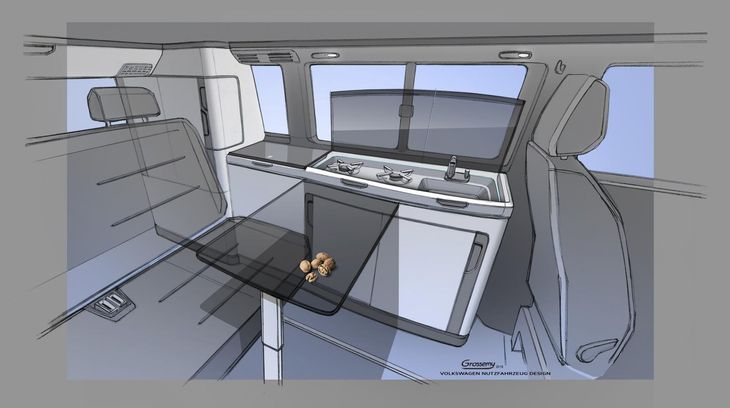 The new living quarters in the Volkswagen California T6.1
Further Reading
5 Reasons Why We Love the Volkswagen Kombi
Volkswagen Kombi Range Bolstered