Jaguar is readying a facelifted version of its F-Pace SUV and along with it, an updated SVR. Here's what we know.
Picture credit: S. Baldauf/SB-Medien. We have paid for these photos and at the photographer's request, have watermarked them.
Spotted on the roads of Germany, this Jaguar F-Pace has all the trademarks of being the flagship SVR model. Firstly, look at the size of those monstrous wheels, complete with big brake callipers. Secondly, in the second frame, note the quad exhaust system, loudly singing the 5.0-litre supercharged V8 song.
The updated Jaguar F-Pace SVR will feature new-look bumpers at the front and rear, with the cabin receiving the most changes. It's said there will a huge focus on quality and technology, and given the quality inside the electric I-Pace, it's expected we'll see a trickle down. Things like the dual-screen central stack as well as the updated digital dashboard should make an appearance.
There are also expected to be some mild changes to the chassis and suspension, but interestingly, there's whispers of a new range of mild-hybrid engines for the F-Pace range. The SVR should continue to use the monstrous 5.0-litre supercharged V8 motor and outputs should be around the 405 kW and 680 Nm mark. We'll keep you updated and we expect the new Jaguar F-Pace to be fully revealed before the end of 2020.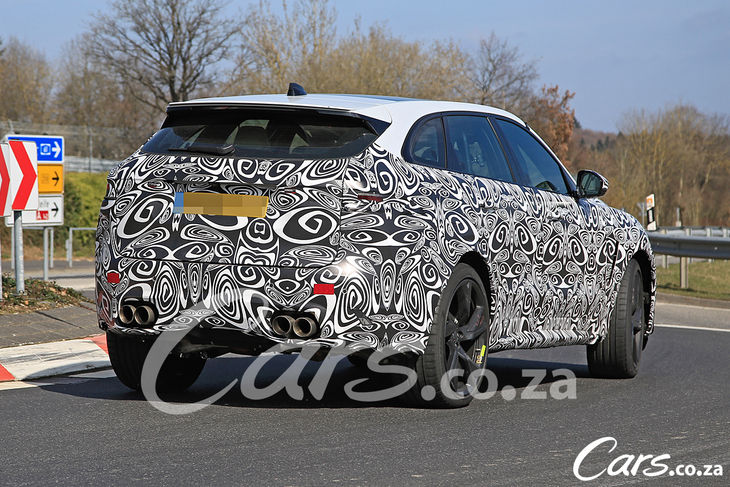 There's no mistaking those big wheels or quad exhausts.
Start your search for a new or used Jaguar F-Pace here.
Further Reading
Jaguar F-Pace SVR (2019) Review
Jaguar F-Pace SVR (2019) Launch Review
Jaguar F-Pace SVR Unleashed in SA