The Jaguar brand is generally associated with sporty sedans and sensual sportscars, but for the past few years, the F-Pace premium SUV has been the Coventry-based firm's top-seller. Without it, the iconic British marque would be in far greater trouble than it is. Has Jaguar managed to crack the performance-SUV recipe with the storming SVR derivative, however?
We like: Attractive design, rorty exhaust, driving enjoyment, price positioning
We don't like: Not quite as "premium" inside as its Germans rivals
Fast Facts
Price: R1 530 728 (November 2019, without options)
Engine: 5.0-litre V8, supercharged
Gearbox: 8-speed automatic
Fuel economy: 11.9 L/100 km (claimed)
Power/Torque: 405 kW/680 Nm
Performance: 0-100 kph in 4.3 sec (claimed)
Own an Jaguar? Tell us about your experience here.
SERIOUS ABOUT BUYING?
Where does it fit in?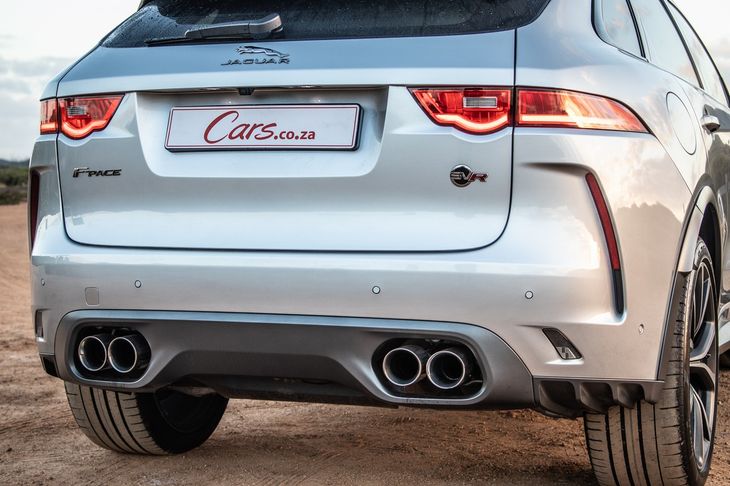 The F-Pace SVR's big exhaust tips emit a b-i-g sound... so much so that it borders on cacophonous.
As our Ciro de Siena recently mused in a video review of the Audi Q8, high-performance SUVs may have displaced traditional sportscars and first-class cars as the "dream cars" of today. That's why it's particularly important for Jaguar to get the F-Pace SVR spot on. After all, this is a brand that was built on performance and dynamism, so even though it succumbed to market forces and built an SUV, the product of that endeavour – the F-Pace – had to remain true to the marque's DNA. We already know, from our experience of lesser models, that the F-Pace is a fun-to-drive SUV, but this SVR will be up against the big boys from Germany, you know... those that brandish M, AMG and RS badges.
At present, and at the price, the F-Pace SVR is one of the most powerful and fastest SUVs you can buy. And also the loudest...
How it fares in terms of...
Design & Packaging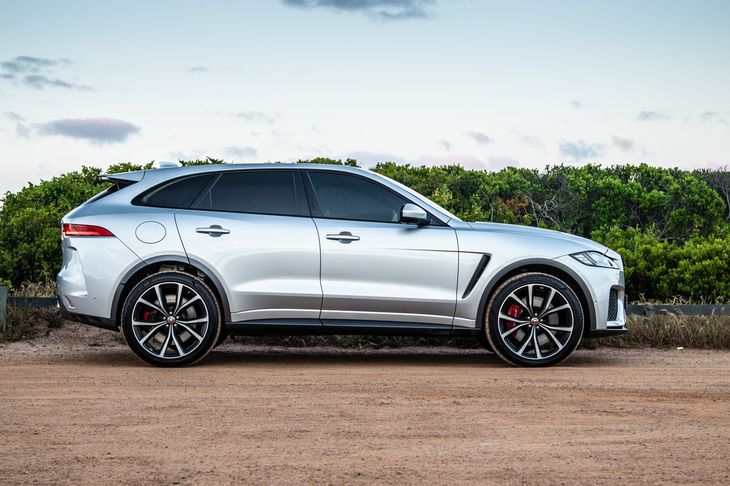 The F-Pace isn't the biggest SUV in its segment, but in SVR guise, it gains a muscular presence.
Finished in silver and riding on striking (and optional) 22-inch wheels, the F-Pace SVR is a mean-looking machine, but arguably not as aggressively styled as the likes of the Alfa Romeo Stelvio Quadrifoglio and BMW X5 M. But the F-Pace is one of the more handsome Premium SUVs anyway, and Jaguar's Special Vehicles Operation (SVO) has been clever in giving it a more muscular appearance, but without going OTT. Still, if you were ever in any doubt about the SVR's positioning, its quartet of large-bore exhaust tips (and the sound they emit) will be more than enough to put any doubts to bed. This is the top-dog F-Pace – it looks it and sounds it.
Step inside and the favourable first impressions continue, mostly because of the standard (and aggressively bolstered) sports seats trimmed in lavish quilted leather. Otherwise, the SVR is relatively similar to lesser F-Pace derivatives inside, save for the odd smattering of carbon-fibre trim, which is not a bad thing. The F-Pace's cabin is by no means cramped, but at the same time, it's not as spacious as, for example, the latest BMW X5 and Mercedes-Benz GLE, which are admittedly newer models. The transmission tunnel is high and the glasshouse shallow – design features that contribute to a more "enclosed" sportscar-like feeling behind the steering wheel, which itself offers plenty of adjustment.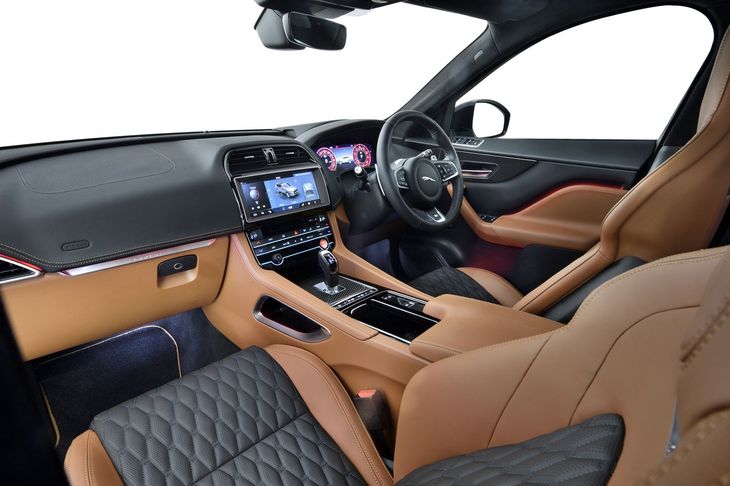 Certainly an attractive place to spend time in, and also solidly put together.
Second-row legroom is decent enough for most families' needs, and the load-bay capacity is rated at a spacious 650 litres, which is the same as the new X5 and considerably bigger than the Stelvio's. You can drop the rear seats down to free up additional space for cargo, but the Jaguar doesn't offer quite as much utility volume as its German rivals. Where it also lags the Germans (very) slightly is in the perceived quality stakes. Build quality is solid, and most of the materials feel durable and luxurious, but there are some minor trim details that could be improved, or more "detailed".
The F-Pace SVR features a digital instrument panel as standard, as well as the InControl Touch Pro (SSD) navigation system that allows for smartphone integration via Apple CarPlay. In general, the standard features list looks impressive. The front seats feature both heating and cooling functions, while the rear bench can be heated. Dual-zone climate control is standard, but you pay extra for a 4-zone system (R15 400). The steering wheel features a heating function as standard. Cruise control, lane-keep assist and a reverse-view camera are standard too, but you pay extra for a powered tailgate (R6 400), surround camera system (R4 600) and a sliding panoramic sunroof (R19 900).
Performance & Efficiency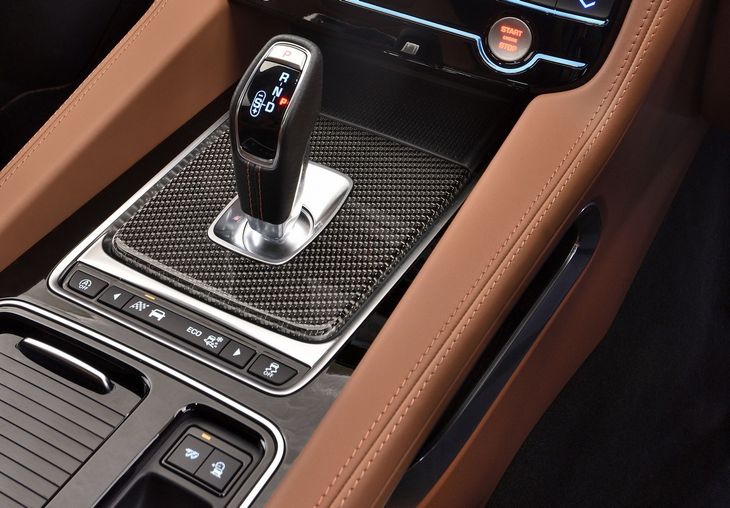 Want to make the throttle response explosive? Just toggle towards the chequered flag...
The F-Pace SVR is powered by the marque's charismatic supercharged 5.0-litre V8 petrol motor, which pumps out 405 kW (more than the similarly priced BMW X5 M50i and Alfa Romeo Stelvio Quadrifoglio), but less than the upcoming (and likely to be significantly pricier, BMW X5 M). Peak torque is a meaty 680 Nm (available from 2 500 to 5 500 rpm), which is sent to all 4 wheels via Jaguar's slick 8-speed automatic transmission.
Jaguar claims a 0-100 kph time of 4.3 seconds and a 283-kph top speed – that's sportscar-like performance in anyone's book – and the veritable barrage of thrust is produced in a pleasingly traditional, oh-so-Jaguar kind of way. The SVR always feels ready to catapult itself towards the horizon; its throttle response is electrifying (even before you switch to the sportier driving modes). And, my word, that quartet of exhausts ends emits a sonorous and cacophonous roar! It's so loud, in fact, that Jaguar in Australia has been told to reduce the SVR's sound levels if they want to keep selling it there. Hopefully, the up-tightness Down Under will never spread to South Africa and muzzle the spirited SVR here...
It is, however, a thirsty beast and you'll be required to top up that 82-litre tank quite regularly. Jaguar claims a combined cycle consumption figure of 11.9 L/100 km, but you're likely to average a figure closer to 14 L/100 km.
Ride & Handling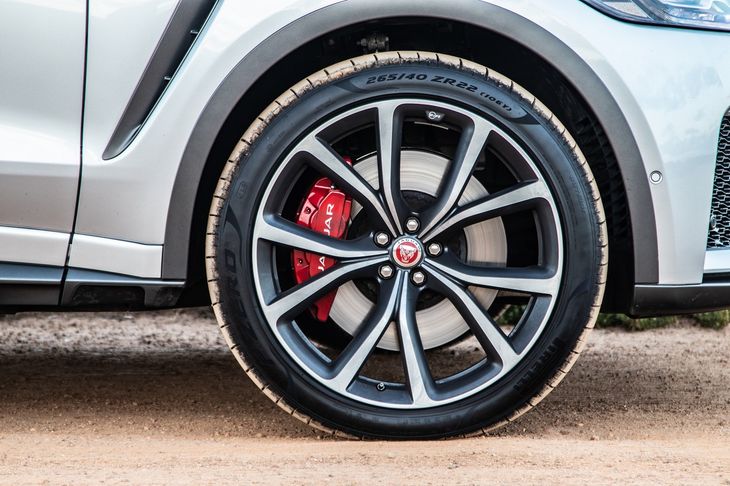 Massive 22-inch wheels provide lots of grip and, impressively, the ride remains relatively supple.
By virtue of being underpinned by the same platform as the sweet-handling XF executive sedan, the F-Pace has always been one of the more dynamic vehicles in its segment – SVO (Special Vehicle Operations), Jaguar's performance division, clearly had a good base to work from. Compared with its standard siblings, the SVR's adaptive suspension software is different, and the front and rear springs are 30% and 10% stiffer, respectively.
The F-Pace SVR is, however, one of the heavier vehicles in this segment, which is something to keep in mind when thundering into a corner – there's quite a bit of body lean and the natural tendency is towards slight understeer, but if you're mindful of these traits, this is a fun car to hustle through the twisties, because its so responsive to throttle pedal and steering inputs. The larger brakes, too, perform impressively, they deliver reassuring pedal feel and are seemingly resistant to regular hard use. Traction and grip are never in short supply: the electronically-controlled active differential and torque vectoring system undoubtedly play strong supporting roles in the SVR's overall on-road poise.
Considering those gorgeous 22-inch wheels and the low-profile tyres they're shod with (in fact, the rubber looks as if it was painted onto the rims), you'd expect the SVR's ride quality to be uncompromisingly stiff. But Jaguar knows how to make fun-handling cars that retain a measure of suppleness. Yes, over rougher roads and lower speeds, you feel the effect of the bigger wheels, but once up to speed, the F-Pace SVR is a smooth, relaxed and comfortable car to drive.
Price and warranty (November 2019)
The F-Pace SVR sells for R1 530 728, without options, but our test car came specced with several optional features, including a sliding panoramic roof for R19 900, Navigation Pro with a Meridian Sound system (R9 600) and Adaptive Surface Response (ASR) for R2 400. We regard Jaguar's extra-cost features reasonably well priced; even with all R61 000-worth of optional extras fitted to our test unit, its price compares favourably to rivals' (standard) pricing.
The price includes a 5-year/100 000 km warranty and 5-year/100 000 km maintenance plan.
Verdict

The Jaguar F-Pace SVR is a characterful, accomplished alternative to the German super-SUVs
We thoroughly enjoyed our time with the Jaguar F-Pace SVR. Unlike some of its rivals, it's neither overly aggressive nor shouty in appearance, yet it's undoubtedly a handsome car with plenty of kerb appeal. It makes its presence known, however, through an addictive soundtrack that we just could not get enough of (there's a button to make it even louder, hurrah!). It's positioned in an interesting space in the market, competing largely against less extreme variants of its German rivals, though you can get the smaller GLC 63 S at the same price. Undoubtedly the upcoming X5 M and Mercedes-AMG GLE 63 S, as well as the Audi RS Q8, will be more powerful... but also significantly more expensive.
But do you really need more performance and road presence than what the F-Pace SVR offers? We seriously doubt it.
Looking to buy a new/used Jaguar F-Pace?
Find one on Cars.co.za by clicking here