Jaguar has joined the super SUV fray in the South African new vehicle market with a high-powered and nothing short of unrelenting, F-Pace SVR. We put it through its paces throughout the weekend at the 2019 Jaguar Simola Hillclimb.
What is it?
Super SUVs are becoming increasingly popular. They offer the space and practicality of family cars, but then when the mood takes you, you can launch them from a set of lights with sportscar-like ferocity. Many marques have recently gone down the road of developing performance-oriented executive SUVs: BMW has the X3 M and X4 M, Mercedes-AMG makes the GLC63 S and Alfa Romeo the Stelvio Quadrifoglio – to name just 3.
To create the SVR, an F-Pace is sent to Jaguar Land Rover's Special Vehicle Operations and fitted with a 5.0-litre supercharged V8 producing 405 kW and 680 Nm. Lightweight 21- or 22-inch alloy wheels are fitted and inside them lurk larger diameter brakes for improved stopping power.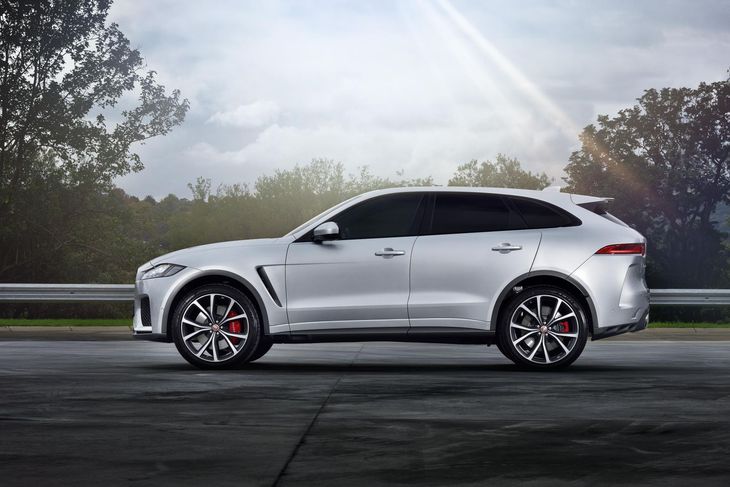 Not overly adorned with wings and spoilers, but just enough presence.
The suspension is tweaked as well: the damping setup is 30% stiffer at the front (ostensibly to accommodate the larger, heavier motor) and 10% stiffer at the rear. Larger intakes at the front help create a low pressure around the wheel arches, reducing lift and improving engine cooling. What's more, Jaguar has designed a new rear spoiler and bumper to aid both the aero and, of course, kerb appeal of the muscular F-Pace SVR.
Finally, the Dynamic driving mode is tuned to deliver more responsive gearshifts, sharper throttle responses and appreciably faster steering.
Own a Jaguar? Tell us about your experience here.
It sounds wild...
The F-Pace SVR that was allocated to me so that I may cane it up the hill as fast as I could bore the number 66, but it may have been fitting to add another 6 considering the brutal noise it emits, even when it's idling. Just a slight prod of the throttle sets off barks and spits from the quad tailpipes. It doesn't sound synthetic either, unlike some of its German rivals that have been engineered to produce a bunch of off-throttle pops and bangs. There's a slight shudder to the car as you squash the throttle; it feels as if the V8 up front is hell-bent on flexing its muscles against the mountings.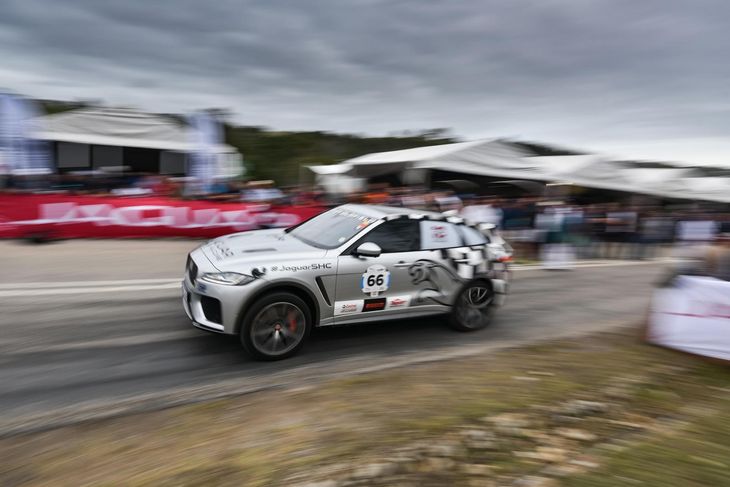 0-100 kph in 4.3 seconds without a launch control system.
Zero to 100 kph takes just 4.3 seconds and that's blistering, considering that there is no launch control to help you execute near-perfect pull-aways. To get to near that number you have to let the Jag's powertrain strain against its brakes and then let it fly. The SVR's AWD system takes care of any wheelspin and on anything but stone-cold tyres, there is no tyre scrabbling to speak of. I must have done around 25 launches (2 per run up the hill) and each one felt identical to the last.
The faster-shifting transmission is very noticeable. You have to be a bit predictive with the first 2 gears if you're shifting with the paddles as the motor will rev up maniacally until it hits the 'limiter, which, of course, hampers acceleration. Leave it in S (Sport) auto and it will shift on its own correctly. It's keen to go down a gear as well; its eagerness to kick down especially quickly is one of the reasons it's such a responsive machine.
How does it handle?
When faced with a time attack like Knysna's Hillclimb, there's a lot of time to dial in the perfect setup and driving style. I was initially worried about the height and weight of the F-Pace SVR (it's a 2.1-tonne car), because I'd only piloted sportscars and sedans up the hill before. It took me a couple of runs to find my feet, but I quickly learned the correct technique for driving an F-Pace SVR. It responds well to being thrown into corners... hard.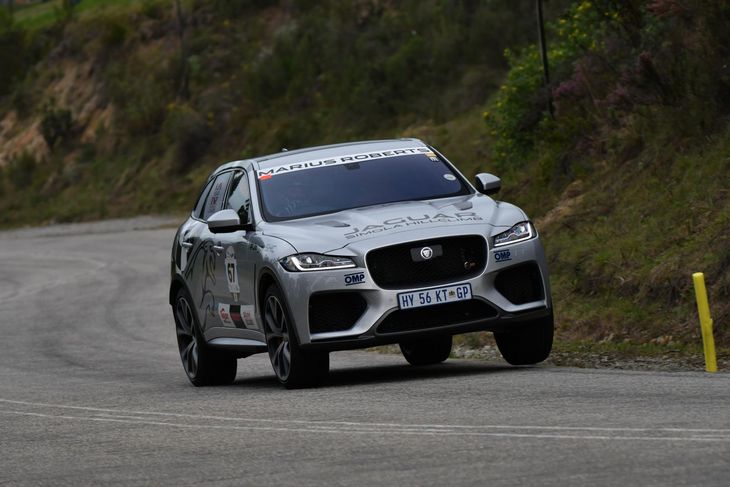 The F-Pace SVR responds to strong inputs and an aggressive driving style.
Pitch it into bends with a swift jolt of the 'wheel and then wait for the weight to shift around a bit and the suspension to settle. Once that's done, you can start burying the throttle again. It's so impressive that there's no real sliding – understeer is minimised to an unnoticeable amount. The torque vectoring system helps to dive the front end in, using the brakes to help rotate the car into the apex. I experienced a little bit of corner exit oversteer when the surface was slippery, but with the all-wheel-drive system, there was no need to lift (or even countersteer) – it felt entirely under control.
Jaguar built the SVR to be a super SUV, but the firm hasn't turned up the wick to the extent that its newcomer is near-unusable on the road. There are ways to make it faster for events such as the Hillclimb, but then for the other 99% of the time (when you're on public roads), it would be horribly stiff and uncomfortable. The F-Pace SVR still retains usability within city limits and although it's noticeably firmer over bumps, it's not jarringly harsh.
Is it nice inside?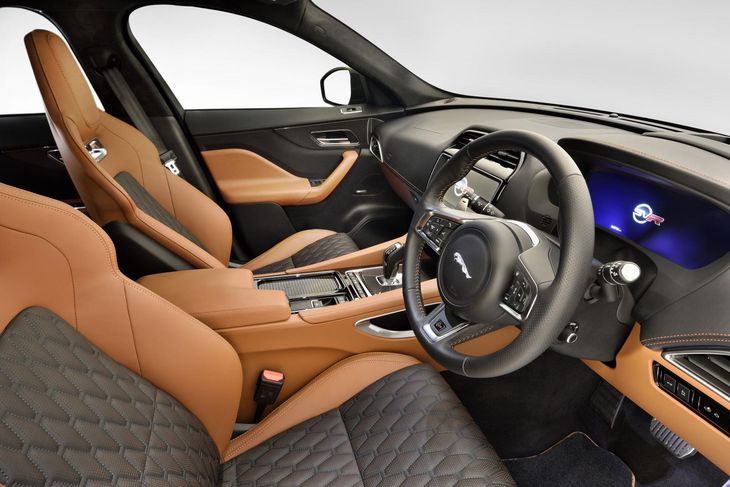 Beautiful and comfortable sports seats and an aluminium pedal box are new additions.
The front sports seats are certainly exquisite, with lovely attention to detail on the stitching and an embossed SVR logo. It also comes in a Lozenge orange and anthracite black trim combination, which endows it with a distinctive sense of style. There are multiple SVR badges and carbon weaved plastic strewn around the cabin to remind you (and of course, your passengers) that you're seated in the belly of a beast...
The F-Pace doesn't yet feature the fancy dual touchscreens or Apple Carplay/Android Auto compatibility of the latest Range Rovers. The system still pairs easily with your Smartphone and offers a multitude of options and adjustments to lighting, displays, and data on economy and performance.
In terms of general occupant comfort, 4-zone climate control is standard fitment and Jaguar affords F-Pace SVR passengers enough USB ports to keep all devices charged, although a wireless charging pad would've been a nice addition (it will undoubtedly be available further down the line).
Summary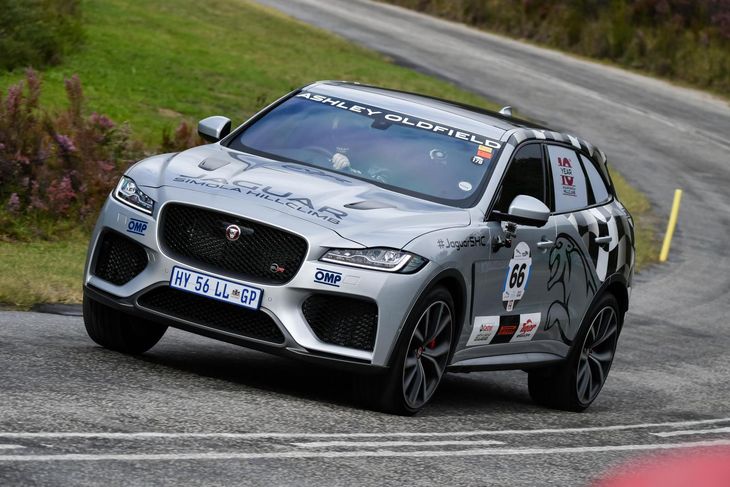 Very impressive to see just how close a Super SUV can get to a purebred sportscar.
Suffice to say the F-Pace SVR has more than enough visual and visceral appeal to get onlookers excited as it thunders by. Its performance cache is incredible and for an SUV, it handles beyond belief. The times it set at the Hillclimb were not too far off the F-Type SVR, which is a thoroughbred sportscar. It remains practical too, with the same interior and load bay as a regular F-Pace, and it softens up enough around town to be used daily.
Then there's the price. In just about every article written about a Jaguar product that's been published in the last few years, local motoring scribes have lamented that due to the exchange rate, a Jaguar's an expensive choice (Cars.co.za included). But, even though it's still very expensive at R1 499 400, its some R100k cheaper than the nearest of those aforementioned rivals... and I don't think you're getting any less car for the money.
Related content:
2019 Jaguar Simola Hillclimb: Winners & Losers
Mercedes-AMG GLC 63 S (2018) Launch Review
Alfa Romeo Stelvio Quadrifoglio (2019) International Launch Review