Lexus has unveiled a reworked version of its IS, which will arrive in South Africa early next year. Its rivals may have become inoffensively-styled and comfort-oriented, but the bold new Japanese business-class sedan still prioritises distinctiveness... and driving dynamics.
The new iteration of the IS is claimed to "continue in the finest handling-led traditions" of its predecessors and is apparently the first Lexus model to incorporate the Japanese premium marque's Driving Signature, which is set to become the development standard for all of the brand's future products.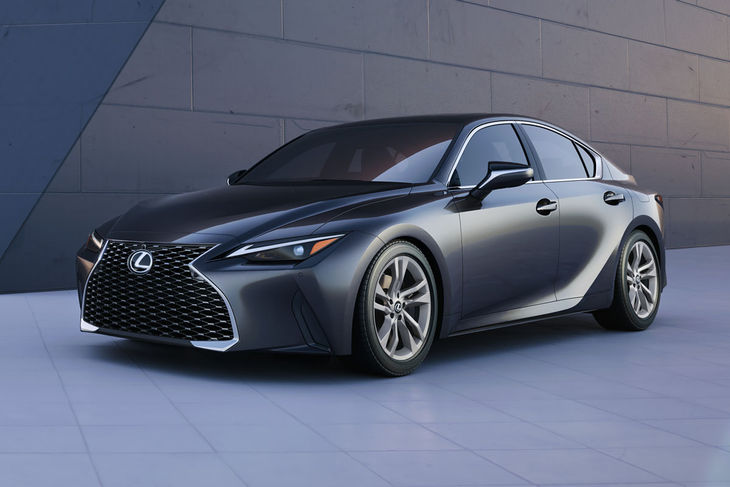 Although the F-Sport derivative is the obvious poster child of the new IS range, the standard derivative looks fetching on its own.
That "Lexus Driving Signature" is defined by the brand as "linear vehicle operation that is faithful to a driver's intentions, providing a seamless transition from braking to steering and acceleration through a corner"; the direct translation is admittedly a little wordier than "the way a balanced, sweet-handling driver's car is supposed to be".
To that end, this iteration of the (still rear-wheel-drive) IS sedan was honed at various facilities throughout the world, including Toyota's new Technical Centre in Shimoyama. Its eminently distinctive exterior design is characterised by a sharp detailing, sleek proportions and wide, low stance, while the model features a host of advanced safety technologies, such as an evolved version of Lexus Safety System+.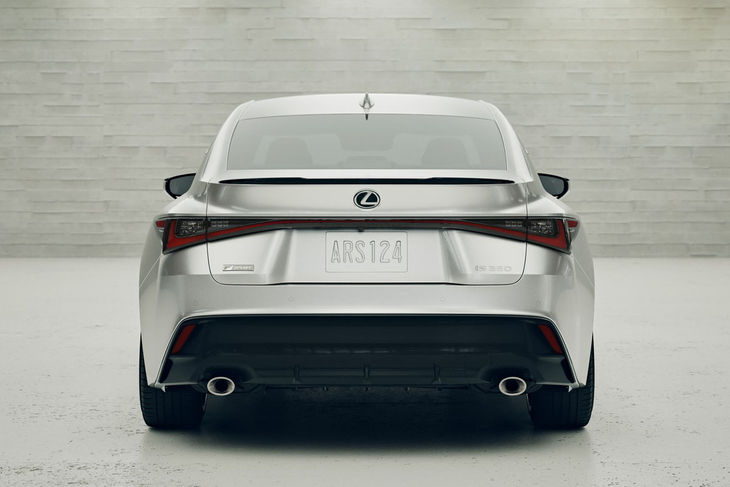 Designers paid close attention to the new range's stance; the tiered boot lid and 1-piece rear lighting element "lower" the car.
In addition to slimmer headlamps, low-positioned air intakes – matched by lowered side character lines ­– and upswept contours that rise from about 2-thirds of the length of the side skirts towards the edges of the tail-lights emphasise the sedan's low centre of gravity. The revised Lexus Spindle Grille features a 3-dimensional structure with a mesh pattern that consists of rectangular block forms based on a spindle motif, while the F Sport derivative has an "F" mesh pattern, 2 grille-bottom air intakes and a rear spoiler.
Muscular fenders, slim triangular rear combination lamps (sporting an "L" motif) and 3-dimensional bumper garnishes add to the aggressive look, which is rounded off by newly-designed 19-inch rims and wide proportions (incidentally, the sedan's front and rear tracks have been widened by 45 mm and 50 mm, respectively).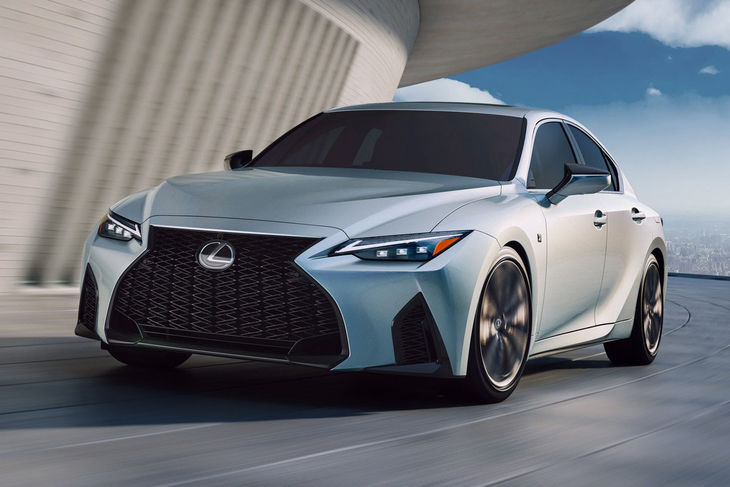 Lexus has fitted its newcomer with new swing-valve shock absorbers equipped with ultra-low-velocity valves.
In terms of the IS' dynamic qualities, Lexus' aforementioned extensive tuning programme for the updated model was conducted for multiple road conditions and driving situations, the brand says, to improve elements such as the car's responsiveness to driver inputs and the suppression of unnecessary movement in sprung mass.
To aid refinement, Lexus has enhanced its business-class sedan's rigidity by reinforcing radiator side supports, increasing the number of front-side-member weld points and optimising structures from the rear-quarter pillars to the sides of the roof. It has also fitted its newcomer with new swing-valve shock absorbers equipped with ultra-low-velocity valves that respond to even minor road irregularities to generate the most appropriate damping force and deliver a ride quality that is consistently even.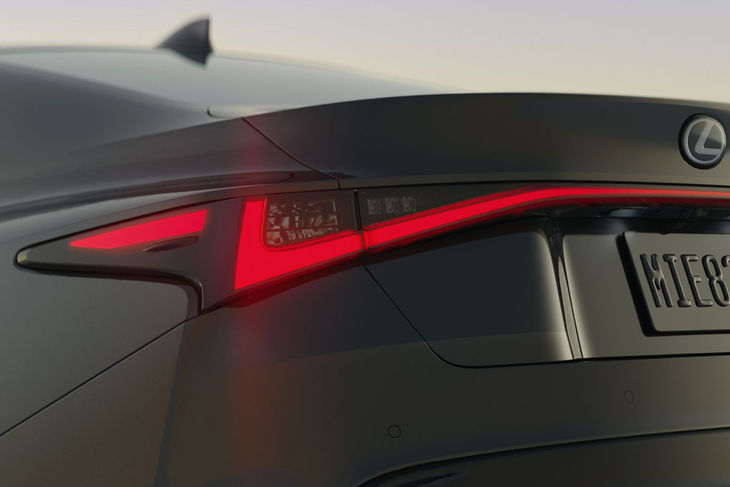 The extended L-shaped lighting signature adds to the new IS' characteristic, almost cartoonish, futuristic look...
The new 19-inch rims are attached via hub bolts, resulting in improved handling and braking due to increased fastening strength and reduced mass, Lexus says. The steering setup has also been tuned for better responsiveness, as well as controllability and smoothness when the 'wheel returns itself to centre.
In terms of powertrains, the 2021 range continues with the current range's engine line-up of a 2.0-litre 4-cylinder turbopetrol, a 2.5-litre 4-cylinder petrol-electric hybrid and the sonorous 3.5-litre naturally aspirated V6 petrol. However, the IS 300 (2.0 litre) features enhanced adaptive control for the 8-speed auto 'box (the transmission more actively selects the most appropriate gear for each driving situation), while the IS 300h (the hybrid derivative) has been mapped for improved throttle response.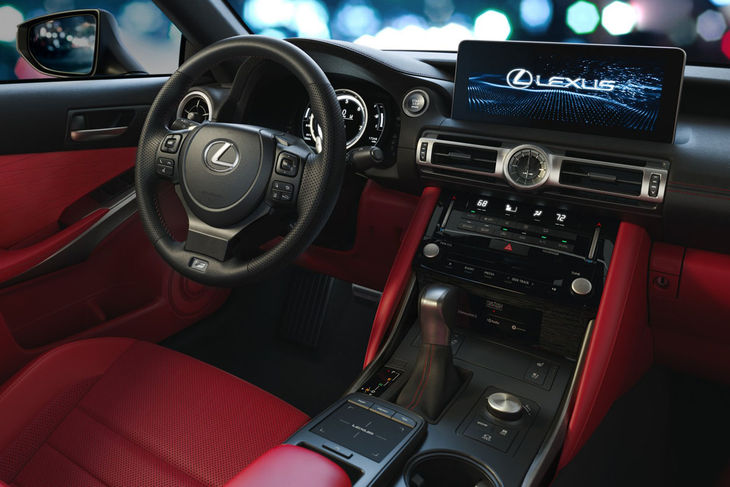 Lexus has retained its track-pad controller, but the enlarged, forward-mounted infotainment screen is indeed touch-sensitive.
As for the interior, the most obvious upgrade over the previous model is the provision of a 10.3-inch touchscreen(!) infotainment system, which is positioned closer to the driver/front passenger and is fully compatible with Apple CarPlay and Android Auto. Minor updates include a graphic pattern of embossed intersecting lines on the door trims, new accents in surface treatments and decorative ornamentation finished in Ash (open-pore black), Black Geometric Film, or F Sport-exclusive Satin Chrome. A pair of 2-tone colour schemes – Ochre and F Sport-exclusive Flare Red (pictured) – are also available.
Meanwhile, the updated IS range boasts a new version of Lexus Safety System+, which includes functions such as Emergency Steering Assist, a Pre-Collision System, Dynamic Radar Cruise Control, Automatic High Beam and an improved Lane Tracing Assist (LTA) system. Various other forms of advanced safety equipment are featured too, such as parking support brakes, as well as the camera-operated Panoramic View Monitor.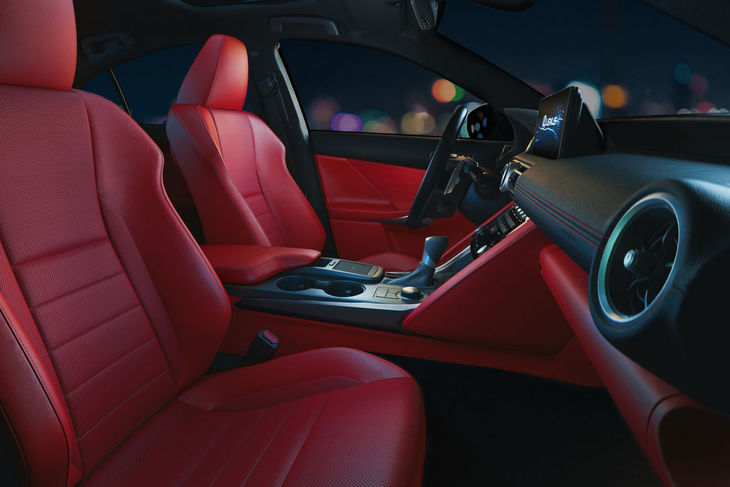 The new Lexus' cockpit still features that engaging driving position and looks striking in the red leather trim.
When the range arrives on local soil early in 2021, it will comprise a trio of derivatives, which Lexus SA will announce at launch. A pair of new colours will be available: Sonic Iridium and Sonic Chrome, and Lexus' industry-leading 7-year warranty and maintenance plan will be standard on all derivatives.
Related content:
Jaguar XE (2020) Specs & Price
BMW M340i xDrive (2019) Review