Reports are suggesting the next-generation Mercedes-Benz C-Class will only have 4-cylinder petrol and diesel engines.
Picture credit: S. Baldauf/SB-Medien. We have paid for these photos and at the photographer's request, have watermarked them.
A report by Mercedes-Benz page JESMB suggests the all-new Mercedes-Benz C-Class will be powered by 4-cylinder motors, with the big V6 and V8 motors have been put out to pasture. Other Mercedes-Benz product portfolios will continue to use these motors, so there's no need to panic for now.
The report claims the new model will continue to be assembled in Merc's facilities of Bremen, East London (South Africa), Beijing and Tuscaloos. Customers will be receiving their new cars in spring 2021, which we assume is a European spring so around the first and second quarter of 2021.
In terms of engine lineup, there'll be 7 models with 4 diesels and 3 petrol engines to choose from. Kicking off the range will be the C180d with 90 kW, followed by the C200d with 120 kW. There'll be a C220d with 145 KW and finally at the top of the pile will be the C300d with 182 kW (with Integrated Starter-generator (ISG) of 15 kW). The motor is the OM654, a modular diesel engine designed by Mercedes-Benz in 2016.
For those wanting a petrol-powered Mercedes-Benz C-Class, there will be a C180 with mild-hybrid belt-driven starter generator tech to develop 116 kW (with an additional 12 kW thanks to the hybrid system) as well as a C200 using the same tech to produce 146 kW (plus 12 kW). There will also be a C350 model producing 202 kW (and 16 kW) from a M254 2.0-litre turbocharged four-cylinder and 48-Volt ISG. There will also be a plug-in hybrid model using the same M254 engine, but the electric motor's output has been increased to around 100 kW and it will have a WLTP range of over 100 km on pure electric. We'd assume all models will feature the 9-speed automatic transmission.
What about the AMG models, you ask? Well, it appears the V8 turbo engine is gone, as is the V6 turbo motor. Replacing them will be the M139 motor, the same as the one used in the A45 S. In C43 AMG 4Matic application, it will be tuned to deliver 290 kW. The C63 AMG will also get the 2.0 M139 motor, but will gain an AMG EQ-Power hybrid module. The report suggests that there will be 2 output versions, one with 355 kW and the S model packing 390 kW. Expect the AMG models a few months after the debut of the base-spec Mercedes-Benz C-Class models.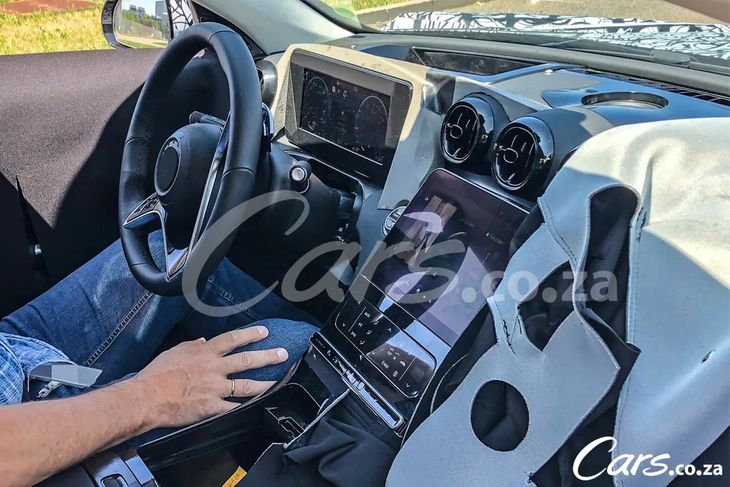 Is this the cabin of the next-generation Mercedes-Benz C-Class?
We have over 1800 Mercedes-Benz C-Class units for sale. Browse stock now.
Further Reading
Ciro Vlogs: 2019 Mercedes-AMG C63 S
2019 Mercedes-AMG C63 S: 5 Key Changes