As the flagship of the G20-generation BMW 3 Series range (until the M3 arrives next year), the M340i xDrive delivers compelling performance, but without the extroverted looks and compromised ride quality of a fully-fledged M car. However, with a price tag of R1 million, is the "M3 Lite" still a performance bargain?
We like: Return of the old-school 6-cylinder thrill. Planted and composed drive.
We don't like: Base price is steep. The xDrive blunts driving fun (a little).
Fast Facts
Price: R1 002 211 (R1 183 760 as tested)
Engine: 3.0-litre turbopetrol straight-6
Power/Torque: 285 kW/500 Nm
Transmission: 8-speed automatic
Fuel consumption: 7.7 L/100 km (claimed)
​​​Load capacity: 480 litres
Own a BMW? Tell us about your experience here.
SERIOUS ABOUT BUYING?
Where does it fit in?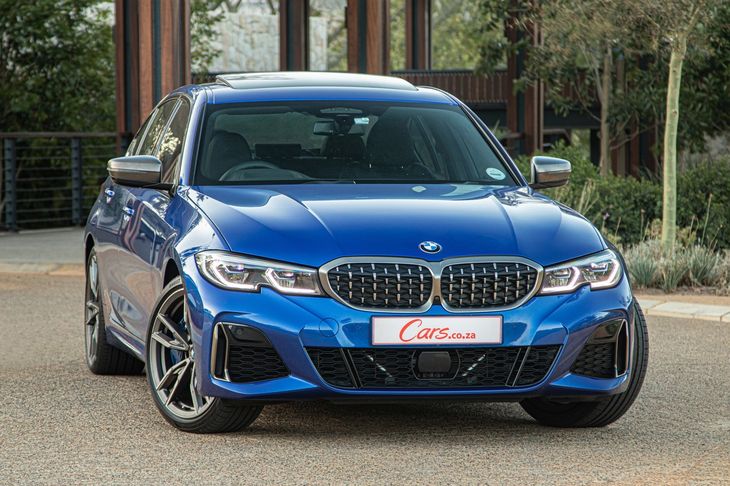 The M340i's elaborate front bumper, replete with enlarged inlets and swathes of black mesh, is one of the few cues to its performance potential.
For those not looking for ultimate thrills in terms of performance and handling in the business-class sedan segment, there are a few enticing derivatives that sit a tier just below full-factory RS-, M- and Mercedes-AMG models. They still deliver adrenaline-spiking performance, but are packaged in a purposely-understated manner. Audi has been offering the S4 for several generations of the A4; Benz has the C43 and BMW the M340i. For a long time, the Audi was the only all-wheel-drive sedan in the line-up, but the M340i now comes standard with xDrive and the same goes for the C43 (4Matic).
What you get with an M340i is a high-end 3 Series derivative of which the oily bits and underpinnings have been fettled by the Bavarian marque's famed M division – it's powered by an updated version of the BMW Z4 40i/Toyota GR Supra engine. It sounds like an ideal recipe for a pukka driver's car with that sleeper style that's preferred by more introverted/less-flashy buyers.
How it fares in terms of…
Performance
The M340i is powered by a beefed-up 3.0-litre 6-cylinder turbopetrol engine, which produces 285 kW and 500 Nm of torque, mated with an 8-speed sport automatic transmission. BMW claims a 0-100 kph time of 4.4 seconds and, just to put that into perspective, the previous-generation M3 achieved that sprint benchmark in 4.1 seconds (if you happened to buy a manual version, 4.3 seconds). The straight-6 revs freely for a turbocharged motor, very close to 7 000 rpm, in fact, which provides a very linear feel to the M340i's acceleration; it's not harsh or punchy, the rev-gauge readout climbs continuously until that red line before the 8-speed auto whips another gear into action.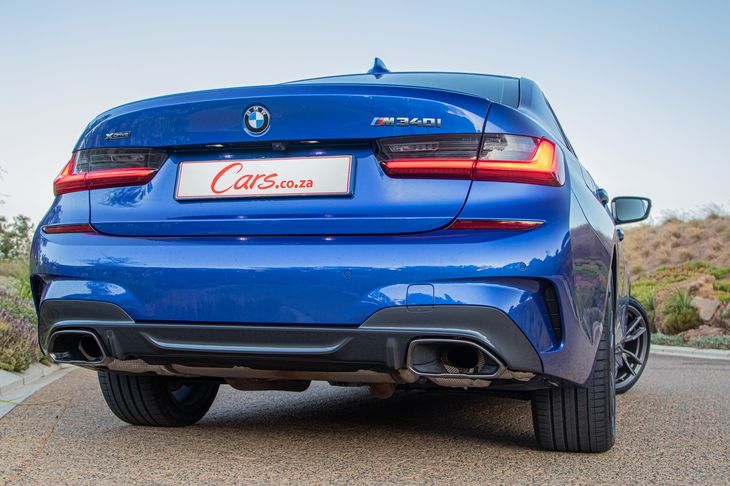 The Bimmer's dark grey trapezoidal exhaust tips look purposeful, but alas, they are ornamental (M performance-spec or not).
Ten years ago, the E90-generation 330i derivative sported a high-revving naturally aspirated 3.0-litre straight-6 engine. It was a pleasure to rev, with long gears that really let you explore the flexibility of the motor's performance. This M340i feels like that all over again; it's like BMW has looked to its storied (some would say glorious) past, remembered who it is and then rebooted its greatest hits. It's brilliant, and even the soundtrack, although slightly tamed by the turbo, sounds like a howling BMW straight-6 of yesteryear. An M Sport exhaust is fitted as standard and, at this price, it should be.
There's very little lag from the turbo and by scrolling through the driving modes (Comfort, Sport and Sport Plus) you can dial in the rate at which you want to snipe through traffic. We found that the Bimmer reacted quickly to throttle inputs even when in Comfort mode, but still favours economy over biff-bam-wallop performance by shifting through the gears quickly at low rpm.
Ride/handling balance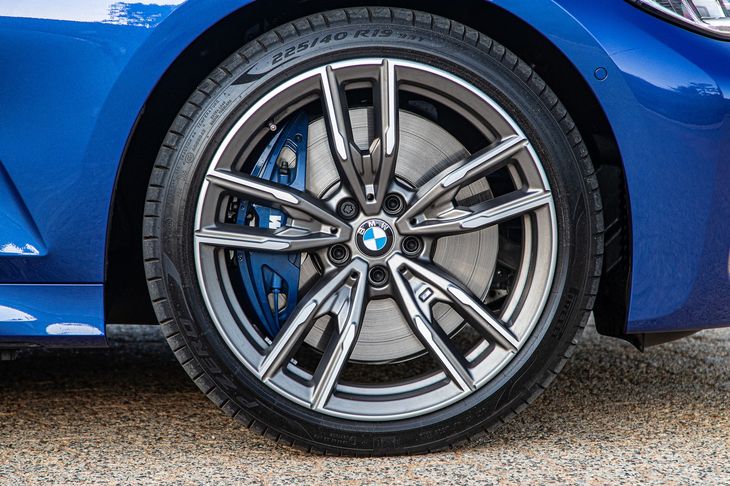 The M340i's 19-inch Pirelli P Zero rubber facilitates tenacious grip, the blue-callipered M Sport braking system is standard.
Courtesy of the aforementioned M division, the M340i is equipped with M Sport suspension, M Sport differential, variable sport steering and M Sport brakes. The xDrive system that controls the all-wheel-drive distribution is rear-biased, particularly when you flip to Sport and Sport Plus modes. It works in tandem with stability control to make sure that things never get out of hand.
As a consequence, the M340i never feels on-edge (as if it's threatening to snap into lurid oversteer) in extremis. To put it another way, the sedan never feels "loose" or like its struggling for traction; there is surfeit grip and, no matter at which point of the corner you give it a bootful of throttle, it seems to comply without resistance. If anything, it makes the car feel less like a BMW and more like an Audi...
The M Sport differential goes a little way towards masking that stereotypical all-wheel-drive push by distributing power appropriately to whichever wheel will help the BMW to turn-in better. The rim of the M Sport tiller can feel a little too chunky for some drivers' tastes, but the steering setup offers reassuring heft and it's both accurate and sufficiently responsive.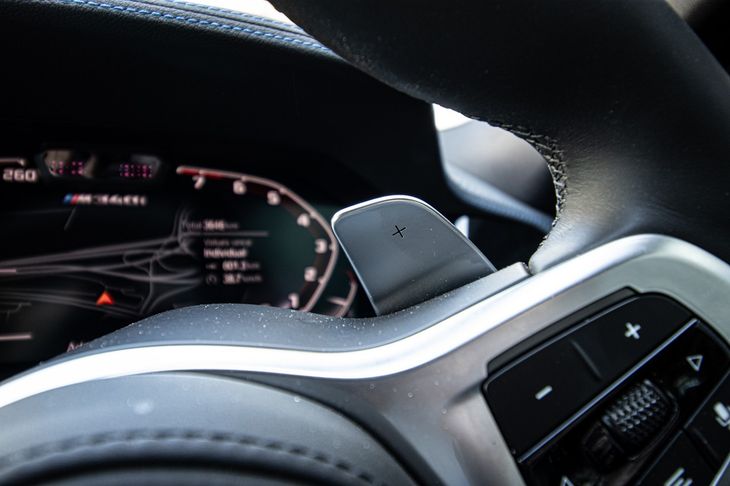 The 8-speed automatic doesn't shift as dramatically as a dual-clutch transmission, but it's much easier to live with in congested traffic.
For a performance BMW derivative, the M340i is very neutral in the way it handles, there are no demons lurking under the so-called throttle pedal or inside the sedan's chassis, for that matter.
The 10-mm drop of the M Sport suspension setup makes the sedan look more purposeful and facilitates a little less body movement in the corners. Combined with the adaptive M suspension (R9 900 option), the M340is ride quality remains pliant over all-but-severe abrasions. Having experienced a (G20) 3 Series with adaptive damping, it's a must-have to smoothen out the M Sport's choppy ride.
Interior appointment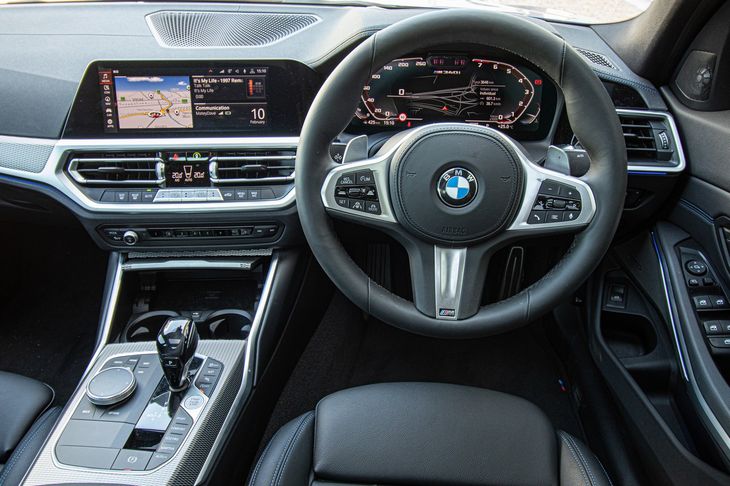 The fascia design might not be as stylish as that of a Mercedes-AMG C43, but the ergonomics are sound and driving position good.
BMW cops a lot of bad press for its interiors; some say they're staid and samey. However, there are myriad options and colour combinations to spruce up the look; you can experiment with the online configurator to find a combination that suits your taste to a tee. Ours had optional M striped seatbelts (R4 400) and ambient lighting pack, which adds the cool puddle-lamp M stripes. Back inside, the attractions are dominated by the 2 huge screens, the infotainment screen in the fascia and the digital instrument cluster. Actually, if you count the head-up display on this model, there are 3 screens.
While the M340i's interior neither has the cool minimalism and inherent solidity of the Audi A4 or the standout style and flashy finishes of the Mercedes-Benz C-Class (again, taste is subjective), the cabin is ergonomically sound, well put together and feels suitably expensive. You'd probably be right if you said the materials in the 3 Series look and feel more expensive than they do in a C-Class.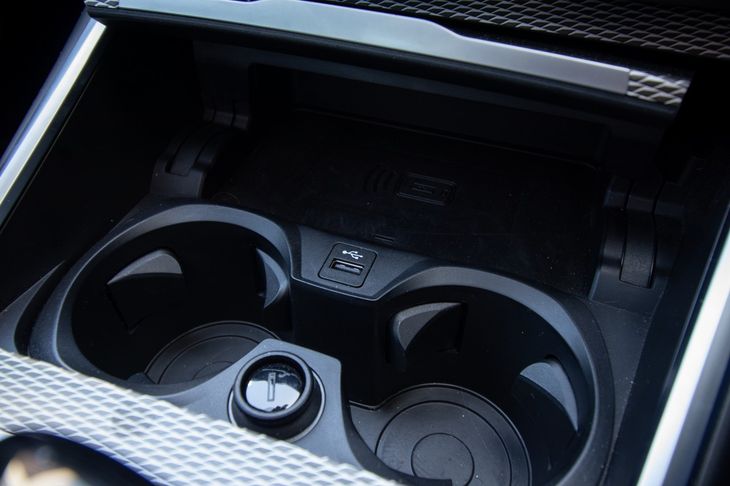 Generously sized cupholders and a wireless charging pad are sops to practicality; this is a business-class express, after all.
The technology is impressive, but the lack of Android Auto compatibility and the subscription-model for Apple Carplay are drawbacks. After all, those are features that come free on many cheaper cars. Beyond that, you can spec real-time traffic alert, connected apps and there's even a Drive Recorder, which is like having a built-in dash-cam. A wireless charging pad is also available, as are USB ports.
Understatedness
Reviews of premium/luxury cars usually recount how onlookers' heads swivel in admiration when they see the test unit or note the plethora of positive comments made by passers-by, but the M340i is trying its level best to fly under the radar, albeit extremely quickly. Its M brethren can lap up all the envious looks, while it gets on with the business of being just about all the car you'll ever need...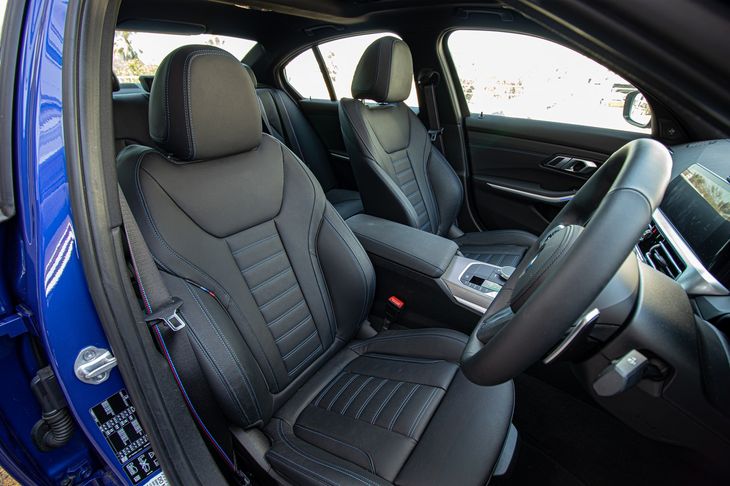 Contoured front seats with blue contrast stitching are matched by (optional) M-striped safety belts. Very tasteful.
BMW's newcomer just about manages to avoid any (ostensibly unwanted) attention. Aside from the M Sport kit, 19-inch alloy wheels and the subtle badging, there's not much to tell the M340i apart from other M-Sport-grade 3 Series derivatives. It remains a great sleeper (to use petrolhead parlance) with showstopping abilities lurking under its relatively unassuming/demure sheet metal.
Price and after-sales support
The BMW M340i xDrive retails for R 1 002 211, which includes a 2-year/unlimited km warranty and a 5-year/100 000 km maintenance plan.
Verdict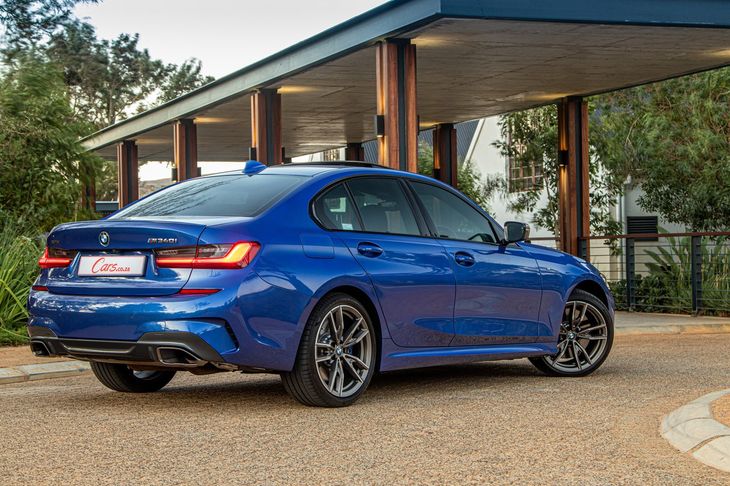 The addition of straight-6 power and xDrive all-wheel-drive has transformed the 3 Series. The M340i has many talents.
There's no doubt about it: the BMW 340i xDrive is the most complete 3 Series derivative in the current range. The 6-cylinder turbo feels like it instantly livens up the driving experience and endows the new G20 with a distinct character. The engine is the highlight in a very accomplished car; thanks to its high-revving nature and long gearing, it feels very much like a blast from the (classic BMW) past.
On the downside, performance-car aficionados will find the M340i's ultimate abilities tame for a BMW, but that's mostly as a result of the xDrive all-wheel-drive system. When driven enthusiastically, the M340i corners determinedly; its sorted chassis and accurate steering make it palpably easy to place. With all the grip you can safely boot it out of any corner in full confidence that it will stay planted.
Its R1-million base price is hard to swallow (let alone stomach), but the Mercedes-AMG C43 costs about the same. The outlier at the moment is the Audi S4, which is certainly older than the Bimmer (in fact, a facelifted model will arrive in South Africa eventually), but is some R140 000 cheaper than the competition. Can the BMW justifiably command that much of a premium over the 4 rings? Hmm.
Related content:
2019 BMW 320d vs Mercedes-Benz C220d - Which one should you buy?
Mercedes-AMG C43 4Matic (2019) Review
BMW 330i Sport Line (2019) Review