Jaguar South Africa has quietly loaded up the configurator and spec details of its updated XE sedan. Here's how much it costs.
The Jaguar XE was given a facelift in early 2019, which we covered in detail here. The looks have been changed, giving it a sleeker appearance, while the cabin has been overhauled.
Jaguar SA is offering one engine in 2 states of tune for our market. The 2.0-litre turbocharged petrol Ingenium motors offers up 184 kW and 365 Nm badged as a P250, while a more potent P300 delivers 221 kW and 400 Nm. All models feature rear-wheel drive as well as an 8-speed automatic transmission. In terms of performance, the P250 is claimed to accelerate to 100 kph in just 6.5 seconds, while consuming 5.2 L/100 km. The P300 model will be the brisker of the two, with 0-100 kph dispatched in a claimed 5.9 seconds and it's said to consume 6.7 L/100 km.
There are an array of packages and the usual Jaguar trim levels of S, SE, HSE will be offered. For those wanting a Jaguar XE that looks sporty, there's the R-Dynamic trim.
At this price point, standard specification looks good with things like premium LED headlights with signature DRL and Auto High Beam Assist (AHBA), rain-sensing windscreen wipers, auto lights, climate control, leather-wrapped steering wheel, electrically-adjustable front seats, smartphone connectivity, USB ports, and a connected Navigation Pro system. Of course you can climb into the options for sportier big wheels, digital dashboard, paint options (Caesium Blue for us please) and much more.​
We'll update this article if there are any updates to Jaguar's answer to the BMW 3 Series, Mercedes-Benz C-Class and Audi A4.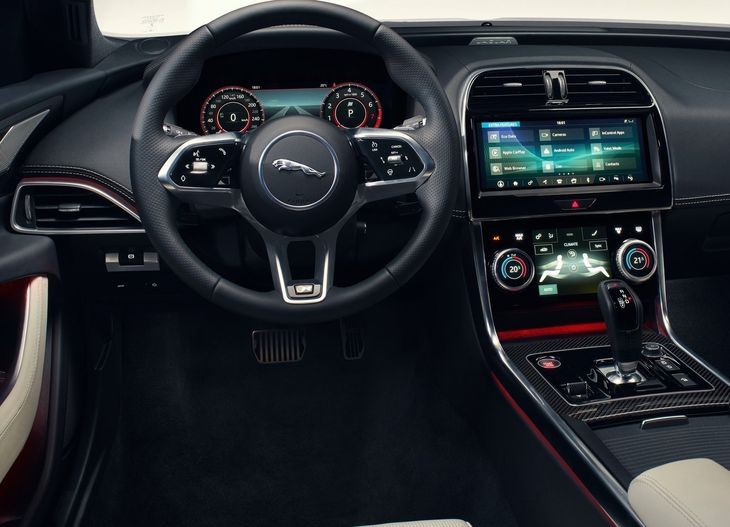 The cabin of the Jaguar XE has been updated.
Jaguar XE Price in South Africa (April 2020)
The vehicle comes as standard with a 5-year care (maintenance) plan, which comprises a 100 000-km warranty and paid-up servicing within a 5-year period, whichever ends first.
Jaguar XE P250 R745 000
Jaguar XE S P250 R745 000
Jaguar XE SE P250 R769 100
Jaguar XE P300 R780 900
Jaguar XE P300 S R780 900
Jaguar XE P300 SE R805 100
Jaguar XE P300 HSE R849 800
Jaguar XE P250 R-Dynamic S R773 200
Jaguar XE P250 R-Dynamic SE R797 400
Jaguar XE P250 R-Dynamic HSE R845 400
Jaguar XE P300 R-Dynamic SE R875 300
Jaguar XE P300 R-Dynamic HSE R884 300
Further Reading
Jaguar XE (2018) Range Expansion