As anticipation for Volkswagen's new Golf 8 R builds, take a look at what you can expect from Wolfsburg's potent hot-hatch…
While we wait for the new Golf 8 to land in South Africa, we can't help but ponder on what Volkswagen is preparing for its range-topping R model.
Earlier this year, Volkswagen revealed the next-generation Golf GTI, the diesel-powered GTD and the electrified GTE. Local GTI fans will get their first taste of the new 180 kW / 370 Nm GTI when it arrives in the 4th quarter of 2019 but the venerable Golf R is only expected to arrive later in 2021.
No Hybrid Power for Next VW Golf R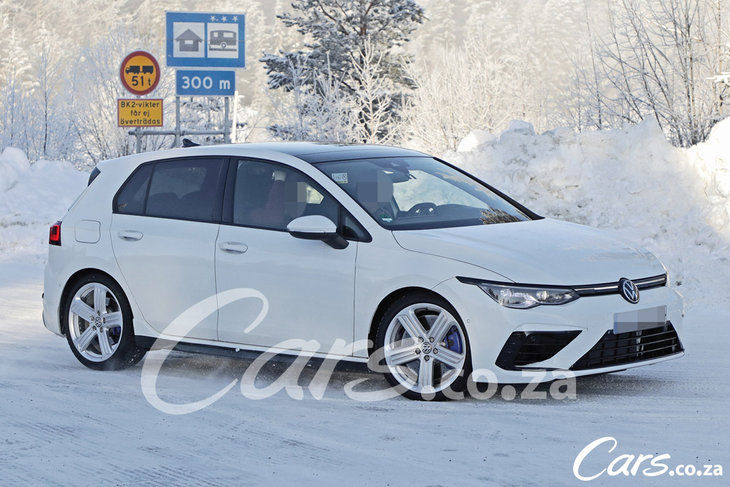 A production Golf 8 R is expected to be fully revealed later this year.
Volkswagen's R division is rolling out a number of new R derivatives across the brand's vehicle lineup including the recently-revealed Touareg R plug-in hybrid which is currently the first hybrid R model while also being the most powerful vehicle in Volkswagen's stable with a combined output 340 kW and 700 Nm.
For those of you who are concerned that the next Golf 8 R might go the hybrid route, fear not! In a recent interview with American publication, Motor Trend, the Volkswagen R performance head-honcho, Jost Capito, confirmed that the new Golf R will not make use of hybrid power, pointing to development cost as the main prohibitive factor.
Instead, the beloved Golf R will make use of a revised 2.0-litre turbopetrol engine that will offer in the region of 245 kW with all-wheel drive ensuring brisk performance with a zero to 100 kph sprint time below 4.5 seconds expected using a dual-clutch transmission. It was also mentioned that a manual transmission is a possibility too. Capito also commented that the new Golf R will be a "real driving machine".
Visually, the new Golf R will be more aggressively styled and will wear a newly designed R-badge. On the inside, the Golf R will likely be fitted with sports seats, flat-bottomed steering wheel and the latest connectivity features housed in Volkswagen's latest Innovision Cockpit as seen in the GTI which comprises a 10.25-inch Digital Cockpit instrument cluster and the 10-inch touchscreen infotainment system.
The new Golf 8 R is expected to be revealed in Q3/Q4 of 2020 and it will rival cars such as the Mercedes-AMG A 35 4Matic, BMW M135i XDrive and the Audi S3.
As always, we will keep you updated as soon as more details are revealed.
Buy a Volkswagen Golf R on Cars.co.za
Related Content
Volkswagen Golf 8 GTI Filmed in Cape Town
Volkswagen Golf GTI 7.5 vs 8: What's the difference?