Mercedes-Benz wants to offer you more than 1 AMG-fettled A-Class derivative to choose from. The A35 4Matic, which will arrive in South Africa early in 2019, rivals the Volkswagen Golf R, Audi S3 and BMW 140i in the premium ranks, but is it a real AMG model or just an exercise in a bit of badge engineering for marketing's sake? International correspondent Neil Briscoe reports.
With GTI and R derivatives making up more than half of all Golf new vehicle sales in South Africa, Mercedes is clearly keen on stealing some of Volkswagen's pie with the new AMG A35. It's the furthest-down that the mighty AMG brand has yet reached — yes, there has been a hot AMG A-Class before, but that was the more powerful (and, of course, expensive) A45. This new A35 is a spot-on Golf R rival, right down to the power output, but it also faces a challenge from the likes of Audi's ageing-but-game S3 and the utterly brilliant (and much more affordable) Honda Civic Type R.
From A to AMG
So, how do you turn an A-Class into an AMG model? Well, starting with the new A-Class hatchback certainly seems like a good kick-off point. The A-Class is a seriously good-looking car, with more than a few design cues taken from the gorgeous CLS "4-door coupe".
To facilitate the premium compact hatchback's transformation into an AMG, the 2.0-litre, 4-cylinder engine gets a boost, to a very healthy 225 kW, with 400 Nm of torque on offer. That's all thanks to a twin-scroll turbocharger, some clever low-friction work on the cylinders and a variable camshaft setup.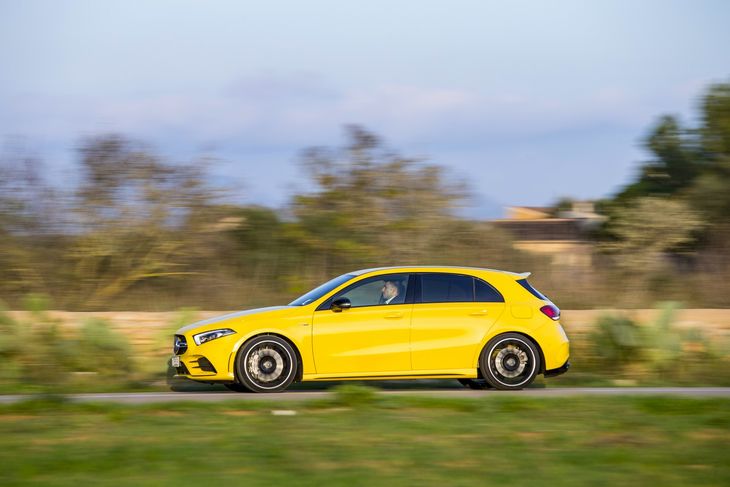 You do need to add some parts to the A35 to make it look like a real AMG.
All of which powers all four wheels through a 7-speed dual-clutch gearbox. There's no front-drive option; more's the pity – we'd love to see what AMG could do with a stripped-back, lightweight version of this car… The suspension is basically the same as that of the regular A-Class in layout, but lower and stiffer. The body's stiffer too, thanks to a "shear panel" welded in under the front end, and extra triangular stiffening panels elsewhere in the body structure.
That suspension comes as standard with adaptive dampers, which can switch between Comfort, Sport and Sport+ modes thanks to the AMG Ride Control system, which monitors the suspension's reactions to the road surface in millisecond snapshots. There are big brakes too – 350 mm-discs at the front, with monoblock 4-piston callipers, and 330-mm discs at the back.
Oh, and there's one important modification to the front suspension: a special AMG-specific steering knuckle…
She's got the look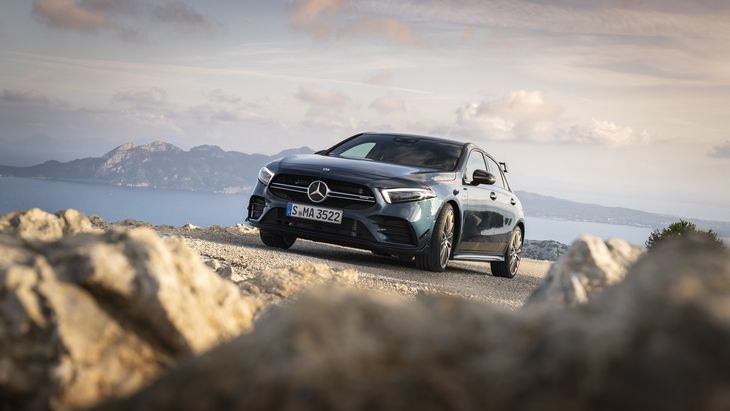 Adorned with AMG parts, the A35 starts to look like the tar-shredder it is.
More about that in a minute, but first let's talk about the looks. Not surprisingly, AMG has given the A35 a bodykit with a deep front bumper, extra air intakes and the twin-blade AMG badge. It all looks smart and pleasant, but there's a problem – it also looks too much like a regular A-Class wearing an AMG-Line body kit.
So, if you want your AMG to come with the visual menace appropriate to the brand, you're either going to have to raid the options list or go for the limited Edition 1 version. That gets you a big spoiler at the top of the rear hatch, gorgeous deep-blue "Denim" paintwork, 19-inch "Livorno" alloys, which have a faint gold sheen to them, and some oh-so-eighties (but in a good way) body graphics. Now the A35 starts to look like a proper AMG.
It starts to drive like one too, and this is where that steering knuckle comes in. The standard A-Class' steering is a touch remote and lacking in feel, but not the A35's. While it's not quite at the standard of the rack in Honda's brilliant Civic Type R, it's still pretty good. Actually, it seems to mimic the feel and weight of the steering in the V8-engined C63 AMG business class sedan... and you'll hear any complaints from us in that regard.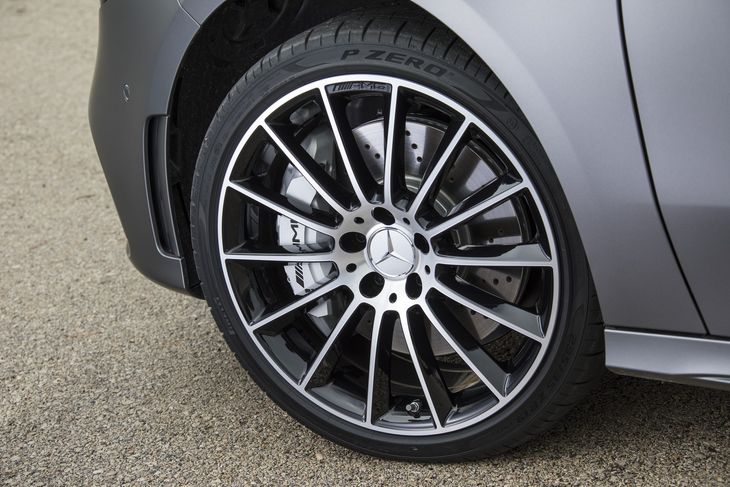 The A35 features bigger disc brakes and a trick suspension knuckle to help its 1.5-tonnes handle better.
Attack a series of tight, twisting, switchback corners (and on our test route around the Spanish island of Mallorca, there are hardly any other forms of tarmac) and you'd expect a four-wheel-drive hatch, with a hefty 1 500-kg kerb weight, to run out of grip and, eventually, run out of road. But the A35 just tucks its nose in and goes.
Even provoking it in an utterly stupid fashion (nailing the throttle to the carpet halfway around a tight hairpin), the smallest AMG just obediently follows your steering commands and only begins to push wide from the apex in absolute extremes.
So it's all good, then?
Now, there's a slight sense (as you get with the Golf R and the Audi S3) that the A35 is brilliantly engineered, but not quite at the pinnacle of engagement. It's true to say, for instance, that the Honda Civic Type R would have been more laugh-out-loud fun on these roads. But would the Honda have been quicker? Somehow, I doubt it. The A35's limits are so staggeringly high that you just keep pressing on harder and harder, waiting to find the chink in its dynamic armour… but you're unlikely to find it.
It's even comfortable. Okay, so Mallorca's roads have been pressed and ironed like a Cary Grant suit (partly to please the flocks of cyclists who visit the island every year), so they were always going to flatter the Benz's ride quality, but on the few bumpy stretches we found, it still seemed well-damped, and firm rather than harsh.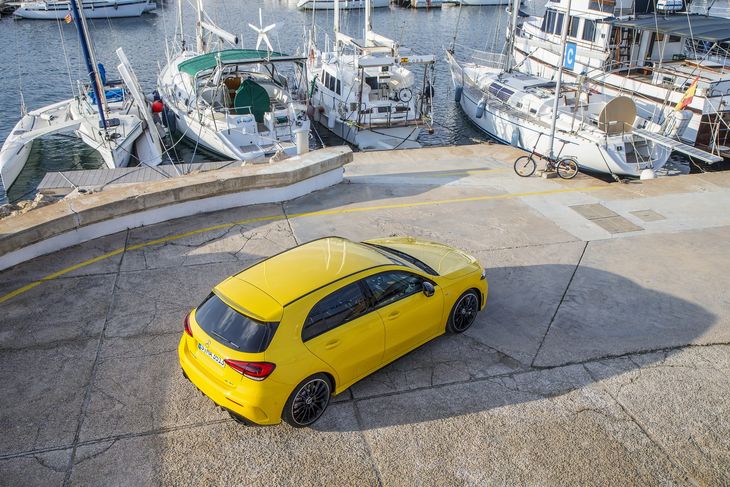 Even with the tuned suspension, the A35 still feels comfortable on standard roads.
The interior is a thing of rare beauty too. In fact, with what widescreen MBUX digital dashboard we'd be tempted to call this the best current automotive interior. That digital dash is clever: you can set the dials up to look like those of an eighties 190E Cosworth (and why would you ever not want them to look like that?) and the satnav can now take a live feed from the front camera and overlay augmented reality arrows on top of the image, just to make sure you take the right turning at the right time.
The "Hey Mercedes" voice control digital assistant is occasionally useful, occasionally hopeless, but we love the fact that there's a full data-logging telemetry system and built-in circuit maps for such tracks as the Nürburgring and Hockenheim. Useful? probably not. Cool, in a deeply nerdy sense? Oh yes…
You may have noticed at this point that we haven't made much mention of the engine. That's unusual in a review of an AMG car. Usually, an AMG has some kind of massive, bombastic, obnoxiously sonorous engine that hurls you at the horizon. Um, yeah. About that…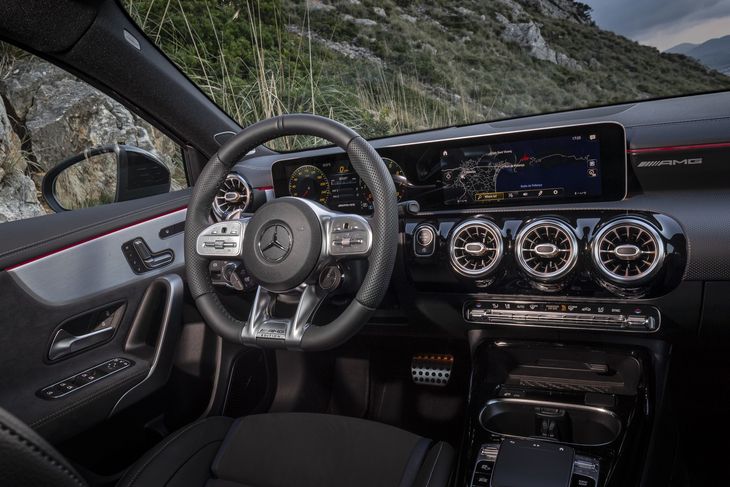 The A-Class interior really is a thing of beauty and tech.
There's nothing wrong, and a lot right, with the A35's engine, but at the end of the day it's a 4-pot 2.0-litre with a turbo, and there are a lot of those around. It rasps reasonably nicely when you rev it hard, and the on-paper 0-100 kph time of 4.7 seconds is impressive, but that's kind of where it ends. We suspect that brisk acceleration time is more down to the traction-finding abilities of the 4Matic all-wheel-drive system, because frankly for the rest of the time it feels as if this engine is struggling a bit with the A35's kerb weight. Its performance feels strongly brisk, rather than outright fast. Certainly, a Civic Type R feels far, far more thrilling, and at a lower cost too.
So, is the A35's hefty price tag (likely to be R850 000, when it arrives in the 1st quarter of 2019) worth it? Well, just about. Yes, if you buy it because of the chassis and its brilliant responses and excellent steering. Yes, if you buy it because of the cabin's excellent quality, clever instrumentation and infotainment system, and yes, if you're determined to buy into the reputations of both the Mercedes-Benz and AMG brands. But should you buy it for traditional AMG-levels of excitement? Not really…
Related content:
Mercedes-AMG to launch A45 and A45 S
5 moments that defined the A-Class story
5 Cool Tech Features of New Mercedes-Benz A-Class
Searching for a used A-Class?