Audi's new A6 full-size business sedan has been revealed and it's brimming with technology and edgy styling. Take a look at what the new A6 has to offer!
The current Audi A6 isn't quite a match for the new Mercedes-Benz E-Class and BMW 5 Series, but the Ingolstadt-based firm has now revealed an all-new, eighth-generation A6 that will take the fight to its rivals.
With its exterior design taking inspiration from the A8 and A7 Sportback, the new A6 is sportier and more sophisticated than its predecessor. It's also bigger in all directions and now stands 4 939 mm long (+7 mm), 1 886 mm wide (+12 mm) and 1 457 mm high (+2 mm).
Design details

The new A6 is bigger than before and shares styling cues with the new A7 and A8.
The new A6 wears a wide, single-frame grille with large air intakes. Shapely angular headlights are fitted and buyers can opt for HD Matrix LED headlights with striking daytime running lights for maximum visual effect.
Pronounced character lines seen in the side profile give the new A6 a more purposeful look. At the rear, the new A6 features a short boot lid with an integrated spoiler with a striking LED taillight design that comprises 9 vertical elements and chrome strip to finish off the look.
A total of 14 exterior colours will be offered with a choice of various exterior trim lines including Sport, Design and S-Line.
Interior details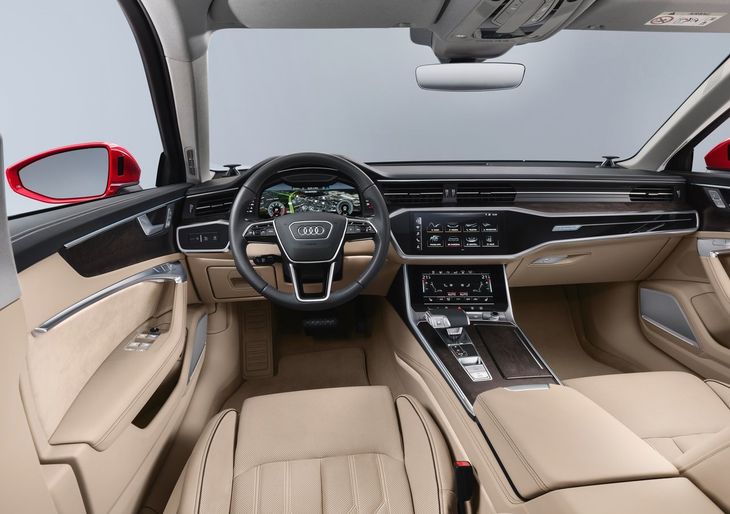 Audi's Virtual Cockpit makes its way into the new A6. The interior is plush with quality finishes.
The new A6's interior is very similar to that found in the A7 with high-quality materials and finishes. The A6 will offer a large 12.3-inch digital instrument cluster as well as a 10.1-inch infotainment system as well as an 8.6-inch display that will take care of in-car convenience functions such as air-conditioning and seat settings. The front seats feature heating, ventilation and massage functions for added comfort.

In terms of connectivity, the new A6 is equipped with an MMI touch response system which operates much like a smartphone with drag-and-drop functionality. With a flat menu structure, the system is easier to use. MMI navigation is standard while MMI navigation plus will be offered as an option.
The larger A6 affords passengers more space and legroom, headroom and shoulder room is said to be more generous than before. The boot offers 530 litres of space, which is unchanged from the outgoing A6 and the boot lid can be opened with a kicking motion.

As you can expect, Audi will offer an extensive options list for the new A6 and various interior trims will be available.
Engine choice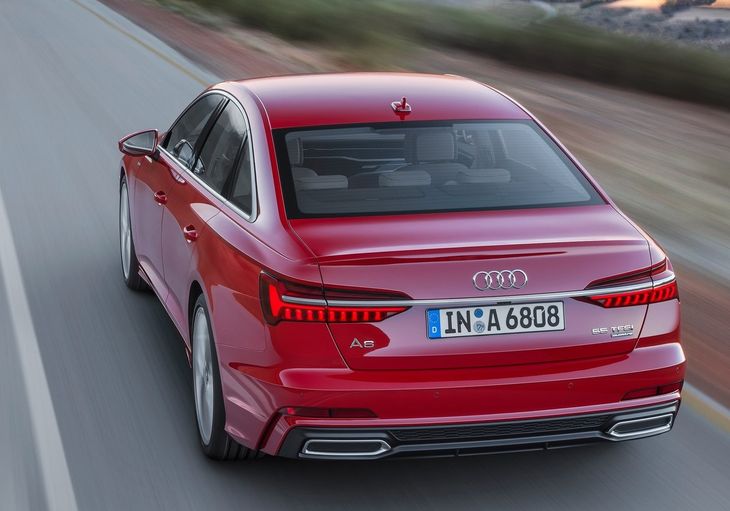 Two engines with mild hybrid technology will power the new A6.
All engines offered in the new A6 will feature mild hybrid technology which consists of a belt alternator starter (BAS) which works in conjunction with a lithium-ion battery, contributing to a reduction in fuel consumption by 0.7 L/100km.
In Europe, the new A6 will be powered by a petrol and diesel engine. The turbocharged 3.0-litre V6 petrol engine will offer 250 kW and 500 Nm of torque resulting in a zero to 100 kph sprint time of 5.1 seconds using a 7-speed S tronic transmission. Top speed is limited to 250 kph.

A 3.0-litre turbodiesel will also be offered with 210 kW and 620 Nm of torque, coupled with an 8-speed tiptronic transmission and quattro all-wheel drive will be standard for both engines. The suspension and steering systems have been enhanced and according to Audi, the new A6 is more sportier than the outgoing model.

A wide range of sensors and cameras will enable advanced driver assistance in the new A6.

In terms of driving assistance, the new A6 can be equipped with parking pilot and garage pilot which will allow for autonomous parking using the myAudi app on your smartphone while standing outside the vehicle. These features form part of the Park Assist Package.
There are other packages too such as the City Assist Package with features such as Crossing Assist and Tour Assist Package which includes Adaptive Cruise Assist (supplements the adaptive cruise control with gentle steering intervention) and efficiency assist to promote an economical driving style. The A6 can also be equipped with up to 5 radar sensors, 5 cameras, 12 ultrasonic sensors and a laser scanner to allow for effective driving assistance.
The new Audi A6 can be expected in South Africa early in Q1 of 2019. We will keep you updated as soon as more information becomes available.
Buy a new or used Audi A6 on Cars.co.za
Related Content
Audi A7 Sportback (2018) International Launch Review
Audi S4 quattro (2018) Quick Review
Audi RS3 Sedan (2017) Quick Review
Audi R8 V10 Spyder (2017) Quick Review
Design Sequels: 4 That Missed the Mark & 4 That Broke the Mould