The recently-launched Audi TT RS has been well received and we were just itching to get our hands on what's likely to be the Ingolstadt-based marque's best-bang-for-buck sportscar. Does it tick all the boxes and deliver surfeit thrills? Let's find out...
We like: Blisteringly quick, soulful soundtrack, generous standard specification, ease of use, value for money.
We don't like: We miss the fixed wing (but it's available as a no-cost option)
Alternatives
The visceral Bavarian: If its driving thrills you're after, you'd be hard-pressed to beat our 2016/17 and 2017/18 #CarsAwards Performance Car winner: the BMW M2 M-DCT. It comes in at a similar price to the Audi TT RS and while it's no match for the Audi in a straight line, the M2 will reward a skilled driver and indeed keep pace with its all-wheel-driven rival in the twisties, well... at least in dry conditions.
Best of British: The supercharged V6 F-Type is a pretty, yet fearsome beast. It sounds magnificent and offers much driving enjoyment. It's not a patch on the Audi TT RS in terms of acceleration and it's considerably more expensive. The 280 kW Auto costs R1 153 562, while the AWD Auto is R1 171 975
Zuffenhausen's little firecracker: Porsche offers a hardcore driving weapon in the shape of the Porsche Cayman GTS. It is pricier than the Audi TT RS but surely more capable in the right hands. We say surely because it remains untested. Also, the Porsche badge does carry a more sporting pedigree.
Compare the Audi TT RS to the BMW M2 and Jaguar F-Type here.
What is an Audi TT RS?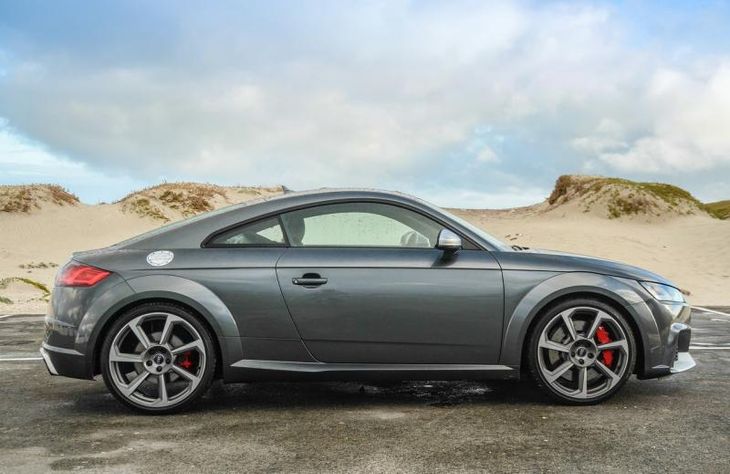 With the big alloy wheels, huge oval exhausts and RS badging, there's no mistaking the Audi TT RS for anything else.
The Audi TT RS is a compact 2-door coupe with one goal in mind: blistering performance. The RS badges splashed prominently around the car will leave no-one in doubt that the TT RS is a meant to be the fastest in its family. As it stands, the list of TT siblings is diverse. Kicking off the range is a 1.8-litre model with power going to the front wheels, then you get the 2.0-litre with a quattro drivetrain and then there's a TT S derivative, which offers a bit more grunt. Finally, there's the big brother TT RS.
Some may deride the TT for being a poseur's sportscar, but the Audi is a fun-to-drive coupe and with a 2015/16 #CarsAward under its belt in the Fun Car category, it delivers the best of both worlds. It's both a comfortable and stylish daily driver, yet is happy to tackle some twisty roads with enthusiasm. Things change dramatically with the addition of the RS model, however. This is a supercar-hunting weapon masquerading as a well-mannered coupe. Underneath the bonnet is a thumping engine, the suspension has been overhauled and the visual go-faster bodywork serves as a reminder that this is (or at least attempts to be) a hardcore driver's car.
How does it fare in terms of...
Design & Packaging?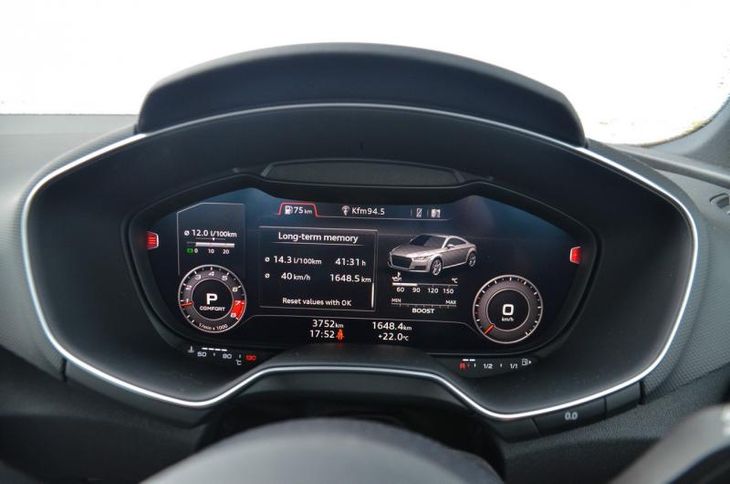 The digital dashboard has all the information you'd ever need. It's beautifully laid out and comes as a standard feature.
Audi's RS division has given the car a visual makeover to elevate it well above the rest of the TT family. Over and above a gaping front bumper, there are massive oval tailpipes nestled in a redesigned rear apron, with a rear wing above it that can be manually deployed. The previous model made do with a fixed wing, but it has been done away with. Not to worry traditionalists, if you want an "ironing board" on the TT RS' rump, Audi SA will fit one as a no-cost option. The indicators are now of the sweeping motion variety, there's LED lighting all round and big RS-spec alloy wheels. RS badges on the front and rear tell other road users what is about to fly/has flown past them.
The cabin is enveloping and has a real sense of occasion. The steering wheel is undeniably a piece of fine craftsmanship and there's a distinct driver's car feel to the cockpit, replete with a start button located on the 'wheel. We've previously lauded the Audi TT's cabin for its minimalist setup and in the TT RS, the effect is no different. The aircon vents look exquisite with their turbine design and the Nappa seats are to be praised for their comfort and finish. However, the pièce de résistance comes in the form of Audi's Virtual Cockpit digital display, which incorporates TT RS-specific graphics, like a central speedometer and boost gauge.
Unlike some sportscars, the Audi TT RS isn't that compromised in terms of space and practicality. Yes, there are 2 rows of seats, but the rear legroom is woeful, meaning that the aft bench represents an additional storage area (and little more than that), but the boot is sizeable for a car of this nature: good enough to load 2 large suitcases.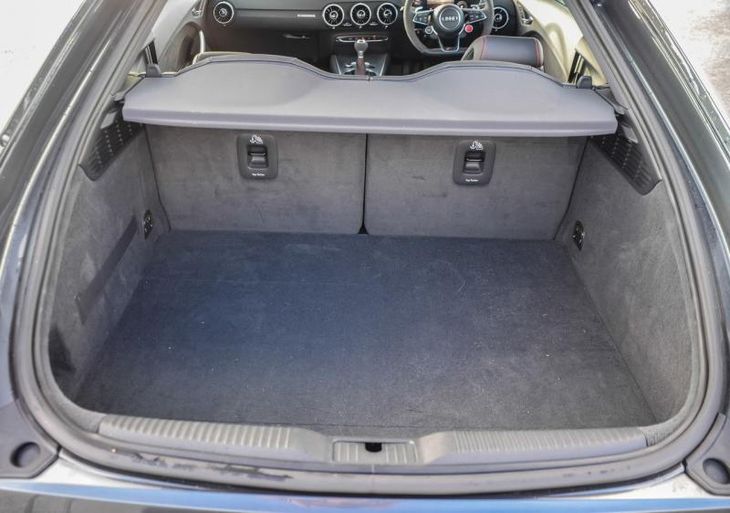 The rear practicality of the Audi TT RS must be commended. There's space for 2 large suitcases, making it more practical than it looks.
Performance?
At the heart of the Audi TT RS is the same 2.5-litre inline 5-cylinder motor found in the RS3 sedan and hatchback. This engine has been around for some time and tallied up numerous awards, but in RS3/TT RS spec, it's been reworked to deliver boast-worthy outputs, but hopefully not at the expense of flexibility (or reliability!). How do peak outputs of 295 kW and 480 Nm grab you? Given the TT RS' small stature, the performance is savage off the line, thanks to quattro all-wheel drive and a quick-shifting dual-clutch gearbox. Audi claims a 0 to 100 kph time of 3.7 seconds, something we had to experience for ourselves on our favourite section of deserted road.
Stab the start button on the steering wheel and listen to the delicious burble emanating from the engine bay. With the Drive Mode set to Dynamic and the launch control dialled up, it was time to unleash Ingolstadt's latest projectile. Release the brake pedal and the front wheels turn viciously, with the rear axle coming into play within a few milliseconds. The grip is astonishing and even though there was quite a bit of dust on the road surface, not once did we hear a chirp of objection from the Audi's tyres.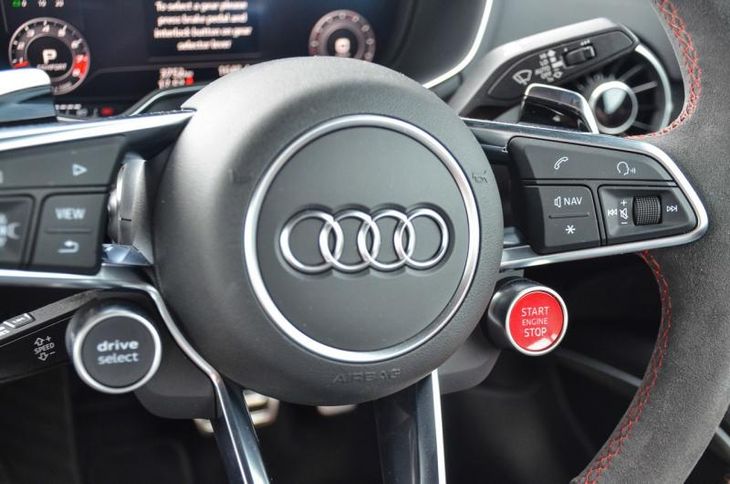 The drive select and engine-start/stop button are wonderful racing car-like touches to the TT RS' tiiller.
That's right: the Audi TT RS just hooks up and goes, and impressively could do a few sprint runs with almost no variation in performance. It speaks volumes of mechanical reliability when a car is subjected to successive brutal hard launches, yet makes no complaints/continues to perform consistently.
The Audi's in-gear performance is commendable too. By virtue of its responsive powertrain, the TT RS effortlessly leaps forward no matter in which gear it is or in which position the throttle pedal might be. Overtaking is a breeze and the impressive performance is on tap even when the vehicle isn't in its most aggressive mode.
Our favourite part of the performance is the noise. That engine has such a soulful note to it... not flat and mechanical like a four-pot and not as throaty as a V6, but something in between – a unique sound that builds in intensity as the revs climb. Lift off the pedal and the twin oval tailpipes emit brahpps and burbles. Let's not forget the delightful thud that accompanies each gear change. Too much? Well, that's why Audi fitted its TT RS with an active exhaust button, so you don't wake the neighbours!
Ride & Handling?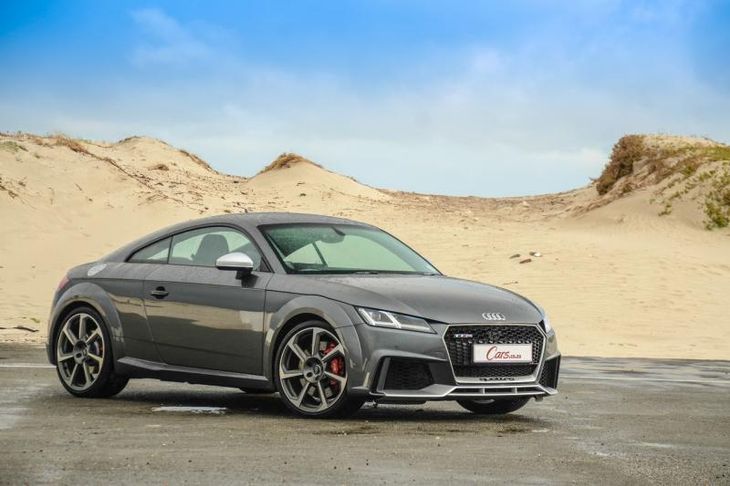 The Audi TT RS is a proper driving machine, but not at the expense of driver comfort.
Let's get this out in the open. Whereas the TT RS may look and sound like a mean machine, the reality is that Audi's newcomer is a performance car that isn't really intimidating; you will feel comfortable and confident as you build up the pace. We appreciated the light and quick steering action, and the gearshift paddles mean you can flick through the gears while keeping both hands on the wheel. Like most performance Audi products, the steering wheel really looks the part with its flat-bottom design.
In terms of suspension, the Audi TT RS is available with adaptive damping and we feel that while the standard RS suspension is more than adequate, you'll be best served by specifying the adaptive dampers. In Comfort, the ride is firm, which is fair given the nature of the car, but there's enough pliancy to soak up the kinks on poor-quality tarmac. What we enjoyed was that even when the car was in its hardest setting, the ride quality didn't jar. You could, at a stretch, live it on a daily basis.
The Audi TT RS rides on a version of the Volkswagen Group's MQB modular platform (known for its blend of comfort and performance), but sits lower to the ground than its siblings. There's very little body roll when you pitch it into a corner, which only encourages you to push harder for the next turn. Thanks to quattro all-wheel drive, the car will gradually progress into understeer when you approach its limits of adhesion, but it'll take some aggressive manhandling for the vehicle to feel close to the edge.

The leather seats are comfortable and supportive.
Pricing & Warranty
The Audi TT RS Coupé is priced at R963 000, standard with the 5-year/100 000 km Audi Freeway Plan.
Verdict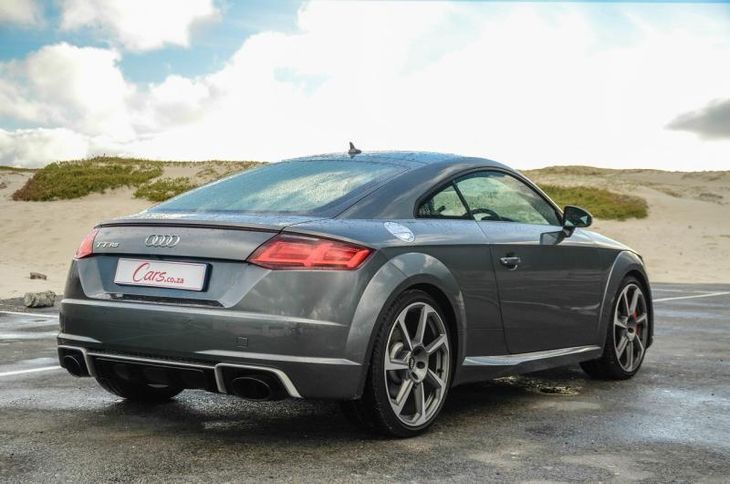 At its price, the Audi TT RS is hard to fault. Few cars under R1 million are as fast and you'll need to forking out a lot more cash if you want to match its skillset.
At this price point, there's very little to touch the Audi TT RS. For its size, it's a savage performance car (both off the line and in-gear), and it's going to take a vehicle that costs a lot more (almost double, in some cases) to match it. But even if it is a staggeringly quick machine, what's really impressive is how accessible/easy the newcomer feels to drive. It's also masterfully well assembled and the specification level is fair (given its flagship status). Of course, you can add on a few nicer things such as an uprated audio system and the aforementioned adaptive damping, which only sweeten the deal further. Even in base spec, you get a complete package.
It's a knock-out blow by Audi in this segment, which used to be dominated by BMW and Porsche. Not many cars are this fast and while some rivals may play the "driver involvement" card hard, the numbers don't lie. The power outputs and sub-4 second 0-to-100 kph runs are enough for it to see off most opposition this side of a Nissan GT-R, which costs substantially more. Despite its ludicrously ballistic performance, it's also effortless to drive both in a quick manner or on the daily commute. It's also not horribly impractical either: there's enough boot space for two large suitcases. Audi has not only created its best TT RS, but one of the best sportscars it's ever produced.
You may also be interested in:
Interested in buying a new/used Audi TT?