The award-winning Audi A4 benefits from some turbocharged V6 grunt, yet this S4 derivative remains understated in the looks department. Could this be the perfect business sedan for the cultured performance seeker?
We like: Punchy engine, excellent ride quality, premium cabin.
We don't like: Start/stop system can be jerky, brakes snatch at low speed.
Alternatives
Compare the specs of the Audi to the BMW and Jaguar here
What makes an S4?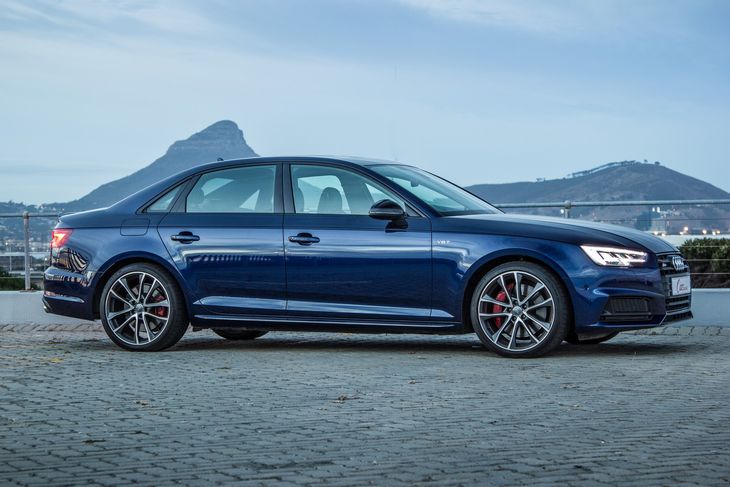 Understated, just how Audi meant it to be.
For this generation of S4, Audi's express business class sedan has been made lighter, more efficient and even more powerful than the previous version. The design hasn't taken the same sort of leap forward as the performance, but it remains an under the radar, as a stealthy sleeper (car) should.
Things to note for this S4 are: the pair of dual oval pipes at the rear, a sneaky set of red (optional) brake callipers and a slightly more prominent front grille. Inside there's more of a fuss made with some special S4 sports seats and brushed aluminium sections around the dash.
Not too much fuss then, just how it should be for the grown up and refined business person who likes a 3-box shape, a capacious boot and a bit of grunt, as long as someone else is paying for the fuel, right?
The Good
Drivetrain refinement
Audi really appears to be hitting its strides in terms of engine and gearbox harmony. The 3.0-litre V6 up front churns out peak outputs of 260 kW and 500 Nm of torque. The engine is mated with a torque converter 8-speed Tiptronic transmission. It's not a snickety dual-clutch 'box, but don't worry though – modern autos are nearly indiscernible from DSG boxes in performance... these days.
The V6 dispatches a warning bark at startup, but only when the revs surpass 3 500 rpm does the characteristic performance potential of the powerplant become apparent in the form of a deep, bassy song. It revs long too, rather than dispatching gears quickly and it sticks in one gear for what feels like ages as it climbs from 80 to 120 kph. It adds to the smooth and reserved nature of the S4.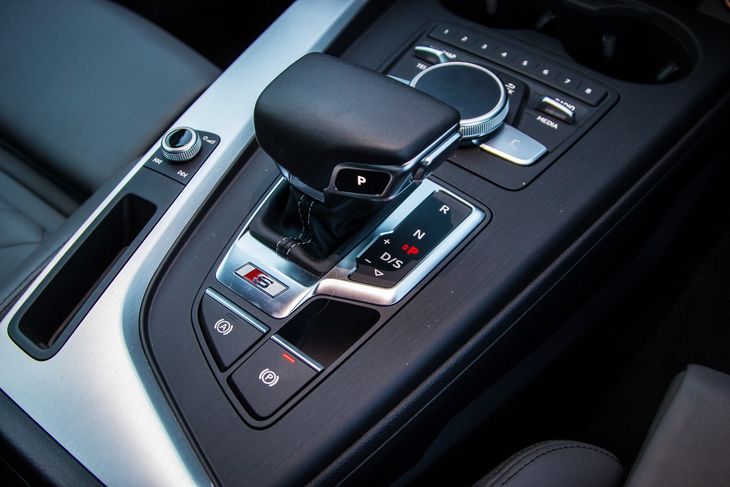 The S4 uses a torque converter automatic gearbox as opposed to the well-known dual-clutch S-Tronic.
If you need to streak away from a set of traffic lights, the S4 will rush from standstill to 100 kph in 4.7 seconds, but that's not really where it gets exciting. It's all about the Audi's ability to power away in-gear and overtake with a sense of purpose; there's a woosh of torque that gets delivered and, unlike the turbodiesels that usually occupy the pinnacle of business sedan ranges, the S4 will hang on to its gears, which makes open-road blasts addictive. You won't match the diesel's fuel efficiency though and despite the improvement in efficiency claimed for this model, you're likely to be well over 10L/100 km in the long term.
Ride quality
This generation of A4 really shines in terms of ride quality and general on-road refinement. Even the usually front-heavy, understeery claims have been put aside for this model. The front-end of the S4 is quick to respond and it always seems to hold onto the inside line longer than you think possible for a quattro car.
The quattro system has a slight rear(-wheel) bias to it and with the optional sports differential, it will distribute torque between the rear wheels for more precise handling. In true Audi style, the S4 is a confidence-inspiring car to drive when you begin to add speed and corners. The steering has solid heft to it, but, as with all modern electric steering systems, it lacks ultimate feel.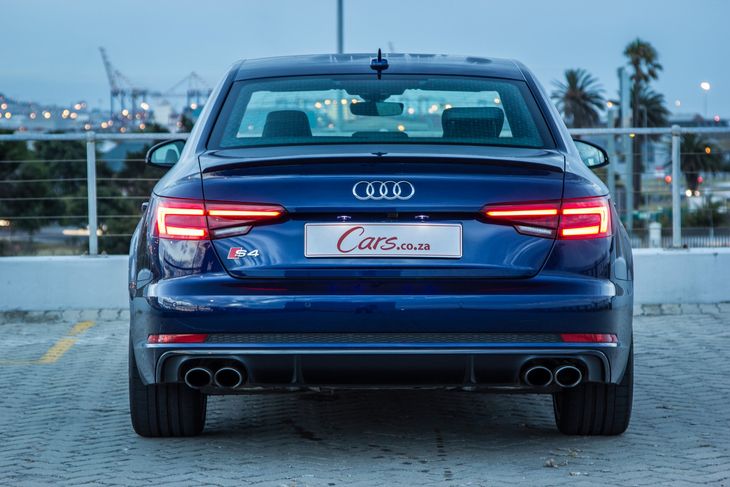 The S4 retains the refined and comfortable ride from its A4 underpinnings.
With the S4's slightly firmer setup and low profile 235/35 19-inch tyres, it can be expected that potholes will have a noticeable effect on the ride. It's true, but it doesn't really detract from what is a well-damped car and even the bigger hits come through with less force than expected. The ride can also be adjusted through the Drive Select button that ranges from Efficient to Comfort, Auto, Sport and Individual.
Premium cabin
It's becoming a habit now to mention how good Audi's cabins are compared with those of its rivals, but that's just it: the build quality is superior and the design and trim choices look more modern and smooth.
The S4 gets lovely cosseting sports seats that still let you sit low enough if you're on the taller side. The seats compromise rear legroom slightly, but it's still quite spacious in the back. The boot capacity is a claimed 480 litres in size, which is identical to both the BMW 3 Series and Mercedes-Benz C-Class. The seats fold down flat providing 965 litres of loading space. It's never going to match an SUV for practicality, but it certainly has enough room for passengers and can accommodate a reasonable amount of luggage.
A few bonus touches in the standard features department are stainless steel pedals, cruise control, automatic air conditioning and rear parking sensors.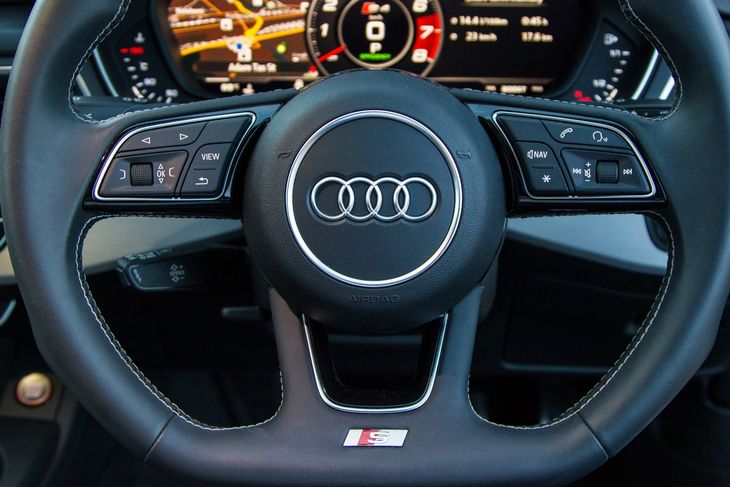 Audi's interior showcases quality workmanship and modern design - the best insides in the segment.
The Bad
Start/stop interference
Almost all modern cars have to be installed with a start/stop system that cuts the engine when stationary. The problem is that newer systems now try to engage the start/stop system at anything below 20 kph, this means it cuts in and out a lot of the time and becomes an actual pain if you are waiting to turn right at a set of lights or yielding at a roundabout. Normally it requires a solid stomp on the brake pedal for the system to cut the engine, but in the S4, it happens too easily and can get you into a spot of bother. There is the obvious remedy of disengaging it with the manual override button, but that has to become a habit on every single trip you take.
Low-speed brake snatch
It's a minor issue (the S4 is difficult to fault), but the brakes can be a bit difficult to modulate at low speed in traffic. They tend to bite too hard, even when tapering off brake pedal pressure. This, combined with the start/stop problem, causes a bit of frustration and confusion in congestion.
Pricing and warranty
The Audi S4 is priced at R809 000 and is sold with a 1-year/unlimited km warranty and a 5-year/100 000km maintenance plan.
Buy a new or used Audi S4 on Cars.co.za
Verdict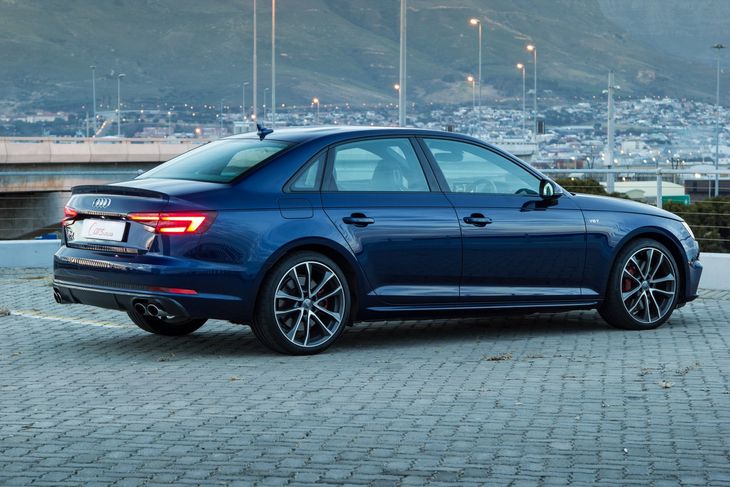 It's hard to find fault with the S4: it's a great car that's unfortunately competing in a dwindling segment.
The S4 remains the sleeping giant in the A4 range. Its understated looks hide its penchant for performance well (if you're a sports sedan aficionado who doesn't want to attract too much attention to yourself). The V6 turbopetrol loves a long stretch on the freeway and there's no unrefined cacophony from the exhaust pipes that will leave you embarrassed as you leave a crowd behind. It is, in a word, a class act.
The chassis and road holding capabilities are some of the best we've experienced from a quattro car and it's comfortable to boot when you aren't in a hurry.
There isn't much to complain about in this S4 and it's a solid package for someone who wants power and sophistication without having to shout about it.
More so, its pricing is quite good in comparison to its direct rivals. At a base price of R809 000 (February 2018), it's nearly R30k cheaper than the BMW 340i M-Sport and R100k less than the Mercedes-AMG C43. It's well worth a look, then...
Related content
BMW 340i vs Jaguar XE S Driving and Interior Comparison (Video)
Audi A4 2.0TFSI S tronic Design (2016) Review
5 Key Differences Between Old and New Audi A4 (2016)