Mitsubishi has finally installed a 1.5-litre turbocharged engine in its angularly-styled Eclipse Cross. We were pleasantly surprised by the naturally-aspirated derivative of the Japanese compact family car, so does a punchier powertrain make it an even stronger proposition?
We like: Great engine, smooth ride, surprisingly economical, standard spec.
We don't like: Limited luggage capacity, CVT lacks engagement, 1.5-litre turbopetrol only available in 2WD.
Fast Facts:
Price: R459 995 (June 2020)
Engine: 1.5-litre turbopetrol
Power/Torque: 110 kW/250 Nm
Transmission: CVT
Fuel consumption: 7.7 L/100 km (claimed)
Boot capacity: 378-1159 litres
What is it?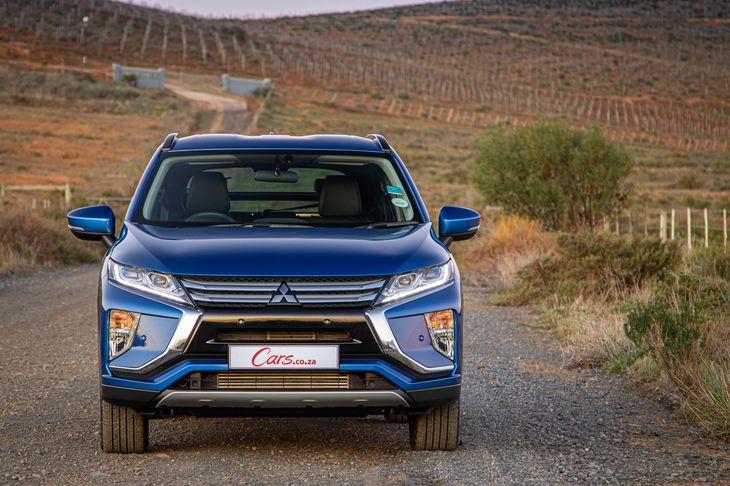 Now with a new turbocharged engine, the Eclipse Cross can compete with newer competitors.
This is not our first foray with the Mitsubishi Eclipse Cross; we've had considerable experience with it already. The derivative you see here, however, is powered by a 1.5-litre 4-cylinder turbocharged engine, which we've keenly awaited. While Mitsubishi has sold quite a few of the naturally-aspirated 2.0-litre derivatives, the Japanese firm has been keen to demonstrate exactly what its new powertrain is capable of. As the engine-downsizing trend continues amid increasingly stricter emissions regulations, adversity has forced innovation – we've encountered impressive compact engines. Granted, some have been a bit limp and thirstier than claimed, so the 1.5 Turbo GLS will have to prove itself.
The Mitsubishi Eclipse Cross is the Japanese brand's take on a compact family car. Like the Hyundai Creta and Kia Seltos, it's one of the larger models in its segment. In an embattled new vehicle market, demand for compact crossovers and SUVs have been resilient and, seeing as downsized forced-induction powerplants are de rigueur at the upper end of the segment, we're hoping to get the full Mitsubishi Eclipse Cross experience thanks to its promising new turbopetrol motor.
How it performs in terms of...
Exterior styling
In a way, it's unfortunate we live an era in which car styling has become such a controversial topic on social media. If a car's exterior design is too challenging (or "out there"), it gets slammed; alternatively, if designers play it too safe, it's boring. Smartphone-wielding critics tend to forget just how many fiery hoops designers need to jump through before a design is given the green light. Consider aspects such as safety and aerodynamics, to name but 2 examples. We'd bet many designers would happily incorporate flamboyant cues into vehicles, but remember those cars' production versions should minimise harm if they collide with pedestrians and have low drag coefficients to optimise efficiency, etc.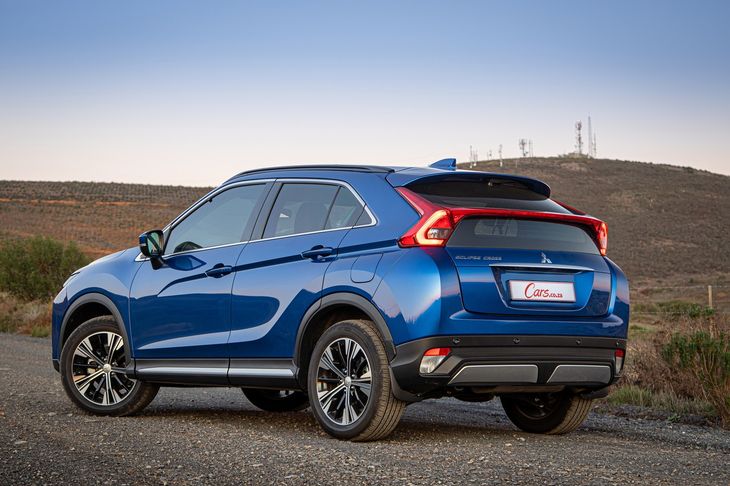 The rear of the Eclipse shows off its most unique styling attribute – the tailgate-mounted light bar.
We've said this before but it warrants repeating: a vehicle's styling is completely subjective and the Eclipse Cross' distinctive rear 3-quarter aspect is particularly divisive. Many have expressed their dislike of the Mitsubishi's split rear screen and outlandish lighting signature and the Cars.co.za testers did not reach consensus about its effectiveness (or failure), but there's no denying the cues make you take a second look. If nothing else, the angular and progressive styling gives the Eclipse Cross a standout presence in a segment in which design flair is rather limited. Most compact crossovers look remarkably similar; there are only so many ways in which you can dress up a blocky SUV...
Interior execution and features
At this price point, a compact family car's interior specification list needs to be comprehensive and the Eclipse Cross 1.5 Turbo (exclusively available in GLS trim) doesn't disappoint. We evaluated this car in winter, so those heaters for the front leather seats were most welcome. Other noteworthy features include a head-up (speed) display, dual-zone climate control, automatically activated lights and wipers, front and rear park distance control, a reverse-view camera, 7 airbags as well as stability control.
In terms of connectivity, the Mitsubishi's touchscreen infotainment system is the same as the one in the Datsun Go budget car, but that's not to say it's rudimentary; it has all the functionality you're likely to ever need, including satnav, hands-free Bluetooth connectivity, USB ports, as well as Android Auto/Apple CarPlay compatibility, which is great.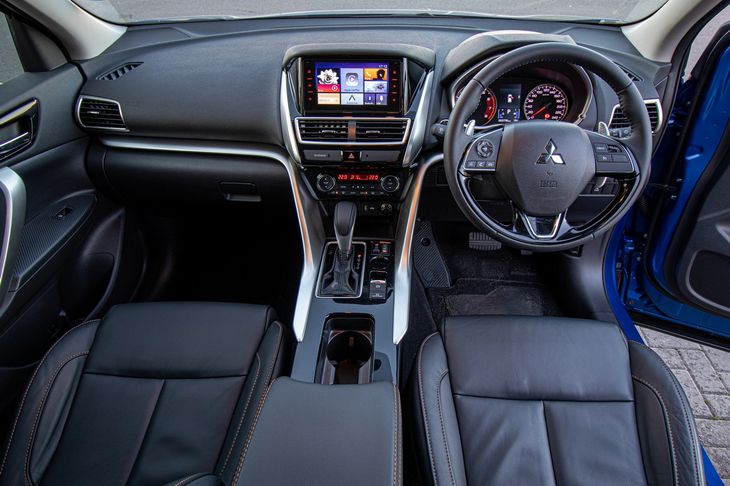 It's nicely specced inside with contrast-stitched leather, brushed metal-look accents and a few soft-touch surfaces.
As for the cabin's layout and perceived quality, well, it's not as flashy as the exterior design... Mitsubishi has adopted a more traditional, ergonomically-sound design with solid-feeling (if less-than-grand or glamorous) finishes, including piano black inserts and a healthy helping of brushed metal-look accents. Everything is right where you'd expect it.
In terms of practicality, the rear bench can slide fore and aft and its backrest reclines. Should you require utility space, the aft seats can fold down in a 60/40 split. One of the aspects of the Eclipse Cross we've criticised before is its limited luggage space... at 378 litres, the load bay is small compared with those of family cars and it's also shallower than one might expect (due to the fitment of a full-size spare wheel). However, given the conditions of our roads, we'd happily sacrifice some packing space.
Performance, handling and fuel economy
The real point of this review was to gauge the merits of the 1.5-litre turbocharged engine. It's torquier than the 2.0 litre (250 Nm versus 198 Nm) but has an identical peak power output. The big difference is drivability. For those who aren't mechanically-minded, the turbo motor may have a comparatively smaller capacity, but it delivers all its torque low in the rev range (2 000 to 3 500 rpm), resulting in more immediate responses to throttle inputs; there's no need (or point) to rev the engine hard to exact spirited acceleration.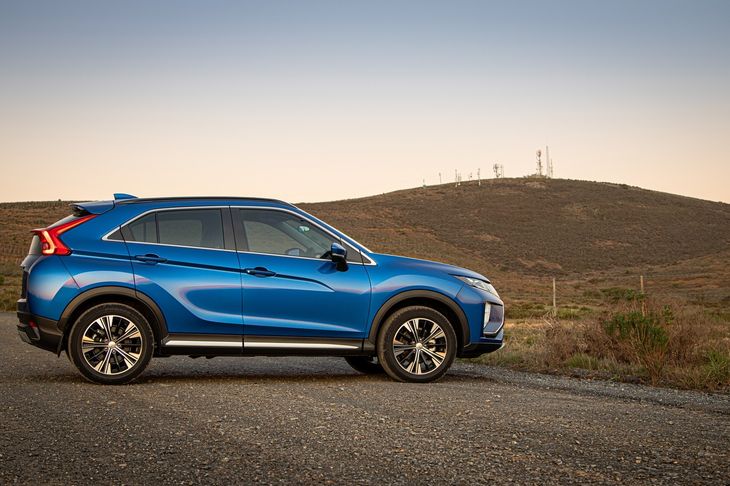 The sloping shoulder- and swage lines of the Eclipse Cross are immediately noticeable thanks to the metallic paint finish.
As there is no need to accelerate hard to get the best out of the 1.5 Turbo GLS, we saw an admirable indicated fuel consumption of around 7 L/100 km while cruising on the open road. A stint of urban commuting pushed that figure up, of course, but we were quite happy to register an average of 8.7 L/100 km. So, to sum it up, not only does the new 1.5-litre turbo motor make the Eclipse Cross adequately punchy and smooth to drive, it proved notably more efficient than its siblings' naturally-aspirated 2.0-litre powerplant.
The Mitsubishi's continuously variable transmission (CVT) deserves some credit for the refined on-road progress. CVTs are loathed by some petrolheads for the droning sound they emit at full throttle – and their generally uninvolving nature is widely bemoaned, yet we believe that the technology has come a long way. If you drive the vehicle in a manner that you use measured pedal inputs (in other words, you don't treat the accelerator like it's an on/off switch), you'll be rewarded with notably refined forward progress. There are shift paddles mounted at the back of the steering wheel, which feel great, but we didn't feel inclined to use them; we left the powertrain to its own devices instead.
The overall driving experience of the Eclipse Cross is quite pleasant. It doesn't feel like a big vehicle to manoeuvre within urban confines and its solid build quality – in combination with a refined powertrain – contribute to a hushed cabin. Handling is surefooted, thanks to the light, but accurate, steering and the ride quality is generally good.
Being a Mitsubishi, you'd expect some level of off-road prowess from the 1.5 Turbo GLS, but unlike its 2.0-litre naturally-aspirated sibling, which is available in all-wheel-drive guise, the newcomer is exclusively available with a front-wheel-drive configuration. It's more suited to climbing pavements than indulging in serious offroading. That being said, the compact family car offers 180 mm of ground clearance and its suspension soaks up road imperfections well – it should handle jaunts on gravel routes with ease.
Pricing and warranty
The Eclipse Cross 1.5 Turbo GLS costs R459 995. It comes with a 3-year/100 000 km warranty, a 5-year/90 000 km service plan and 5-year/unlimited km roadside assistance.
Take a look at specification details for the Mitsubishi Eclipse Cross 1.5T GLS
Browse for a used Mitsubishi Eclipse on Cars.co.za
Verdict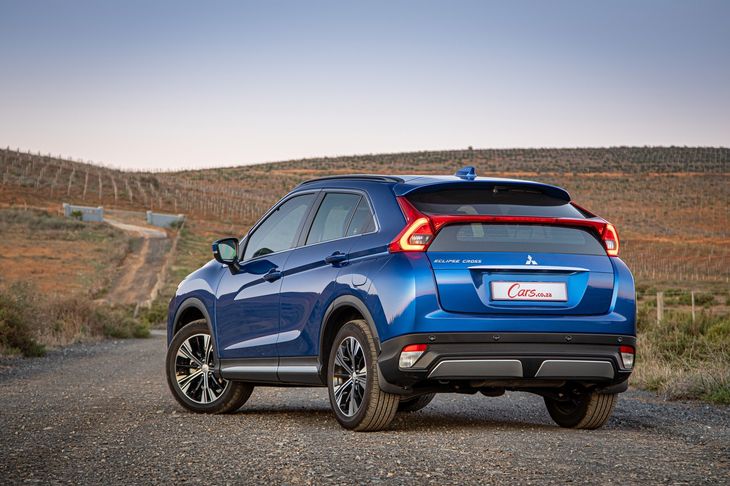 The Mitsubishi's certainly a reliable choice, but then there are many models to choose from in this segment.
If you've had your eye on the Eclipse Cross for a while, but were waiting for this engine to become available, well, it's arguably been worth the wait. Not only is the new powerplant punchier and more responsive than the 2.0-litre, but it's lighter on fuel. It costs R10k more than the all-wheel-drive version of its naturally-aspirated sibling and a full R50 000 more than the front-wheel-drive 2.0 GLS, but in our opinion, it offers a more flexible and satisfying driving experience by comparison. The 1.5 Turbo GLS sits at the upper end of the compact family car market – in the territory of (larger) entry-level family cars – but, in its defence, its standard specification is more comprehensive.
The Mitsubishi's design won't be to everyone's taste, but, like its recently introduced Kia Seltos rival, the Eclipse Cross offers nonconformist appeal. Its performance is willing, yet frugal, it's well made and reasonably refined, plus it's well specified. If the limited luggage capacity is not a deal-breaker, consider adding this vehicle to your shortlist.
Related content:
Mitsubishi Eclipse Cross 1.5 Turbo (2020) Spec & Price
Mitsubishi Eclipse Cross 2.0 (2019) Review
Mitsubishi Eclipse Cross (2019) Launch Review
Mitsubishi Eclipse Cross (2019) Specs & Price