Mitsubishi has brought a new model to a familiar segment. The Eclipse Cross hopes to usher in more style and better quality to the Japanese firm's family SUV offering. We spent a day in the Western Cape to sample the newcomer.
What is it?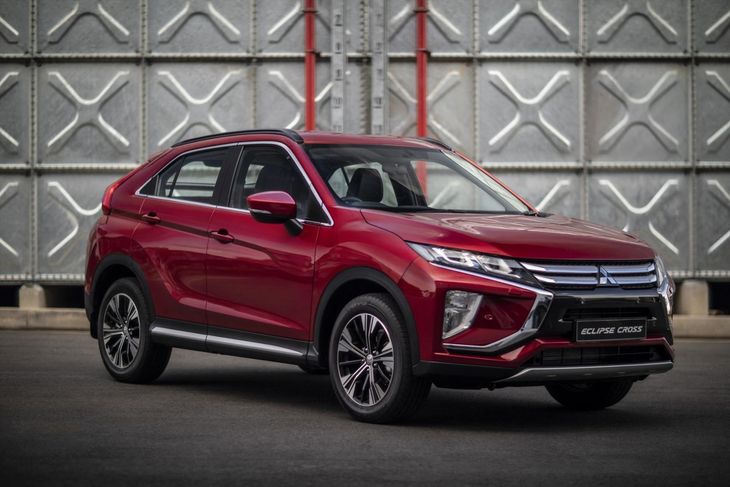 The uniquely-styled Eclipse Cross blends SUV and hatchback.
To start with, it's not entirely new having been launched in Europe late in 2017. As one of Mitsubishi's smaller markets, South Africa has had to wait a while for the SUV (with bits of coupe-like styling) to arrive.
Its size is hard to pin down from photos, but it's bigger than an ASX and smaller than an Outlander. Mitsubishi says the rivals to its newcomer are the Hyundai Tuscon, Kia Sportage and Mazda CX-5. The Eclipse feels a little smaller than those models, but the Japanese firm aims to target those buyers looking for a stylish SUV with just enough off-road capability – and interior space – at a reasonable price.
There are only 2 derivatives for now, both powered by a 2.0-litre naturally aspirated petrol engine mated with a 6-step CVT (automatic) gearbox.
Own a Mitsubishi? Tell us about your experience here.
Is it spacious?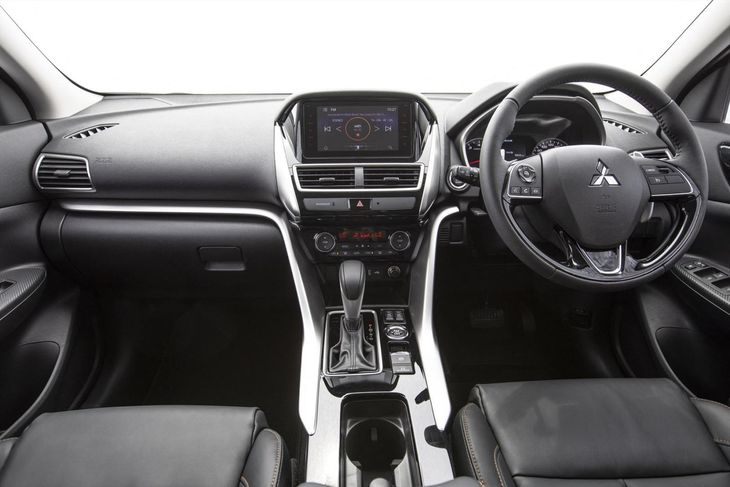 Up to date touchscreen infotainment system is Apple Carplay and Android Auto capable.
Yes, occupant space in the Eclipse Cross is quite acceptable and there are a number of sops to practicality.
Rear occupants will find that legroom is good, but while the slide and tilt-adjustable 60:40-split rear seats can recline to create more relaxing seating positions, tilting the backrest does cut into the available load space, however. Headroom is a little tight as the sloping roofline cuts into the area where a taller person's head would usually go. Suffice to say that anyone over 1.80 metres in height may encounter headroom issues.
Up front, the Eclipse cross is well appointed with a big centre console and enlarged door pockets. There is just enough space in front of the gear lever to squeeze in a Samsung S10 and plug it into the single USB outlet.
As for the luggage bay, some of the 448 litres is used up by the South African spec full-size spare wheel, so the figure is more likely around the 400-litre mark. That's some way off a Tucson and a CX-5, which measure over 450 litres.
Is the engine any good?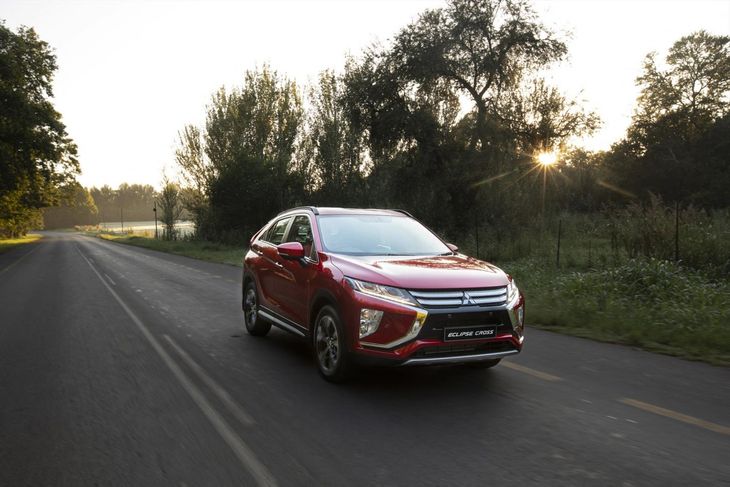 The 2.0-litre engine is combined with a CVT automatic gearbox. Power and torque levels are par for the segment.
A petrol engine combined with an automatic seems to be the choice of many buyers in our market. Top sellers like the CX-5, Tucson and Sportage all offer 2.0-litre auto derivatives. Mitsubishi has cottoned onto this with its very own 2.0-litre engine, which delivers 110 kW and 198 Nm of torque. The numbers are on par for the segment, and in everyday use, the Eclipse Cross has enough power to haul itself around with relative ease.
To reiterate a CVT automatic gearbox is the only choice. It has a very elastic feel to the way it delivers its power to the wheels. Initially, you get excellent throttle response and a solid surge of thrust, but then it fades all too quickly and you find yourself having to pump the throttle some more to maintain a brisk rate of acceleration. The CVT in the Subaru Forester is a better example of how a good CVT should operate.
Gearbox issue aside, the Eclipse Cross accelerates well and holds a steady 120 kph on the open road easily. Fuel consumption is claimed to be 7.9 L/100 km for the 4x2 version and 8.1 L/100 km for the 4x4. We saw around 10 L/100 km in our 180 km loop in the 4x4 derivative.
It has all-wheel-drive?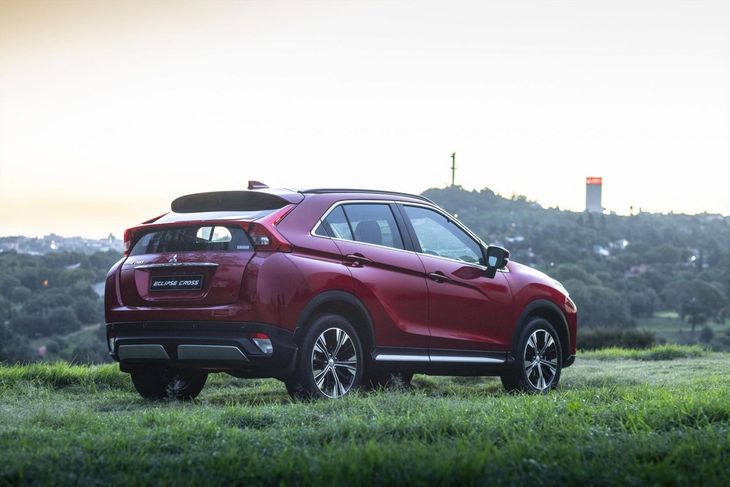 There is an AWD model as well as a front-driven version in the Eclipse Cross range.
There are front- and all-wheel-drive versions on offer. Mitsubishi calls its off-roading system Super All-Wheel Control (S-AWC), which makes use of a torque-distribution system, sending power forwards and backwards and side to side as required. It utilises throttle- and brake control software to maintain sure-footedness on loose surfaces.
The ground clearance of 180 mm means you won't be doing any serious off-roading, but the Eclipse Cross does handle a corrugated gravel road very well. In typical Mitsubishi style, the ride is composed, both on-road and on gravel, but you'll most appreciate the pliant ride quality when the newcomer traverses a dirt road. The AWD version also comes with a drive-mode selector that allows you to switch to a gravel-specific setup.
Is it well-specced?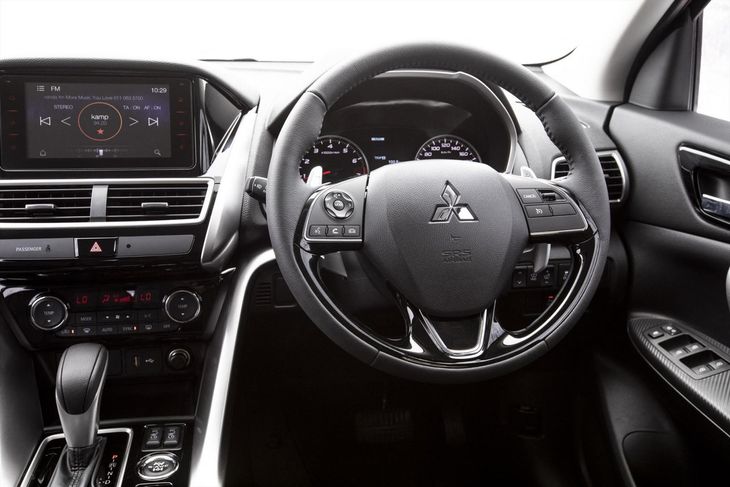 Well-appointed interior and excellent safety features are included in the package.
Yes, very well-specced, as a matter of fact. It's the first Mitsubishi I've stepped into that feels thoroughly up-to-date in terms of connectivity and digitisation. The 7-inch touchscreen is Android Auto and Apple Carplay compatible and features a built-in navigation system too. Both variants are similarly equipped and come standard with dual-zone climate control, front and rear park sensors (with a rear camera), all-round electric windows, steering-mounted controls, paddle shifters and leather seats, of which the front seats can be heated and the driver's seat is electrically adjustable.
It has an effective array of safety features too. Traction control is standard as are 7 airbags and a hill-start function.
What's the price?
The 4x2 Eclipse Cross offers up enticing value against Mitsubishi's proposed rivals. At R399 995, it's about R30k more affordable than the equivalent Tucson and CX-5. The 4x4 (R449 995) gives you a semblance of off-road cred, but buyers in this segment tend to favour FWD models.
The Eclipse Cross is sold with a 3-year/100 000 km warranty and a 5-year/90 000 km service plan.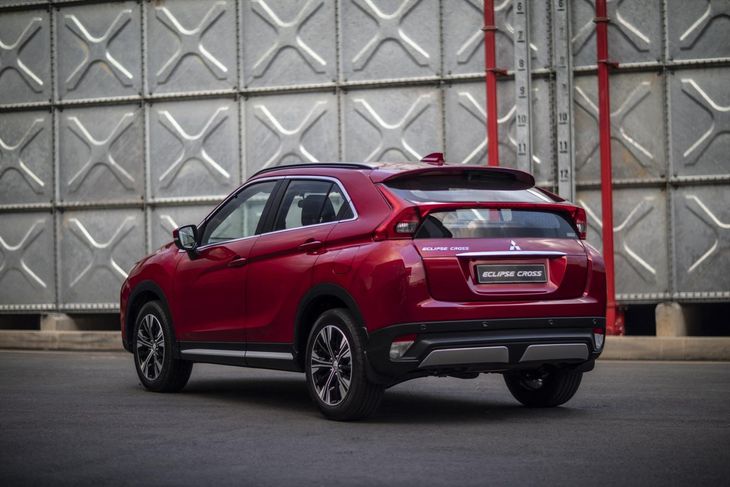 The Eclipse Cross offers good value for money in the Compact/Family SUV segment.
Summary
The new Eclipse Cross represents good value for money, which is, after all, Job 1 for a new family-car market vehicle introduction. Mitsubishi SA's newcomer is well-appointed inside with excellent levels of safety equipment. The ride and drive feel well sorted, giving you a sense of solid build quality and reliability. The engine and drivetrain are acceptable, if not standout features of the package. Space for front passengers is roomy, while rear passengers may lack a little headroom. The load bay is a little on the small side too, but it is fitted with a full-size spare if you run into trouble.
It doesn't quite feel as substantial as a Hyundai Tucson or Mazda CX-5, which are aimed at big families with lots of luggage. No, the Eclipse Cross feels more like a Nissan Qashqai in size, but with the spec and quality from a larger car. Will it be a hit in the market? We'll have to wait and see.
Related content:
Mitsubishi Eclipse Cross (2019) Specs & Price