The Mitsubishi Eclipse Cross has finally arrived in South Africa. With the market well and truly saturated by compact crossovers, it's going to take something special for this Japanese newcomer to garner your attention. Truth be told, after a week's evaluation, the new Mitsubishi proved a pleasant surprise. Here's why you should give it a 2nd look.
We like: Relative affordability, build quality, ride refinement, standard features
We don't like: Shallow load bay, only 1 powertrain choice (for now)
Fast Facts
Price: R399 995 (March 2019)
Engine: 2.0-litre 4-cylinder naturally-aspirated petrol
Gearbox: Continuously Variable Transmission (CVT)
Fuel economy: 7.9 L/100 km (claimed)
Power/Torque: 110 kW/198 Nm
Own a Mitsubishi? Tell us about your experience here.
SERIOUS ABOUT BUYING?
Where does it fit in?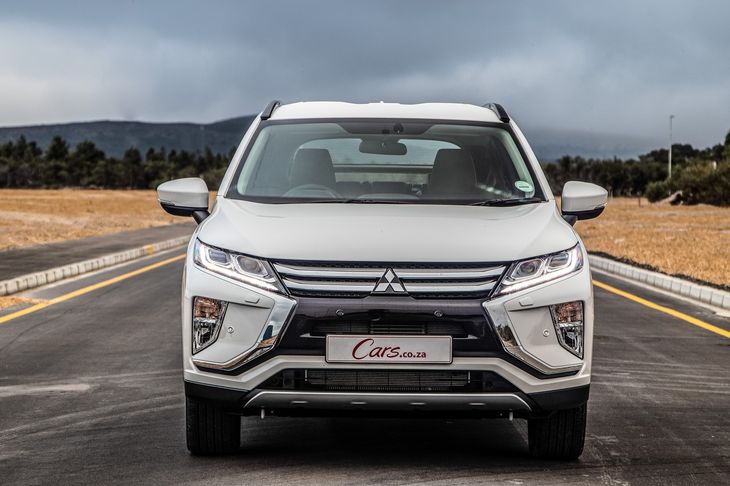 The Mitsubishi Eclipse Cross adopts the latest face from the Japanese manufacturer
Remember the iconic green coupe in the first instalment of the Fast and the Furious movie franchise? It was a Mitsubishi Eclipse, but the corresponding name and brand are the only 2 elements shared between that car and the vehicle you see here. Mitsubishi is yet another brand to change its product strategy in line with global demands and, with SUVs/crossovers being high in demand, its just sound business practice –irrespective of heritage or product lineage. So, instead of a fancy new sports car, what you're getting is a sensible, spacious and practical SUV.
We like the look of it. Mitsubishi has done the basics right and at least made its new offering interesting to look at. It's unmistakably Mitsubishi at the front (with the latest interpretation of brand's design language), while the rear sports some sharp angles. In terms of size, it's a touch larger than the still-going-strong ASX and a smidgeon smaller than the Outlander. Interestingly, Mitsubishi claims its rivals (size-wise) are the Hyundai Tucson and Mazda CX-5. The dimensions don't lie and we find the Eclipse Cross fractionally smaller, but you'd be hard-pressed to spot the difference.
There's just 1 engine/gearbox combination for now, with a choice between front-wheel-drive and all-wheel-drive configurations. On test here is the front-wheel-drive Mitsubishi Eclipse Cross.
The good
Standard specification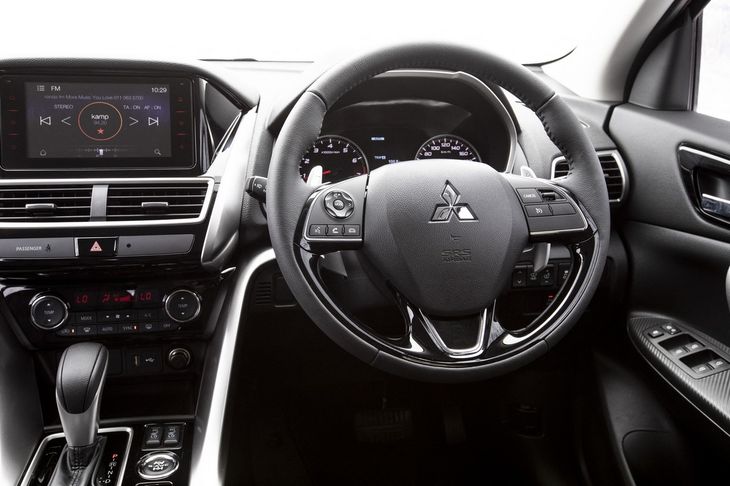 The cabin of the Eclipse Cross is modern and well finished.
The standard spec of the Eclipse Cross is very impressive at this price point. For a few rands under R400 000, standard spec includes nice-to-haves such as heated seats, climate control, head-up display, leather trim, automatic headlights and -wipers, a reverse-view camera, as well as front/rear park distance control. Plus, as a family car, a comprehensive suite of safety features is a must-have... To that end, the Mitsubishi comes with 7 airbags, ISOfix child seat anchors, ABS with EBD and brake assist, active stability-, traction and yaw control, plus a hill-start assist system.
We had a distinct feeling of deja vu when we tested the slick interface of the Eclipse Cross' infotainment system. Now that Mitsubishi is fully part of (what used to be known as) the Renault Nissan Alliance, it makes sense that its new products would sport systems sourced from the group, in this case, the infotainment setup of the Datsun Go. But that's not to say that the tech carryover is a bad thing: the system offers a clean user experience and is refreshingly simple to use. Satellite navigation is included, but we found it was better to make use of the built-in Apple CarPlay/Android Auto compatibility, which allows Google Maps/Waze, as well as music-streaming services such as Spotify.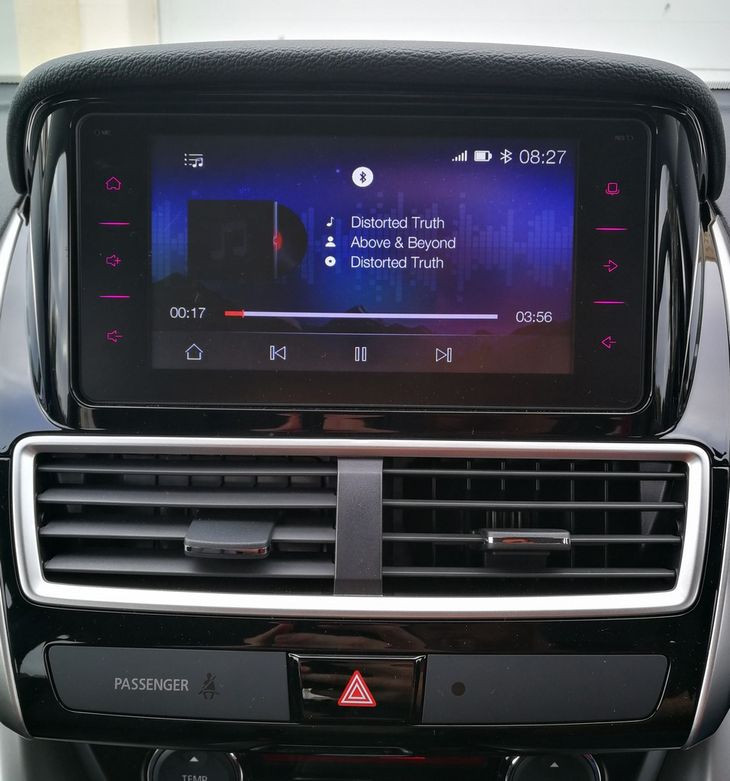 The infotainment setup may be from a Datsun Go, but it works beautifully. Here are Android Auto and Spotify in action
Ride and drive
Usually, the term CVT (an abbreviation for the gearless continuously variable automatic transmission) elicits moans and groans from the petrolhead community. While we understand the tech and the need for such a transmission, the issue arises that a CVT is not very engaging or responsive when pressing on. However, given the fact that the Mitsubishi Eclipse Cross has morphed from a silky coupe to a sensible SUV, this hardly matters. Yes, it will make some noise when you're standing on the accelerator, but for the overwhelming majority of the time, you'll be trundling along with light inputs to the accelerator only. This is where the CVT shines and it'll deliver commendable fuel economy as well. Mitsubishi's claim of 7.9 L/100 km was a little ambitious, but we're happy to report that the trip computer's readout sat at 9.1 L/100 km, which is about par for the segment.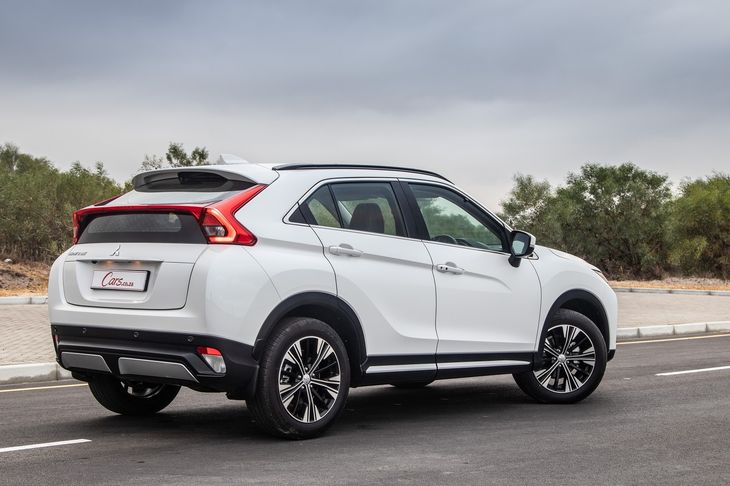 With the market being flooded by SUVs and crossovers, it's nice to see a brand coming in with a radical design. Kudos Mitsubishi.
The engine is a 2.0-litre naturally aspirated 4-cylinder petrol motor. With peak outputs of 110 kW and 198 Nm, the 2.0 litre offers just about enough shove to get the (almost 1 500-kg) Eclipse Cross moving briskly. In-gear acceleration is not its strong point, however, and with 4 adults in the car, you might pine for a powerplant that offers a touch more torque, such as a turbopetrol or -diesel engine. It's not the fastest off the line when it comes to outright acceleration, but once you're at cruising speed, the Mitsubishi has no problem with keeping up with traffic or maintaining momentum.
Our reservations about the powertrain aside, the overall ride quality and on-road refinement of the Eclipse Cross are commendable. It feels well assembled: wind noise is all but dialled out at freeway speeds and the pliant suspension makes for a relaxed driving experience. The steering is direct, lively and light, which is a boon in a cramped urban environment. In terms of a compact family car driving experience, it does not disappoint.
The not-so-good
Only one powertrain option
While we don't mind the 2.0-litre MIVEC naturally-aspirated 4-cylinder engine mated with a CVT, some customers might want a punchier powertrain. Hyundai, for example, offers a 1.6-litre turbopetrol motor, which, in our experience, has a more flexible power delivery by comparison. Mitsubishi does have a turbocharged motor (a 1.5 litre) that delivers 124 kW and 250 Nm, but it's unlikely to reach the South African market before the end of 2019. There's also talk of the Eclipse Cross being offered with Mitsubishi's latest 2.2-litre turbodiesel motor, but that version might be too expensive.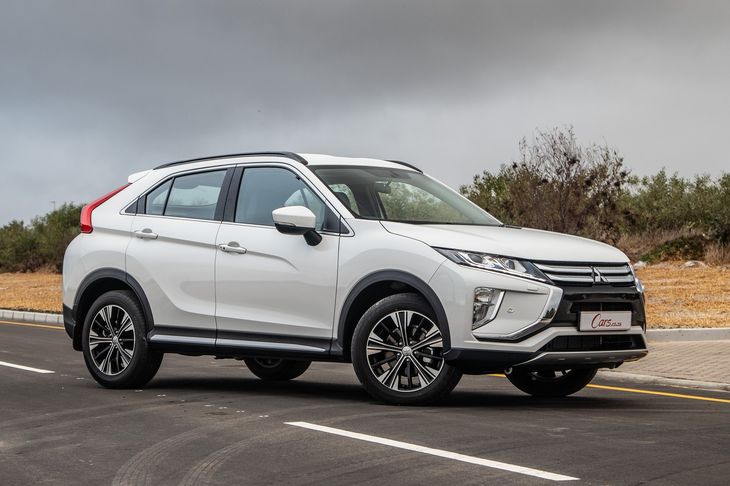 The lack of a turbocharged engine is obvious and while you won't be disappointed with the current powertrain, the vehicle needs a bit more shove
Shallow load bay
One of the big downsides of offering a full-sized spare wheel is that your model's luggage space usually takes a knock. The Mitsubishi Eclipse Cross suffers in this regard and while the load bay is not prohibitively small, it doesn't offer as much carrying capacity as its rivals. According to our site's compare tool, the Eclipse Cross boasts 378 litres of carrying capacity, while its rivals offer 442 litres (Mazda CX-5) and 488 litres (Hyundai Tucson).
Pricing & Warranty
The range starts at R399 995 for the front-wheel-drive derivative tested here, while the all-wheel-drive version commands a R50 000 premium. The vehicle comes standard with a 3-year/100 000 km warranty and a 5-year/90 000 km service plan.
Mitsubishi Eclipse Cross 2.0 R399 995
Mitsubishi Eclipse Cross 2.5 AWD R449 995
Verdict

With 180 mm of ground clearance, the Mitsubishi Eclipse Cross can easily mount the kerb or tackle some light gravel roads
The Mitsubishi Eclipse Cross took a while to reach our market, but it has proved a pleasant surprise. It gets the basics right and represents a compelling value proposition. Coming in under the R400 000 barrier has meant that newcomer from Mitsubishi substantially undercuts its competition by some margin, with the equivalent Mazda CX-5 retailing for R410 500 and the Hyundai Tucson for R433 900.
It's a refreshingly honest vehicle that has great on-road manners and, with 180 mm of ground clearance, is suitable for traversing gravel routes. Want the reassurance of all-wheel drive? Well, the next derivative in the Eclipse Cross portfolio will have you covered. The Eclipse Cross is also the first vehicle from the Japanese brand to boast a digitally-connected interface that offers Android Auto and Apple CarPlay connectivity.
If we had any gripes other than the lack of engine diversity in the model range and the shallow load bay, it would be the rear headroom, which isn't the best for taller adults (by virtue of that fashionable sloping roofline). Other than that, the newcomer from Mitsubishi is a good middle-of-the-road compact crossover that's unlikely to disappoint, thanks mostly to its good levels of comfort and refinement.
Interested in buying a new/used Mitsubishi Eclipse Cross?
Find one for sale on Cars.co.za now by clicking here
Alternatives (click on the names for specification details)
Volkswagen Tiguan 1.4 TSI Trendline Auto
Volkswagen's Tiguan is a stylish and well-finished family car. It's also the only model here featuring a turbocharged engine, although Trendline specification lags behind that of the Eclipse Cross. It's also significantly more expensive.
Hyundai Tucson 2.0 Premium Auto
Hyundai's Tucson is a popular model. Not only does it offer a relaxed and refined driving experience, but by virtue of its extensive 7-year warranty, the Tucson is a good prospect for long-term ownership.
The Mazda CX-5 is a massive success story for the Japanese brand. It delivers excellent on-road manners, has a capacious load bay and, in early 2019, received a handful of connectivity updates.