Mitsubishi reached its car-manufacturing centenary last year, the same year in which it became the third member of the Renault-Nissan-Mitsubishi Alliance, which is currently recognised as the largest automaker in the world. The Alliance is a Franco-Japanese strategic partnership which – each are quick to point out – is neither a merger nor a series of acquisitions. UK correspondent Wayne Gorrett reports from the UK launch.
The three companies are joined together through a cross-sharing, economies-of-scale agreement which will see Mitsubishi provide plug-in-hybrid and proven 4x4 technologies to Nissan-Renault which is expected to provide platforms to shape Mitsubishi's expansive future product portfolio.
The Eclipse Cross crossover has been in development by Mitsubishi for some time and none of its parts are a product of the Alliance – including the engines and transmissions. As a result, it is likely that the Eclipse Cross will be the last ever all-Mitsubishi Mitsubishi.
The Eclipse Cross is the first production car from the drawing board of Mitsubishi's designer-in-chief Tsunehiro Kunimoto (ironically head-hunted from Nissan/Infiniti 3 years ago) and rides on a re-engineered Outlander chassis. It is positioned between the company's internationally bestselling Outlander SUV and the smaller ASX crossover.
Introduced at the Geneva Motor Show last year and built for all world markets at the Mizushima facility just outside Okayama, Japan, the Mitsubishi Eclipse Cross looks distinctive enough to stand out from established rivals like the Nissan Qashqai, Peugeot 3008 and Volkswagen Tiguan.
Mitsubishi South Africa confirmed that the arrival of the Eclipse Cross to South African shores is scheduled for the end of February 2019. They also confirmed that it will slot between the smaller ASX and larger Outlander in the SA line-up. Incidentally, the next iteration of the ASX will be smaller and the Outlander larger, which will better accommodate the dimensions of the Eclipse Cross in the line-up.
Exterior Styling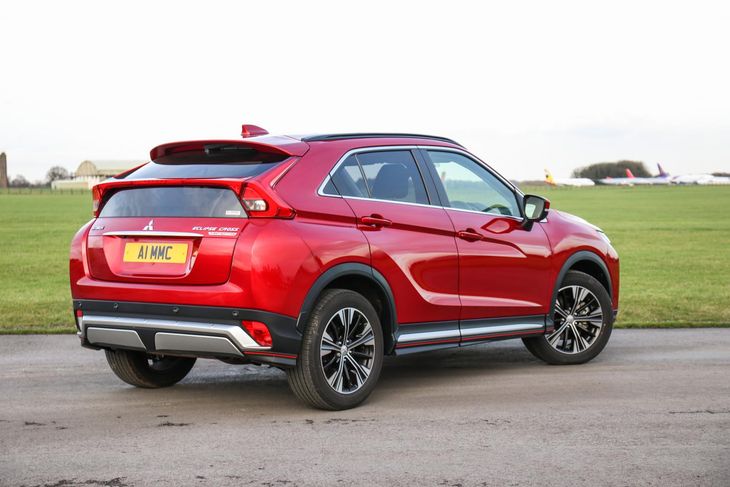 The Eclipse Cross cannot be labelled as boring from the outside. Much like the Toyota C-HR, there are lots of angles.
The eye-catching Mitsubishi Eclipse Cross is more adventurously styled than most of its rivals. A car of two lateral halves, it blends rugged, 4x4 lower body styling with a more coupé-like upper body. There's a splash of chrome detailing on a rather bold front along with LED daytime running lights.
At the rear, the Mitsubishi has a short overhang and a hatch that features the rear windscreen split by a full-width light bar. Visually, there's a lot going on and the sharp, angular lines are so severe as to perhaps divide opinion. However, the Eclipse Cross undoubtedly looks unique and refreshingly different in a torrent of crossover mediocrity.
The Interior
The striking exterior continues to a more sober degree to the interior. Much attention has been given to material quality, which is several rungs above the Outlander and a full-length fireman's ladder over the ASX. Soft-touch plastics cover the critical touch zones of the cabin, while more durable and utilitarian plastics are deployed lower down. The soft-touch switchgear feels high quality but the more frequently used buttons are relegated to the lower, darker part of the dashboard, requiring drivers to avert their eyes from the road, until such time as they get used to it.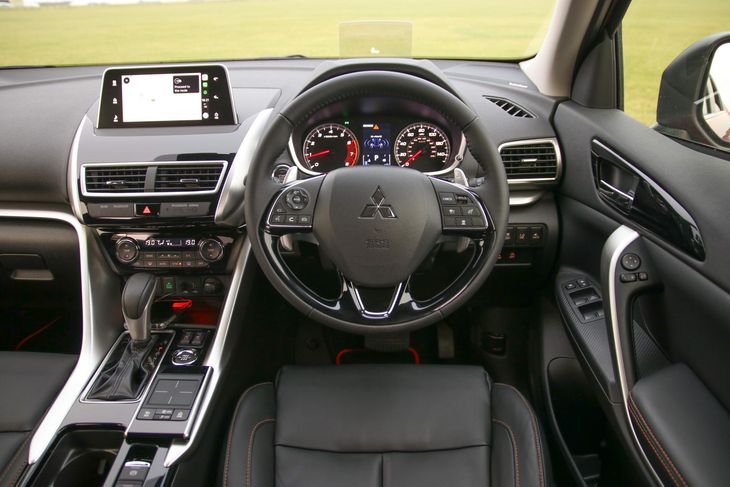 A proper infotainment system is a welcome upgrade. South African spec is yet to be confirmed, but we would like to see something this well-kitted.
The exterior styling is great news for individuality and driveway appeal, but its curvaceous shape does have something of an impact on overall practicality. Front and rear passengers have leg and elbow room to spare, but your luggage will be feeling a tad too cosy in the boot. Rear passengers gifted with height in excess of 5ft 10 inches will find their hair rubbing against the headliner thanks largely to the sloping roofline.
The Eclipse Cross is a five-seater only and the rear seats can slide 20 cm back and forth to alternate as desired between extra rear legroom or more boot space – which ranges from 341 to 448 litres. By comparison, the new Peugeot 3008 has a permanent 520 litres. However, both front and rear furniture is noticeably more comfortable than either the ASX or Outlander.
A decent driving position is easily and quickly found, from which forward visibility is good and there are plenty of handy storage spaces around the cabin for the families' daily detritus. The split rear windscreen means there's a solid line straight through your main rearview mirror that could distract, but the side mirrors are rather prominent, which helps when changing lanes on the motorway.
Prices, Trim Grades and Equipment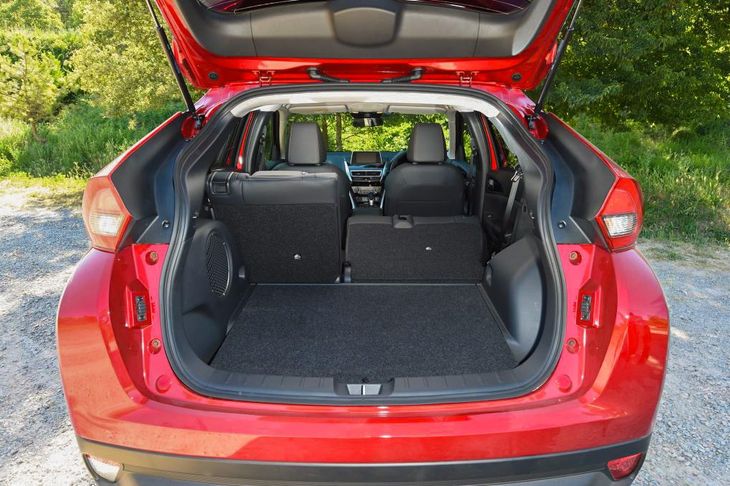 Mitsubishi loves to throw a big sub-woofer in the back of its cars. Even so, the Eclipse Cross is still competitive on boot space.
In the UK, the Eclipse Cross range comprises of three primary trim grades ('2', '3' and '4') and one 'First Edition', which will be limited to 299 cars in honour of the new model. At this point, Mitsubishi South Africa has yet to make decisions on trim grades, engines and transmissions, but a South African 'First Edition' Eclipse Cross is unlikely which is a pity given that it's based on the top-spec '4' with even more kit and an exclusive, super high-quality red paint job.
South African drivers familiar with the ASX crossover will be equally familiar with its three current trim grades of GL, GLX and GLS so there's little cause for Mitsubishi to deviate from those familiar trims on the new Eclipse Cross.
Entry-level '1' trim grade here in the UK is very well equipped with standard kit such as 16-inch alloys, Smartphone audio with Apple CarPlay and Android Auto, DAB & 6 speakers, rearview camera, touchpad controller, cruise control, climate control, auto lights and wipers, LED daytime running lights, privacy glass, front collision mitigation, lane departure warning and seven airbags including curtains.
Understandably, no prices are yet available for the South African-bound Eclipse Cross but, as an indication, UK prices for the new Mitsubishi crossover start from £21 275 (R350 000 est.) for the manual petrol model in entry-level '2' spec, to a palatable £27 900 (R450 000) for the top-spec '4' with all-wheel drive and the CVT transmission.
Satellite Navigation, Audio and Infotainment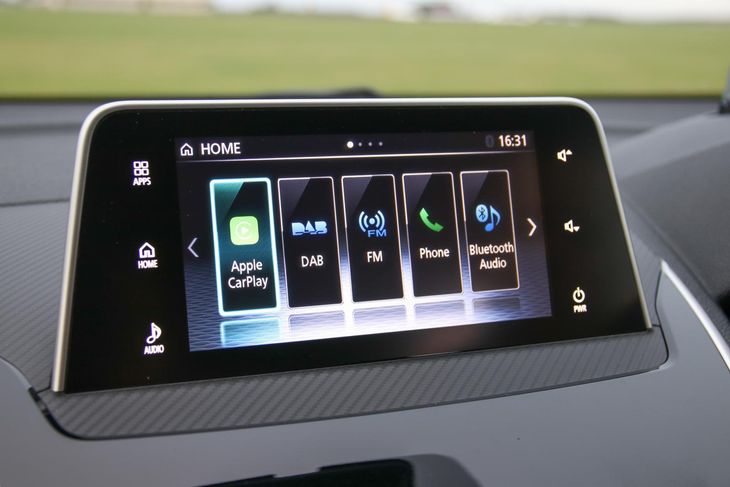 The infotainment system can be operated by touchscreen or a touchpad in the centre behind the gearstick.
Standard on the UK-spec Eclipse Cross is the seven-inch touchscreen display which sits atop the dash BMW-style. It looks smart and is adequately responsive to the touch. There's a trackpad controller on the centre console, but I found it rather fiddly in the short time I was with the car so used the display itself to select the functions I needed. Heating and air-con controls are actual buttons, unlike in the Peugeot 3008 – an important safety feature.
There is no satellite navigation on the Eclipse Cross, which does however support Apple CarPlay and Android Auto, which some buyers will prefer over a conventional in-car sat-nav. However, if you don't have a compatible phone then you'll be stuck without navigation, plus you'll have to fork out for data charges to your phone carrier when you need to go somewhere unfamiliar.
Engines and Drivetrains
The UK-spec Eclipse Cross will launch this month with just the one all-new 1.5-litre petrol engine – the development of a 2.2-litre diesel engine is nearing completion and is expected to follow later this year. Both engines are wholly designed and engineered by Mitsubishi and were in the pipeline before the Alliance was agreed.
The 4-pot, 1.5-litre, turbocharged petrol engine is available with a 6-speed manual or an eight-step CVT 'gearbox' via a superfluous pair of flappy paddles. It has an output of just under 124 kW and garners 250 Nm of torque. Those figures may seem a little humble, but this terrific little engine is willing and sounds rather neat when pressing on.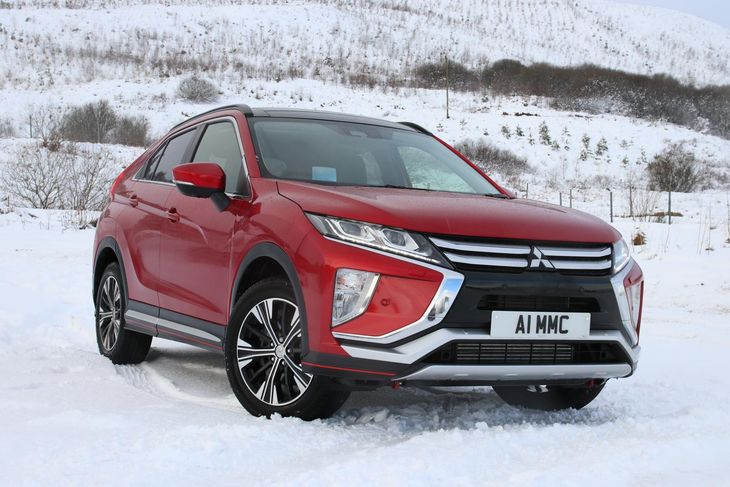 SA will definitely see the 1.5-litre petrol unit and we would hope for the 2.2-litre turbodiesel when it becomes available too.
The impending 2.2-litre diesel will be paired only with a conventional torque-converter automatic gearbox (not the CVT) and all-wheel drive will be standard. No technical details for the diesel are available at this time. A hybrid model is also expected to arrive sometime in the near future.
Manual petrol cars are front-wheel drive only but all-wheel drive is available in the UK model mix and includes a home-grown system called 'Super-All Wheel Control' (S-AWC), which controls torque delivery to each wheel, sending power where it's needed most. There are 3 selectable driving modes (auto, snow and gravel) to change how the vehicle responds according to prevailing surface conditions.
Because of the distant timeline for the introduction of the Eclipse Cross to the South African market at the end of the year, it is hoped that the 2.2 diesel will be available and be included in the introductory SA line-up.
Ride and Handling
On the road, the Eclipse Cross felt light and exhibited crisp handling through the bends with hardly any discernible body lean to speak of, although exceptionally crusty surfaces did tend to make the rear-end fidget a little, but not alarmingly so like some in this class. Those comfortable seats take the edge off harsh surfaces and the exceptionally well-engineered McPherson strut front and multi-link rear suspension setup maintain smooth progress when pressing on.
The 1.5-litre petrol linked to the manual gearbox delivers a surprisingly good turn of speed and the quick and direct steering means it's actually pretty good to drive on a sweeping road. There's not much feedback through the wheel, but that's common to crossovers in this class. The Mitsubishi is not as good to drive as the Peugeot 3008 or the Ford Kuga, but it's not far off the mark by any means.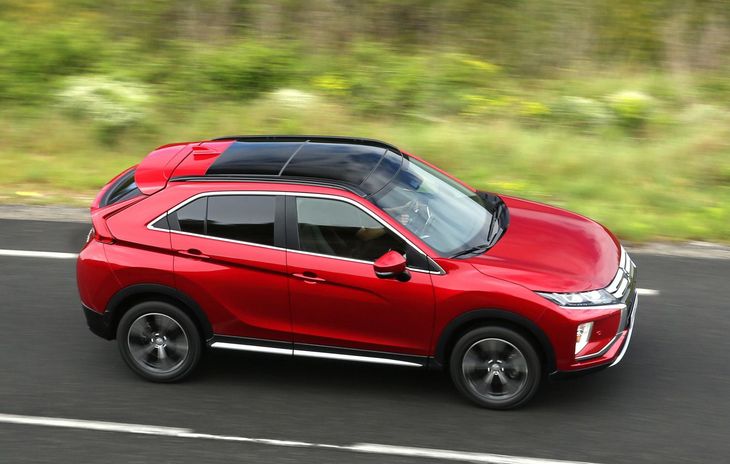 The manual model feels nippy and responsive where the automatic can struggle more when pushing on. Stick to city driving and the auto works better.
Unfortunately, the electronic eight-step CVT 'gearbox' paired with the petrol engine takes a sizeable bite from the driving experience enjoyed by the manual 'box. Mitsubishi was at pains to point out how much development has been put into the new CVT transmission and sure, it does feel better than most CVT's I've experienced in recent years, but it still takes a partly deaf set of ears and an extraordinary level of patience to become remotely happy with it.
If you only ever drive in the city, the CVT will probably work well but put your foot down and the revs soar noisily as the gearbox resists the need for a higher ratio. It's common to so many CVTs, and while manufacturers say they are efficient, they just aren't enjoyable to drive.
Fuel consumption could generously be described as unexceptional with the petrol engine returning 5.5 L/100km in front-wheel drive manual guise, rising to 5.8 L/100km from the all-wheel-drive CVT. While the engine performs to impress, those numbers are surprising given that it's a newly-developed engine for world markets currently demanding engines be leaner and greener.
When the all-new 2.2-litre diesel becomes available this should address those shortcomings via greater economy and much lower emissions – especially appealing to fleet managers – while the front-wheel-drive model should also be cheaper to run.
Safety and Reliability
Euro NCAP awarded the Eclipse Cross a full 5-star safety rating when tested in November last year. It scored 97% for adult occupants, 78% for child safety, 80% for pedestrian safety and 71% for safety-assist equipment fitted as standard. While not top of the class, they are nonetheless highly respectable figures.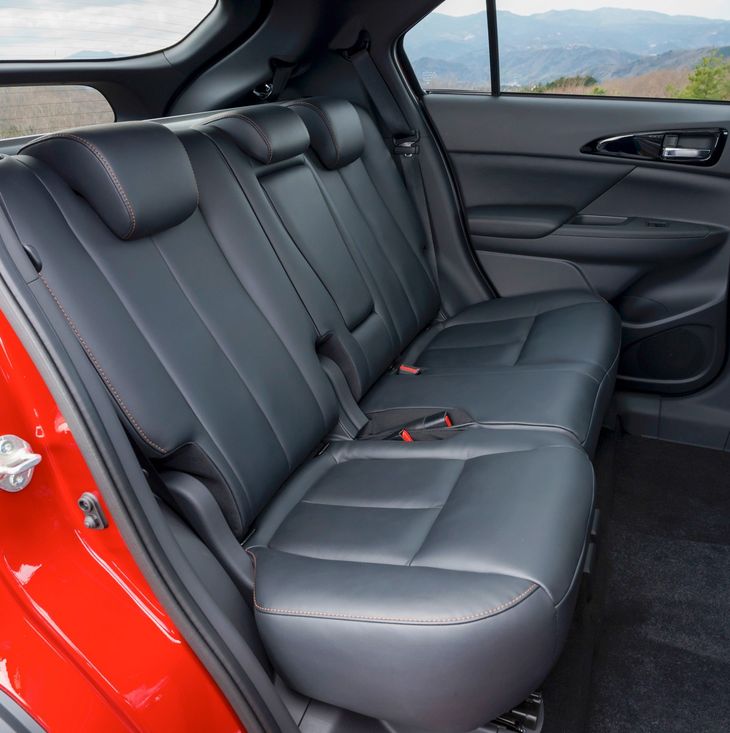 The rear seats can slide back and forth to provide more legroom or more boot space.
Available safety tech includes adaptive cruise control, auto city braking, lane departure warning, blind spot warning, rear cross traffic alert and auto high beams. A set of cameras allows a bird's-eye view of the car when you're parking using the 7-inch screen on the dash, which is a huge help in tight spots. The adaptive cruise control can go right down to a standstill, which holds the car when you're in traffic until you press the accelerator pedal and it moves up to match the speed of the car in front automatically.
Summary
Uniquely different styling aside, the most notable aspects of the Eclipse Cross are its interior quality and comfortable ride. With a touch of irony, it feels almost French in terms of ride quality and overall, is a broadly significant step in the right direction for the Japanese carmaker.
Its all-wheel-drive capability and on-road dynamics will undoubtedly disappoint off-road enthusiasts, but they are not the target audience. South African families looking for a civilised, safe, comfortable and spacious compact crossover will soon have an all-new contender to consider in the Eclipse Cross, from a brand with true 4x4-pedigree.
With the imminent technological benefits resulting from the sensible Renault-Nissan-Mitsubishi Alliance, Mitsubishi's stars are shining brighter than ever before.
Related content
Update: All-New Mitsubishi Crossover Revealed
Ford Kuga 2.0TDCi AWD Titanium (2017) Review
Comparative Review: Mazda CX-5 2.2DE AWD Akera vs Hyundai Tucson 2.0CRDi Elite [with Video]