We get to grips with the recently updated Mercedes-AMG GLA 45 4Matic. Is there merit in purchasing a performance crossover? Or is it a case of "if you're going to be ridiculous, do it properly"? We investigate.
We Like: Aggressive styling, hair-raising performance, aural pleasure
We Don't Like: Pricey proposition with expensive options, thirsty
Alternatives
For similar performance: Consider the Audi RS Q3 quattro. With outputs of 250 kW and 450 Nm of torque developed by its 2.5-litre turbocharged petrol engine, the long-serving RS Q3 is outgunned by the GLA45 AMG, but offers comparable performance with a zero to 100 kph sprint time of 4.8 seconds and a top speed of 250 kph. Pricing for the Audi RS Q3 starts at R882 500.
For world rally pedigree: Consider the rally-bred Subaru WRX STI Premium priced from R719 000. The 2.5-litre turbocharged boxer engine develops 221 kW and 407 Nm of torque and although it is also underpowered compared to the GLA45 AMG, the all-wheel drive WRX STI is a hoot to drive and it will indulge and satisfy your inner boy-racer.
The common-sense option: Consider the Mercedes-AMG A45 4Matic priced from R773 914. It's powered by the same 2.0-litre turbocharged engine found in the GLA 45 AMG with 280 kW and 475 Nm of torque and you will be saving a wad of cash in the process. The A45 AMG won't disappoint, but perhaps its hatchback packaging will be too conventional for potential GLA 45 buyers.
Compare the GLA45 AMG with the Audi RS Q3 and Subaru WRX STI Premium


A set of stylish 20-inch rims and a rear spoiler gives the GLA45 AMG some added visual appeal.
Facts & Figures
Price: R862 628 (June 2017)
Engine: 2.0-litre turbopetrol
Transmission: 7-speed dual-clutch automatic
Power: 280 kW
Torque: 475 Nm
Claimed fuel consumption: 7.4 L/100 km
0-100 kph: 4.4 secs
Top speed: 250 kph
Mercedes-Benz recently updated its GLA compact family car/crossover range with subtle exterior tweaks and interior upgrades and we spent some time with the range-topping GLA45 AMG 4Matic to find out if there is any sense in considering this 280 kW street beast. Sure, it's a special car, especially with all the expensive optional extras added to it, but is it really worth it? This quick review will shed some light on the strengths and weaknesses of the GLA 45 AMG 4Matic, so buckle up, son!
The good
Exhilarating performance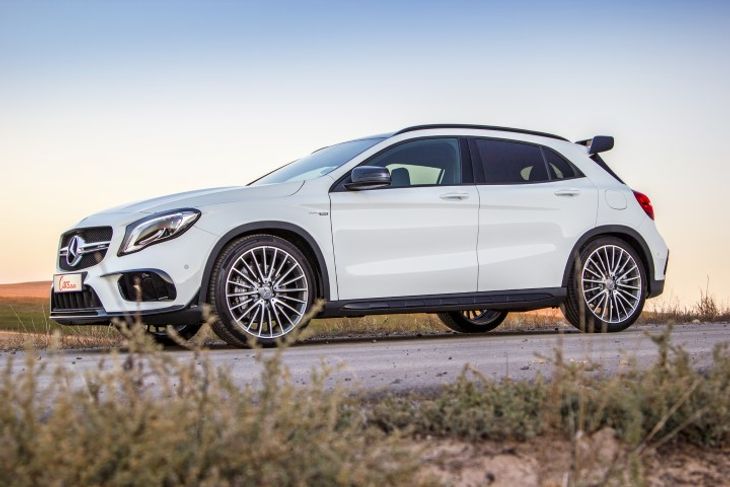 Fast, noisy and entertaining to drive, the GLA45 AMG 4Matic devours tar on command.
If a brisk turn of speed lights a fire in your belly then this car is guaranteed to bring the heat. The GLA45 AMG's drawcard is the 2.0-litre turbopetrol under the bonnet, offering a not-to-be-taken-lightly 280 kW and 475 Nm of torque. Those big (ish) numbers are transferred to the tarmac courtesy of a 7-speed dual-clutch automatic transmission in conjunction with Benz's 4Matic all-wheel drive system. For this facelift though, gear ratios are tighter and shifts faster, resulting in improved acceleration. With launch control, this GLA 45 AMG will race from zero to 100 kph in 4.4 seconds flat.
We did a launch start on a quiet section of road and the car hunkered down and all-wheels got a firm, claw-like grip on the tar and then unleashed its brutal might on the horizon, all while the GLA's front occupants were pressed deep into the sumptuously sculpted AMG sports seats. The transmission is ferocious and although using the stainless-steel shift paddles is not required for a full-bore acceleration run, they're fun to flick.
In the upper limits of the rev range the optional sports exhaust (R9 000) emits ridiculously loud barks and pops that can be accentuated with the press of a button. Your neighbours will, in all likelihood, be annoyed with your less-than-discreet homecomings (or departures), but you can tone things down by switching to Comfort mode. Individual, Sport, Sport+ and Race modes are there to further tailor the Benz's driving characteristics.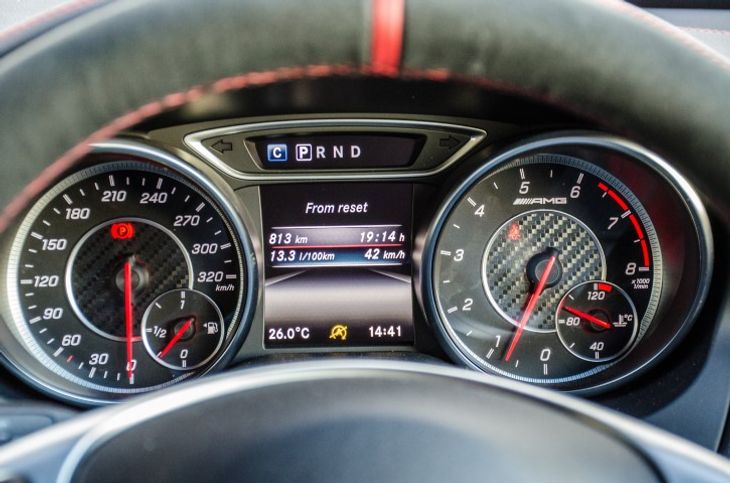 Fuel consumption is on the heavy side, but it doesn't really matter when you hear the exhaust singing in your ears.
Grip levels are lofty and the GLA's handling ability inspires driver confidence, making it an easy car to drive fast. We found the adaptive sports suspension to be surprisingly forgiving on the road (depending on its setting). It's stiff, but managed to deliver relative comfort on most surfaces. Only larger imperfections in the road surface sent uncomfortable jolts through the cabin, but for the most part, it's certainly useable on a daily basis.
As for fuel consumption, the GLA45 AMG is thirsty, especially when you're having fun. It averaged 13.3 L/100 km during its tenure in our test fleet.
Standout kerb appeal
In standard form, the GLA45 AMG is perhaps not as flamboyant as this test example, but a few optional extras lift the car's road presence substantially... enough for people to take notice. That rear wing will give you some downforce, but mostly get you head-turning attention, for a cool R11 500, and those ostentatious 20-inch 10-spoke light-alloy rims will set you back to the tune of R19 000.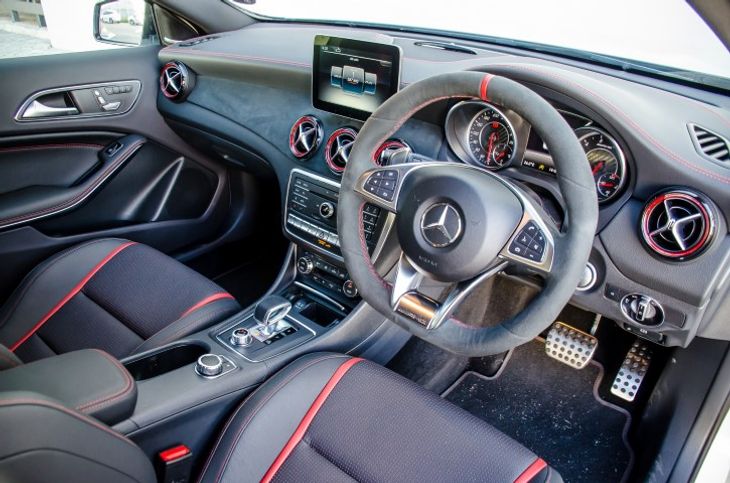 Leather and sporty red accents create a fitting interior ambience in the GLA 45 AMG.
The interior exudes a sporty look, is trimmed in fine leather upholstery and the redesigned air vents provide striking touches to the cabin. The Alcantara-wrapped, flat-bottomed steering-wheel is comfortable to wield and the AMG sports seats (R26 000) provide excellent support and comfort.
This test unit was fitted with the optional Comand Online (R26 600) with integrated Garmin Map Pilot (R14 200) displayed on a 10.8-inch floating display. Using the dial in the centre console, or mounted steering controls, the driver can easily navigate the system's menu. Those red seat belts also add to the sporty red theme in the cabin, but you will have to part with an extra R5 800 to specify them.
Reasonably practical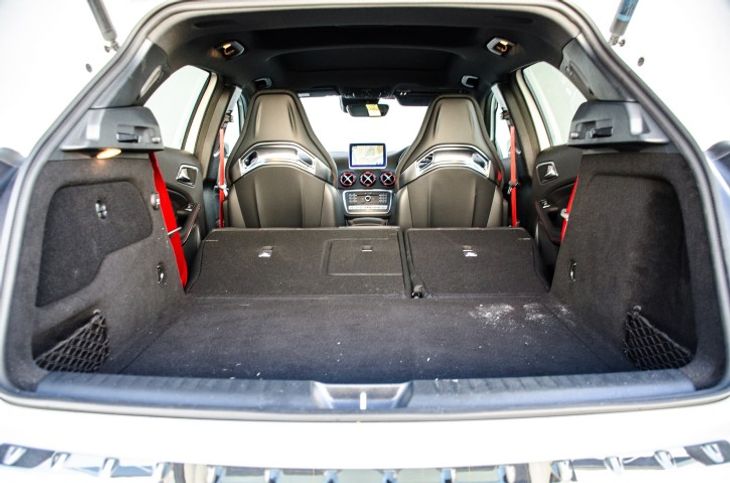 The GLA can haul a fair amount of luggage and goods, especially with the rear seats folded down.
In terms of practicality, the GLA fares marginally better than the A-Class (not that that is saying very much) and average-sized rear passengers will find that the back bench provides adequate comfort with a reasonable amount of head-, leg- and shoulder room. The cabin generally feels more spacious and the luggage bay is sizable at 481 litres (some 140 litres larger than in the A-Class). Also, with the 60:40 split rear seat folded down, space increases substantially and the loading floor is flat, which will make loading bulkier items that much easier.
Standard safety features include 7 airbags, ABS with EBD, brake assist and electronic stability control with traction control.
The Bad
Pricey options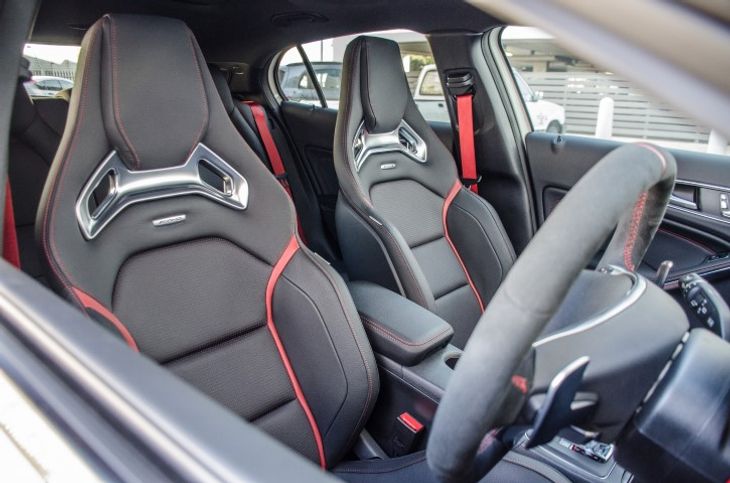 AMG sports seats offer top-notch support, but the luxury of having them will set you back R26 000.
As is the case with much of Benz's product range, a long list of optional features are available on this GLA45 AMG. As you would expect, many of the nice-to-have features, as indicated above, are quite pricey and some of the features are just frivolous. Buyers are advised to tick options off with caution as the total asking price escalates fast. This particular test example was priced at over R1-million!
It's not really a crossover
We could not find many rivals to compare with the GLA 45 AMG... There just doesn't seem to be a big market for a high-performance compact family car. Yes, the Benz offers stupendous performance, but you could get that from a Mercedes-AMG A45 AMG and, as for the practicality of a crossover, the extra occupant- and packing space offered by the GLA bodyshell is beneficial, yet the 4Matic all-wheel-drive capability aids only handling, not off-road ability, when your car is shod with 20-inch rims and low profile tyres. In the end, this mercurial crossover sacrifices comfort for performance... if that is a compromise you are willing to make, why wouldn't you buy a sports sedan/hatch and just pack your luggage more smartly?
Price and warranty
The starting price for the GLA45 AMG is R862 628 (June 2017) and it's sold with a 2-year/unlimited km warranty and a 6-year/100 000 km maintenance plan.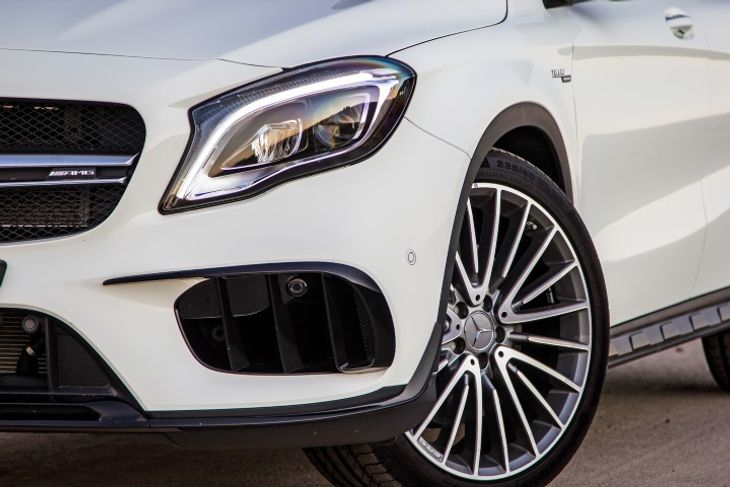 A pricey package overall, but if strong performance and added practicality are a priority, then this GLA 45 AMG might be for you.
Verdict
The GLA 45 AMG is eminently entertaining, involving to drive and its full performance potential is not difficult to access. Its bearably sporty ride quality makes it useable everyday and the leather-bathed interior is both attractive and modern in look and feel. Although practicality may not be a key driver when considering the GLA 45 AMG, it's worth knowing that rear passengers are well catered for and that loading space is generous.
If performance is all important to you, then this GLA 45 AMG will get your heart racing, but it may also be worth considering the A45 AMG as an alternative. Yes, it's a bit smaller than the GLA and although they share the same engine, the A45 AMG is marginally quicker with a zero to 100 kph sprint time of 4.2 seconds. What's better, it's just under R100 000 cheaper too, which means you can go to town on options to beef it up.
Having said that, if you feel that "just too many people have A45s" and want to make an even bolder, non-conformist/"devil may care" statement, the GLA 45 might be just the right car for you. How long the novelty of this lightning-fast oddball will last, is anyone's guess, however...
Related content:
Mercedes-Benz GLA Facelift (2017) First Drive
Facelifted Mercedes-Benz GLA in SA (2017) Specs & Pricing
Mercedes-Benz GLA45 AMG Edition 1 (2014) Review
Drag Race: Mercedes S65 AMG Coupe vs Mercedes GLA 45 AMG Edition1
Facelifted Subaru WRX, WRX STI confirmed for SA
Mercedes-AMG A45 4MATIC (2016) Review
Drag Race: BMW M2 vs Mercedes A45 AMG [Video]
Want to buy a Mercedes-Benz GLA?