Pricing for the updated Mini Countryman has been released. See which models are confirmed for South Africa, plus engine details below.
Visually, you can spot the new model with its tweaked front bumper, redesigned radiator and LED headlamps, which are now standard. The rear gains a new-look rear apron as well as the LED lights in Union Jack design. There are 2 new colours, new alloy wheels and a Piano Black exterior.
The Mini Countryman has always been touted as the most practical model in the range. It boasts 3 fully-fledged seats at the rear, and if you fold down these in a 40:20:40 fashion, you get access to 1 390 litres of space. Standard boot space is rated at 450 litres. Inside, Mini has given the Countryman an extended range of standard kit such as a sports leather steering wheel. An optional digital instrument display is available for the new Mini Countryman, giving it a high-tech look. There's also a reworked infotainment system as well as new-look buttons. The new Mini Countryman is equipped with a SIM card that is permanently fitted in the car, giving you connectivity options such as Alexa and Mini Connected.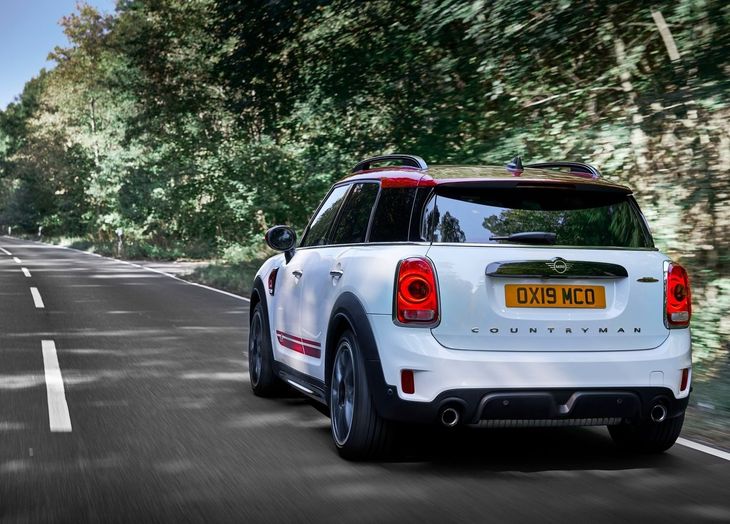 For the performance fans, the 225 kW John Cooper Works ALL4 Countryman is confirmed for SA.
South African model lineup
Mini South Africa has trimmed the Countryman lineup, with the diesel model falling away. For 2020, Mini is offering the Countryman in Cooper, Coopers S and John Cooper Works flavour.
Kicking off the range is the Cooper Countryman, which comes to market with a turbocharged 1.5-litre 3-cylinder motor. It develops 100 kW and 220 Nm. Power goes to the front wheels via a 7-speed dual-clutch tranmission. Mini says this model reaches 100 kph in just 9.7 seconds and has a claimed top speed of 203 kph. In terms of economy, Mini claims 6.3 L/100 km.
Next up is the Cooper S. It is powered by a 2.0-litre turbocharged 4-cylinder with 141 kW and 280 Nm. It too features a 7-speed dual-clutch gearbox and Mini claims a 0-100 kph of 7.5 seconds as well as a top speed of 226 kph. When it comes to fuel economy, Mini says its Cooper S Countryman returns 6.7 L/100 km.
For the performance fans, Mini is introducing the John Cooper Works ALL4 Countryman with a potent 2.0-litre turbocharged motor. With 225 kW and 450 Nm, as well as all-wheel drive, Mini claims a 5.1 seconds to 100 kph. Top speed is rated at 250 kph and it features an 8-speed automatic transmission. Given the performance, fuel economy is claimed at 7.6 L/100 km.
Mini Countryman Price in South Africa (September 2020)
Cooper Countryman R559 624
Cooper S Countryman R631 004
John Cooper Works ALL4 Countryman R810 040
Further Reading
Mini Countryman Cooper (2017) Review
Mini Countryman JCW Automatic (2017) Quick Review