Cars.co.za journalist and photographer, Gero Lilleike, recently set off on a camping adventure on the Garden Route in a Mini Countryman Cooper D automatic equipped with a bespoke Autohome roof tent. How well does the Autohome roof tent work in this application? Read Gero's report and watch his travel video to find out...
I love the outdoors and camping is one of my favourite pastimes, so when the opportunity presented itself to test the Autohome roof tent, which is specifically designed for the Mini Countryman, I simply couldn't pass up the chance. With my wife by my side, we packed the Countryman Cooper D and set off for the Garden Route for a weekend of camping and adventure.
Practicality and performance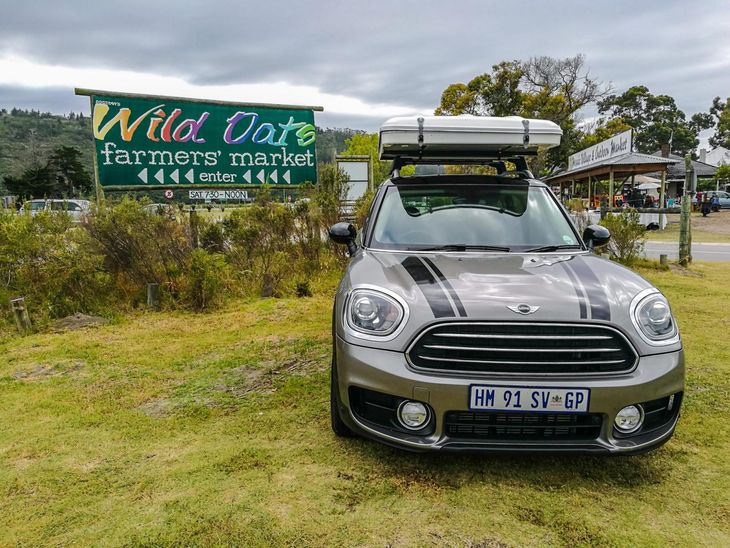 The Mini Countryman Cooper D combines punchy performance with good fuel economy, and it's relatively spacious.
The Mini Countryman was to be our home and thankfully it's the largest vehicle in Mini's line-up, because we needed as much space as we could get to load up luggage, camping necessities and a surfboard. With the split rear seats folded down, there was more than enough room for our stuff.
While Cars.co.za had previously tested the Countryman Cooper D automatic (read that review here), I was keen to stretch its legs on the open road.
The 2.0-litre turbodiesel engine under the bonnet is the only diesel offering in the entire Mini range and it really is a great engine for a road trip. It's a punchy unit with 110 kW and 330 Nm on tap and, in this case, makes use of a 6-speed automatic transmission to drive the front wheels. It's not an all-out adventure vehicle, as it doesn't have 4x4 capability, but it manages just fine on gravel roads of average condition.
The diesel-powered Countryman has a good dose of grunt on the highway and executes overtaking manoeuvres easily and effectively. More so, the steering has a positive feel and its ride quality is comfortable with a hint of firmness that makes it a pleasure to drive, especially on a long journey.
Lugging the Autohome on the long haul
With the Autohome fitted to a set of roof racks, I was curious to see how this added piece of kit would impact on the driving experience as well as fuel economy. At highway speed, the Autohome generates a fair amount of wind noise (audible through the sunroof), but that is to be expected.
More importantly, I expected fuel consumption would suffer as a result of increased drag, but that was not the case. In fact, the Cooper D performed very well and returned an indicated average of 6.9 L/100 km over the course of our 1 200-km road trip, which is more than acceptable for a compact SUV laden with luggage and adorned with a roof-mounted box. Mini claims a fuel consumption figure of 4.7 L/100km for this derivative.
Convenient camping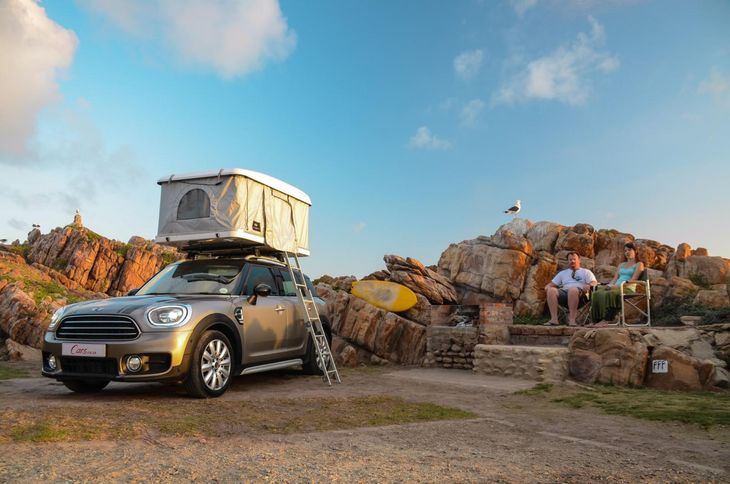 The Autohome makes camping easy and fuss-free.
As a surfer, I wanted to camp as close as possible to the ocean so that I could have easy access to the surf – the Buffalo Bay Caravan Park was perfect and also happens to be regarded as one of the best camping sites on the Garden Route. It was a no-brainer!
Conventional camping requires you to unpack all your camping gear, pitch your tent and set up camp, all of which takes time.
That procedure isn't necessary with the Autohome roof tent because all you have to do is to find a suitable parking spot and simply unpack what you need. The Countryman serves as virtually all the storage space you need and, as a result, your campsite is cleaner and uncluttered and, because of the added convenience, you have more time to enjoy your surroundings and to do the things that you want to do, like surfing, in my case.
It also means it's far easier to pack up when you want to leave. When you are done, you simply drive away without having to break down a campsite. It's simple and convenient camping, just the way I like it…
How does the Mini Autohome work?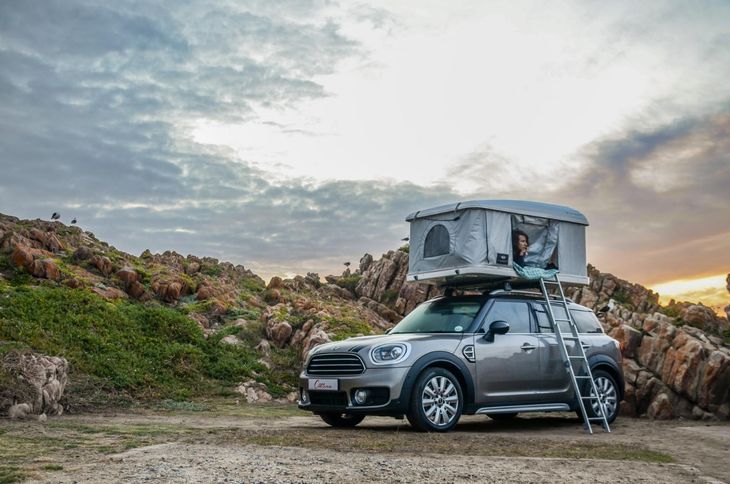 The Autohome roof tent is easy to pitch and accommodates 2 adults. Sadly, it's not for sale in South Africa.
The Mini Autohome is easy to use and quick to pitch and close. Simply undo the 3 safety clips and push the front and rear roof section upwards. The 4 gas springs will pitch the tent automatically!
Inside the tent, you will find a height-adjustable aluminium ladder (with safety clamps), which you position next to the vehicle to access the tent. The tent can comfortably sleep 2 adults and is equipped with a high-density crushproof mattress, pillows and a touch-sensitive LED light with a 12V battery included. Storage inside the tent is made easy with an elastic roof net and 4 fold-away pockets for smaller items.
The tent material itself is made from a light, weather-proof and tear-proof material that expels moisture/condensation and there are 2 doors and 2 windows with dense mosquito netting, so the tent can be easily aired while you have a first-class view of your surroundings.
Breaking the tent down is just as easy. By pulling the provided strings down at either end, the tent will collapse and then you simply fasten the safety clips and off you go!
How much does the Mini Autohome cost?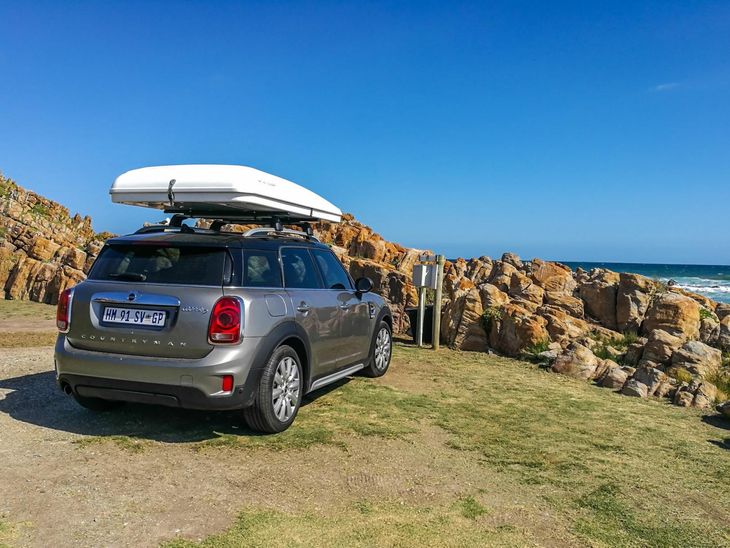 If you want the Autohome roof tent, you will have to order direct from the supplier in Italy. It's not cheap...
You might be disappointed to learn that Mini South Africa doesn't offer the Autohome roof tent in South Africa; Mini doesn't list the roof tent on its official accessories list. But if you really want one, you can order the Mini Autohome roof tent directly from Autohome in Italy, but beware, it costs €3 084 which translates to roughly R48 714, excluding shipping. The Mini Countryman Cooper D automatic is priced at R492 659 (November 2018).
If that is a push too far for you, local roof tent suppliers are also worth considering as they will be more affordable, but the products are not Mini approved and they are arguably not as slick as the Mini Autohome. The Autohome roof tent for the Mini Countryman weighs approximately 58 kg with a volume of 271 litres and is made from 100% fibreglass. The Autohome roof tent is offered in white or black depending on your taste.
Watch the Mini Autohome roof tent in action in the video below!

Buy a new or used Mini Countryman on Cars.co.za
Related Content
Mini Countryman Cooper D auto (2017) Quick Review
Mini Countryman JCW Automatic (2017) Quick Review
Mini Countryman Cooper (2017) Review
Mini Countryman S sports-auto (2017) Quick Review
2018/19 Cars.co.za Consumer Awards - Powered by WesBank; Semi-Finalists