The new Mini Countryman came to market earlier this year and with its larger dimensions, it has grown into a rather practical premium compact family crossover with youthful styling appeal. The brawny Countryman John Cooper Works (JCW), however, sweetens the formula with more power and all-wheel drive capability. How does it perform and should you consider it? Let's find out...
We Like: Bullish looks, performance, interior quality, practicality
We Don't Like: Pricey optional features
Alternatives
Mercedes-Benz GLA 250 4MAtic AMG Line - The GLA 250 is also powered by a 2.0-litre turbocharged petrol engine with 155 kW and 350 Nm of torque. It's not as youthful as the JCW and perhaps not as playful to drive but it's definitely an alternative worth considering. The GLA 250 4Matic AMG Line is priced from R681 190.

Volvo V40 Cross Country T5 Inscription - The V40 CC is a little smaller than the Countryman but offers a sleeker, more hatchback like shape that seems less bulbous. The current generation V40 CC is getting quite long in the tooth but it does have a super range of petrol and diesel engines and a comfortable interior at a cheaper price tag. It's priced at R584 706.

Audi Q2 2.0TDI Sport S Line Automatic - The Q2 has loads of styling appeal and even though it has less power than the JCW with 105 kW and 350 Nm of torque, its price of R585 150 gives you generous room to add a host of attractive features that are arguably more stylish than what the JCW can offer. It's not a cheap option but it competes well in terms of visual appeal and will suit those looking to impress.
Compare the Mini Countryman JCW with its rivals here!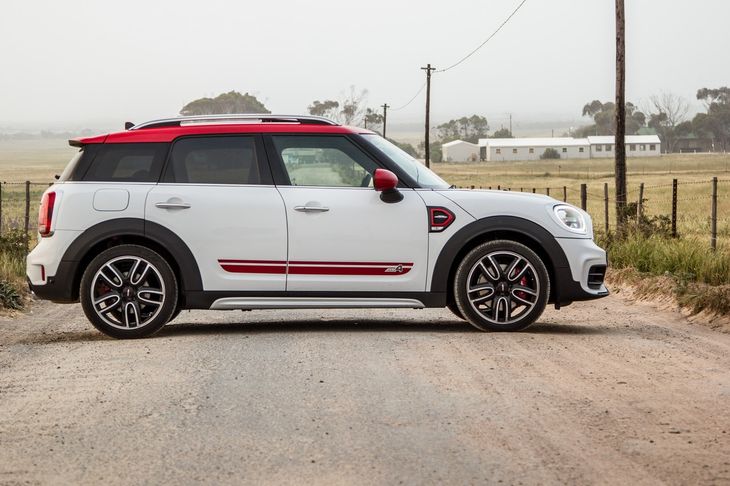 The Countryman JCW offers an attractive blend of practicality, style and entertaining performance.
Facts & Figures
Price: R636 972 (October 2017)

Engine: 2.0-litre turbopetrol

Transmission: 8-speed sports automatic
Fuel consumption: 7.4 L/100 km (claimed)
0 -100 kph: 6.5 secs
Top speed: 234 kph
Boot capacity: 450 - 1 390 L
What is it?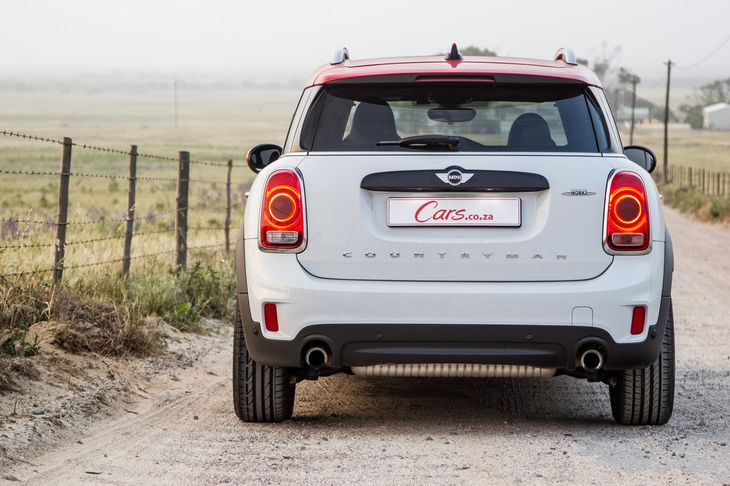 A wide planted stance in combination with all-wheel drive proves useful when venturing on gravel.
The Countryman is not only the largest Mini on offer, but this JCW Countryman is also the most powerful all-wheel drive Mini, ever.
Most vehicles in the compact family crossover segment look comparatively bland when parked next to the JCW Countryman and that's because it looks like it stepped out of the gym with bulging bodywork and a muscular demeanour. Younger buyers wanting a premium compact crossover with flamboyant styling and performance punch will find this JCW Countryman to be an alluring proposition.
The JCW Countryman is distinguished from its lesser stablemates with sporty features such as large air intakes in the front bumper, a rear diffuser, a roof-mounted spoiler and roof rails to round off the look. This test unit came dressed in white with red sports stripes, red roof and you guessed it, red side mirrors. We think its brutish looks are appealing but it might be too much for the conservatives out there...
Is the Mini JCW Countryman all show or can it actually go? Let's take a closer look at what it has to offer…
The Good
Strong Performance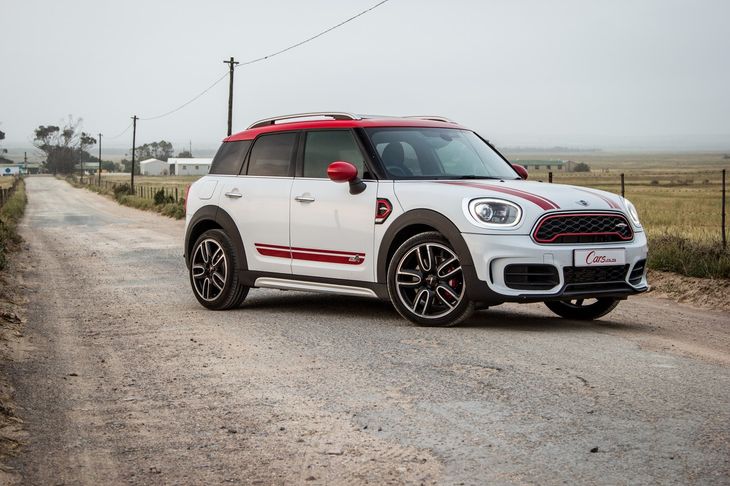 A slick, seamless transmission and punchy engine ensure brisk acceleration and the dual exhausts are quite vocal too.
A specially-tuned, 2.0-litre turbocharged petrol engine is found under the bulging bonnet of this JCW Countryman and in this application, offers a playful 170 kW and 350 Nm of torque. All 4 wheels are driven, part-time (front-wheel-drive until wheel slip is detected, at which point power is spread to the rear wheels), through a slick and quick shifting 8-speed sports automatic transmission.
With the full torque load delivered from between 1 450 and 4 500 rpm and maximum power achieved between 5 000 and 6 000 rpm, the JCW Countryman's performance capability is always nearby, so close in fact, that it seemingly urges you to open the taps whenever you have an open piece of tarmac ahead of you. It coaxes the driver, begging for play time, and it's part of the reason why we found this JCW Countryman so entertaining to drive.

When in Sport mode, the JCW Countryman livens up and goes into attack mode with the dual tailpipes gargling and barbeling all kinds of wonderful gurgly noises that might upset the dogs in your neighbourhood. Acceleration is quick when you lay the hammer down and the mounted shift paddles give you some freedom to exploit the engine's capability. Mini claims 6.5 seconds in the sprint to 100 kph, which is enough to embarrass some wishful punters at the robots.

In contrast to its entertaining performance, the JCW Countryman can also be a sedate family crossover when driven with a mindful driving style. Fuel consumption varies according to your driving style and the highest figure we experienced was 11.6 L/100km on spirited runs but easily dropped to about 9.5 L/100 km with a more relaxed driving approach. Mini claims a fuel consumption figure of 7.4 L/100 km.
Fun handling and compliant ride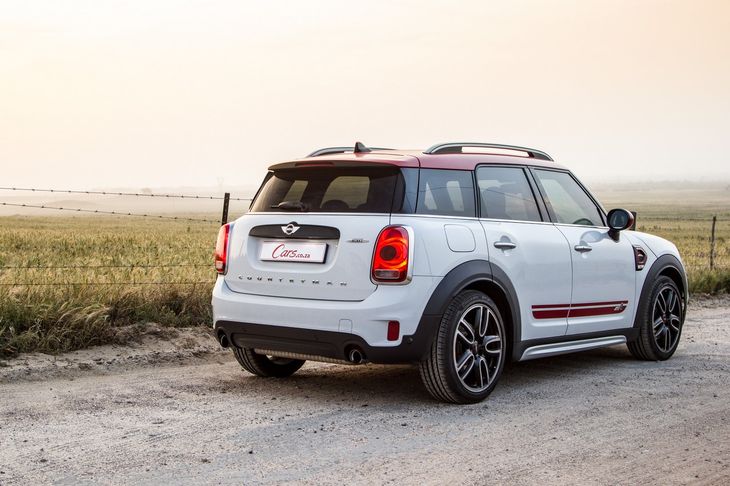 The Countryman JCW offers a comfortable ride suitable for the daily commute but a sporty undertone will keep you engaged.

True to its Mini genes and despite it larger girth, the Countryman JCW handles wonderfully and steering feedback is positive and predictable. It can be whipped through corners at pace while remaining true and composed. Given its wider, bullish stance, it hugs the tar with reassurance and much of its handling prowess can be attributed to its part-time all-wheel drive system which also gives it added grip on gravel roads or on slippery surfaces.

Although it's ride quality isn't plush in the SUV sense, it is however adequately sprung to comfortably absorb imperfections but yet firm enough to give it a sporty riding feel. That said, it's a capable and comfortable daily runner with a distinct sporty flavour in the way that it drives and mommy's and daddy's should find it suitable on the school run and wherever else the road may lead.
Practical interior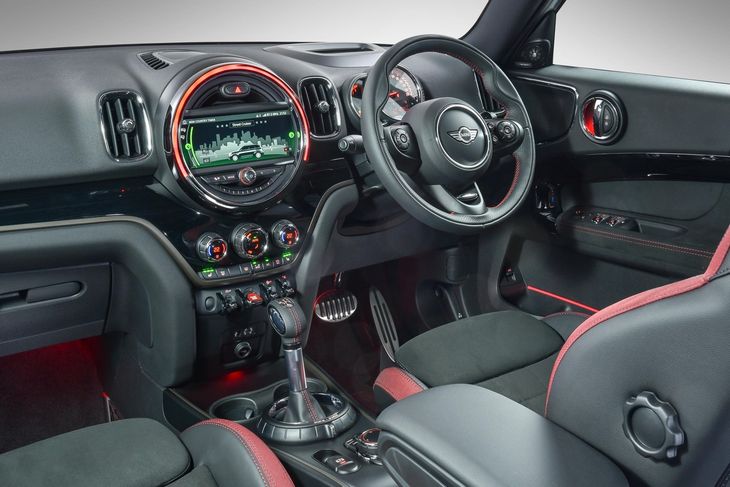 The interior is typically Mini and will appeal to a younger clientele. Perceived interior build quality is good.
The interior is what you would expect from Mini - vibrant, youthful and erm, colourful. The cabin is lit, in youth speak, with enough lights and colours to convince you that Christmas has arrived every time you step inside.

The interior is robust and solidly built with a premium feel befitting of its price tag. The jet-fighter inspired switchgear adds a nice sporty touch to the cabin and they have a quality feel to them.

Once you familiarise yourself with the layout of the large, round, central infotainment system, it's easy to use and toggling through the menus using the rotary dial soon becomes second nature. It offers myriad of functions including vital vehicle information, Bluetooth connectivity and Mini Connected App which, when downloaded on your smartphone, brings your social life, music, news, browsing and other functions to your fingertips when you are driving. A total of 2 USB ports and an auxiliary port are at your disposal for connecting or charging devices.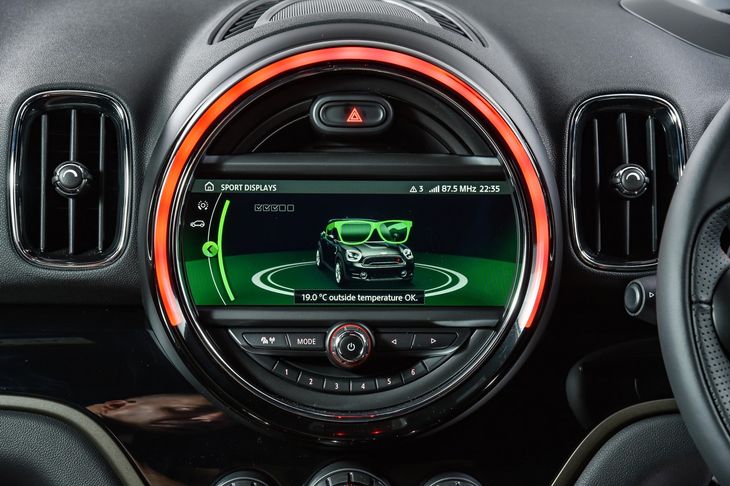 The infotainment system is vibrant and easy to navigate with a host of useful features including the Mini Connected App.
The multifunction sports steering wheel is adjustable for rake and reach with mounted audio and cruise control buttons. This JCW is also fitted with well-bolstered, manually adjustable sport seats with height adjustment and adorned in a combination of leather and suede cloth. We found them to be firm and relatively comfortable and supportive. Climate control air conditioning is standard.

Rear passengers have ample space and the rear seats can slide forwards and backwards to accommodate taller passengers. Luggage space is large enough at 450 litres with a useful false floor to store valuables out of sight. With the rear seats folded down, the loading area is perfectly flat and space increases further to 1 390 litres for longer and bulkier items. There's also ample cupholders and storage space for oddments.
Safety features

The JCW Countryman is fitted with 6 airbags, ABS with EBD, emergency brake assist and electronic stability control with traction control. ISOFIX child seat mounts are also standard.
The bad
Optional features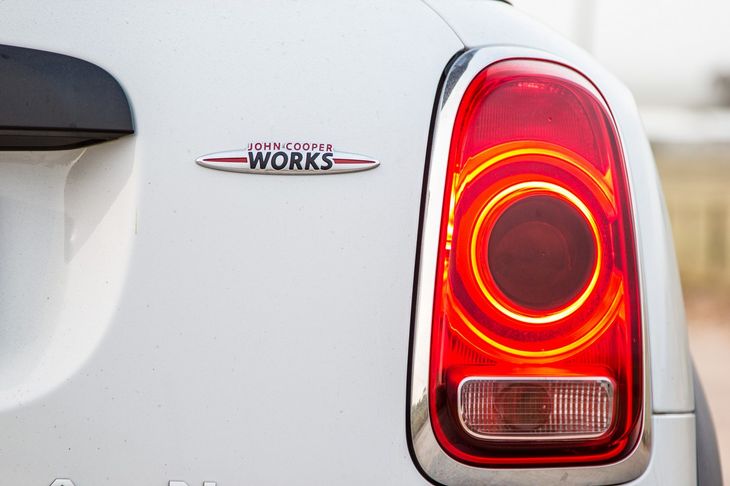 With R83 000 worth of options fitted, this Countryman JCW doesn't come cheap.
Like all Minis, a vast array of optional features are on offer to customise your car to your preferences. For buyers, this is both an attractive and costly exercise.
This test unit came generously equipped with additional features such as 19-inch JCW Course Spoke rims (R9 000), Climo View Package with glazed windows, panorama glass sunroof and heated seats (R14 000), red sports stripes (R3 500), folding side mirrors (R2 800), front armrest (R2 050), Harmon Kardon sound system (R8 900), Mini navigation system (R7 800), head-up display (R6 800), active cruise control (R7 600), front and rear park distance control (R7 500), tyre pressure monitoring (R2 750) and sport automatic transmission (R27 500). Do you get the point?
Additional features escalate the price quickly and this test unit comes in at around R722 000 with all its added features. Buyers are advised to tick off options carefully.
Price and warranty
This Mini Countryman JCW sport automatic is priced at R636 972 and is sold with a 2-year/unlimited km warranty and a 5-year/100 000 km maintenance plan with service intervals set at 20 000 km.
Buy a Mini Countryman on Cars.co.za
Verdict

Most crossovers are boring in comparison to the Countryman JCW. There's nothing quite like it and we like it.
We really like the Mini Countryman JCW and we think it is an impressive product that has fashionable road presence while delivering solid and entertaining performance. It also happens to offer desirable practical qualities and overall it proves that a premium compact family crossover needn't be boring.

It is on the pricey side of the spectrum, especially when you start dipping your wallet into the extensive options list but if you consider that there is nothing quite like it on the market, then perhaps it's money well spent if you are looking for a crossover with more punch and appeal than the GLA, X1, V40 Cross Country and Q2. It certainly won't disappoint you, that's for sure…
Related Content
Mini JCW Countryman & Clubman (2017) Launch Review
Mini Countryman (2017) First Drive
Mini Countryman Cooper (2017) Review
New Mini Countryman Revealed [with Video]
Mini Countryman Plug-in Hybrid Announced

Mini Countryman JCW Revealed
Mini Countryman S sports-auto (2017) Quick Review
Mini Cooper S Clubman (2016) Review
Audi Q2 (2017) Test Drive & Review Video
Mercedes-Benz GLA 220d 4Matic (2017) Quick Review