Mercedes-Benz has transformed its GLC lifestyle SUV from a practical soft-roader into a fashion accessory, but, given the market's sustained demand for vehicles of this ilk, that's hardly a surprise... Does the newcomer make a strong enough case for itself, however?
We like: Adaptive ride, modern cabin and good fuel consumption
We don't like: Less practical, more expensive than its non-coupe stablemate
Alternatives
The main rival: BMW X4 is the car that arguably forced Mercedes-Benz' hand to make the GLC Coupe. The range does not offer a direct competitor for the Benz, as, price-wise, this derivative effectively slots in between the xDrive20d and xDrive30d offerings.
Coupe looks without the drawbacks: Range Rover Evoque is getting a bit long in the tooth, but still offers the best of both worlds. It is a somewhat pricey option (yes, even compared with the 250d) – the equivalent SE TD4 is not particularly well specced.
The obvious choice: Mercedes-Benz GLC, it offers exactly the same of everything with the increased practicality of a useable boot.
See how the specifications of the GLC 250d Coupe compare with those of the BMW X4 xDrive20d and Range Rover Evoque SE TD4
What is it?
Well, let's cut to the chase: it's effectively a Mercedes-Benz GLC with the roof sloped down at the back so you get the coupe shape effect. It's an SUV too, with decent ground clearance and an all-wheel drivetrain. While it seems a bit illogical to wantonly reduce the luggage capacity of a lifestyle SUV, BMW can attest to how popular its sports activity vehicle-flavoured X4 and X6 have been. This particular version is the GLC 250d Coupe, it's powered by a 2.1-litre turbodiesel engine mated with Mercedes-Benz's new generation 9-speed automatic transmission.
How does it fare in terms of...
Kerb appeal?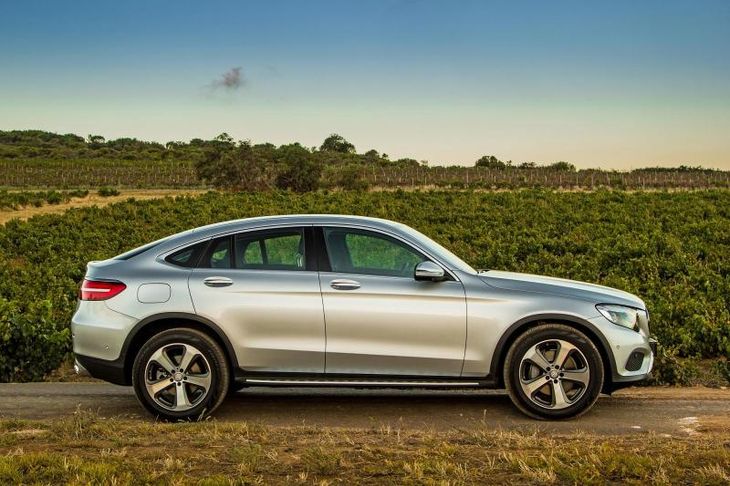 It's a GLC SUV, but with coupe styling. Not too dissimilar to the BMW X4 in execution.
A car like this has to cause a reaction of sorts from onlookers, isn't that the whole point of a coupe-styled SUV? The GLC Coupe does that with the huge diamond-studded grille up front; it certainly makes a positive impression as it heads towards you. The shape from side-on is quite bulbous and makes the Benz look like it's on stilts... It might not be to everyone's taste, but again, that's all part of making a statement. There is also the AMG Line package, which you can add for about R37k extra. Our model only has the standard line, but the AMG Line adds a little more pizzazz with different body styling and bigger wheels. There's also a sports suspension included in the pack.
Road manners?
The GLC Coupe was specified with the adaptive suspension option, which enables a driver to alter the Benz's damping characteristics (among other attributes) by selecting different driving modes. We found the ride quality in (standard) Comfort mode soft, but springy. The other generic modes are Sport and Sport Plus, all of which adapt the car's suspension settings, engine responses, gear change mapping and even climate control power. The key mode, however, is the individual mode. It allows you to specify all the above settings into one custom, personalised setup. For everyday driving, we had the suspension set to Sport and the rest set to comfort – this fixes the nervous ride and is still efficient and comfortable for town driving.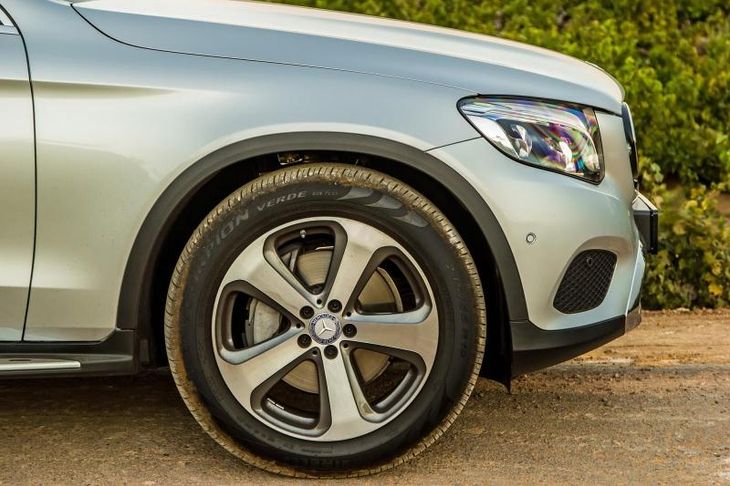 Run-flat tyres and chunky rubber combine with all-wheel drive to provide excellent grip.
Once the suspension was set to our liking, we could get on with driving the GLC Coupe properly. In Sport mode the ride quality is firm, yes, but not crashy on uneven stretches of road. Much of the "give" can be attributed to the higher profile of the tyres (235/55), which might not be great for looks but certainly improves the driving comfort. The steering is quite positive so the Benz swaps directions quickly despite its considerable height and bulk.
It's a very easy car to drive and you feel comfortable with its size quickly due to its car-like driving position. Thanks to the higher profile tyres, you don't feel too bad about sending the GLC Coupe down a gravel road, where it's actually quite at ease. It's very much a soft-roader with its exposed chrome pieces of bodywork, but we've witnessed its siblings tackle the dunes of Namibia with some success.
Engine performance?
The turbodiesel motor in the 250d is the tried and tested unit that Benz shares with Nissan in some products. It's an engine that has since been replaced with a newer 2.0-litre turbodiesel (such as in the E-Class). While this engine is good (150 kW and 500 Nm of torque), it can be quite noisy, especially at idle. The new 2.0-litre engine works brilliantly in the E-Class, so the 250d felt like a bit of a throwback, comparatively.
But with 500 Nm of torque, just about every road manoeuvre is effortless. Overtaking at any speed is a cinch and at 120 kph, the motor is barely ticking over at 1 700 rpm. That's especially good for fuel economy over long distances. Thanks to the transmission's 9 ratios, the 2.1-litre powerplant is almost always in the optimal torque band and also saving fuel by not revving higher than what it absolutely necessary. The shifts are smooth and seamless and you'll be hard-pressed to detect them as they occur. As a result, we achieved an average fuel consumption of 6.9 L/100 km out of the 1 000 km we drove the GLC (admirable for an SUV) and you'll likely see better figures as the engine frees up after a few thousand more kilometres.
Tech and gadgets?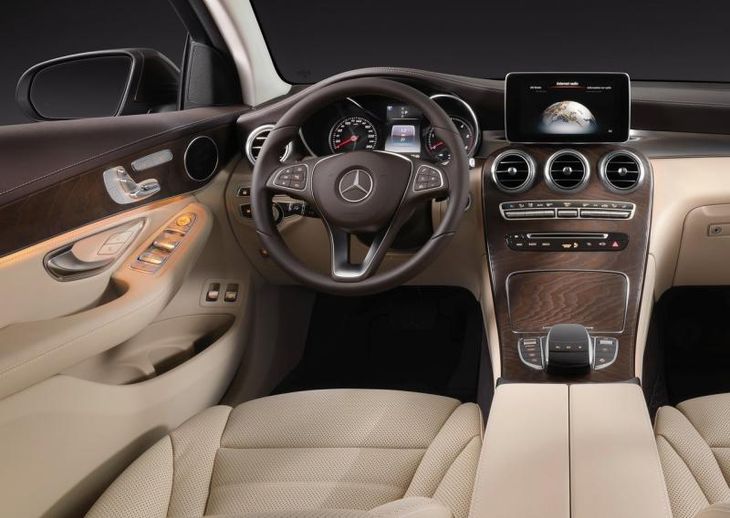 Business as usual for the cabin of the GLC range. Laden with tech and customisable in terms of seat colour and dashboard trim.
Virtually everything you'd like to specify in a C-Class business class sedan is also available in this, its cousin, the GLC Coupe. Our model was brimming with extras such as a semi-autonomous driving function that allows you to take your hand off the wheel for 30 seconds while the car drives itself. Adaptive cruise control is nice to have as are the blind spot monitoring, lane departure warning and a 360-degree surround view features...
The infotainment system does not lack for functionality, but does not feel quite as crisp and intuitive to use as the interface in the E-Class, particularly when it comes to hands-free operation. Commands such as the input of navigation detail and making phone calls are not as easy to get right as they are in the new E-Class. These new bits of tech are likely to be phased into the GLC Coupe as the model progresses through its life cycle, though.
Practicality?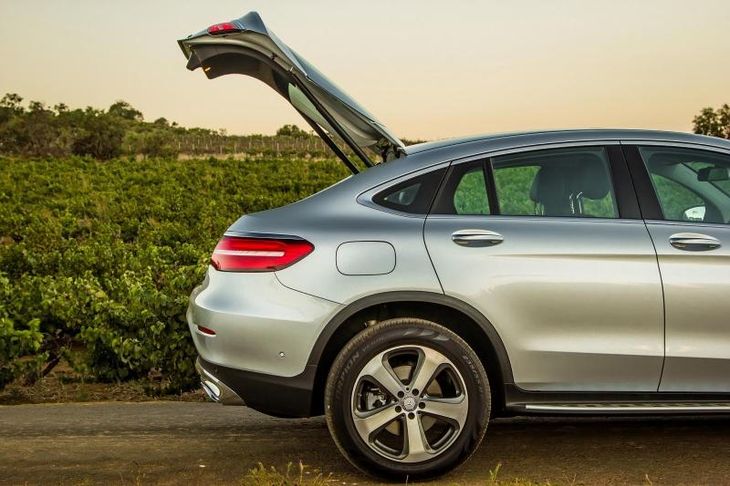 The GLC Coupe features less boot space but more style. Access via a rear hatch.
Left last for obvious reasons, the GLC Coupe is not so much about practicality as it is about style. Mercedes-Benz claims the luggage bay of the GLC Coupe is only 50-litres smaller than that of the standard GLC (500 vs 550 litres), but 200-litre worth of overall loading space has been sacrificed (when you fold the rear seats down). Most of this probably comes from the rear passengers' headroom, which is reduced by the sloping roof.
With the sloping roof, certain loading issues arise. For example, if you want to pack a box, you have to be extremely sure that it's low enough (or pushed back far enough) that the rear window doesn't crush it when the tailgate closes. Suffice to say the GLC Coupe is trickier to pack tightly.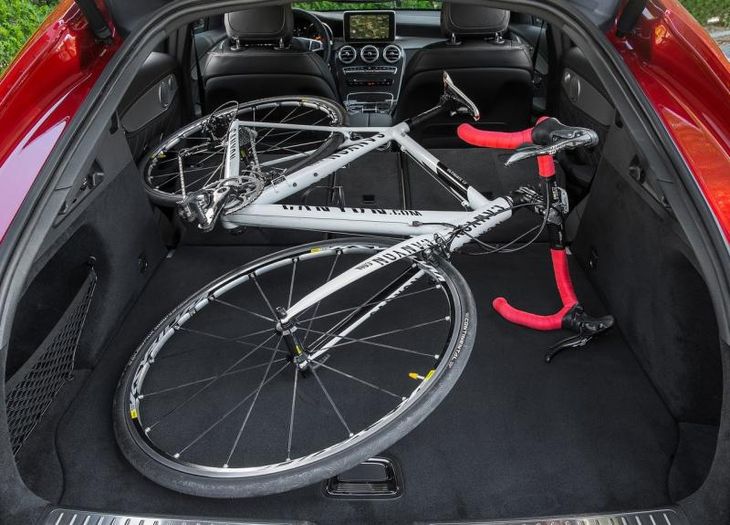 It's possible to fit an entire bicycle in the luggage bay, but the Mercedes-Benz GLC coupe's ultimate practicality is still compromised.
Pricing and warranty
The GLC 250d Coupe is priced at R795 222 and is sold with a 2yr/unlimited km warranty and a 6yr/100 000 km maintenance plan.
Verdict
The German premium vehicle marques are quite fond of creating niches, or alternatively, following each other into those non-traditional segments. More to the point, the Teutonic firms started the trend and other European and Japanese brands have followed suit. As a style-oriented purchase, the GLC Coupe makes a strong statement and it's a very rewarding car to drive, but it doesn't seem too different from a standard GLC, which offers a similar driving experience, but with none of the practicality drawbacks. The Coupe also happens to be an extra R100 000 on top of the standard car.
However, if we compare the GLC Coupe with its direct competitors, the picture looks a little bit different. The BMW X4 is, subjectively, not quite as eye-catching as the GLC Coupe and, as is the case with the Range Rover Evoque, a significantly older product. The Lexus NX is worth a look too and, if your budget can stretch that far, consider a Porsche Macan or Jaguar F-Pace. But as it stands, the GLC Coupe leads its tiny subsegment.
Related content
Quick Drive: Mercedes-AMG GLC 43 Coupe 4Matic
Mercedes-Benz GLC 300 (2015) Review
Jaguar F-PACE 30d R-Sport (2016) Review
BMW X4 xDrive 35i (2014) Review
Lexus NX 200t F-Sport (2015) Review
Interested in buying in Mercedes-Benz GLC?