The testing phase for the third annual Cars.co.za Consumer Awards

– powered by WesBank (or #CarsAwards for short), took place last week at South Africa's world-famous Gerotek proving grounds in Gauteng. With 39 cars competing in 13 product categories, and 18 judges on hand to evaluate them on what are arguably the most comprehensive and exhausting test routines used for any local motoring awards programme, consumers can rest assured… only the cream will rise to the top.
To view the categories and finalists go to www.carsawards.co.za
How it works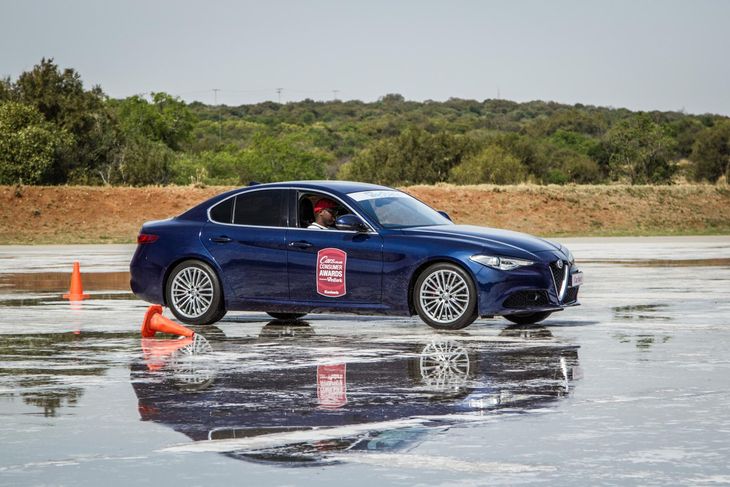 Judge Francisco Nwamba on the skid pan with the Alfa Romeo Giulia, a finalist in the Business Class.
The first two phases of the 2017/18 programme entailed nominations and scoring by the Cars.co.za extended editorial team, which in September identified the top 5 semi-finalist cars against established filters of eligibility and other important criteria, and then shortened that list to 3 finalists per category in October. However, the contenders were subjected to direct comparisons when all 39 vehicles arrived for back-to-back evaluations at Gerotek.
"There are many things that set the Cars.co.za Consumer Awards – powered by Wesbank, apart from other awards programmes," says Hannes Oosthuizen, Cars.co.za Consumer Experience Manager, "but core to the programme's success is the ability to compare vehicles that compete in the same segment back-to-back. Nothing magnifies a vehicle's advantages (and flaws) quite as well as the rival product standing next to it."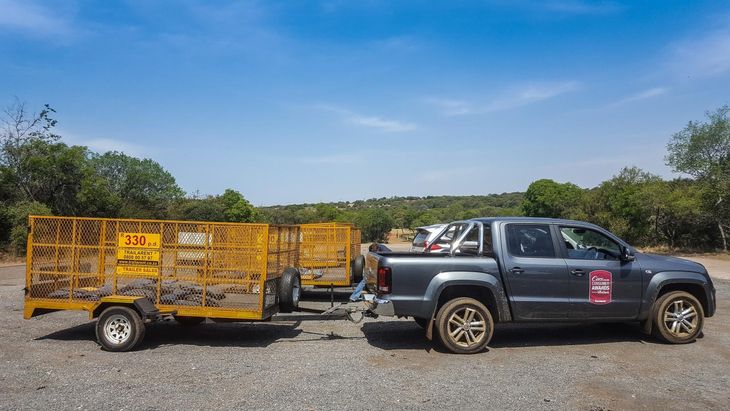 The Adventure SUV and Leisure Double Cab contestants were also subjected to a tow test on a challenging mountain road.
For testing at Gerotek, which is frequently used by international motor companies for evaluating their upcoming products, 2 comprehensive test routines were developed for #CarsAwards, the first focusing on passenger vehicles, and the second for vehicles that will frequently venture off-road. Judges had to drive the 3 vehicles in their respective categories in succession, then perform a comprehensive static evaluation, before scoring the vehicles.
Primarily road-going passenger vehicles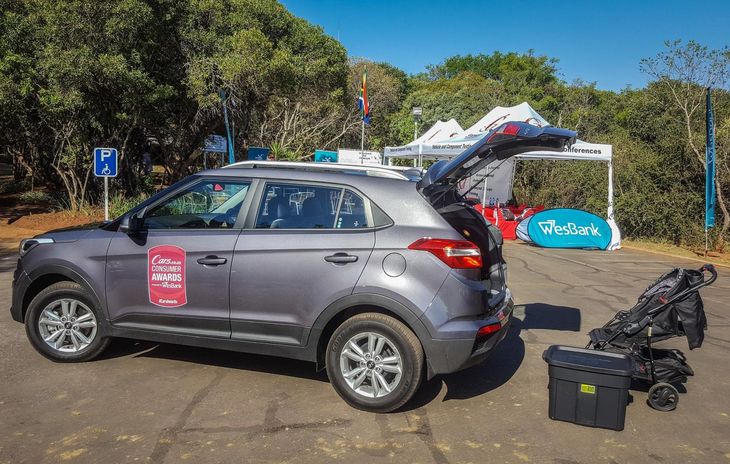 The Hyundai Creta, a Compact Family Car finalist, ready for a luggage bay flexibility test.
The test routine for the majority of the categories included the following;
A skidpan - testing vehicle stability and ease of control

A long straight - for performance testing

Emergency braking stop

Emergency lane-change manoeuvre

Varying road surface suspension test (including Belgian cobblestones, parallel and transverse corrugations, potholes)

Dynamic handling track - resistance to body roll, steering accuracy/feel, responsiveness etc.

Mountain road - extensive course testing various dynamic/drivetrain characteristics, including the ability to start against steep inclines etc.
Upon a test vehicle's return to the holding area a static evaluation was then performed which included;
Standard features comparison

Build quality

Interior ergonomics

Seat comfort front & rear

Luggage space - items such as baby strollers, cooler boxes etc. were made available to judges to assess a vehicle's practicality in real terms.
Off-road and Adventure vehicles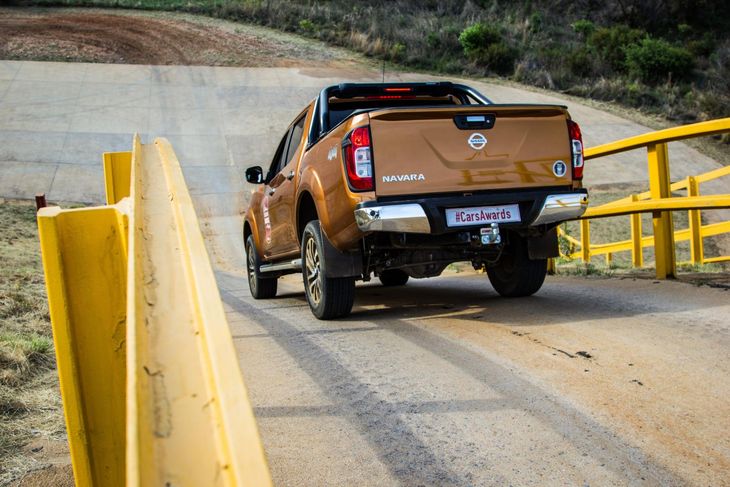 The new Nissan Navara, a Leisure Double Cab finalist, tackling the gradients at Gerotek.
In 2 of the categories (Leisure Double Cab and Adventure SUV) the test routine was dramatically different and included;
Gradients - vehicle's ability to descend and ascend steep gradients safely.

Sand trough

Mud trough

Extensive 4x4 course

Mountain road towing 1.3-tonnes - these are vehicles that will often be used to tow caravans etc.
Extended judging panel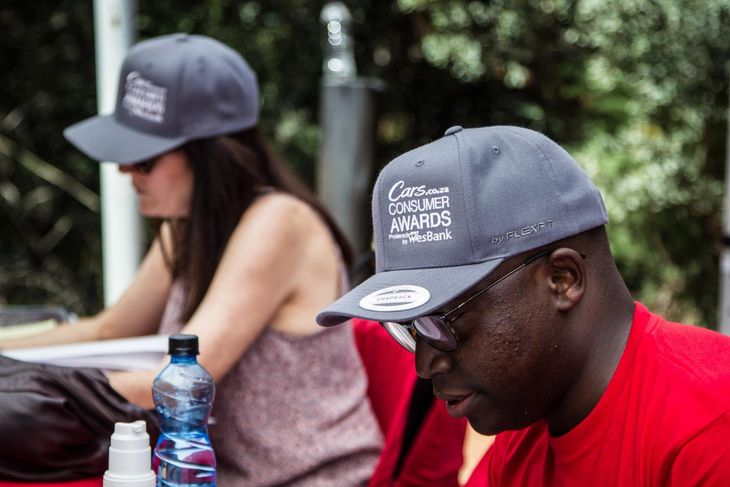 Francisco Nwamba and Wendy Knowler busy scoring finalist vehicles.
The judging panel for this year's #CarsAwards is more diverse than ever. "We want the #CarsAwards message to reach all South Africans, and that means we have to engage with and include media representatives beyond just those in motoring," explains Oosthuizen.
"This year we took another big step towards our goal of having 50/50 equal male/female representation, for example," he adds. "In short, we want an Awards programme that reaches all South Africans as this is ultimately not about handing out trophies to winning brands, but to inform South African car buyers about which cars they should be buying.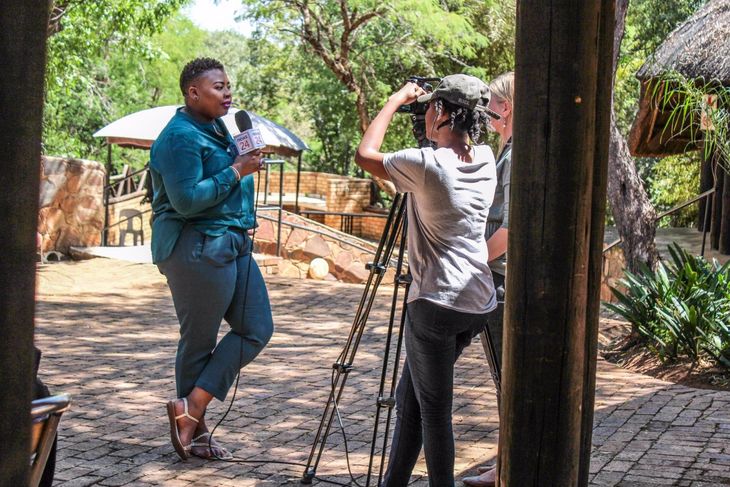 Well-known TV and radio personality Anele Mdoda joined the #CarsAwards jury this year.
This is what some of the judges had to say about the testing procedures and #CarsAwards in general:
Phuti Mpyane (The Petrosexual) - "Using Gerotek was an ace move on the part of Cars.co.za. The layout of the test route does no particular car or brand a favour. If there are flaws in any car Gerotek will unearth them."

Wendy Knowler (Consumer Journalist) - "The test routine was as rigorous as that Gauteng test day was hot - VERY! I can't think of a better way to compare 3 competing finalists than to drive them through the same challenges one after the other - skid pan, potholes, dynamic track; and in the case of the 4x4s, down steep inclines, through mud and sand, hauling a trailer up a mountain side and then around a punishing 4x4 track. And then to park them side by side and compare everything from console design to how well they accommodate a surfboard, pram and cooler box. The South African motoring public is really lucky to have Cars.co.za stage this awards programme on their behalf."

Kojo Baffoe (Afropolitan Editor, writer/editor/media strategist) - "The beauty of the test routine is that it effectively covers all the relevant aspects of a vehicle, ensuring that, as a judge, you are able to make informed decisions around scoring."

Nafisa Akabor (Tech Journalist) - "The CarsAwards judging process is extremely thorough with back-to-back testing per category by regular consumers too, allowing for the most accurate grading of an award of this nature."

Juliet McGuire (Women on Wheels editor) - "It is certainly the most unique motoring awards programme in SA as it's the only one where you get to compare rival products, back-to-back, in the metal. We very rarely get to do that. In my view this is the only Awards programme that consumers should actually look at before buying."

Wezile Bonani (Bay FM) - "The testing was immensely comprehensive, with all aspects of reviewing and comparisons covered. I learnt a lot about the finalists and enjoyed every second of it in that blistering heat of Gerotek."

Francisco Nwamba (The Motorist) - "The Cars.co.za Consumer Awards - Powered by WesBank, test days allowed for us to put ourselves in the shoes of the buyer, looking for the things they worry most about. Ranging from safety, to comfort and dynamic handling, we were able to get the most out of each car. For the 4x4s we mimicked tests that even avid off-roaders would find challenging, from very steep inclines, to towing on a demanding course as well as different gradient changes. Really then, we left no stone unturned in this years testing."

Ashley Oldfield (Cars.co.za) - "Gerotek makes perfect sense as a vehicle testing station for the #CarsAwards. There is no other place that allows you to test a vehicle's dynamics, comfort, road holding, stability and to an extent, build quality. All of this can be done at Gerotek in a safe environment."
South African car owners have 50% of the say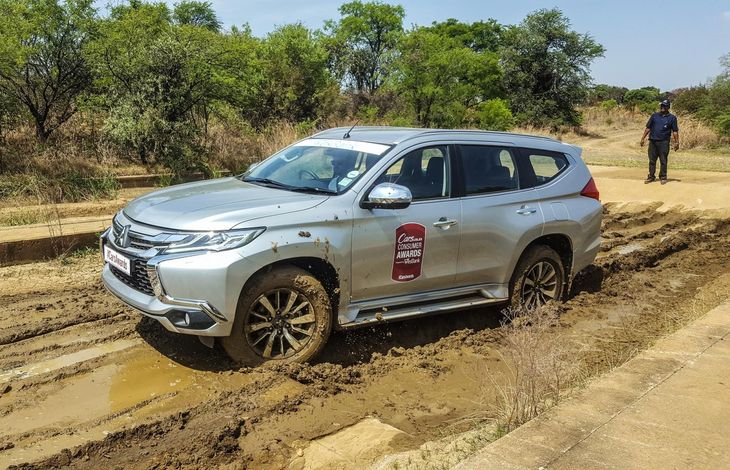 The Mitsubishi Pajero Sport ploughs through the mud trough. It is a finalist in the Adventure SUV category.
Ultimately, however, the test days and the judges' scoring account for only half of the final vehicle scores. "Our judges are able to really get to grips with the cars at Gerotek and perform very accurate scoring in those conditions," says Oosthuizen, "but one thing they can't do is to predict what it will be like to live with those vehicles."
Two years ago, Cars.co.za teamed up with data specialists Lightstone Consumer to develop a very comprehensive Ownership Satisfaction Survey. The information collected through the survey, combined with other data on resale trends (based on actual financial transactions) and market share growth in the preceding 12 months, are combined to calculate a Brand Score for each of the finalist vehicles.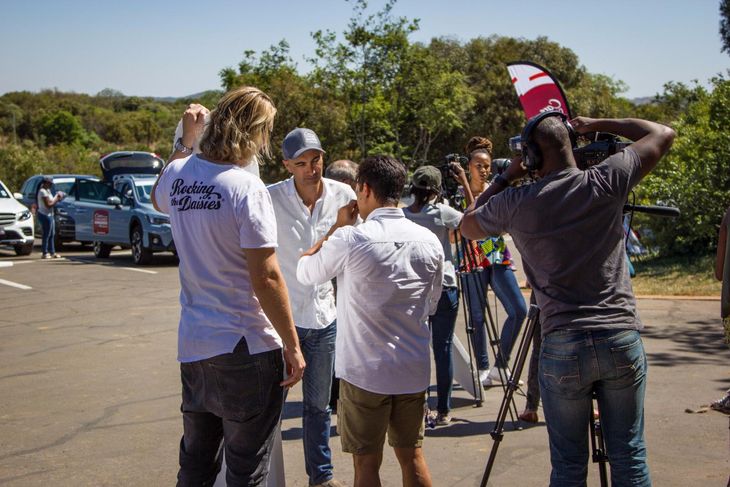 Several film crews attended the test days. Here Hannes Oosthuizen (Cars.co.za) and Claire Mawisa (Carte Blanche) are being interviewed by eNCA and News24 respectively.
This Brand Score accounts for the remaining 50% of the finalist's result and if you own a car (younger than 5 years), you can complete the survey to have your say: www.carsawards.co.za . Great prizes are up for grabs!
"With rigorous back-to-back testing combined with valuable ownership data, we believe #CarsAwards to be the fairest and most comprehensive motoring awards programme in South Africa," Oosthuizen concludes.
The winners will be announced in late January 2018.
You may also be interested in;
View the Cars.co.za Consumer Awards - Powered by WesBank finalists
Complete the Cars.co.za Ownership Satisfaction Survey on your own vehicle