The LS is the standard-bearer for Lexus. In a market dominated by the Mercedes-Benz S-Class and BMW 7 Series, the Lexus LS offers something refreshingly different, but can the latest iteration of the Japanese first-class sedan, replete with an all-new engine, match its much-vaunted German rivals? We review the LS 500.
We like: Excellent turbopetrol engine, ride refinement, comfort, attention to detail, near-faultless build quality.
We don't like: Some controls are ergonomically challenging, cumbersome touchpad infotainment controller.
Alternatives
The segment leader: The S-Class received an upgrade at the beginning of 2018. It's available with a variety of powertrains: petrol, diesel and hybrid, plus there are ballistic AMG versions. This Lexus' closest Benz equivalent is the S560 L AMG Line. However, the Benz has a lengthy list of options and they all add up, whereas the Lexus LS comes comprehensively specced as standard.
The award winner: Not only is the BMW 7 Series one of the most engaging driver's cars in its segment, it boasts jaw-dropping onboard technologies and affords lofty levels of comfort to its (cosseted) rear passengers. It's so good, it won its category in the 2016/17 #CarsAwards. Consider the 750Li Design Pure Excellence.
The 'bahn stormer: If you want your first-class sedan to be as sporty as they come, then look no further than the Porsche Panamera. Price wise, the mid-range (V6-engined and all-wheel-driven) 4S costs notably less than the Lexus, but to get it specced up to the level of the Japanese car will cost you... We suspect most buyers will opt for the much pricier Turbo derivative.
If you're willing to wait: The new Audi A8 is due to be launched in 2019 and, if the overseas reports are to be believed, it's really good. It's also claimed to be the most advanced car in terms of autonomous driving technology.
Compare the Lexus LS 500 with its S-Class and 7 Series rivals here.
SERIOUS ABOUT BUYING?
Check out full specification details and finance estimates here
Where does it fit in?
Lexus is one of those interesting brands that tend to "fly under the radar" of consumers. We've never experienced a poor-quality Lexus – its products have always been refined, well-made and more than capable of matching their more popular (usually German) rivals. The LS, the brand's flagship, which is now in its 5th generation, recently went on sale in South Africa. One of the great things about Lexus is that its products have "all-in specifications" – there are very few option boxes that need to be ticked. This means the Lexus LS is so well equipped that it has everything, and we mean... everything. However, when it comes to success in the first-class segment, spec only carries so much weight. When you compete with the mighty Germans, there are other factors at play, such as comfort and performance.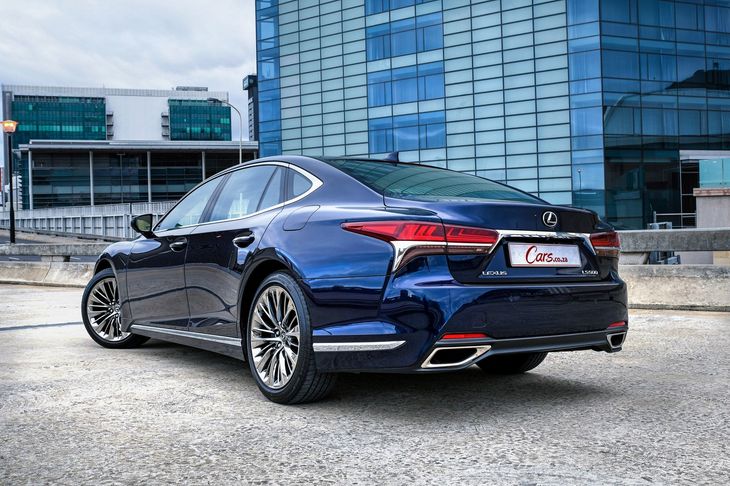 In terms of kerb presence, it's hard to ignore the LS' gargantuan proportions and liberal splashings of chrome.
How does it fare in terms of...
Features & Packaging?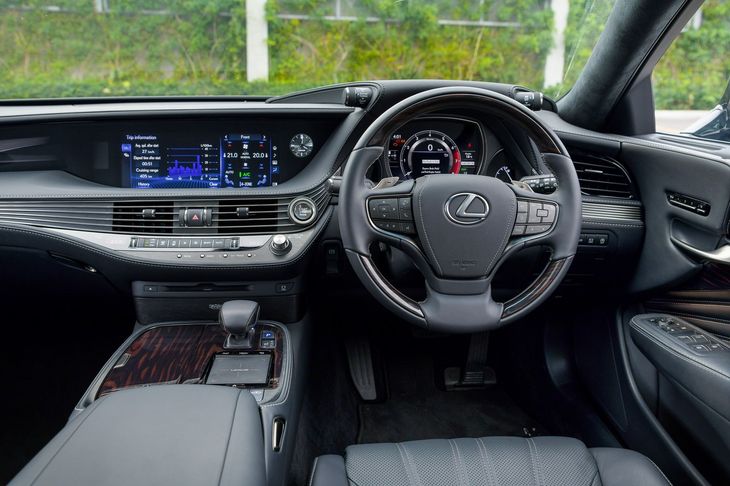 The LS boasts a modern cabin. It creates the impression of having been built in a science lab, that's how precise and refined it is.
In terms of standard spec, a Lexus will invariably score highly and the LS 500 is no exception. It comes equipped with niceties such as rear entertainment screens, the biggest heads-up display we've ever experienced, a superb Mark Levinson audio system and rear-seat comfort that should satisfy any board- or parliament member. There's an integral massage system (both front and rear), but unlike the LS' rivals, which use air bladders to stimulate one's lumbar region, the LS has what we can only describe as "metal rollers" that perform a fantastic job on your back and shoulders. In fact, on a few occasions a team member would linger in the sumptuous cabin after arriving at our office in the Lexus (don't forget that there's a tablet in the centre armrest for passengers to adjust climate, seat position and rear entertainment functions).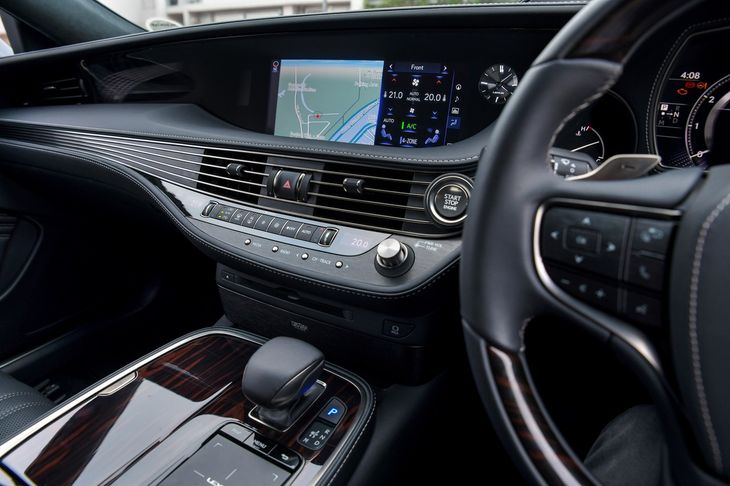 The infotainment will continue to be a bone of contention thanks to a fiddly navigation pad and sub-par graphics.
There is no shortage of highlights: adaptive LED headlamps, an expansive moonroof, 4-zone climate- and radar-guided cruise control, plus surround view cameras, to name but a handful of features. In terms of safety, a Blind Spot Monitor (BSM) with Rear Cross Traffic Alert, Lane Keeping System – Lane Departure Alert, Hill Assist Control, Traction Control, Pre-Crash System and Brake Assist (BA) are fitted.
The infotainment remains our number one gripe, however. The graphics of the 12.3-inch multimedia infotainment system aren't particularly memorable, but at least its menus do what they're supposed to. However, access to the features by way of the cumbersome touchpad is fiddly at best – and infuriating at worst. We're sure it will improve with familiarity, but fortunately, you can reduce the need to fiddle and prod by utilising the steering wheel controls to do the vast majority of adjustments.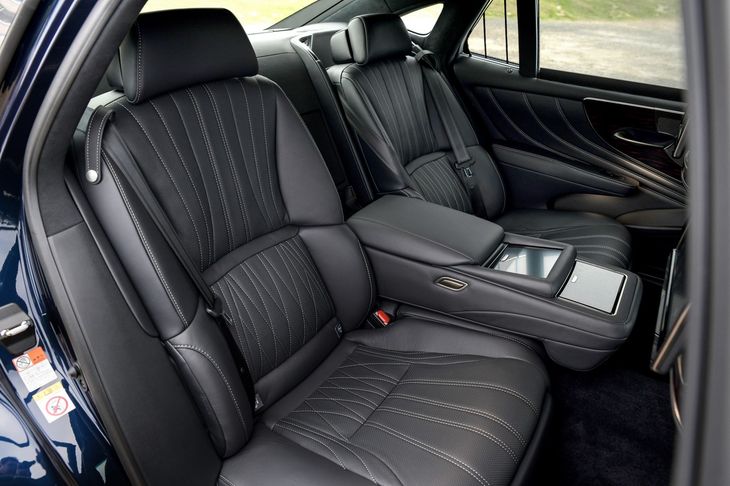 The rear seats are among the best in the business. They're impeccably crafted, incorporate massage functions and offer plenty of legroom. You can also move the front passenger seat forward to allow the left rear seat to recline into a bed.
Performance?
Historically, large-capacity petrol engines have been called upon to propel luxurious behemoths such as the LS. Usually, a beefy V8 petrol or 6-cylinder turbodiesel would be utilised in a first-class sedan, but with stringent emissions laws coming into play, most manufacturers are downsizing and economising. Take the BMW 7 Series for example, which can be had in iPerformance spec (with a diminutive 2.0-litre 4-cylinder turbopetrol assisted by an electric motor). The early generations of Lexus LS were powered by atmospheric naturally-aspirated V8s, but this 5th-generation model has done away with all that. For the first time, the Lexus LS is powered by a V6.
It's not just any V6 either, thanks to the addition of a pair of turbochargers. The 3.5-litre motor produces healthy peak outputs of 310 kW and 600 Nm, which, despite the size and heft of the Lexus, is enough to see it sprint to 100 kph in a claimed 5 seconds flat. Switch to Sport mode (the stalk is located awkwardly to the side of the driver's console, see below), and the car will respond to throttle pedal inputs more responsively. You get to hear a bit more of that meaty V6 motor, which is predictably muted.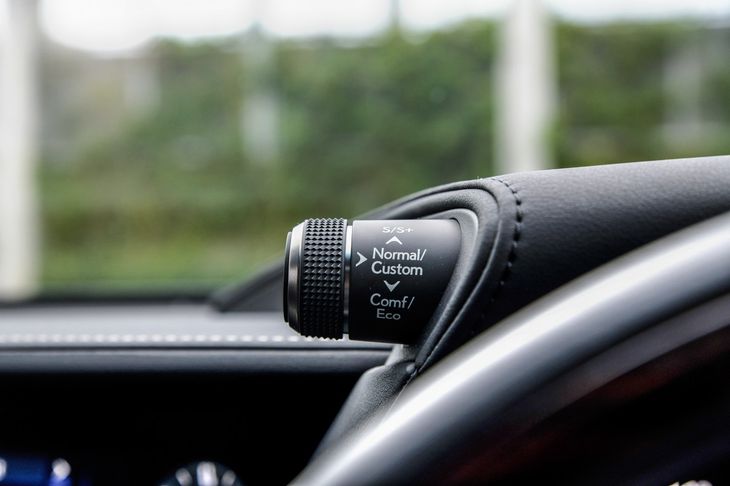 We appreciated the different driving modes for the Lexus LS, but the positioning of this stalk is awkward – it feels out of place.
Does the flagship Lexus feel quick though, given the fact that it's a 2-tonne luxury barge? Yes, it most certainly does and the reason for that is clever engine- and transmission mapping. The 'box has 10 forward ratios, which is a 1st for the segment! It's calibrated to keep the engine right in the sweet spot and thanks to the close ratios, the LS moves along at a deceptively quick pace. Not only is it brisk off the line, but also surprisingly potent in terms of in-gear acceleration. With 600 Nm just a stab of the right foot away, overtaking is brutally effective; the Lexus effortlessly dispatches slower traffic. While it's not the most powerful car in its class, it's arguably one of the more frugal petrol limousines with a claimed fuel economy of 9.5 L/100 km. During its stay, we found the dial reading out just over 11 L/100 km, which is fair.
Ride & Handling?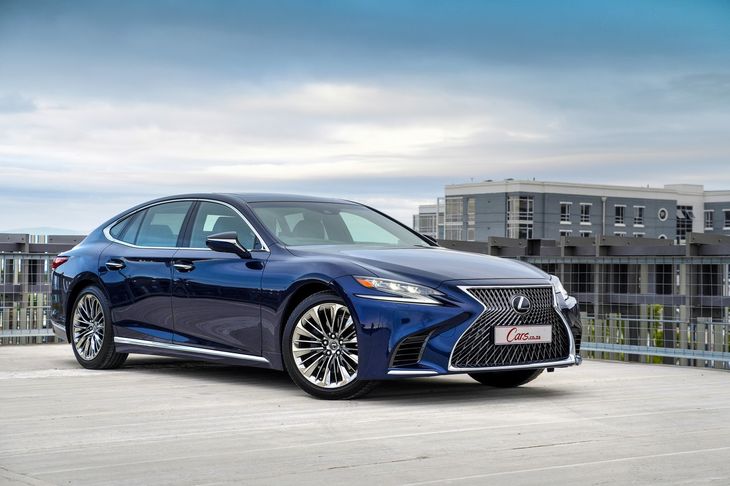 The Lexus spindle grille is a work of art and has to be seen up close. The intricacy and attention to detail are staggering.
Excellent ride quality is a highlight of Lexus ownership; nonetheless, the LS 500 took what we knew about on-road refinement and set a new standard. Despite riding on these gorgeous 20-inch alloys shod with low-profile tyres, the Lexus left us with little to complain about in terms of the saloon's on-road demeanour. The secret to this cushion of comfort is the air suspension, which is arguably as good as that of a Mercedes-Benz S-Class. We drove the LS on multiple grades of tarmac at varying speeds (we even had a brief stint of a grave route). The LS 500 was exceedingly comfortable; not once did a rut or crack in the tarmac upset the balance of the car.
You'd think that ultimate handling prowess wouldn't be a serious consideration for buyers of this class of vehicle, yet some owners (or their chauffeurs) do like to press on occasionally. Does the Lexus deliver? Well yes, its steering might be generously assisted and a trifle vague, but the Lexus delivers a good turn of pace with aplomb.
Pricing & Warranty
The Lexus comes with a 7-year/105 000 km warranty and maintenance plan. The vehicle service intervals are at every 15 000km, alternatively once a year.
Lexus LS500 R2 128 500
Verdict

The first-class sedan segment needed something new and fresh to shake it up. The Lexus LS 500 is an astounding piece of kit.
In this segment, brand cachet counts for a lot! With the iconic Mercedes-Benz S-Class leading the pack for goodness knows how long, Lexus was always going to be an underdog. Does this mean the LS 500 is not an excellent product and unworthy of a second look? Absolutely not. What Lexus has achieved in terms of design, build quality, refinement and comfort with its newcomer is nothing short of remarkable. We'd forgive Lexus for the quirky ergonomics, fussy infotainment system (and its ho-hum graphics), because the rest of the package is superb. The build quality is grand, the refinement is next-level and the new-generation blown V6 motor befits the flagship of the Japanese luxury marque. While the refinement and calm driving demeanour of the Lexus are to be commended, the best place to be is in the back.
With features such as rear entertainment and massage functions – for all occupants – as standard, the LS 500 is not only a pleasant saloon to drive, but to be driven in. That's a first-class car's raison d'etre. It's nothing short of an exceptional vehicle and while the bulk of sales in this rarefied segment are most likely to still go the way of more entrenched players, we expect there will be a handful of discerning businessmen who'd prefer to have something different. With this car, you've certainly arrived.
Further Reading:
Lexus LC 500 Goes Night Drifting
Lexus RX 350L EX (2018) Quick Review
Striking Lexus LC 500 Limited Edition for SA
Mercedes-Benz S-Class Cabriolet (2016) First Drive

Best First Class Luxury Cars in South Africa

BMW 750i Design Pure Excellence (2016) Review

BMW 7 Series: A Tech Showcase [with Video]
Interested in buying a Lexus LS?