BMW's new flagship 7 Series was introduced earlier this year to depose its archrival, the Mercedes-Benz S-Class, as the world's premier First Class car. Following our review of the 740i, the team was divided on whether the new 7 has what it takes to wear the luxury sedan crown. Will the even more luxurious, V8-engined 750i put the matter to rest?
We Like: Refined interior, powerful engine, superb ride quality, smart technology
We Don't Like: Understated exterior styling, disappointing rear leg room
Alternatives
For similar power: Consider the Mercedes-Benz S500 (R1 843 904). With its turbocharged 4.7-litre V8 engine, the S500 offers slightly more power than the 750i with 335 kW and 700 Nm of torque. The S500 is the 7's closest nemesis and although it's starting to show its age, it's a formidable and stylish rival. The refreshed S-Class will arrive in South Africa in 2017 with a host of impressive new technology currently offered on the new E-Class, so it should be rather extraordinary when it makes landfall. The Mercedes-Benz S500 is our current First Class Car of the Year - see why by clicking here.
For value-for-money and all-wheel drive performance: You can also consider the Audi S8 quattro, which boasts more power at 382 kW and 650 Nm of torque from its 4.0-litre turbocharged V8 engine. The Audi S8 commands a price tag of R1 695 000.
For more space: For an additional R143 000, consider the 750Li (long wheelbase version – R1 993 138), which offers more rear passenger space compared to the standard 750i. As a cost-saving alternative, you can consider the Mercedes-Benz S500 L (R1 885 304), which will only cost you R35 500 more than this 750i Design Pure Excellence derivative and will afford you increased rear passenger space for significantly less money compared to the BMW 750Li.
For better fuel economy: Consider the Mercedes-Benz S500e L (R1 875 500), with a cost difference of about R26 000, you get access to impressive performance but with the benefit of drastically improved fuel efficiency. The S500e L is powered by a 6-cylinder 3.0-litre turbocharged engine and an electric motor with a total output of 325 kW and 650 Nm of torque. Mercedes-Benz claims an average fuel consumption figure of 2.8 L/100 km for the S500e L.
Compare the BMW 750i Design Pure Excellence with the Mercedes-Benz S500 and Audi S8 quattro
What is it?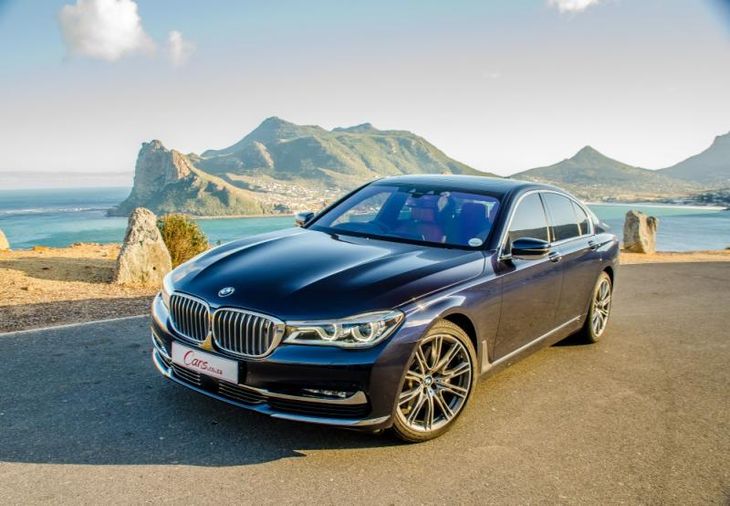 The 7 Series is imposing and packed with the latest technology from BMW. But does it have enough presence?
The battle for supremacy in the world of luxury sedans came to a head earlier this year when the BMW 7 Series was named the World Luxury Car of the Year in the 2016 instalment of the World Car Awards. Mercedes-Benz had locked out the World Luxury Car title since it became a standalone category in the World Car Awards in 2014, but the 7 succeeded the S-Class Coupe and sedan. The best of Mercedes-Benz is realised in its well-accomplished S-Class, which is widely regarded as the benchmark if you are looking for a near-perfect blend of style, luxury, technology and performance. It's so good that the S500 scooped the First Class category win in the inaugural Cars.co.za Consumer Awards in January this year.
The arrival of the new 7 is nothing short of monumental for the Munich-based firm. BMW developed the 7 to be the best in the world and, in terms of its technological prowess, the 6th-generation of the brand's flagship design sets a benchmark. With lessons learnt from the futuristic i3 and i8, the 7 Series is made up of what BMW calls a "Carbon Core", a combination of steel, aluminium and Carbon-Fibre-Reinforced Plastic (CFRP), making it more rigid and up to 130 kg lighter than its predecessor. Even so, this behemoth of a car still weighs well over two tonnes and measures more than five metres long and over two metres wide. It's big, heavy and filled with the richest technological features in BMW's arsenal.
This 750i Design Pure Excellence derivative (M Sport package is also available) features a few notable design details that set it apart from the standard 750i, including black brake callipers and an extra dose of chrome treatment seen on the front and rear bumpers. On the inside, the Design Pure Excellence package adds an Alcantara headliner, brushed aluminium door sills and wooden inlays (in this case American oak) with metal trim.
As you can expect, there's a long list of options available for the BMW 7 Series. Some of the extra-cost options fitted to this test unit include LaserLight headlamps (R17 200) with a range of 600 metres, 20-inch bi-colour V-spoke wheels (R21 400), a Bowers & Wilkins Diamond surround sound system (R63 700), rear seat entertainment with two 10-inch colour screens (R44 300), TV function (R17 700), BMW Touch Command with an integrated 7-inch rear tablet (R7 000), front and rear massage function (R31 400) and a rear refrigerator (R18 000). The addition of the refrigerator does, however, impinge on the boot (515 litres).
How does it fare in...
Technological sophistication?
The raft of technology starts with the 7 Series' BMW Display Key and it's by far the most sophisticated key fob we have ever seen in South Africa. The fob has a digital screen and much like a cell phone, you can swipe through various functions such as climate control timer, vehicle range, -status and -security. The key is useful in that it relays important vehicle information to you, even if you aren't near the vehicle. You can, for example, set a timer for the climate control to heat or cool the interior before you plan to drive, activate or turn off the headlights (also from outside the vehicle) and park your car via remote control (optional - R7 900), but, sadly, our test unit was not equipped with this function.


The key does need to be charged every so often and this can be done by using the wireless inductive charging holder in the centre console. You can also use this holder to wirelessly charge your phone, providing that it's compatible for inductive charging. Two USB ports are included too.
BMW's iDrive system lies at the heart of the 7 Series and incorporates the familiar iDrive Touch Controller and, for the first time, a high-resolution, 10.25-inch touchscreen display is fitted, where the vast majority of vehicle functions can be accessed. Everything from infotainment, navigation, Internet, telephony, BMW ConnectedDrive, vehicle settings and interior settings are easily browsed. The system is impressively comprehensive and intuitive to use, but you may have to allocate an hour or two to familiarise yourself with the layout and functionality. Techno boffins will salivate all over this new 7, but for technophobes less adept to grasping technology, the 7 Series will teach you its ways with a wide selection of helpful video tutorials accessed via the touchscreen.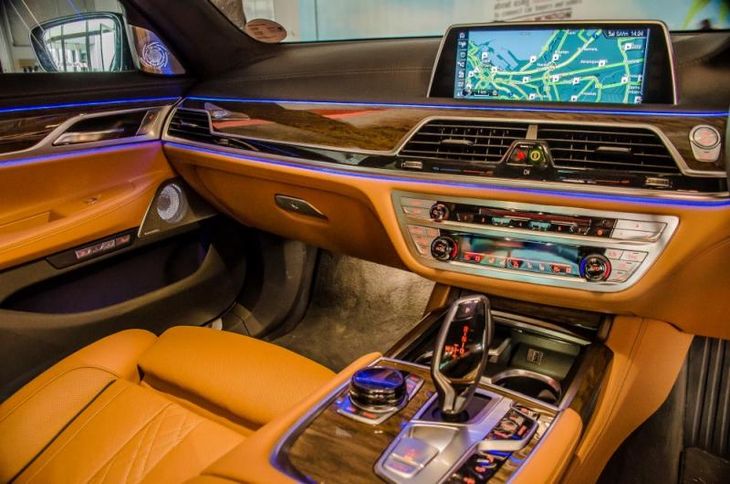 The interior of the 7 Series is luxuriously appointed and will resonate with technically inclined buyers.

A highlight feature in the new 7 Series is called Gesture Control. Sensors in the headliner recognise specific hand and finger movements that serve specific functions. For example, if someone calls you and you don't want to speak to them, simply swipe your hand across to the side and the call drops. If you want to answer the call, point your finger towards the touchscreen and your wish comes true. Furthermore, swirling your index finger in a clockwise or counter-clockwise direction will increase or decrease the volume of the sound system. It takes some practice, at first, to perfect the gestures and find the correct parameters to initiate them, but once you do, the Mozart in you will come alive. It's a brilliant piece of technology that provides a glimpse of how far in-car technology has come in recent years, while keeping you guessing at what's to come in the future.


Gesture Control functionality is also incorporated into other functions, such as the 360 parking camera. By pinching your index finger and thumb together, you are able to 'grab and pan' the camera to scout for obstacles around the car. This is a useful tool if you are parked in tight spaces and need to reaffirm your judgment before exiting a parking bay.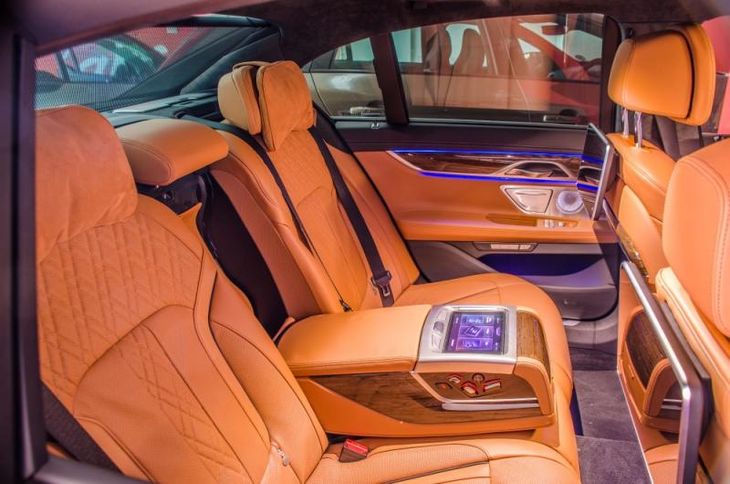 Rear passengers are well catered for in terms of technology and comfort in the 7 Series, but legroom is tight.

It's not only the driver and front passenger who are spoilt with technology. Rear passengers have it pretty good too in the 7 Series. With the optional BMW Touch Command system, a rear central armrest houses a storage compartment, rear seat controls and a 7-inch detachable tablet. Using the tablet, rear occupants can control functions such as seat positions, rear climate control, ambient lighting, window blinds, the infotainment system and surf the Internet at leisure. All this happens, while the seats massage you into submission. There are also plush, sleep inducing pillows fitted to the rear headrests for added comfort. It's pure bliss sitting in the back of the 7-Series, but the feeling is somewhat tainted when you realise that your legroom is quite limited and you can't really stretch out far enough to obtain nirvana.

Even so, if the BMW 7-Series isn't the pinnacle of technological sophistication, then what is? The features mentioned above form part of a collective whole and although they are wonderful, there is much more to this 7 Series. Let's see how it performs on the road…
Performance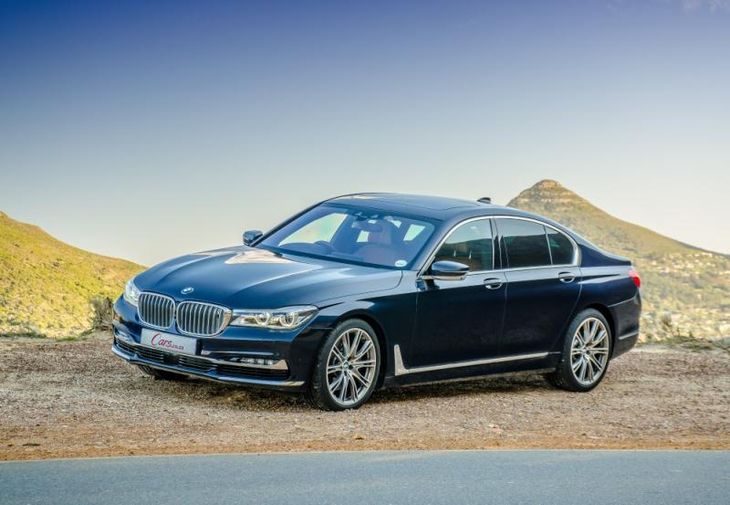 The 750i is a super comfortable cruiser but it can be overtly dynamic too, just as a BMW flagship should be.
Under that long bonnet sits a turbocharged 4.4-litre V8 engine that develops a mighty 330 kW and 650 Nm of torque. Those numbers are delivered to the rear wheels using an 8-speed Steptronic Sport automatic transmission. Alternatively, manual intervention from the driver can be initiated by shifting the transmission into manual mode or by using the steering wheel-mounted paddles.
There are also various driving modes to choose from, depending on what you want to achieve, and these include ECO Pro (optimise efficiency), Comfort (optimise comfort), Sport (optimise performance) and Adaptive (damper control, steering and transmission adapts independently according to drive style and road conditions). Adaptive mode can be engaged in conjunction with the other modes too and settings can be altered via the touchscreen. Each mode also has its own colour and display layout in the large digital instrument cluster.
In normal driving conditions, the 750i performed admirably. The engine operates in silence and very little engine noise is audible in the cabin. The transmission responded smoothly to throttle inputs and the engine never felt strained under harder acceleration. In fact, quite the opposite. The 750i is something of a wolf in sheep's clothing. It's calm and sedate when you are, but it can also be involving and engaging when you floor the pedal. Despite its weight, the 750i is a strong performer when it needs to be and it's very fast too. When you are pushing on, it feels like there's no end in sight, the power is relentless! BMW claims that the 750i will sprint to 100 kph in 4.7 seconds and there's the usual limited top speed of 250 kph. For a large limousine sedan, that's not to be sniffed at...
Although the 750i can devour tar at will, driving it enthusiastically all the time is not what's it's built for and your fuel consumption will suffer severely if you do. Even though BMW claims an average fuel consumption of 7.9 L/100 km for the 750i, you're unlikely to see figures below 10 L/100km very often.

Ride Quality & Handling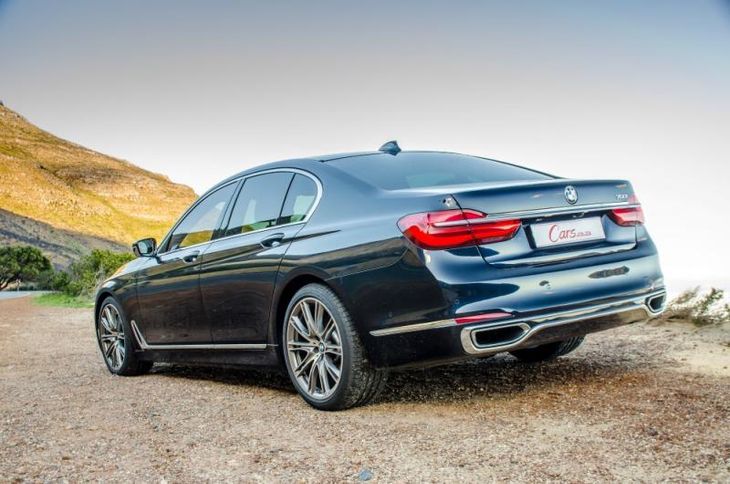 The 7 Series delivers exceptional ride quality and handling ability.
The 7-Series is equipped with various chassis technology and control systems to ensure high levels of comfort and handling ability and these include self-levelling all-round air suspension, dynamic damper control, integral active steering and active roll stabilisation.
The collective result of these features is superb ride quality. The 750i was supremely comfortable to drive and road imperfections became obsolete. More so, it felt surefooted and confident in the bends too. With its extensive levels of grip, it would take an Ashley Oldfield or similarly skilled driver to even remotely unsettle the 750i.
As for road and engine noise entering the cabin? Silence is all you will hear…
The steering is light, almost feathery, and although it provides good feedback to the driver, some members of our team felt that the electronic steering was overly sensitive.
In this segment, ride quality is all important and this 7 Series undoubtedly delivers a pleasingly refined drive.
Kerb Appeal

In a segment where looks matter, the 7 Series is somewhat understated.
Cars in the luxury sedan segment, such as the S-Class and 7 Series, must offer heaps of kerb appeal if they are to win buyers over. Striking styling, class and general attractiveness need to combine in a way that motivates people to lay down the kind of money that the car demands. These attributes are essential and it's in part why cars in this segment exist. They are status symbols for success, they shout "look at me, I'm rich, I have made it". If they don't do that, their worth wilts away.
The latest BMW 7 Series certainly offers this effect, but more so on the inside, than the conservative exterior. Then again, design is so subjective...
Safety Features
As you would expect, the 7 Series boasts a full complement of safety features including ABS with EBD, electronic brake assist, traction control and stability control. A total of six airbags are fitted as standard too.
Active safety features include lane departure warning, lane keeping assist, steering assist, traffic jam assist and night vision. Adaptive cruise control is also standard and in conjunction the steering assist and traffic jam assist, the 7 Series is able to reach a semi-autonomous state where minimal action is required from the driver in congested traffic situations. We put all these systems to the test in heavy traffic and were suitably impressed by how simple they are to operate. Park assist is also fitted as standard.
A comprehensive head up display communicates information such as speed, traffic sign information and navigation, keeping the drivers eyes locked on the road. Front and rear park distance control is included along with a 360-degree camera.
Pricing and Warranty
The BMW 750i Design Pure Excellence is priced from R1 849 796 and is sold with a 2-year/unlimited km warranty and 5-year/100 000 km maintenance plan. Note that a long list of options are available for the BMW 7 Series. Our test unit had over R290 000 worth of optional equipment fitted, escalating the overall price to at least R2 140 000.
Verdict
This latest BMW 7 Series is one of most technologically advanced cars we've had on test and it's by far the most refined, well-built and lavishly appointed cabin we have seen from BMW. The 750i's performance is commendable too. It's a smooth and comfortable cruiser with poise that belies its size but it also has oodles of power to tap into and delivers it discreetly and with utter tact. The 750i is a marvellous car to drive.
With a wealth of useful and impressive technology onboard, BMW has pushed the boundaries of what is possible to the next level. There's much to appreciate about this new 7 and for now, at least, the 7 Series has hit the mark. Or has it? Faults are difficult to find but given that rear legroom could be better and that it's not particularly striking to look at, which is its Achilles heel, this latest 7 Series is not perfect. Then again, what car is?
Search for a new / used BMW 7 Series on Cars.co.za
BMW 750i Design Pure Excellence – Quick Specs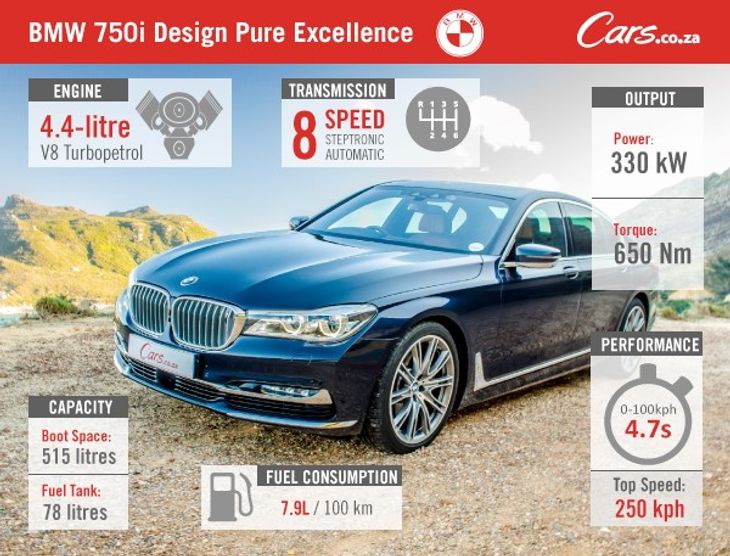 Related content:
BMW succeeds Benz as World Luxury Car of the Year
BMW 7-Series (2016) First Drive
Interested in buying a BMW 7 Series?