Lexus recently added a new 7-seater version of its RX premium SUV to the local market. We've always admired the standard car, but compared with its German rivals, it's been largely ignored by the buying public. Could this new derivative garner more support?
We like: Exceptional build quality, ride refinement, overall comfort, standard equipment, improved practicality
We don't like: Finicky infotainment control system, slow tailgate, slow 3rd-row seating operation
Alternatives:
Smooth German: On the radar at this price level is Audi's Q7, which is only offered in 3.0 TDI guise at present. You'll have to spend an extra R23 100 to get a 3rd row of seats, and quite a lot more to match the Lexus' spec. The Audi is very well packaged, more economical and similarly refined and, of course, comes with a tad more status. It's also more spacious.
Award-winning Swede: The Volvo XC90 has emerged victorious in the Premium SUV category of the Cars.co.za Consumer Awards – powered by WesBank, for 3 years in a row. Well-priced and specced, you can have a turbopetrol T5 or a turbodiesel D5 derivative for similar money, especially given the incentives currently on offer on this vehicle.
Compare the Lexus RX 350L EX with the Audi Q7 3.0 TDI and Volvo XC90 D5 Momentum by clicking here
Facts & Figures
Price: R959 000 (May 2018)
Engine: 3.5-litre, V6 petrol
Transmission: 8-speed automatic
Power: 216 kW
Torque: 358 Nm
Fuel consumption: 10.2 litres/100 km (claimed)
0-100 kph: n/a seconds (8.7 sec est.)
Top speed: 200 kph (claimed)
What's new?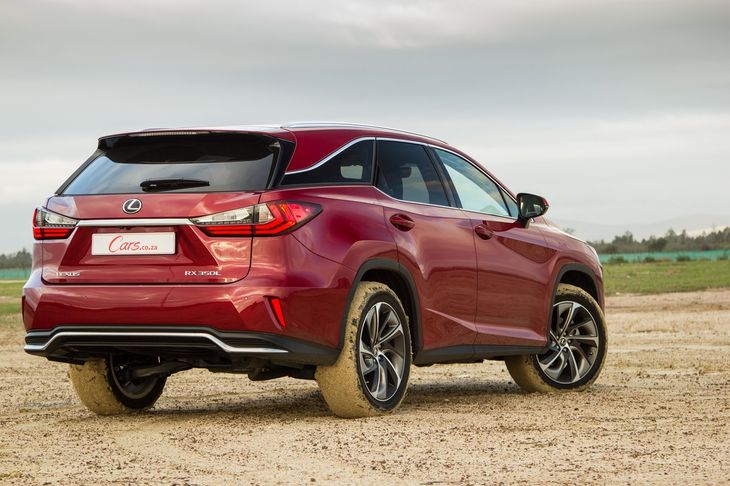 With its more upright tailgate and extended body, the RX 350 L may lack the "sportiness" of the regular model but the upshot is more space in the rear.
We were impressed with the standard (5-seat) RX 350 when we tested it back in 2016 (read that review here), but the one area in which it lagged the class front-runners was practicality. Although the regular RX 350 offers reasonable rear legroom (which is adjustable, thanks to its sliding bench), it is short on luggage space and whereas several rivals offer the option of 7 seats, the Lexus doesn't. Well, now that is no longer the case, Introducing the new RX 350L, replete with an extended body, raised roofline and 3rd-row of seats. Best of all, it costs just a tad over R30 000 more than the standard version, making it, arguably, the better buy.
The Good
Improved practicality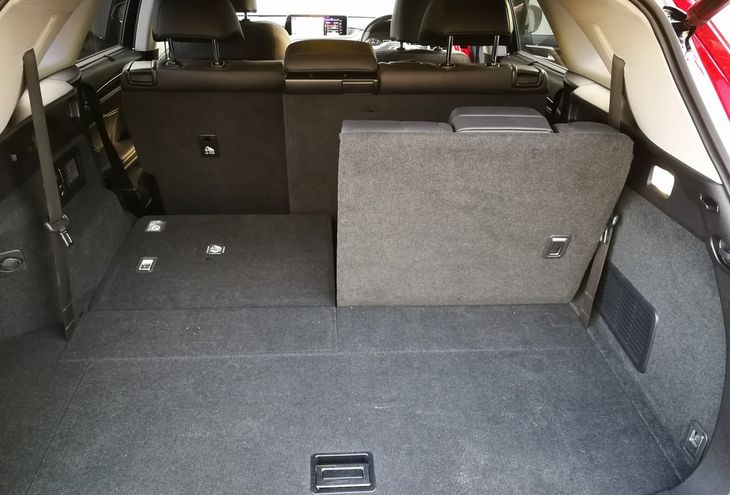 The luggage bay is bigger than the 5-seater model's, and even with the 3rd row occupied there is some usable space left.
When we previously tested the 5-seater RX 350 EX we commented that those seated in the 2nd row could find the headroom slightly lacking. That was due to the almost fastback styling of the regular model, which has a quite rakish rear-end. On the other hand, rear legroom was always good and occupants could slide their seats fore/aft as required. As far as the luggage space was concerned, the standard model's practicality couldn't match those of most of its rivals, not only because of the sloping tailgate, but also due to the raised floor, which is a consequence of offering a full-size alloy spare wheel.
This new L version attempts to address all of those concerns. First of all, Lexus stretched the bodywork of the standard car by 110 mm, raised the roofline by 10 mm and adopted a steeper tailgate design. You may think that all of that was done to simply squeeze a third row of seats in there, but those changes also improve comfort levels for occupants in the 2nd row. For one, headroom is improved, and the base of those middle-row seats can now slide a further 45 mm forward, if required. This change also improves access to the 3rd row, which can be done by simply using a lever to fold and slide the middle row forward.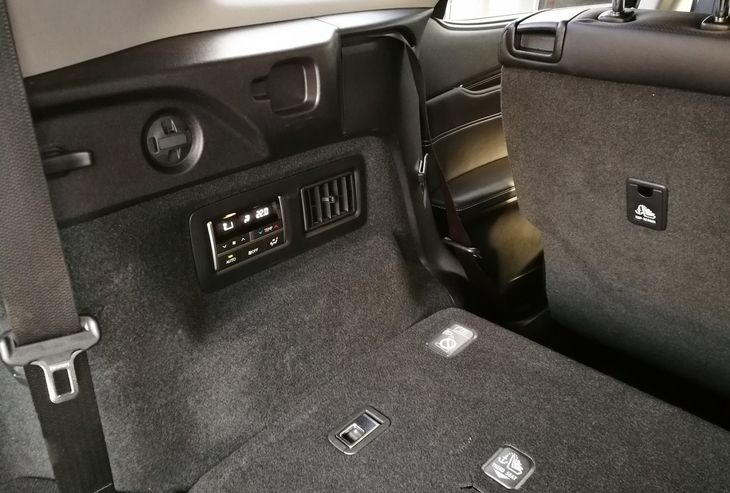 There is a separate climate control panel for 3rd row occupants, but the air outlet is mounted low.
The two rearmost seats are, of course, still better suited to smaller adults or kids, and not really meant to accommodate adults on extended trips. Still, Lexus has added a separate climate control panel for rearmost passengers as well as a pair of cupholders. If you don't need the rear seats they fold away easily – but slowly (electronically) – and the luggage bay becomes reasonably large (432 litres), but not too much bigger than the boot of the 5-seater... The automated tailgate is still, regrettably, as painfully slow in operation as the 5-seater version's. It's also worth noting that the L doesn't have the full-size spare that minimises the luggage capacity the 5-door version – it has a space saver instead. So, overall, the gains are somewhat more marginal than you may have expected (or wanted), but gains they nevertheless are...
Superb comfort and refinement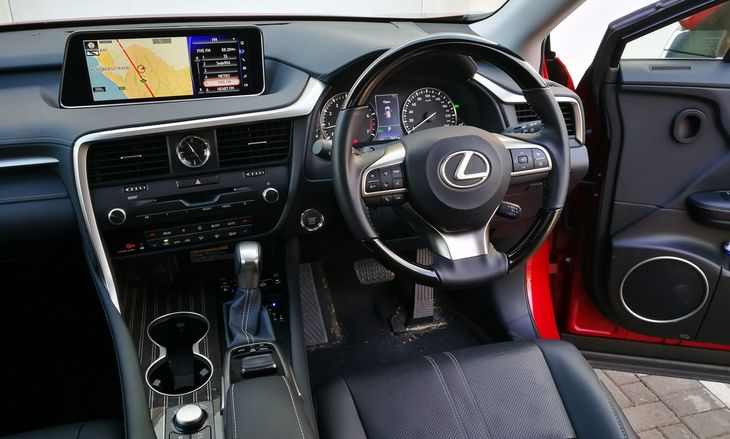 Excellent front seats (with 10-way adjustment, heating and cooling functions) are part of a comfort-oriented cabin.
More often than not, the level of comfort availed by a vehicle largely depends on the occupant space it offers. In the case of this RX 350L, occupant space has been improved, which means that, combined with the otherwise high levels of comfort already evident in the 5-seater version, this new L is off to a very good start.
Unlike other offerings in the premium SUV segment, the RX 350L eschews sportiness for old-school luxury and comfort. The seats are soft, generously padded and, in the case of the front chairs, 10-way (electrically) adjustable. What's more, the cabin is laced with soft-touch surfaces and tasteful detailing; it exudes grand build quality.
We love the flat surfacing of the fascia, for example, because on long road trips, which the RX 350L will undoubtedly undertake, the front passenger can use it as a "shelf" for reading material. Other nice touches include capacious storage bins in the doors and middle-row occupants have access to a pair of 5V USB ports. The RX has a vault-like cabin, one that remains hushed on the open road and the excellent ride comfort further boosts the overall sense of being pampered.
All the toys are standard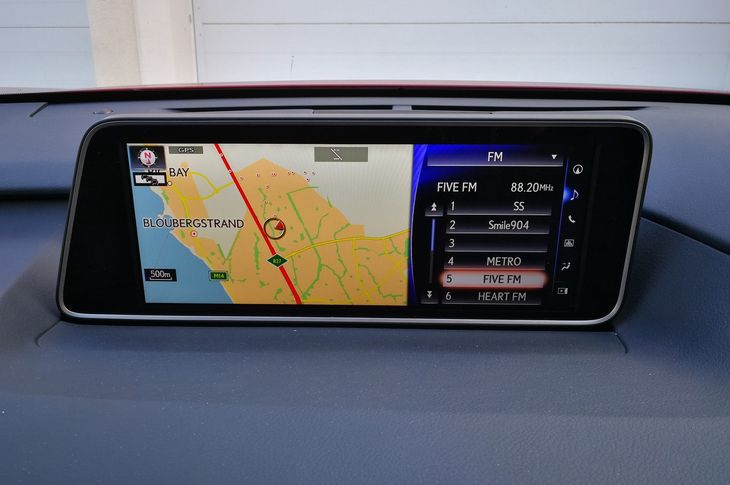 The infotainment system includes a large, clear 12-inch display with integrated navigation.
The Lexus recipe has always been a simple one – a full-house offering with very few option boxes to tick. The Japanese marque has not strayed from this formula for the RX 350L. The 12-speaker audio setup, 12-inch display/infotainment system with navigation, heated seats, privacy glass, electrically controlled 3rd-row of seats, tri-zone climate control, auto wipers/lights and much more are all included as standard. We also like the sunblinds in the rear doors and the wireless charging pad in front of the transmission level. Compared with the 5-seater variant, there is a new "moonroof" instead of the panoramic version.
Safety-wise, the RX 350L also does not lack for much, with a full complement of 10 airbags fitted. Importantly, the side curtain shield airbags have been extended to also protect 3rd-row occupants. Also included are: a reverse-view camera, hill-start assist control, tyre-pressure warning, blind-spot warning with rear cross-traffic alert and more. It does, however, lack features such lane-keep assist and adaptive cruise control.
A balance between performance & economy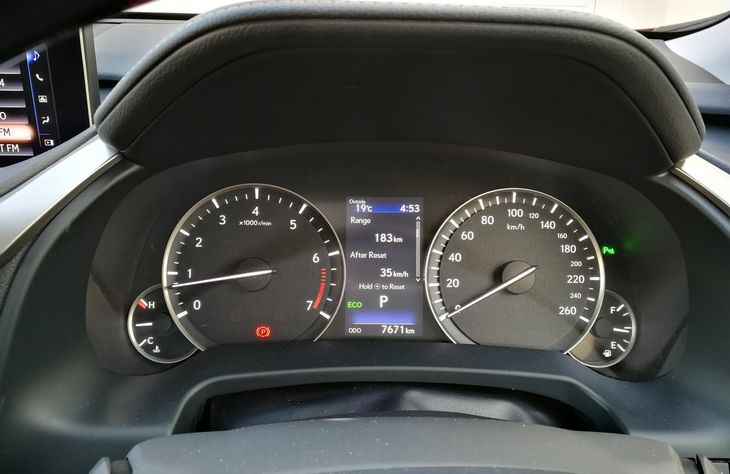 Simple, neat instrumentation. The Lexus' powertain is silky smooth and potent, but can be thirsty around town.
The RX 350L is powered by the brand's silky 3.5-litre V6 engine that delivers 216 kW at 6 300 rpm and 358 Nm of torque from 4 600 to 4 700 rpm. The power output is healthy compared with its rivals, but if you're looking for stonking torque, then you may wish to opt for one of its turbodiesel rivals, which should also be more economical.
Nevertheless, we like the engine in this Lexus as it combines smooth, relaxed, yet swift progress with reasonable economy. The 8-speed automatic 'box further contributes to the refinement of the drivetrain. Lexus claims a combined cycle consumption figure of 10.2 litres/100 km, which proved pretty accurate during our time with the car. Of course, spend most of your time in traffic and that figure will climb.
The (not-so) good
Fiddly infotainment control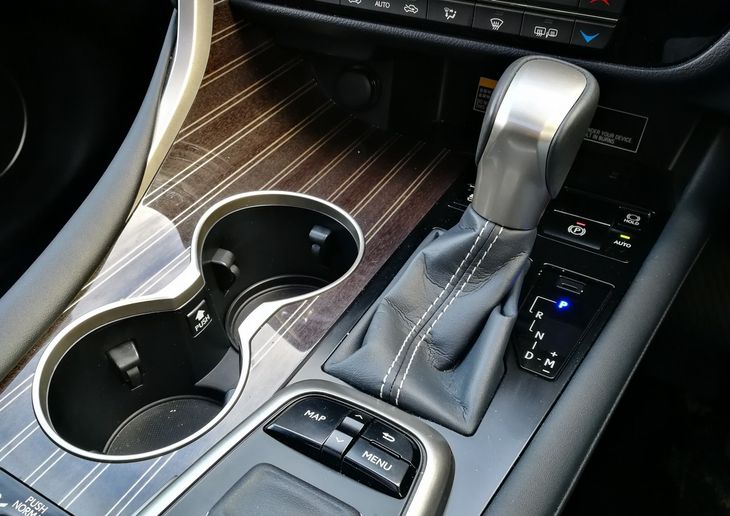 The mouse-like infotainment system controller with haptic feedback doesn't work as well as systems offered by rivals.
With the practicality concern addressed quite well, there is only really one major area of criticism that remains – the control interface for the otherwise comprehensive (and impressive!) infotainment system. The mouse-like controller on the centre tunnel and its haptic feedback sound great in theory, but BMW's iDrive, Mercedes's Comand and Audi's MMI interfaces are all superior in terms of functionality.
Pricing and Warranty
The Lexus RX 350L EX sells for a heady R959 000, but is a full-house offering that is unbeatable in terms of standard specification. It is also important to keep in mind that many of its premium-badged rivals don't feature 7 seats as standard. The RX is backed with a 4-year/100 000 km warranty and 4-year/100 000 km service plan.
Verdict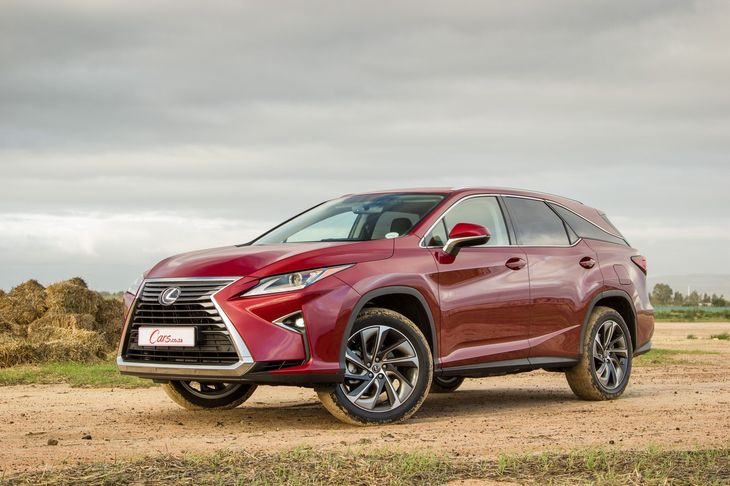 The RX 350 L is more practical than the slightly cheaper regular derivative, and retains all the refinement and luxury we've come to love about this generation of RX.
We continue to regard the Lexus RX as one of the hidden gems of the local premium SUV market, and this new L version certainly broadens the model range's appeal. Can the RX 350 L justify the extra outlay over the 5-seater version? That will depend mostly on how often you're going to need those limited-use 3rd row of seats, and how much of a problem the limited headroom on offer in the 5-seater version poses.
You may also be interested in:
Volkswagen Touareg (2018) International Launch Review
Lexus RX 350L (2018) specs & pricing
Looking for a new / used Lexus RX to buy?