The 2021 JD Power vehicle dependability study results are out and the winner is... Lexus!
*Pictured is the all-new Lexus IS - earmarked for an SA introduction in 2021
Lexus has a formidable track record in this survey and has taken the win 9 times in the past decade. Hard on the Japanese brand's heels is Porsche then Kia.
The JD Power Vehicle Dependability Study is in its 32nd year and focuses on vehicle dependability. The good news is that the overall level of problems is down, showing that cars are continually getting better and better. "The study results validate what we have known for some time," said Dave Sargent, vice president of global automotive at J.D. Power. "Automakers are making increasingly dependable vehicles—but there are still some problem areas that need to be addressed and some warning signs on the horizon."
The study focuses on the number of problems per 100 vehicles (PP100) experienced during the past years by original owners of three-year-old vehicles. A lower score reflects higher dependability, and the study covers 177 specific problems grouped into eight major vehicle categories: audio/communication/entertainment/navigation (ACEN); engine/transmission; exterior; interior; features/controls/displays (FCD); driving experience; heating, ventilation, and air conditioning; and seats.
This year's winner Lexus was ranked the best in overall vehicle dependability. Its score of 81 PP100 was followed closely by Porsche 86 PP100 and Kia 97 PP100 and Toyota 98 PP100. As far as model specifics go, it was interesting to read the Porsche 911 was ranked as JD Power's Most Dependable model for the 2nd time in 3 years.
Tesla made an appearance on this list but due to the brand restricting JD Power from contacting its customer base across the US, its score wasn't an accurate reflection.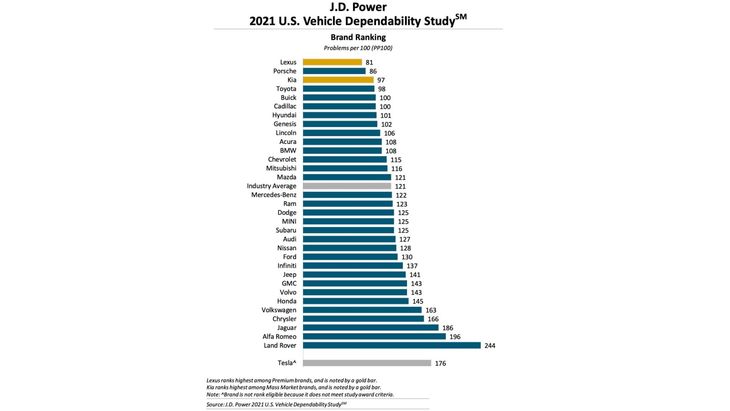 Further Reading
Winners: 2020/21 Cars.co.za Consumer Awards – powered by WesBank
Revised Lexus IS range officially revealed
Lexus 1st-class SUV coming soon – report