Lamborghini has revealed the production version of its Urus SUV, or as the firm calls it, the world's first 'Super Sports Activity Vehicle'. Take a look at the details of this new brute below…
The Urus concept was first shown in 2012 and Lamborghini, a brand known for creating some of the world's finest and fastest supercars, received some criticism for even contemplating going down the SUV road. Despite the critics, Lamborghini pushed forward with its plans and today, some 5 years later, the production Urus super SUV has been revealed to the world. It worked for Porsche, right?
"The Lamborghini Urus is a visionary approach based on the infusion of Lamborghini DNA into the most versatile vehicle, the SUV. The Urus elevates the SUV to a level not previously possible, the Super SUV. It is a true Lamborghini in terms of design, performance, driving dynamics and emotion as well as drivable every day in a range of environments," says Stefano Domenicali, Automobili Lamborghini Chairman and Chief Executive Officer. "The Urus fits perfectly within the Lamborghini family as a high-performance car. It is the culmination of intensive development and passionate skill to create a new breed of bull: a Super SUV that transcends the boundaries of expectations and opens the door to new possibilities, for both our brand and our customers."
Lamborghini Urus - Key Details
Engine and performance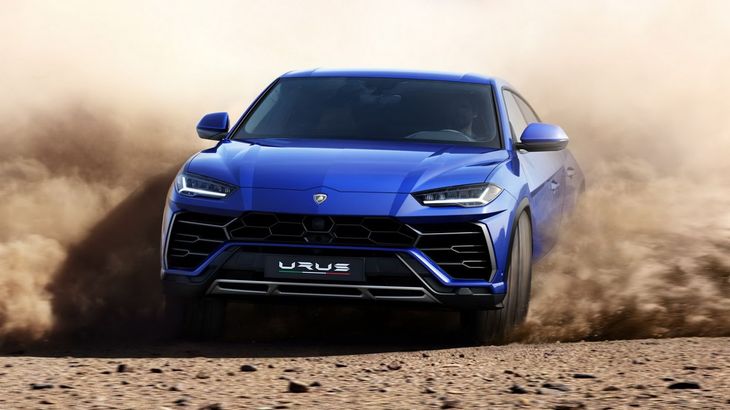 The Urus, an SUV with supercar-like performance on the road and and offroad ability when you need it.
Produced at Lamborghini's plant in Sant'Agata Bolognese, Italy, the Urus is the firm's first bonafide luxury SUV since the rather military LM002, or Rambo Lambo as it's known. Urus will be built on Volkswagen Group's MLB Evo platform that also underpins luxury SUVs like the Audi Q7, Porsche Cayenne, and Bentley Bentayga. Lamborghini aims to produce about 3 500 units a year.

The Urus is entering a booming luxury SUV segment and is powered by a 4.0-litre twin turbo V8 engine offering 478 kW from 6 000 rpm and 845 Nm of torque from 2 250 rpm. Apart from fulfilling its duties as an SUV, the Urus will also deliver eye-watering performance and if claims are to be believed, it's undoubtedly the fastest SUV on earth.

Weighing in at 2 154 kg, acceleration is blistering by SUV standards with Lamborghini claiming 3.6 seconds in the sprint to 100 kph while forging ahead to 200 kph in 12.8 seconds and finally maxing out with a top speed of 305 kph. The Urus makes use of an 8-speed ZF automatic transmission with a torque converter, a first for the brand, sending power to all four wheels. The electro-hydraulically controlled planetary gearbox offers short low gear ratios for maximum performance with longer high ratios for cruising. Fuel consumption is claimed at 12.7 L/100km.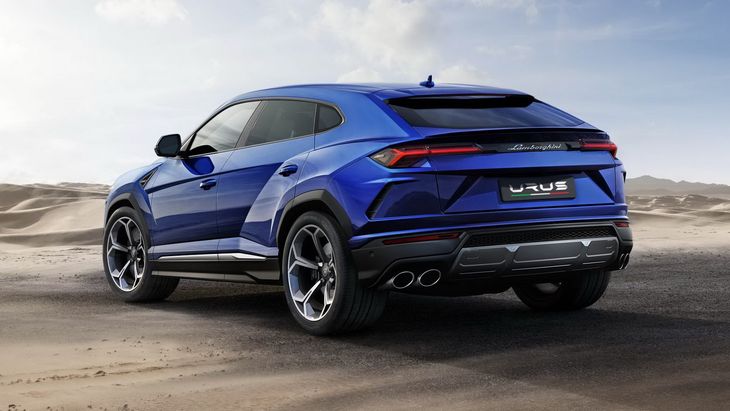 The Urus is the fastest SUV in the world with a 0-100 kph time of 3.6 seconds and a top speed of 305 kph.
The four-wheel drive system ensures maximum traction and a Torsen central self-locking differential provides more control in offroad situations. Torque is split 40/60 over the front/rear axles respectively, but as much as 70% of maximum torque can be delivered to the front wheels or as much as 87% can be sent to the rear wheels when more traction is required. Torque vectoring via the rear differential can also send power to individual wheels if needed. Urus also makes use of the rear-wheel steering system from the Aventador S to help enhance manoeuvrability and stability. The Urus is also equipped with super-size carbon ceramic brakes measuring 440 x 40 mm up front and 370 x 30 mm at the rear, allowing the Urus to come to a stop from 100 kph in only 33.7 m.
Any SUV worth its salt must offer some offroad ability and the Urus, believe it or not, will be able to do some bundu bashing (not that you'd want to) thanks to a variety of driving modes including your typical modes such as Strada, Sport, and Corsa, as well as terrain-specific modes such as Sabbia (sand), Terra (dirt), and Neve (snow). When driving the Urus offroad in Sabbia, Terra or Neve modes, the ride-height will increase to accommodate the terrain. There is also a custom mode called Ego which allows the driver to customise settings to preference and driving conditions.

Design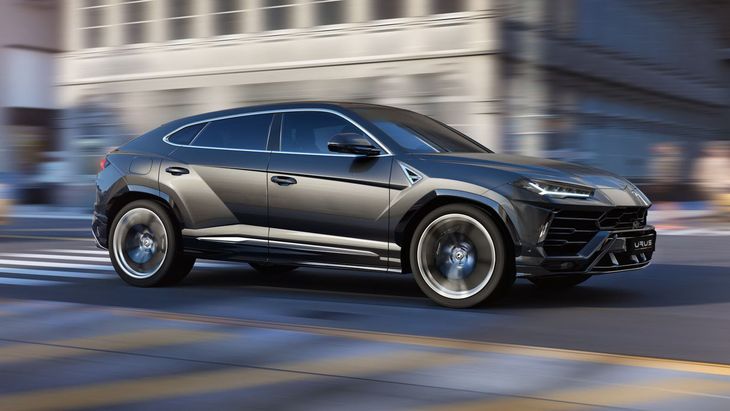 Low, sleek and fast, the Urus draws design inspiration from the Countach and the LM002.

The Urus measures 5,112 mm in length, stands 1,638 mm tall and 2,016 mm wide. Its wheelbase is measured at 3,003 mm.

In the case of the Urus, supercar design and SUV design have been melded together. The Urus features a sleek, low-slung design approach with vital Lamborghini DNA inspiration taken from the Countach, and indeed the Rambo Lambo LM002. Hence, the Urus' low profile, angles of the side windows and diagonal lines seen at the front and rear are all inspired by the Countach supercar. The front fender of the Urus, as well as the wheel arches, were inspired by the LM002, but designed in a way to express the dynamic ability of the Urus. A triangular air outlet seen on the LM002 has also made its way onto the Urus. A rear diffuser houses the round twin tailpipes.
The Urus rides on 21-inch alloy wheels as standard but 22 and 23-inch wheels are offered and come shod with Pirelli P Zero Corsa tyres.

The driver-focussed interior features high-quality materials with various trim combinations on offer.

As for the interior, the Urus adopts a centre stack design with hexagonal surfaces to match its sharp exterior styling. Elements of leather, Alcantara, aluminium carbon fibre and wood are used on the interior and various interior trim and colour combinations are offered. It's equipped with a flat-bottomed, 3-spoke steering wheel and a red starter button as seen on other Lamborghini models. The front seats are 12-way adjustable with a heating function. A customisable digital instrument cluster and infotainment touchscreen system with voice recognition and Apple Carplay and Android Auto are fitted, as well as a second screen that takes care of functions such as seat heating, air conditioning and information inputs. An 8 speaker sound system is standard but buyers can also opt for a premium Bang & Olufsen sound system which offers 3D sound with 21-speakers and 1 700 W output as standard.

In terms of storage space, the Urus' load bay has 616 litres of space which expands to 1 596 litres with the rear seats folded down. The tailgate is electrically operated and can be optionally equipped with a 'virtual pedal', allowing you to open the tailgate by a 'kick movement'. The tailgate opening can also be adjusted and the Urus is equipped with Easyload Assist, which lowers the rear ride height so that you can easily load the vehicle.

Other features on the Urus include a high beam assistant, front and rear parking sensors, cruise control and PreCognition accident mitigation. Buyers can also specify traffic management systems, top-view camera and trailer coupling.
Approximate pricing for the Urus starts at about $200 000, which translates to R2 704 560 and first customers can expect their vehicles in the first half of 2018. The exact timing of the introduction of Urus in South Africa has not yet been confirmed, but it is likely to arrive locally in 2018.
Buy a Lamborghini on Cars.co.za
Related Content
Update: Lamborghini Urus SUV Teased [w/Video]
Lamborghini SUV for Production
Lamborghini Reveals Self-Healing Terzo Millennio Concept
Lamborghini Huracan Performante: Who's the attention-seeker?

Lamborghini Aventador S Revealed

Lamborghini drops top on Aventador S

Lamborghini Huracan LP610-4 Spyder (2016) Review

Driven: Lamborghini Huracan Spyder & Rear-Wheel-Drive Huracan 580-2 [Video]

Our Lamborghini Huracan Blast Through Cape Town

Lamborghini Huracan LP610-4 (2014) Review

Covers Lifted Off The Lamborghini Aventador LP 750-4 SV