Lamborghini has revealed an enhanced version of its flagship Aventador supercar!
The Sant'Agata Bolognese-based firm has revealed details of what is essentially a facelifted version of its ferocious Aventador – meet the Aventador S. With a focus on aerodynamic performance, the Aventador S features an enhanced design with improved suspension and electronics, and for the first time on a Lamborghini, features a new four-wheel steering system. The Aventador S has also been blessed with more power generated from its naturally aspirated 6.5-litre V12 engine, now offering 552 kW.

"This is the next generation Aventador as well as the expression of new technological and performance milestones in super sports car development. The Aventador S is visionary design, cutting-edge technology and driving dynamics in pure harmony, and elevates the concept of super sports cars to a new level," says Automobili Lamborghini Chairman and Chief Executive Officer Stefano Domenicali.
Design details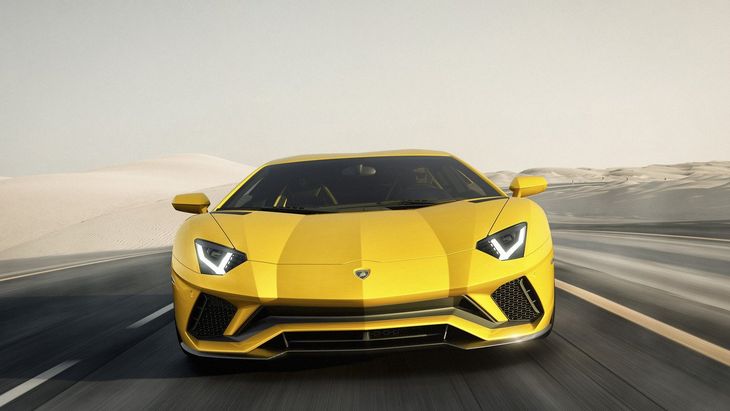 The Aventador S features more power and considerable improvements in aerodynamic performance.
The front-end of the Aventador S has been enhanced with a longer front splitter to improve aerodynamic performance and engine and radiator cooling. The two ducts seen on the side of the front bumper help to reduce aerodynamic interference from the front tyres while also improving airflow to the rear radiator.
At the rear, a prominent black diffuser with vertical fins reduces drag, optimises airflow and creates much-needed downforce. You will also notice 3 single exhaust tips in the rear bumper (the exhaust system is 20% lighter than before). The Aventador S is also equipped with an active rear wing that can move in 3 positions to improve overall balance of the vehicle during high-speed runs.

Lamborghini says that aerodynamic performance has improved significantly with the new design and front downforce has seen 130% improvement compared with the previous Aventador. With the rear wing in its optimum position, 50% additional rear downforce is created while low-drag mode downforce has improved by as much as 400%.
The new four-wheel steering system has improved lateral control and the Aventador S is more agile at low to medium speeds, with increased stability at high speed. The updated pushrod and Lamborghini Magneto-rheological Suspension (LMS) suspension with revised kinematics has been adapted for the four-wheel steering.
Engine power
A naturally aspirated 6.5-litre V12 engine now produces 552 kW (30 kW more than previous Aventador) and 690 Nm of torque. A lightweight Independent Shifting Rod (ISR) 7-speed transmission sends power to all four wheels.
Four driving modes, including STRADA, SPORT, CORSA and the new EGO mode allows the driver to exploit the Aventador S' performance. Acceleration from zero to 100 kph takes only 2.9 seconds before reaching a top speed of 350 kph. The Aventador S is equipped with a stop/start system as well as cylinder deactivation, which deactivates 6 cylinders when full engine capacity isn't required. Under acceleration, the system reverts back to full 12-cylinder mode with the changeover virtually imperceptible to the driver.

On the inside, the Aventador S features a new TFT digital dashboard that can be customised according to the driver's preferences. Apple CarPlay is standard, providing voice-activated communication and entertainment using a personal Apple device. A telemetry system, used to record lap times, track performance and trip information, is offered as an option.

The estimated price of the Lamborghini Aventador S is in the region of R4-million.

Related content:
Lamborghini Huracan LP610-4 Spyder (2016) Review
Driven: Lamborghini Huracan Spyder & Rear-Wheel-Drive Huracan 580-2 [Video]
Our Lamborghini Huracan Blast Through Cape Town
Lamborghini Huracan LP610-4 (2014) Review
Mercedes-AMG GT R (2016) First Drive
Want to buy a Lamborghini?
Find a Lamborghini on Cars.co.za