Lamborghini has revealed its latest, high-tech concept, the Terzo Millennio, meaning 'Third Millenium'.
Supercar manufacturer, Lamborghini, has partnered with the boffins at the Massachusetts Institute of Technology (MIT) to develop the innovative Terzo Millennio concept which showcases technology that could become commonplace in the distant future.
At its core, the Terzo Millennio is a lightweight, aerodynamically-efficient electric supercar powered by 4 electric motors, one at each wheel. The motors are powered by advanced supercapacitors with the bodyshell itself serving as energy storage.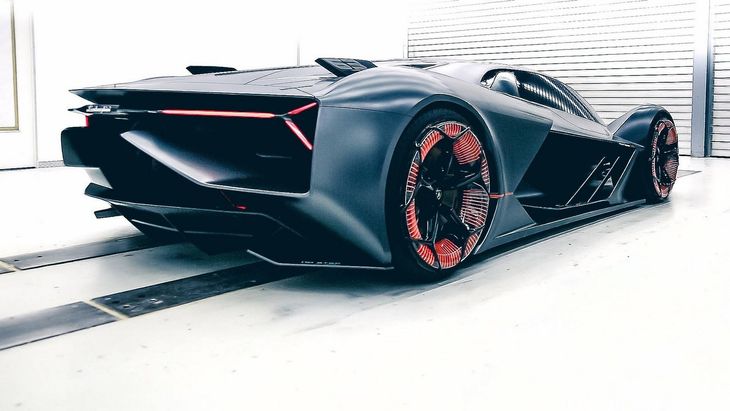 The Terzo Millennio points to the future of the supercar and showcases technology that may very well be found on electric cars of the future.

Unlike conventional electric cars, where the battery unit/s are stored beneath the floor, in the Terzo Millennio, the body panels are essentially the battery. Carbon-fibre nanotubes and thin, malleable batteries are found between the outer and inner layers of the bodyshell resulting in an efficient and lightweight energy storage solution.
What's more, the Terzo Millennio is able to self-monitor and detect cracks or fractures in its carbon fibre structure and if damage is detected, "micro-channels filled with healing chemistries" will proactively repair the structure, in effect, healing itself. All this technology helps to develop high peak power and to facilitate fast charging, energy recuperation and slow battery degradation.

In many ways, the Terzo Millennio represents the future of the electric supercar and this kind of innovative technology is what you can expect to see in the future. As this technology is still very much in development, it may be many years before it's rolled out on a mass scale. It is, however, fascinating to imagine what is possible and what the future holds for the motor car.
Buy a Lamborghini on Cars.co.za
Related Content
Lamborghini Huracan Performante: Who's the attention-seeker?
Lamborghini drops top on Aventador S
Lamborghini Aventador S Revealed
Lamborghini Huracan Tackles Perfect Road (Video)
Ultimate Lamborghini Huracan Performante Unleashed
Lamborghini Huracan LP610-4 Spyder (2016) Review
Our Lamborghini Huracan Blast Through Cape Town