Do peak outputs of 470 kW and 600 N.m of torque, plus a sprint time from 0 to 100 kph of just 2.9 seconds, appeal to you? Of course they do! If you have just a millilitre of petrol pulsing through your veins, you would have to be excited by those performance figures! Just imagine my excitement, then, when I got offered to drive the beast that delivers them: the Lamborghini Huracán Performante.
In March 2017, Cars.co.za reported that the Performante was unveiled, in all its glory, at the Geneva Show. The car's claim to fame is that it beat the Porsche 918's time around the Nürburgring and here, 7 months after the show, it's in Cape Town, being handed to me on a silver platter (covered in insurance forms) to drive for the day.
I have been very fortunate to drive many different cars, supercars among them, but the last time I was behind the wheel (or even in the passenger seat) of a Lamborghini was way back when, when I was still working for CAR magazine. It was our annual Performance Shootout and I had a stretch in the Gallardo LP550-2. My only other memory of being in a Lamborghini, and this is not something I am proud of, was when I fell asleep in the passenger seat as my colleague drove us back to Cape Town.

The Lamborghini Huracan Performante's most distinguishing characteristic is its active aerodynamics... or Ala, for short.
Needless to say, I have never lived this anecdote down. And so, with the Performante, I had something to prove and by God, I was going to give it horns! Except… I wasn't allowed to take the Lambo on a track. Talk about a handbrake!
So here I was, sitting behind the wheel of this much-talked-about supercar, waiting for that moment where my nerves would subside and adrenalin would kick in. Something to bear in mind, this car has 750% more downforce than the standard Huracán. This is due to the (*cue Italian accent please) AeroDynamica Lamorghini Attiva or Ala, which means "Wing" in Italian and, if you've seen the Performante, you will understand why.
This system provides an active variation of aerodynamic assistance for high downforce and low drag conditions, whichever is applicable and everything in between. I'm not going to go into too much detail here, because it's helluva technical and let's not pretend we all completely understand it. Suffice to say that all we really need to know is that it makes this car very, very fast. Well, that and the howling free-revving 5.2-litre naturally aspirated V10 engine, of course.
Experience the blur of speed and colour as the Performante attacks the famed Nurburgring:

One tap of the throttle and I was off in the blink of an eye! My adrenalin was pumping, the wail of the exhaust caressed my ears (gosh, the sound is just tremendous!) and I felt the power pulse through me like very few things can (hey, get your mind out of the gutter...). But then, as quickly as the thrill entered my veins, so did complete and utter discomfort. Not from the seats or the ride quality, which are comfortable – and surprisingly smooth – respectively, but due to the eyes that followed my every move.
I came to realise something; more than having considerable wealth, it takes a certain kind of person to buy a car like this. Either a person who gives absolute rocks about what other people may think of them, or someone who seeks a lot of attention from others and craves absolute validation from their reactions. I am not trying to put a negative spin on this car, nor on the Performante's target market... I am merely saying that I am not someone who delights in the amount of attention this car attracts.
Along came a (458) Spider...
I am also evidently not the type of person that people expect to see sitting in a Lamborghini's driver's seat... There were many interesting moments along this short drive, but one that stands out is the cliché that passed me: a Ferrari 458 Spider driven by an older grey-haired man with a much younger blonde woman perched in the supercar's passenger seat. He must have driven past me 5 times with a look of confusion that made me grin from ear to ear... not only because I was defying every archaic idea that so many people have about women and cars, but because I was driving the Lamborghini. It's the more outrageous of the two, isn't it?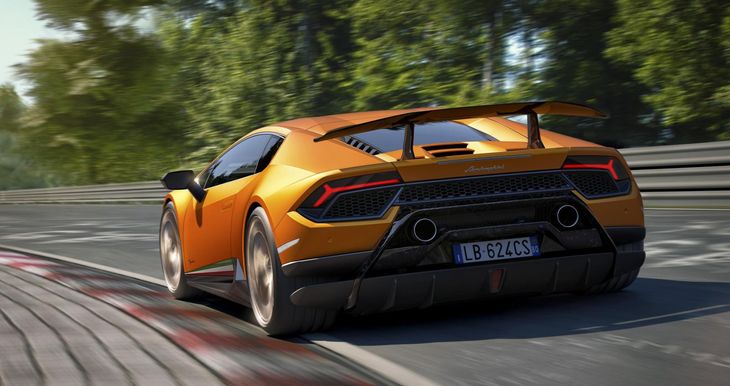 The revised exhausts are lighter and are positioned at a higher and more central position, for a more aggressive sound.
Don't get me wrong, I would prefer to drive a Ferrari (I suspect most consumers would), but it seems like a comparatively safe purchasing option. Ferraris are far more common on our roads (and that's saying a lot) compared with a Lambo, which somehow captures a moment in time better than the overwhelming majority of cars can.
Truth be told I would rather drive an Audi R8 V10 Plus every day than its Lamborghini cousin. My reasons for saying this are all purely personal, the main one being that I am just not flamboyant enough to pull off a Lambo with great conviction. The Audi is, of course, the prudent choice. Sure, there is a price difference, the Performante will set you back a sweet R5 838 500, while the Audi will cost you half of that. But comfort is a huge factor for me and the R8 does comfort so well.
And let's be really honest with each other, shall we? What is the point of owning a car that you can never ever unleash to its full potential? Why spend money that can buy you a house or a car that will almost never see a track and will only ever sit ever-so-politely around the 120 kph mark? It can only be for the attention. It's like buying a house with the most epic entertainment area and then closing it in with glass walls so that it is only to be looked at, not played with.

The cabin treatment is as extroverted as the Performante's interior, yet the driving experience is surprisingly user-friendly.
Driving the Lamborghini Huracan Performante will not be something I will forget about anytime soon. believe me. I know just how special it is and just how lucky I am to be able to sit here writing about whether or not I would own one. Let's face it, I will probably never be in a position to buy any sort of supercar. But I like the idea of sitting here in my glass tower, throwing stones and hoping that no rocks will be hurled back in my direction! And please, no more unwanted attention!
I got my fair share in this beautiful piece of machinery; enjoying the privilege of driving one has now been ticked off my bucket list. How does the Performante compare with an ordinary car... even performance variants and dyed-in-the-wool sportscars? Well, virtually all aspects of it... from the dramatic soundtrack, explosive acceleration, the difficulty of judging there the wide, flat car's extremities are, to the sensitivity of the steering and whiplash throttle/gear change responses are just totally over the top.
And the most sublime attribute of the Performante? For all its expensive underpinnings and cutting-edge mechanicals, the whole is still greater than the sum of its parts. As for the people who'd buy one: They'll most likely view the world in an entirely different way to you and me. Lamborghini would not want it any other way.
Listen to Juliet's other commentary from behind the Lamborghini's wheel...

Related content:
Lamborghini Huracan Tackles Perfect Road (Video)
Lamborghini Huracan Performante Unleashed
Lamborghini Huracan LP610-4 Spyder (2016) Review
Driven: Lamborghini Huracan Spyder & Rear-Wheel-Drive Huracan 580-2 [Video]
Our Lamborghini Huracan Blast Through Cape Town
Looking to buy a Lamborghini?