Lamborghini's Urus SUV has officially landed in South Africa and was on display at the opening of the brand's Cape Town dealership. The St'Agata-based firm's first SUV since the '80s LM002 is now available for order with a price tag of R3 495 000.
What is it like to drive? Read: Lamborghini Urus (2018) International Launch Drive
The Lamborghini Urus is entering a booming luxury SUV segment and is powered by a 4.0-litre twin turbo V8 engine offering 478 kW from 6 000 rpm and 845 Nm of torque from 2 250 rpm. Apart from fulfilling its duties as an SUV, the Urus will also deliver eye-watering performance and if claims are to be believed, it's undoubtedly the fastest SUV on earth.
Weighing in at 2 154 kg, acceleration is blistering by SUV standards with Lamborghini claiming 3.6 seconds in the sprint to 100 kph while forging ahead to 200 kph in 12.8 seconds and finally maxing out with a top speed of 305 kph. The Urus makes use of an 8-speed ZF automatic transmission with a torque converter, a first for the brand, sending power to all four wheels.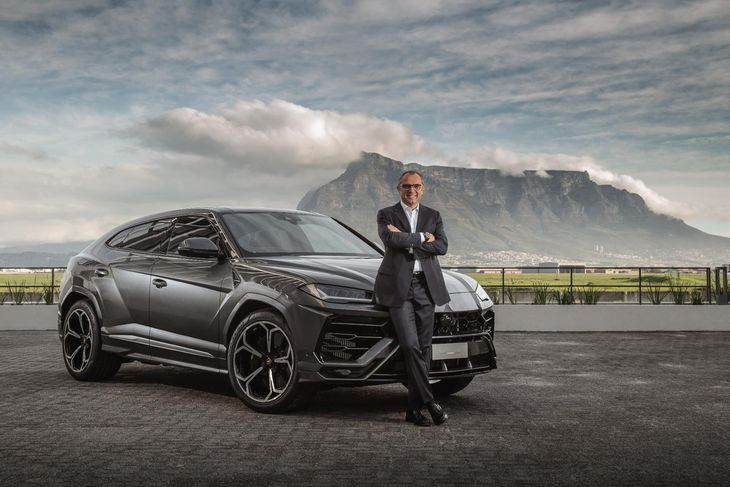 Lamborghini CEO, Stefano Domenicali with the Urus in Cape Town.
Lamborghini South Africa is currently represented by two dealerships; one in Johannesburg and one in Cape Town, while a third dealership in Durban is in the planning stages.
At the launch event in Cape Town, Lamborghini CEO Stefano Domenicali was in a very bullish mood following the announcement that local distribution would now be handled by LSM Distributors (Porsche SA). He stated that given Toby Venter's team's involvement, as well as the new product (Urus), the expectation was that annual volumes (currently at 30 units) should pretty much double immediately. He has reason to be optimistic – Lamborghini last year achieved record sales volumes worldwide and doubled the size of its facility in Italy. In South Africa the quality of the brand's presence has been inconsistent in the past – with LSM Distributors on board the brand is in much safer hands.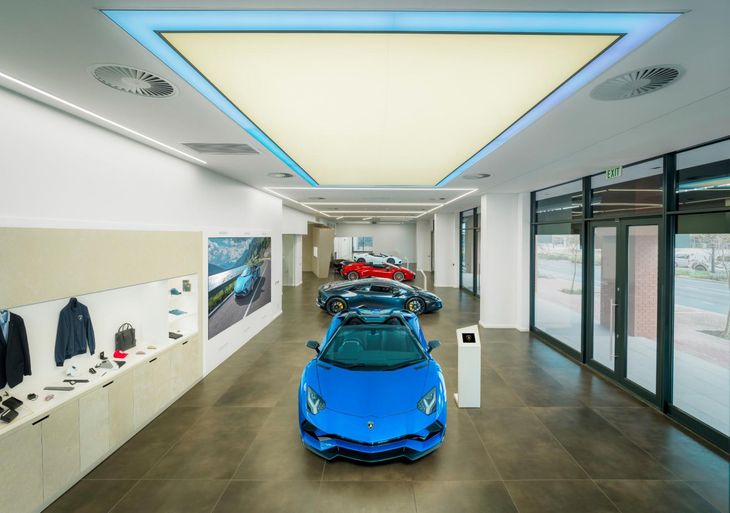 Lamborghini's glitzy new Cape Town dealership is located in the Century City development.
Domenicali was also at pains to point out that the Urus will not dilute the Lamborghini brand and that the profits the sporty new SUV will deliver would be used to make sure the future of the brand's super sportscars is secured. Looking into the future he made it clear that hybridisation was on the cards for the replacement models of the Huracan and Aventador, but that it was too early to talk about electrification (for Lamborghini). He also suggested that another addition to the Lamborghini model line-up was currently being discussed for potential introduction in the 2020-2025 period. Reading between the lines we suspect a 4-seater GT (think modern-day Espada) is currently leading the list of likely product outcomes.
Worldwide the waiting period for a new Urus is currently around 12 months, but slightly less for South Africa where first deliveries will take place in the final quarter of this year.
Lamborghini Urus Price in South Africa
The price of the Lamborghini Urus includes a 3 Year/100 000 km Driveplan.
Lamborghini Urus R3 495 000
Related content:
Lamborghini Urus (2018) International Launch Drive

6 High-Performance SUVs Coming to SA in 2018
Lamborghini Urus Super SUV Revealed [w/Video]
Lamborghini Urus: Reality vs Concept
Alfa Romeo Stelvio Quadrifoglio (2017) International Launch Review
Porsche Cayenne (2018) Launch Review
Maserati Levante S (2018) Launch Review
Interested in buying a Lamborghini?