Sampling Maserati's Ferrari-powered Levante in the dunes sounds like a tough job, but Ferdi de Vos put up his hand and volunteered for the arduous task. Much is expected of this petrol-powered premium SUV and Maserati hopes it'll snatch more than a few sales from its rivals.
So, the first luxury SUV from an Italian vehicle manufacturer with supercar power was the outlandish LM002 built by the Lamborghini between 1986 and 1993. Right? Well, actually no. Contrary to popular belief the brutish Rambo Lambo, while an unusual departure for the Fighting Bull and also the first four-wheel drive model built in Sant' Agata, wasn't the first opulent sports utility created south of the Alps.
This distinction belongs to the Tom Tjaarda designed Rayton Fissore Magnum luxury off-roader built in limited numbers in Cherasco, Italy, from 1985 to 2003. The Magnum, tailored with an Italian leather interior and a range of 4, 6 or 8-cylinder engines was sold in Europe as a competitor to the Range Rover, while the top American versions, marketed as Laforza, were powered by the Ford V8 5.0 SEFI V8 (some supercharged) as used in the contemporary Mustang GT, or by a 6.0-litre V8 with Eaton supercharger from GM.
The Ford V8 was good for 156 kW to over 200 kW of power, while the supercharged Chevy LS1 engine churned out an impressive 270kW and 515Nm of torque – heady figures at the time and not far off the 313 kW and 570 Nm delivered by the Countach derived 5.2-litre V12 in the LM002. Nearly a decade later the Fornasari RR99, a sleek four-door SUV first shown at the 2010 Geneva Motor Show, followed in the tyre tracks of the Laforza and LM002.
The RR99, powered by a 455kW Chevy V8 that gives it a 0–100 km/h time of 3.8 seconds and a top speed of 280 km/h, can be considered the first "modern" Italian luxury SUV/crossover, but sadly the small company, created in 1999 by Giuseppe Fornasari, was declared bankrupt in 2015. Meanwhile, following the success of the Porsche Cayenne the FCA Group started development of a mid-size SUV, culminating in the Kubang concept displayed at the 2011 Frankfurt Motor Show and finally the Levante – the first four-wheel drive Maserati – introduced in 2016.

To feel the Modenese SUV's 580 Nm of thrust while challenging the dunes is, in a word, delightful.
Introducing the Levante
The immediate success of the Levante in the world's largest luxury segment proved to be a turning point for the Modenese manufacturer. In just over a year more than 25 000 Levantes were sold in 72 countries around the world, making it the highest-selling Maserati in that time. It was launched in South Africa in 2016, but only made available in diesel guise – and while the VM Motori V6 turbodiesel engine delivers a healthy 202 kW it doesn't really do the luxury Italian crossover justice.
It falls short of the best in class dynamically and its performance (0-100 kph in 7,3 seconds) is diminished by its weight of more than 2,2 tonnes and even with 600 Nm of torque its power delivery is somewhat lethargic, with a hint of turbo lag before the V6 gets into its stride. But now la forza is back… in the form of the petrol-driven Levante S, the most powerful mid-sized Italian SUV available (well, at least for the moment) and this latest iteration of the flagship Levante model – soon to be unleashed locally – was recently introduced to the media in the dunes of Dubai.
To listen to the snarl of Ferrari-derived power in the desert and to feel the Modenese SUV's 580 Nm of thrust while challenging the dunes was just delightful. With the 8-speed ZF auto gearbox (now with even quicker shifting times) in off-road mode, power distribution via the Q4 Intelligent All-Wheel Drive system with torque vectoring and a limited-slip diff to the wide wheels was near seamless, while the lifted suspension made it easy to negotiate small obstacles.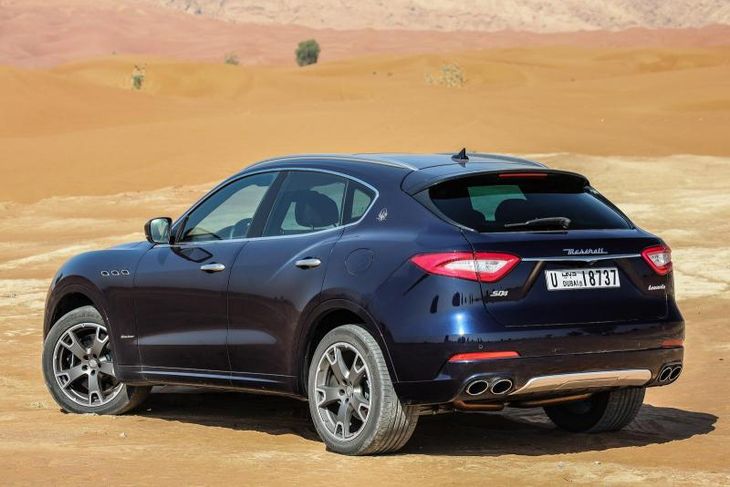 With a Ferrari-flavoured 3.0-litre twin-turbo V6 under its bonnet, the Levante finally offers the punchy performance enthusiasts expect.
What's it like to drive?
Besides the fantastic aural experience from the V6, the power and flexibility of the bespoke engine transforms the car. It highlights the sporty credentials of the Trident brand in no uncertain way, and the S feels much more balanced than its diesel counterpart. With 316 kW on tap from its 3.0-litre twin-turbo direct injection engine, the S, according to Maserati, blasts from 0-100 kph in 5.2 seconds and reaches a top speed of 264 kph – putting it firmly in Porsche Cayenne, Mercedes-AMG GLE and BMW X5M/X6 M territory.
The Levante range now also has a new electric power steering system in place of the hydraulic system used up to now. According to Maserati this system better supports the different driving modes and enables a bouquet of new active driver assistance functions such as Highway Assist, Lane Keeping Assist, Active Blind Spot Assist and Traffic Sign Recognition. On the broad Dubai highways, the steering felt a bit remote at speed, but well weighted in the corners and at lower speeds in town, and Maserati also maintains it doesn't affect engine power.
The exhaust system, controlled by pneumatic valves, maintain the rich aural signature of the brand, but in Sport mode it can become quite booming in the cabin, which will, perhaps, be appreciated by many, but probably not by all… Also noteworthy was the good stopping power supplied by Brembo 6-piston callipers and 380 mm ventilated discs up front and 330 mm ventilated discs at the rear, while thanks to standard air suspension (providing six different height levels) and Skyhook shocks, ride comfort was exemplary.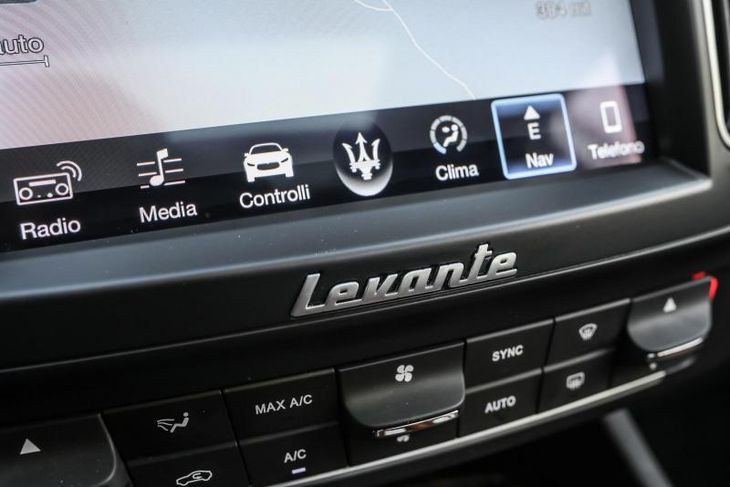 The menu of the infotainment system gives away that the unit was sourced from other products in the FCA Group, but the nameplate's a nice touch.
The Levante range is now available in GranLusso and GranSport trim with the GranLusso grade recognisable by metallic-finish front skid plates and roof rails, GranLusso badges on the front wings, body-coloured side skirts, black-painted brake callipers and 19-inch Zefiro alloys.
The GranSport model has a piano black front grille, skid plates and roof rails, GranSport badges, body-coloured side skirts, blue inserts on all Trident and Saetta logos, as well as red brake calipers and 20-inch Nereo wheels, and while the Levante and Levante Diesel are equipped with 18-inch tyres as standard, the Levante S features 19-inch wheels as standard, with wider tyres at the rear.
The GranLusso cabin combines a choice of Ermenegildo Zegna silk or full premium Italian upholstery, 12-way power comfort seats, a Harman Kardon sound system and power-adjustable steering wheel. The Levante GranSport has sportier trim inside, including sport seats, sport steering wheel with gearshift paddles and carbon trim.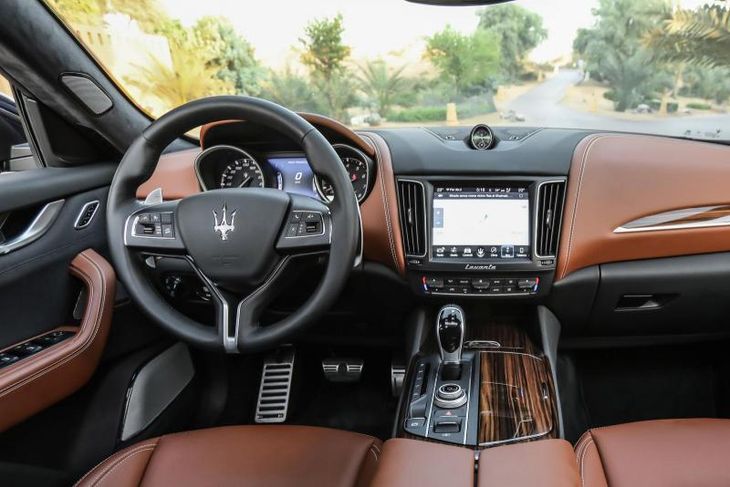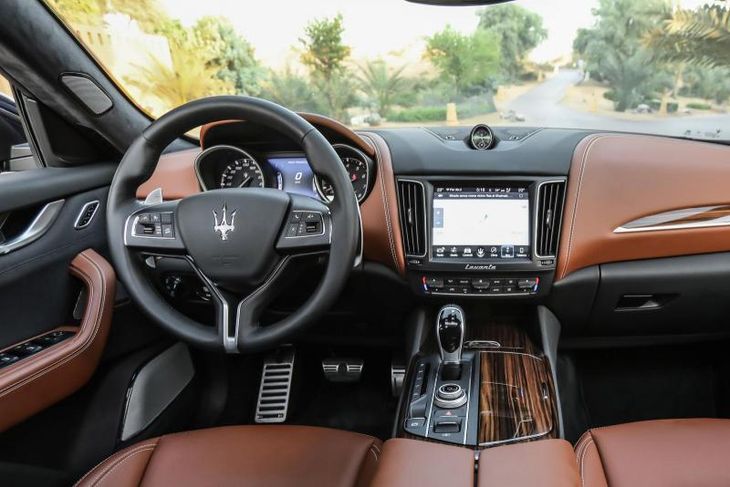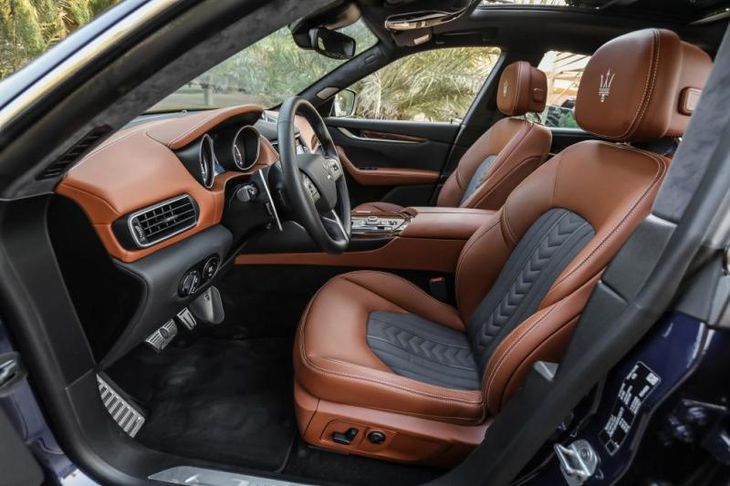 Inserts of handwoven Ermenegildo Zegna silk give the Levante's interior more than just a hint of opulent exclusivity.
Summary
The new S turbopetrol derivative will undoubtedly add to the allure of the Levante, and if sportiness, rareness and real Italian power are what you're after, this Maserati premium SUV ticks all the boxes. However, while owning a Levante may set you apart from Cayennes, Range Rovers, Jaguars, BMWs and Mercedes-AMGs crowding our roads, you will need to dig deep for that kind of exclusivity, as pricing for the S derivative starts at R1 950 000 and with extras will probably retail for close to R2.3 million.
Specifications: Maserati Levante S GranSport
Engine: Petrol V6
Displacement (cc): 2,979
Max. Power (kW): 316 @ 5 750 rpm
Peak Torque (Nm): 580 @ 5 000 rpm
Fuel consumption (l/100 km): 10.9
CO2 (g/km): 253
0-100 kph (sec): 5.2
Top speed (kph): 264
Gearbox: ZF eight-speed automatic
Transmission: Q4 Intelligent All-Wheel Drive with rear LS differential
Suspension Front: Double wishbone, Air Springs, Skyhook shocks
Suspension Rear: Multilink, Air Springs, Skyhook shocks
Length/width/height (mm): 5,003 / 1,968 / 1,679
Wheelbase (mm): 3,004
Tyres (standard): 265/50 ZR19 front; 295/45 ZR19 rear
Price (in SA): From R1 950 000
Further Reading
Maserati Levante Diesel (2016) First Drive
Maserati Levante: Italy's Super SUV
Maserati Quattroporte Receives Midlife Facelift
Maserati Ghibli S (2016) Review
Want to buy a Maserati?