Fiat Chrysler Automobiles (FCA) has had a busy year in South Africa in 2017, launching several key models to market, but the group is looking forward to 2018...
FCA is the world's fifth largest automobile manufacturer and markets a host of brands such as Abarth, Alfa Romeo, Fiat, Fiat Professional, Mopar, Chrysler, Jeep and Dodge.
However, US-built Dodge and Chrysler vehicles are no longer produced in right-hand drive configuration and will therefore no longer be offered in the South African market. FCA will, however, continue to support and service local customers through its franchise dealers.
FCA will be expanding it dealer footprint with new dealerships expected in Sandton, Fourways, Menlyn and Durban. FCA will also be occupying a new Head Office in the second half of 2018.
In 2017, FCA launched key models such as the much-acclaimed Alfa Romeo Giulia D-segment sedan and the Fiat Tipo sedan and hatchback. The Fiat Panda was recently reintroduced to market and Alfa Romeo's highly-anticipated Stelvio SUV is due to arrive in South Africa before the end of the year.
FCA will ride this momentum into 2018 where it will introduce the new Jeep Compass compact SUV to market as well as the new Jeep Wrangler.
The big news, however, is that the Jeep Grand Cherokee Trackhawk high-performance SUV will make landfall in 2018.
Jeep Grand Cherokee Trackhawk coming to slay BMW, Mercedes-AMG and Porsche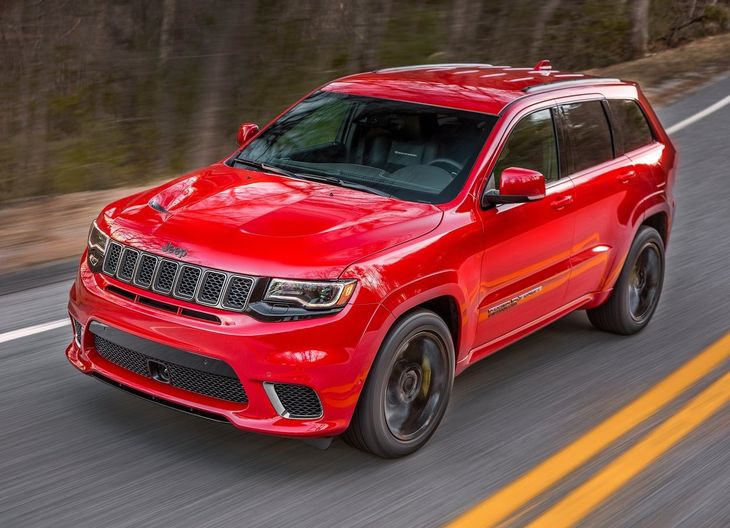 With 523 kW and 881 Nm of torque, the Jeep Grand Cherokee Trackhawk is significantly more powerful than its rivals.
Rivalling mighty products such as the BMW X5M / X6M, Mercedes-AMG GLE 63 and Porsche Cayenne Turbo S, the Jeep Grand Cherokee Trackhawk is set to rock the high-performance SUV market when it arrives.
Fitted with a powerful supercharged 6.2-litre V8 engine sourced from the Dodge Challenger SRT Hellcat, the Trackhawk will produce a not-to-be-taken-lightly 523 kW and 881 Nm of torque, which is substantially more than what its rivals offer.
The Jeep Grand Cherokee Trackhawk will offer blistering performance with zero to 100 kph dispatched in a rapid 3.5 seconds while powering on to at least 290 kph.
An exact launch date is yet to be confirmed, but we will keep you updated as more information becomes available, so stay tuned!
Buy an Alfa Romeo on Cars.co.za
Related Content
Jeep Grand Cherokee Trackhawk - The Fastest Jeep Yet
Alfa Romeo Giulia Quadrifoglio (2017) Video Review
Alfa Romeo Stelvio: Order Books Open in SA
Alfa Romeo Stelvio (2017) International First Drive
Alfa Romeo Stelvio Quadrifoglio Smashes SUV Ring Record
SUV supreme: Porsche's new Cayenne Turbo
Porsche Cayenne (2018) Pre-Launch Review
Mercedes-AMG GLE 43 (2017) Quick Review
Spy Shots: BMW X5 M vs Mercedes-AMG GLE63
BMW X5 M/X6 M Black Fire Edition Headed for SA