The Jeep Grand Cherokee is certainly not the slowest SUV around, but thanks to the competition from Germany becoming tougher, Jeep has had to take drastic action. The result is this mighty thing - 523 kW and 881 Nm of pure American muscle.
Given how much effort the Germans have put into the performance SUV market, it makes perfect sense for the men at Jeep to send them packing with their tails between their legs. The BMW X5M/X6M, Mercedes-AMG GLE 63 S and Porsche Cayenne Turbo S all have outputs around the 420 kW mark. Jeep looked to parent company FCA for a solution on how to match this trio, but they needn't look very far as a special engine already existed. The Dodge Charger/Challenger Hellcat is powered by a supercharged 6.2-litre V8 engine and this powertrain has racked up the awards since inception. Given the engine size and layout, transplanting it into the engine bay of a Grand Cherokee was fairly straight forward.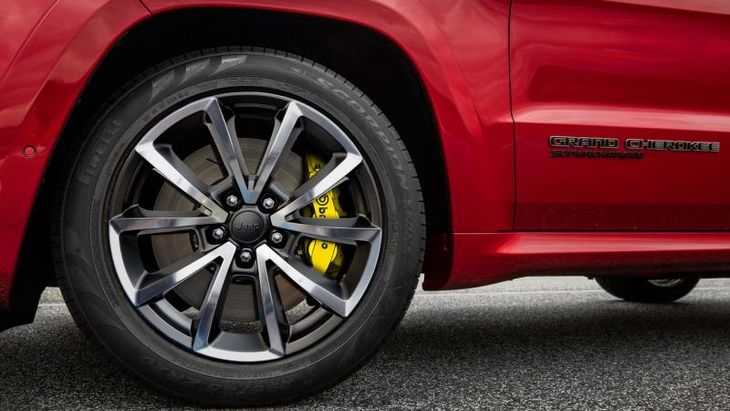 Massive Brembo brakes help the Jeep Grand Cherokee Trackhawk come to a stop.
The numbers are staggering. Jeep claims the Grand Cherokee Trackhawk is the most powerful and quickest SUV ever. Think of the German outputs hovering around the 420 kW mark... this Jeep has 523 kW and 881 Nm. 0-100 kph? 3.5 seconds! A quarter mile is smashed in 11.6 seconds and it'll run to a top speed of 290 kph. It's blatantly obvious Jeep didn't want to compete with the German performance SUVs, but rather obliterate them in all departments.
See, the Trackhawk isn't just about going fast in a straight line. With adaptive damping suspension from Bilstein and uprated brakes from Brembo, the Trackhawk aims to be quick in a sprint and when it comes to some curvy tarmac. These Brembos are the largest ever front brakes to be found on a Jeep. The eight-speed auto has been upgraded to cope with the additional shove and the quad exhausts and gaping front grille make it unmistakable.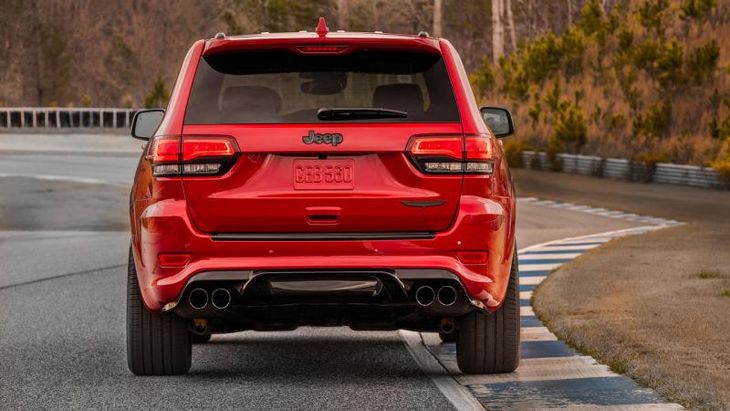 Quad exhausts will emit a raucous V8 soundtrack. Also, the most common view of a Hellcat-powered Jeep as it thunders past.
"Long recognized as the full-size SUV capability leader, Jeep Grand Cherokee is now the most powerful and quickest SUV as well, with the introduction of our new 707-horsepower Trackhawk," said Mike Manley, Head of Jeep Brand – FCA Global. "The new Grand Cherokee Trackhawk delivers astounding performance numbers, backed by renowned SRT engineering that combines world-class on-road driving dynamics with luxury, refinement and an array of innovative advanced technology." The 2018 Grand Cherokee Trackhawk will be built in Detroit and should hit American dealerships in the 4th quarter of 2017. South African availability is yet to be confirmed.
To put Jeep's super-SUV in perspective with current high-performance offerings, a simple comparison in power and torque will give you an indication of what this Hellcat-powered Jeep could be capable of. Take a look…
| | | |
| --- | --- | --- |
| Vehicle | Power | Torque |
| Jeep Grand Cherokee Hellcat Trackhawk | 523 kW | 881 Nm |
| Porsche Cayenne Turbo S | 419 kW | 800 Nm |
| Range Rover Sport SVR | 405 kW | 680 Nm |
| BMW X5 M | 423 kW | 750 Nm |
| Mercedes-AMG GLE63 S | 430 kW | 760 Nm |
Further Reading
Jeep conquers volcano in Italy
Jeep Grand Cherokee Updated for 2015
All-New Jeep Compass Revealed
Want to purchase a Jeep?