Owners of Electric Vehicles (EVs) and Plug-in Hybrid Vehicles (PHEVs) can now use a live map to check the status of charging stations in South Africa.
Jaguar has launched a live map showing the status of charging stations all over South Africa which will make it easier for EV and PHEV owners to plan their journeys.
View the Jaguar Powerway Live Map here!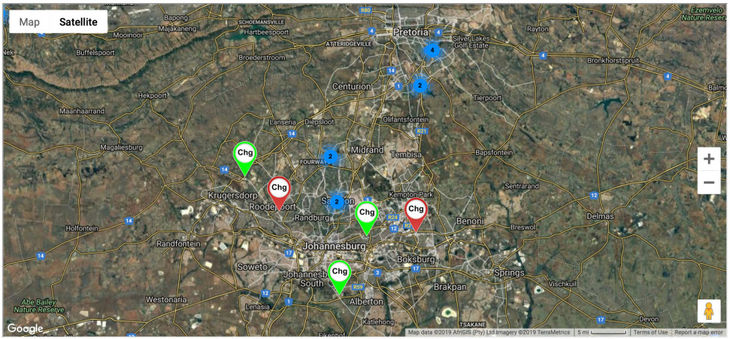 Jaguar's new live map will make planning your EV charging much easier.
The map shows the entire network Jaguar Powerway and GridCars charging stations and indicates whether these stations are online, offline or currently in use. More than this, the map will also indicate the time and date of the last successful charge while also showing how many times the station has been used.
In 2018, Jaguar partnered with electric vehicle charging authority, GridCars, to install 82 new charging stations across South Africa with an investment of R30-million. The charging stations were installed at all Jaguar Land Rover retailers as well as at various points of convenience such as shopping centres, major hubs including Johannesburg, Pretoria, Durban, Cape Town, Port Elizabeth, East London and Bloemfontein and along major holiday routes in an effort to alleviate range anxiety for owners of electric and plug-in hybrid vehicles.
Brian Hastie, Network Development Director, Jaguar Land Rover South Africa said "While the primary charging habit for the majority of EV drivers will be at home where it's most convenient and cost-effective, we know that the future of electric mobility ultimately relies on a public charging network. As the rollout of public charging stations intensifies and the dots between existing locations are connected, it's vital that EV drivers are able to view the status of chargers remotely. This live map makes that possible."
Most charging stations on the network are 60 kWh fast chargers which also accommodate PHEVs with a 22 kWh AC fast-charge ports. The AC standard Type 2 socket will allow charging of all EVs currently available in South Africa, while the DC charger is fitted with the CCS DC type socket used by the vast majority of EVs in SA.
Buy a Jaguar i-Pace on Cars.co.za
Related Content
Jaguar Invests in EV Charging Stations for SA