Mercedes-AMG has fashioned a Performance Executive SUV all of its own by dropping a biturbo V8 into the award-winning GLC and GLC Coupe. We headed to Zwartkops Raceway to see what it can do.
The battle for SUV supremacy is no longer defined in terms of practicality; no, it's being fought in kW, Nm and 0 to 100 kph acceleration times. Following the arrival of the Alfa Romeo Stelvio Quadrifoglio, Audi SQ5, BMW X3/X4 M40i and Jaguar F-Pace SVR (to name a few), this new Mercedes-AMG GLC 63 jumps right up to the top (well, equal top) with 375 kW, 700 Nm and a 3.8-second 0 to 100 kph time, which is pretty insane, considering it tips the scales at 1 850 kg. However, the challenge faced by every tar-shredding SUV maker is how to make all of that weight and power go around corners... That's where the Affalterbach division does some of its best work.
What is it?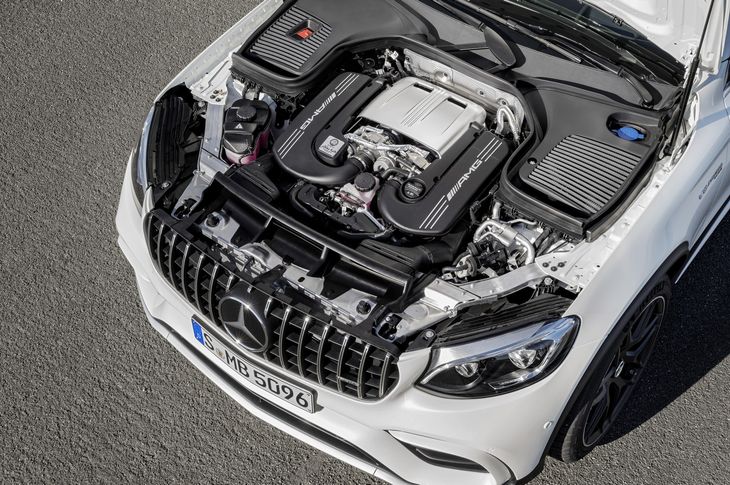 Referred to by Merc as a 'hot V' the turbochargers sit in the middle of the engine inside the V.
The GLC's competition includes wares from Alfa Romeo, Audi, BMW, Jaguar and Volvo. All of these brands, bar Volvo, have or are developing performance derivatives of these SUVs. Evidently, there's enough need for a family car that can engage warp speed (to make sure it'll arrive at Woolies before it closes) that makes it profitable for manufacturers to build high-performance SUVs.
Mercedes-AMG is not one to shy away from a challenge and so, the Affalterbach-based division has tossed in the E63's 4.0-litre V8 biturbo engine, borrowed its rear differential too (but without drift mode) and then swiped the Panamericana front grille from the AMG GT. Sounds like a bit of a mix and match of parts but it all hangs together rather well. The GLC 63 looks menacing from the front and with the wider track has a muscular stance, like a Rottweiler, if you will.
The additions are available in both SUV and Coupe models and the Coupe gets a large rear spoiler lip, which can be deleted if you don't want it specced. Both have identical performance figures and will only be available in 'S' derivative, which means local motorists will be availed the most powerful AMG versions exclusively.
How fast does it go?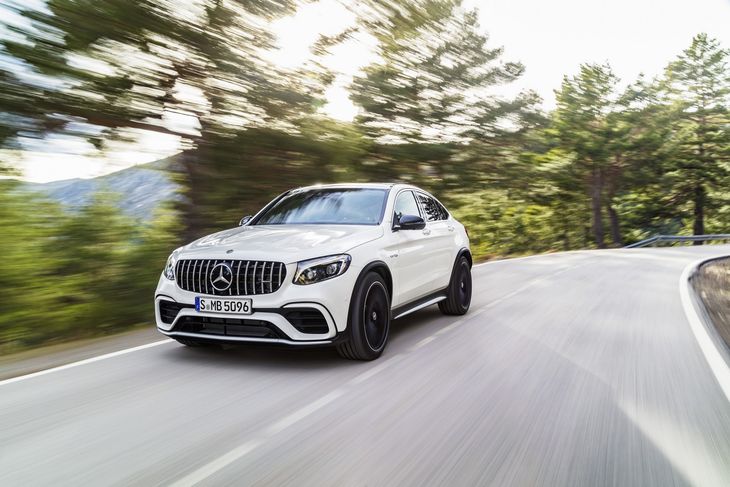 Only the Alfa Stelvio Quadrifoglio can match the GLC 63 S in the power and acceleration stakes, but the Merc has 100 Nm more.
Having Zwartkops raceway at our disposal allowed for an intimate assessment of the GLC 63's skill set. You will not be left wanting for straight line performance. With the 4 Matic all-wheel-drive system, the GLC really bites into the tarmac and launches off the line, with no slippage. The launch control system is now even easier than ever. So long as you are in any drive mode except Comfort (Sport, Sport Plus or Individual) all you need to do to activate a Race Start is mash the 2 pedals to the floor. No more fiddling with 20 buttons in the perfect combination like you would to achieve a Mortal Kombat Fatality.
The 3 modes of traction control available are all vastly different. The default position, which is fully on doesn't allow any leeway. It will interfere and cut power very quickly, especially if you aren't smooth and progressive with throttle and steering applications. It's the most aggressive traction control system I've ever felt but is there to save you when surprises are sprung, like a slippery road surface.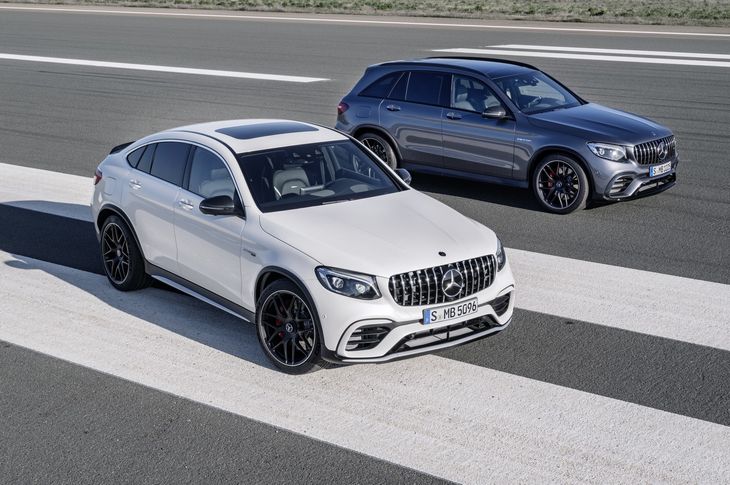 Coupe or SUV? With the performance and style of the 63 S, the Coupe makes more sense now than it did before - practicality loss aside.
Sport handling traction mode obviously allows a little more leeway, but you're not going to find yourself in any real trouble before the system backs off the power. Once all traction control is off the GLC 63 shows a bit more character. Under braking all that weight shifts around and you can use it to pitch the Benz into corners; there's enough grip (let alone chassis strength) that it doesn't just fold over into understeer, it will hold its line and you can drive through on the power. You won't get the rear to play under power despite it being predominantly rear-wheel-driven with a maximum of 50% of power capable of being directed to the front when required.
I somehow doubt the GLC 63 will see too many track days, and just as well, because you'll cook the brakes in 3 laps and the ceramic options aren't optimal for everyday driving as they require heat to bite properly...
On the road
A blast around the Cradle of Humankind on the outskirts of Johannesburg allowed for a reasonable examination of what the GLC 63 S is like as a road car. With its air suspension set to comfort mode, it's certainly one of AMG's more comfortably-sprung cars. The standard wheels come in 20-inches, but ours were all equipped with the 21-inch options. With a 40 profile, they actually have decent sidewall give when the road surface deteriorates.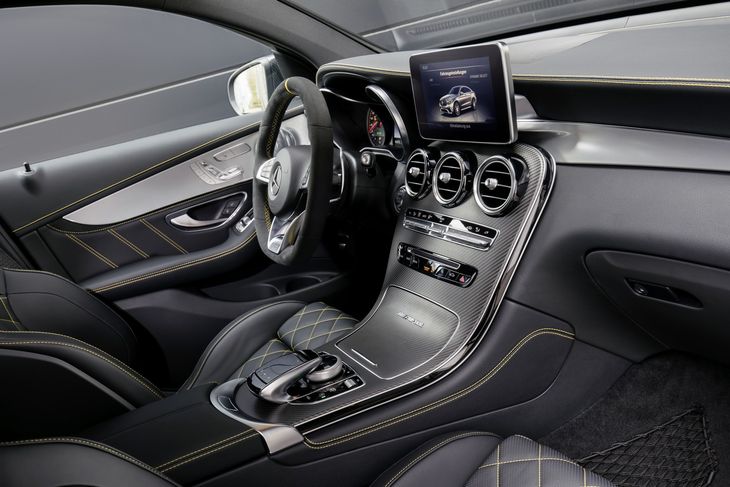 Interior of the GLC feels more solid than other models in the Mercedes-Benz range of late.
Only on the most gritty tarmac do you notice road roar from the tyres and small cuts and bumps in the road are dealt with quite well.
As for the interior, the GLC appears to have one of Benz's more solidly-built cabins. The centre stack that runs from the central air vents through to the Comand controls still creaks like plastic when you prod it, but the aesthetic design and ergonomics remain excellent.
Final thoughts
Only the Alfa Stelvio Quadrifoglio matches the GLC 63 S in the performance stakes, and you can't buy one of those in SA until the end of this year. I've always been a proponent of the SUV as the Coupe has severe practicality restrictions that seem unreasonable in an SUV. However, in something like this, a 63 S, it's more about design, looks and attracting attention and the Coupe trumps its SUV sibling in that department.
If practicality ranks highly on your requirements list then for the R1.5 million you're better off looking at something like a (Land Rover) Discovery, (Mercedes-Benz) GLE, (Audi) Q7 or (Volvo) XC90. In SA, we do have a slightly bizarre attraction for big powerful status symbols, therefore the GLC 63 S ticks all the right boxes... if you want to make a statement.
Pricing (May 2018)
Mercedes-AMG GLC 63 S R1 563 596
Mercedes-AMG GLC 63 S Coupe R1 679 605
Related content:
6 High-Performance SUVs Coming to SA in 2018
Mercedes-Benz GLC 250d Coupe 4Matic (2017) Review
Mercedes-Benz GLC 300 (2015) Review
Jaguar F-Pace SVR Blasts into New York Auto Show